News
Masters 2020: Can Bryson DeChambeau break Augusta National?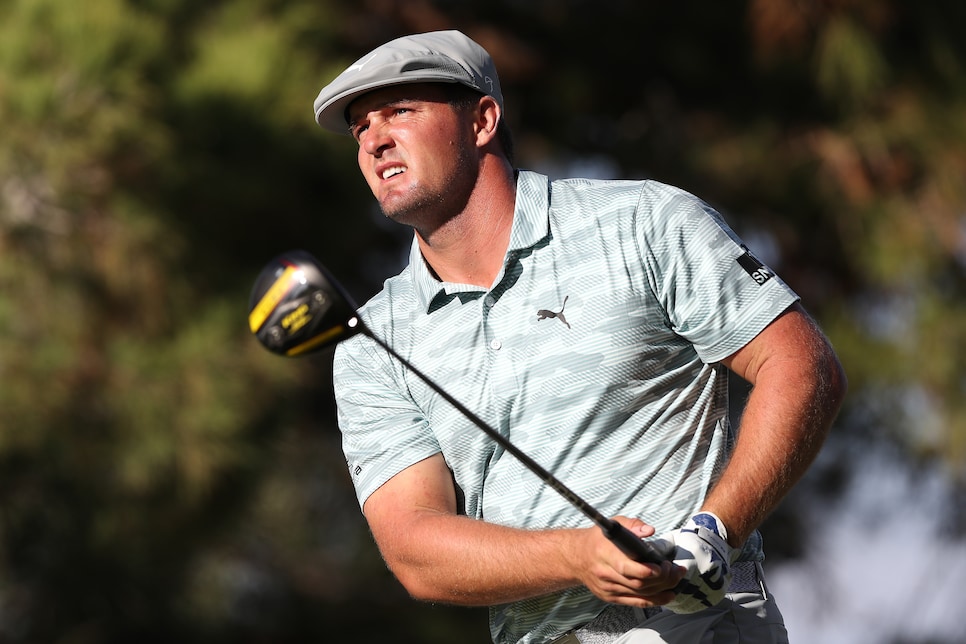 Photo By: Matthew Stockman
It is a question, the question, that is not so much a question as it is an existential crisis for the Masters and the very game it stewards: Will Bryson DeChambeau break Augusta National?
What was greeted as a curious hypothesis from the Mad Scientist—a year-long odyssey from man into mountain for massive distance gains that would beget performance—has proven true, any remaining doubt erased by DeChambeau's triumph at the U.S. Open. However, the way DeChambeau has achieved this success has left some wondering what has been and what will be sacrificed in his pursuit. It's one thing to turn the Rocket Mortgage Classic into a pitch-n-putt. It's something different to do the same to Winged Foot. It is a storm that has been expected for years yet mostly discussed in the future tense; DeChambeau was merely the vessel to pull it into the present.
The storm now visits golf's most famous tournament at its famous course. Surely Augusta National cannot be bomb-and-gouged into submission; after all, Jack Nicklaus called the venue "the quintessence of a second-shot golf course." The Golden Bear is not wrong. Three of the past five Masters winners led the field in strokes gained/approach. In that sense, DeChambeau's relatively poor iron play (119th in SG/approach on the PGA Tour last season) should prohibit him from donning the green jacket.
Conversely, as Nicklaus elaborates, how that second-shot prowess is attained is not necessarily through irons.
"The perceptive player recognizes that his ability to attack the flag with the approach is largely determined by the drive—much more than on an average course," Nicklaus told Golf Digest. "A difference in position of just 10 or 15 yards in the fairway might mean everything. On a second-shot course, you use the tee shot to truly create your second."
Part of this philosophy accounts for angles of attack … but no need to muddy what is clear: Pure distance fuels this engine, and DeChambeau's strategy. Which is why DeChambeau has continued to chase yardage, packing on more weight and adding a 48-inch driver in preparation for the Masters.
Augusta National has been overpowered before. At his 1997 breakthrough, Tiger Woods didn't just pace the field with his 323.1-yard driving mark. He was 46 yards longer than the tournament average, and 25 yards past anyone else. That dominance, coupled with his win at the 2001 Masters, led the club to begin "Tiger proofing" the layout, a process that chiefly involved lengthening the course and strategically adding trees. But there's only so far you can move the tee markers back, especially as DeChambeau attempts to cross the 400-yard barrier. Hurricane Bryson is now upon Georgia. What's left standing after he blows through could change the game as we know it.
So what should fans brace for? With intel from one of DeChambeau's recent visits to the course, along with opinions from a current PGA Tour player, we illustrated eight holes where Bryson will be able to attack Augusta National. (The lines depict DeChambeau's theoretical drives with his added length—green signifying his ideal shot, red on some holes showing an alternative spot—against a variety of tee shots, represented by the red dots, seen over the last five years at the Masters.)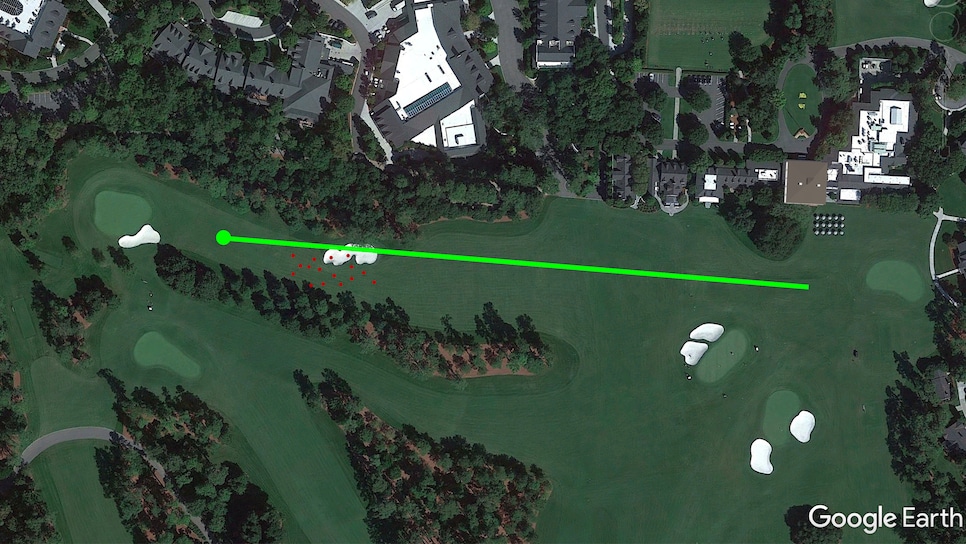 Hole 1, Tea Olive: Par 4, 445 Yards
Intel: A par at the first is one of the biggest exhales in golf. Players almost universally say it feels like you stole one on the field. DeChambeau may have his sights higher, er, lower. According to a source, DeChambeau was left with 65 yards into the first during his latest visit. For those scoring at home, that's a 380-yard pop.
Player's Take: "Bryson plays this right, it's his biggest advantage over the field. If he has 80 yards in, he's getting a good look at birdie at least twice. ... If he's hitting it this far, the miss is going to be left. Too much bad [right] to get aggressive with the cut."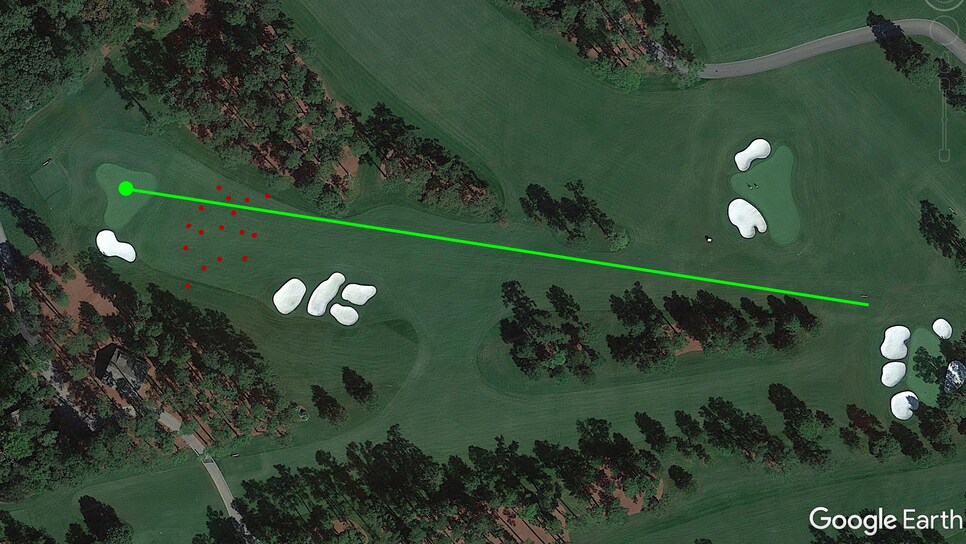 Hole 3, Flowering Peach: Par 4, 350 Yards
Intel: Not only is Bryson planning on going for the green, he can do so with a 3-wood.
Player's Take: "There is a reason so many guys lay back rather than power it as far as they can up the left side. It's such a tough leave from there [short left]. Long is worse. Reaching the green doesn't mean much if he reaches it in the wrong spot. He will have an opportunity that 95 percent of the field won't have, no doubt. And an approach from 110, 120 yards is sneaky tough too, so maybe green-light is the play. There's just a lot of risk that comes with that."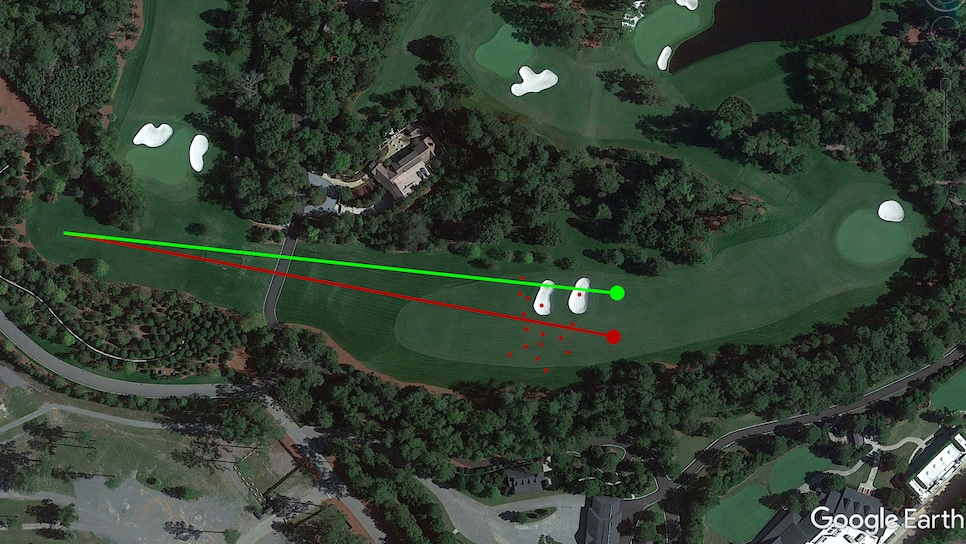 Hole 5, Magnolia: Par 4, 495 Yards
Intel: The hardest hole at Augusta National (13 birdies against 103 bogeys and six doubles in the 2019 Masters), a smoked drive will allow Bryson to clear the bunkers on the left side of the fairway, which play longer than their 315-yard stated carry. It is critical for Bryson, though, to not overcook one left.
Player's Take: "I know the focus is on the [par] 5s, but this is right up there with No. 1 in terms of what his distance can do for him. This is an uncomfortable a tee shot as we get at Augusta, and if he could just blow it past the bunkers … hell man, I don't care what he has left in, he's taking the bite out of it. To be fair, it's difficult, almost impossible, to get aggressive coming in. Even the guys who [find the fairway bunkers] know to play for bogey rather than save 4. That's how the 'scaries' happen."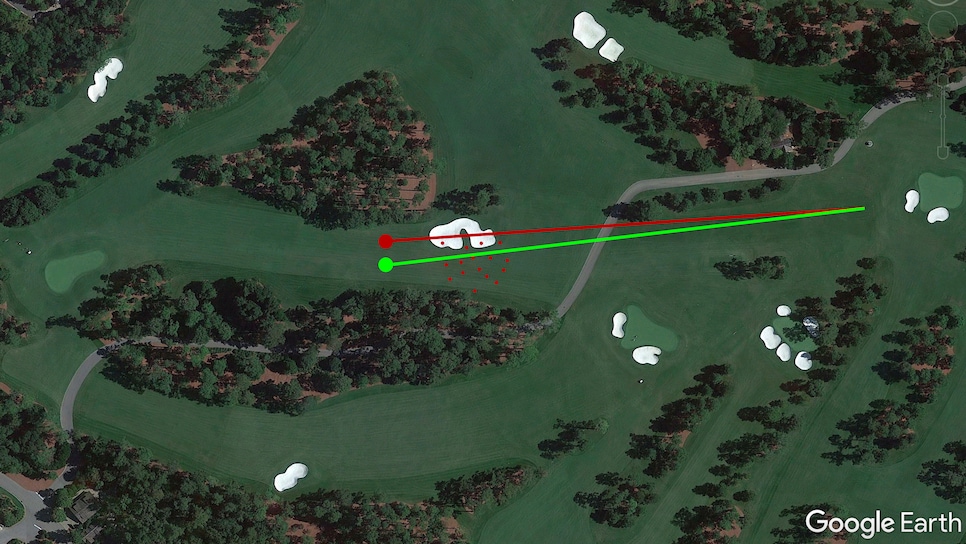 Hole 8, Yellow Jasmine: Par 5, 570 Yards
Intel: This green is reachable, although usually it requires a fairway wood or hybrid. Sources told Golf Digest that DeChambeau was left with a 6-iron in.
Player's Take: "My caddie thinks this is more important than 13 to Bryson. A drive that's 30 yards longer here would feel like 60. That far up you can drop the birdie in your back pocket."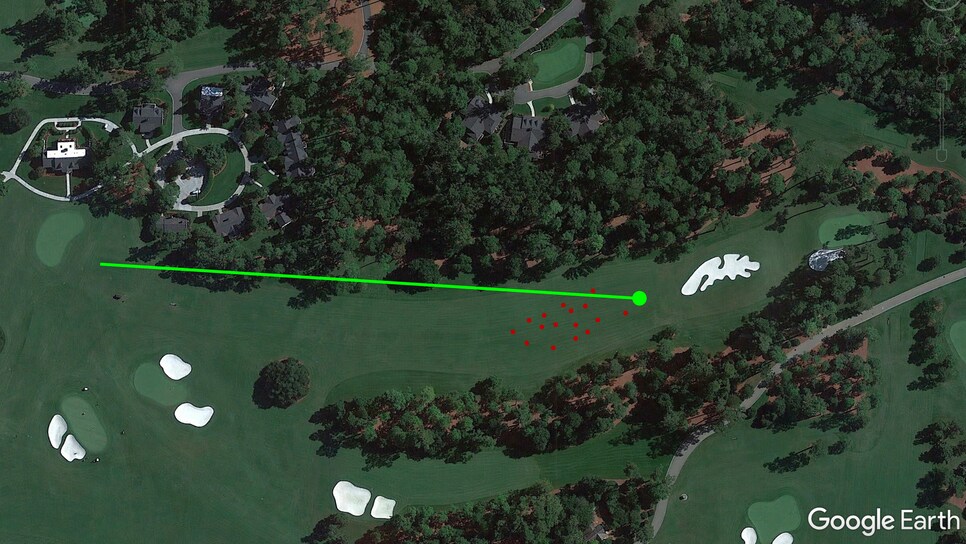 Hole 10, Camellia: Par 4, 495 Yards
Intel: The 10th tied for the second-hardest hole at last year's tournament. It could be one of the few holes where he lays up. By "laying up" we mean a 350-yard fairway wood.
Player's Take: "Do you think he would take driver? I'm not so sure. He's outdriving all but seven, eight guys with his 3-wood. That leaves him not much, 140, 150 yards in? Driver brings in the trees on the right. I suppose the temptation could get him here. From the box, it's inviting, even by Augusta standards. Because of that, it's easy to get loose with it. Trust me, that's experience talking."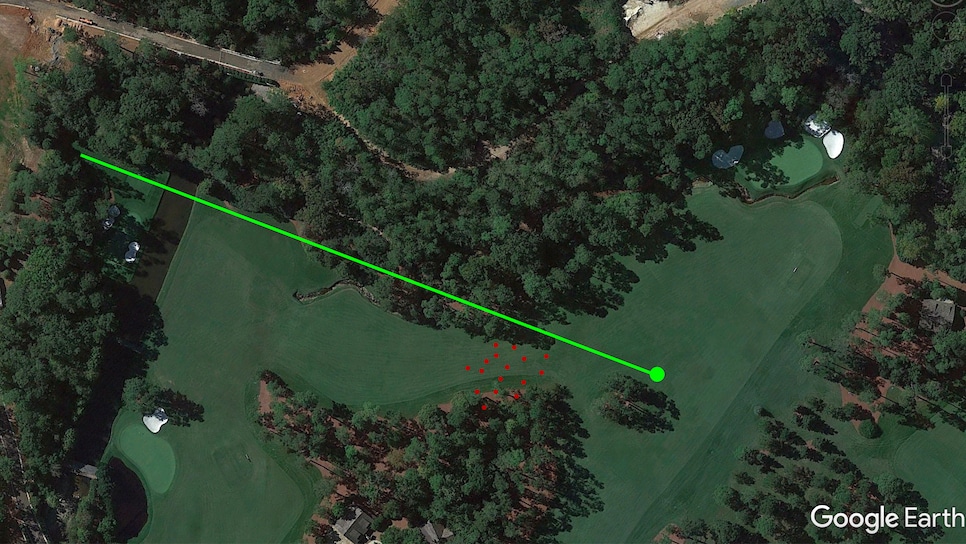 Hole 13, Azalea: Par 5, 510 Yards
Intel: Bryson's stated desire is to hit his drive into the 14th fairway, leaving 120 yards and change. That remains the game plan heading into the tournament, which not only requires a bit of a draw but clearing trees on the left side of the hole.
Player's Take: "Maybe I'm over [the hype about 13] because so much has been said and written about the hole. Can he reach the 14th? I'm never saying never when it comes to Bryson. Most of the field, though, is making 4 here. He's going to need an eagle one of the days to make it worth it. ... I will say, this is not an easy wedge shot. Not difficult; you see what guys [score] here. There is some touch required. Just something to watch."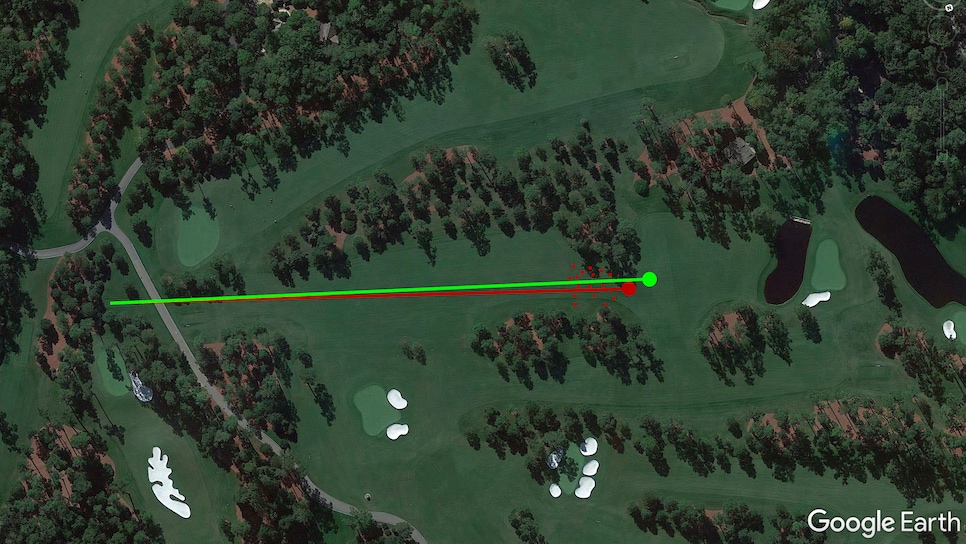 Hole 15, Firethorn: Par 5, 530 Yards
Intel: Bryson is planning on having a 9-iron or wedge into the par 5. Which sounds wild, although Woods had a wedge in his hands at the '97 Masters.
Player's Take: "Sorry, I was dreaming about flipping a wedge for my second here … If we see wind, this might be a separator for Bryson. Yeah, a wedge into here is stupid. We're also well past the days of players hitting 3-, 4-iron into the green. But if there's wind some guys will be forced to hit something low, and he'll have something mid-to-high in. That is the difference from 'You know, give yourself a look [at eagle] but don't give away 4' to making eagle the goal."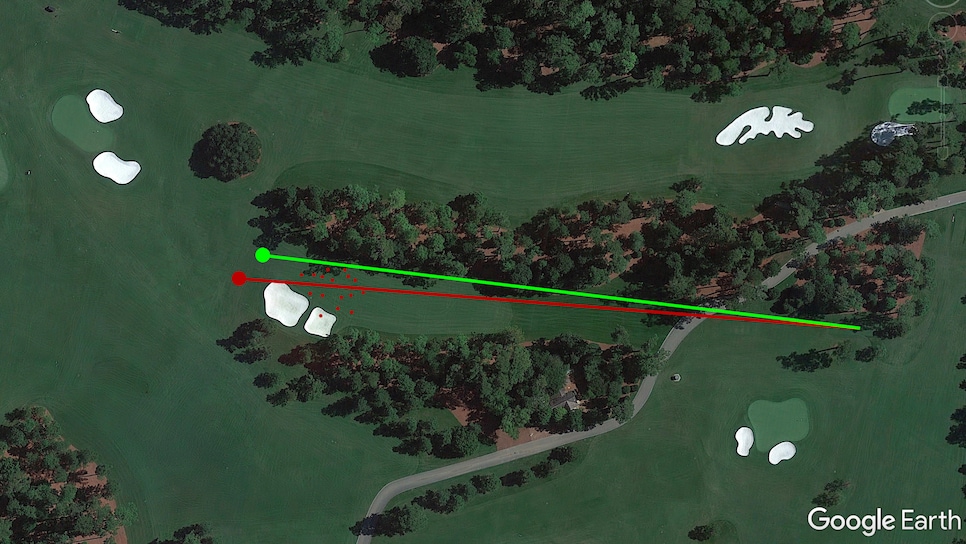 Hole 18, Holly: Par 4, 465 Yards
Intel: During his practice round Bryson hit it past the trees on the right side, leaving less than 100 yards in.
Player's Take: "If he has a hair of action left-to-right, I mean, game over. Personally I am not so sure about just driving it long [over the bunkers]. Back pin, yes. Anything else, the angle doesn't leave much room for error, no matter the club. Of course, if you could tell me I could drop past [the bunkers] I'd take it before you finished the sentence."