News
U.S. Open 2020: Even Winged Foot has fallen victim to bomb-and-gouge, raising a difficult and uncomfortable truth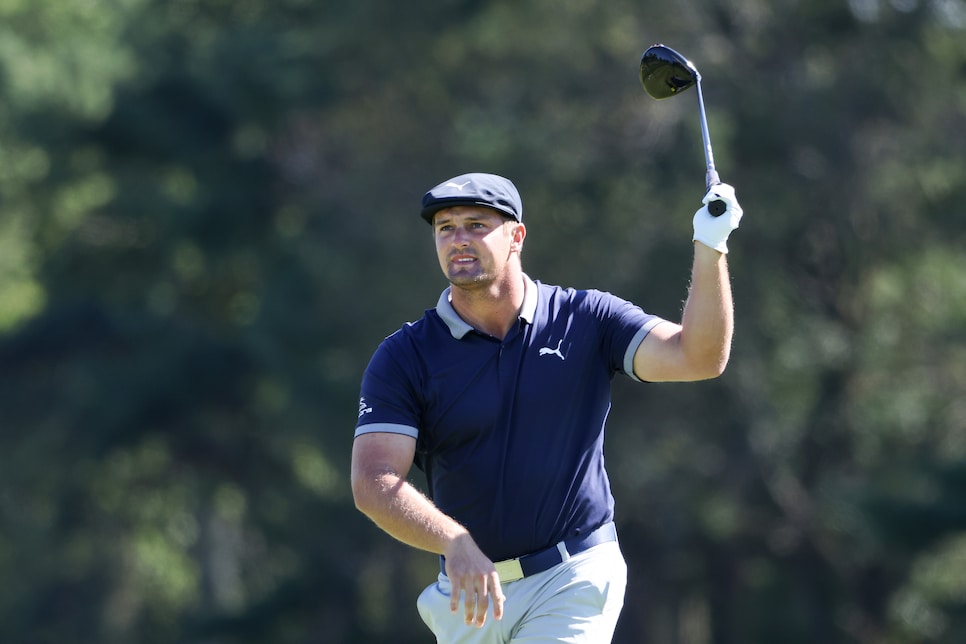 MAMARONECK, N.Y. — This was not supposed to happen. Not at this course, not at this tournament. But it did, with no room for interpretation. Forget provocation; what Matthew Wolff and Bryson DeChambeau have done to Winged Foot is enough to ring sirens from Mamaroneck to Far Hills and within the soul of every golf purist.
Wolff and DeChambeau combined to hit five fairways Saturday. Everything we've been trained to believe about Winged Foot and the United States Open dictates this performance should leave the two twenty-somethings heads-in-hand at the clubhouse bar. "More ice, bartender; the cattle-branding is still fresh."
Instead it was Wolff and DeChambeau who burned their mark into the course. Wolff played the front nine in 30 strokes and birdied the 18th for a five-under 65. He did so hitting from spots requiring a compass rather than a yardage book, needing a weedwacker instead of a wedge. And yet he finished by hitting 13 of 18 greens. Wolff leads the tournament by two shots despite finding just 12 fairways on the week, and if that sounds low you're right: The fewest fairways hit by a 54-hole leader previously was Jim Furyk in 2012 at Olympic with 20.
"I think that I go out there and I play my game. There's a lot of holes out there that maybe people would try to hit it in the fairway or maybe take the safe play because it is a U.S. Open, and they know that pars are a good score. But I don't really like to think of it that way," Wolff said. "I like to go out there and do what I feel comfortable with, rip it and see how it goes from there."
DeChambeau, likewise, was no Magellan, and his journeys weren't just a step or two from the short stuff. His tee ball on the second found the eighth fairway, and his tee ball on the eighth darn near reached the second. He was so far left on the 14th a volunteer believed it might have landed in neighboring Larchmont. Nevertheless DeChambeau, starting the day one behind Patrick Reed, kept his chances of winning this major afloat with an even-round 70 thanks to ranking 13th in strokes gained/approach.
"For the most part if you're able to hit it far enough up there, I feel like wedges you can get it out pretty easy and run some stuff up," DeChambeau said.
And it's not just Wolff and DeChambeau who were unshaken by the rough. Xander Schauffele hit just three fairways, Louis Oosthuizen five. Rory McIlroy was the Fred Funk fairway finder of the group with six. Those are five of the top seven players on the board.
A lot can happen over 18 holes, or as the last Winged Foot Open proved, on one. Oddly, that is secondary at the moment, for it feels like golf turned a corner it can't walk back around.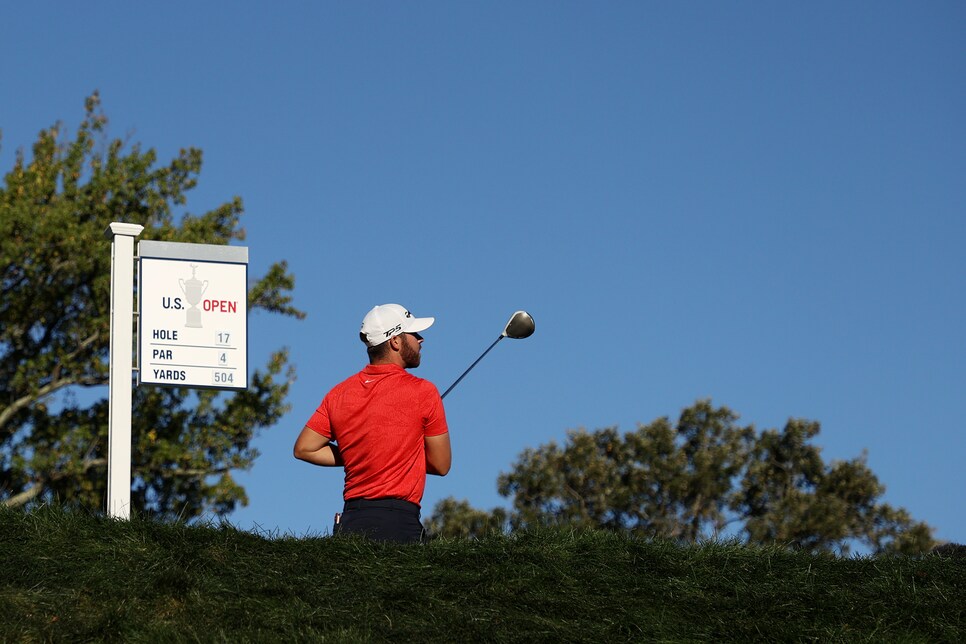 "Bomb and gouge" is a simple philosophy: Hit the ball as far as possible, accuracy be damned. Seve Ballesteros and Arnold Palmer utilized a variation of "launch first, ask questions later" long before, and power has always been an asset in the sport, but the past decade has seen a growing buy-in and dependence of the strategy. Strokes gained proved its validity, while massive gains in equipment manufacturing raised the ceiling of its success. Courses, at least on the PGA Tour, did not necessarily offer a rebuttal. Instead, they continued to facilitate, even encourage, this type of play, and as a corollary have not just de-emphasized other aspects of the game but almost rendered them obsolete.
The U.S. Open, however, is not a tour event. The USGA prides itself in presenting a complete examination, and (save for Erin Hills) you do not beat a U.S. Open venue into submission. No host exemplifies this notion like Winged Foot. It puts a premium on accuracy, not just in finding the fairway but the proper angle to allow for the best approach. Miss the fairway entirely and you're hoping to advance the ball enough to retain a chance at par. The green complexes are just as demanding. They cannot be attacked, but those on the defensive are punished all the same. It is a course built on two tenets: Precision and patience.
Then came Wolff and DeChambeau, bulldozing pillars that have withstood a century of the game in 54 holes. Shot-making was watered down, game plans distilled to ... well, hit the bejeezus out of the ball. It was everything the U.S. Open is not, prompting NBC reporter Roger Maltbie to comment on the broadcast: "Every part of me wants to not like this, that you just reduce the game to power and the fairway becomes less important … especially at a U.S. Open because historically, that's just not the way it's been done … but this is impressive and [DeChambeau is] convincing me that he's not wrong in the way that he's assessed how to play the game now."
Rog's vexation is shared. Winged Foot members were upset with Thursday's course set-up, sources told Golf Digest, and they weren't overly thrilled with 12 players shooting par or better on Saturday. Conversely, Thursday's indignation was replaced with a sense of resignation. The course wasn't a pushover, the field averaging 73.56 in Round 3. The wind calming in the afternoon facilitated more red than expected. But to chalk up the scores to a misread forecast is to be ignorant of something much, much bigger.
No conversation in golf has been as heated as distance gains, and the USGA—which governs equipment regulation in this country—threw more logs into the fire when it stated in its Distance Insights report that said gains must stop. That verdict, how the USGA came to it, and where it goes from here can be debated. But the performance of DeChambeau and Wolff and McIlroy on a course where just two players in five previous U.S. Opens have broken par is unequivocal: There is no defense against distance.
To many, Saturday afternoon sounded the alarm. In truth, the sirens rang earlier. The East Course's ninth hole is serving as a makeshift range this week, with a net past the green guarding a parking lot. A few players have soared their drives over the de facto fence, including DeChambeau, who ended his third-round warm-up by raining balata into courtesy cars. As he walked to the first tee, the implication was clear. This course cannot contain them.