News
U.S. Open 2020: Leader Matthew Wolff blissfully naive to the history in his sights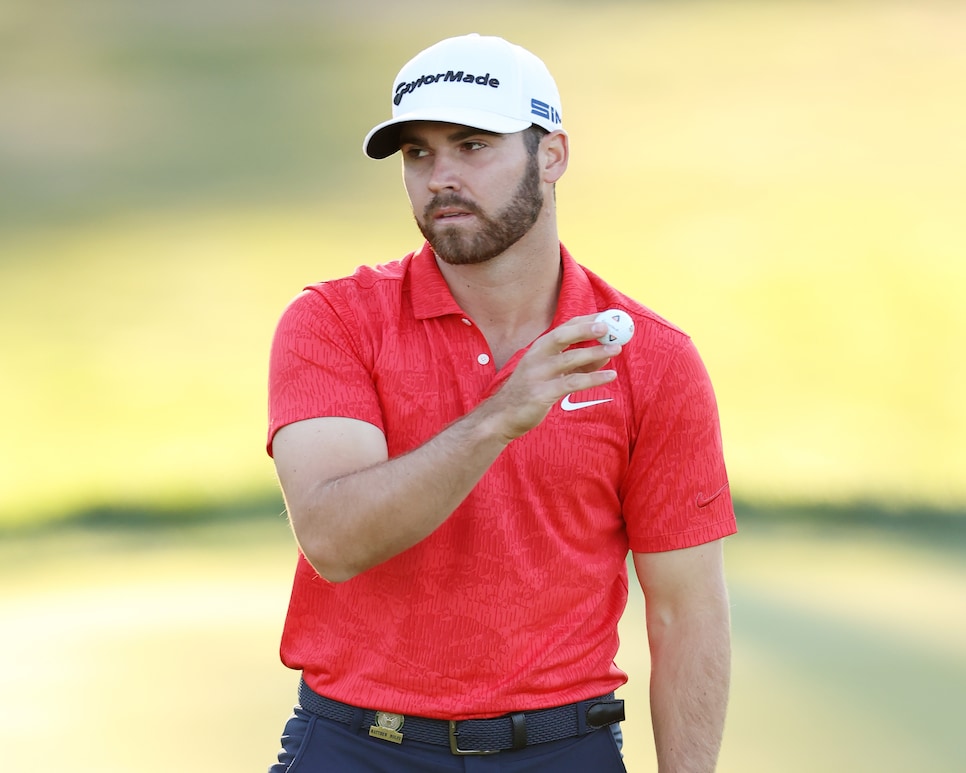 Matthew Wolff reacts on the 18th green during the third round of the 120th U.S. Open Championship.
Gregory Shamus
MAMARONECK, N.Y. — Matthew Wolff. Two fs. Call him Matt. Or Wolffie, if you know him like that. Born April 14, 1999. From Southern California. Plays a golf ball painted like a soccer ball. Owner of a funky golf swing and a truckload of confidence.
The 54-hole leader of the U.S. Open. By two.
Wolff is at five under for the tournament after a preposterous third-round 65, two shots ahead of Bryson DeChambeau with 18 holes to play. How good was it? The scoring average at Winged Foot on Saturday was 73.63. Wolff beat that by more than eight.
"Everything," Wolff said. "I think my putting was by far the best it's been in two or three months. I feel like I'm hitting the ball really well."
This, uh, isn't supposed to be happening. Wolff is 21 years old and playing in his very first U.S. Open. No one has won his very first U.S. Open since Francis Ouimet beat Harry Vardon, 107 years ago. They made a movie about that tournament.
Wolff, the youngest 54-hole leader of the U.S. Open since 1971, hit just two of 14 fairways on Saturday. At any U.S. Open, that's supposed to be trouble. At Winged Foot, a death sentence.
"There's a lot of holes out there that maybe people would try to hit it in the fairway or maybe take the safe play because it is a U.S. Open and they know that pars are a good score. But I don't really like to think of it that way," Wolff said. "I like to go out there and do what I feel comfortable with, rip dog and see how it goes from there."
He joked in a post-round interview that he told his caddie, Nick Heinen, that the plan was to shoot as low as possible while hitting the fewest fairways. Take that, USGA.
"The rough simply does not affect him," said Heinen, a former teammate of Wolff's at Oklahoma State. He's been on the bag since the Honda Classic. "I've never seen anything like it. It's not even like he's playing to land it short. He's just, like, its 130, I'm gonna hit a stock 130 shot. And it lands on the number. It's crazy."
The front nine was preposterously good, five birdies and no bogeys for a 30. The back nine, a bit more of a grind—seven pars and a bogey before he stepped to the 18th tee and pushed a 4-iron toward the right rough. He begged for it to kick left. It didn't listen for the first three bounces, inertia carrying it on a straight line into the cabbage. And then, somehow, it hopped out of the thick stuff into the first cut. Wolff then hit the shot of the day, a baby-draw from 207 yards that had just enough to kick up the giant ridge that guards the front of the final green.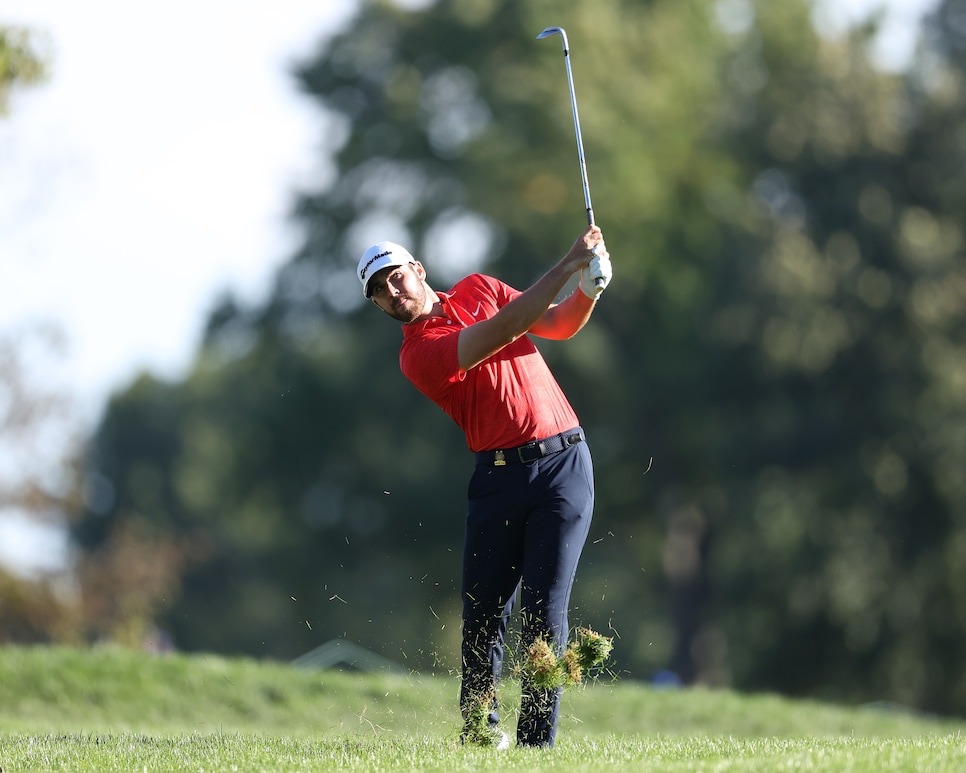 Matthew Wolff plays a shot from the rough on the 14th hole during the third round of the 120th U.S. Open Championship.
Gregory Shamus
The 10-foot birdie putt was dead-center, and Wolff could hardly contain a smile after fist-bumping the caddies and Brendon Todd. (We're still not doing handshakes. Remember, COVID.)
Again, this isn't supposed to be happening. Not this soon. Yes, Wolff was an amateur phenom, winning the NCAA individual title his sophomore year at OSU. Yes, he won a PGA Tour event in his third start as a professional. And yes, he finished tied for fourth in his first ever major last month at the PGA Championship.
But a U.S. Open? At a course with this reputation, with this pedigree? Wolff's certainly not fazed by the prospect. He's not exactly a golf historian. Isn't really aware of the history of this golf course, of the 1974 Massacre at Winged Foot, of Geoff Ogilvy's five-over winning total from 2006.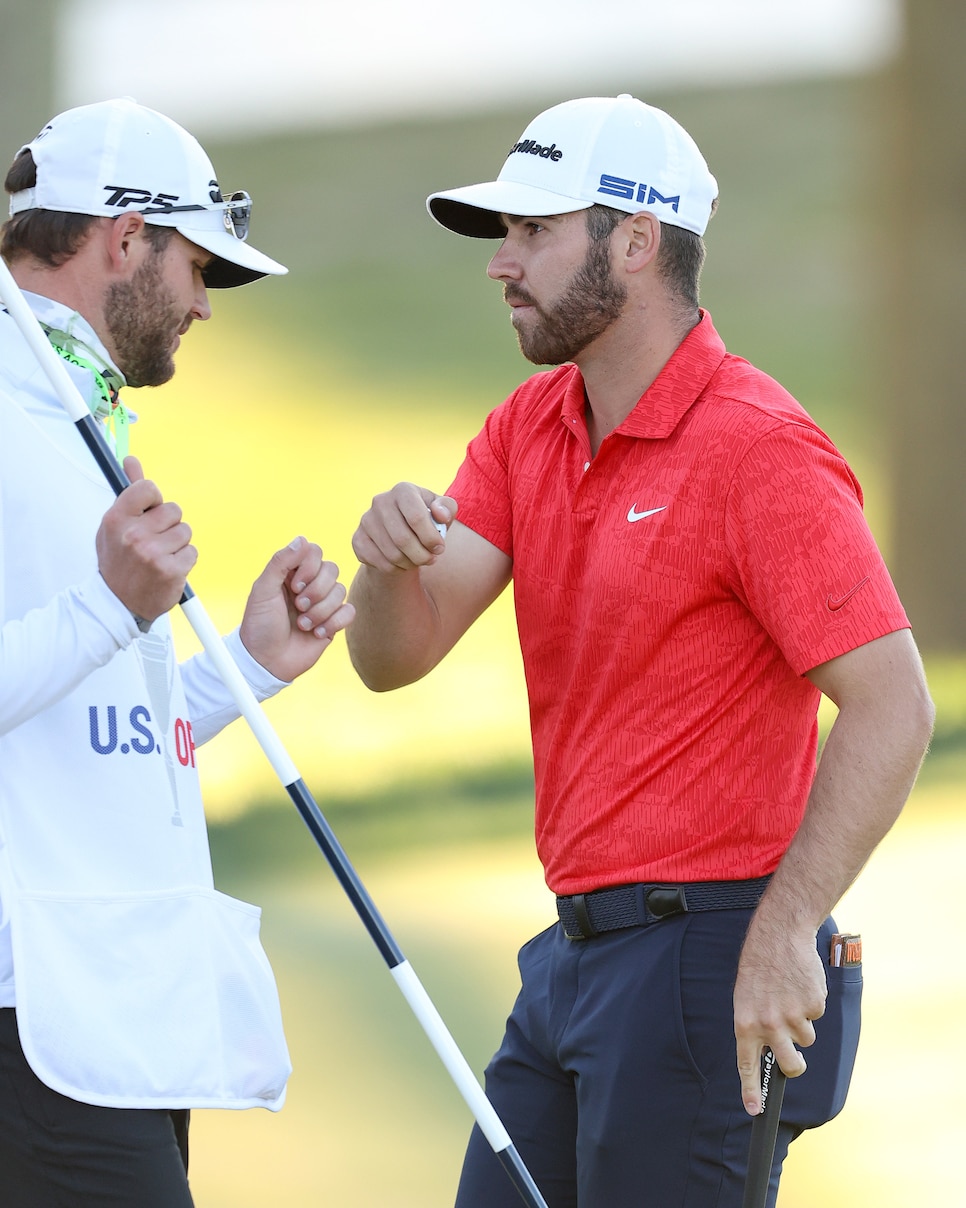 Matthew Wolff bumps fists with caddie Nick Heinen on the 18th green.
Gregory Shamus
"I'm not huge on the history part," Wolff said on Thursday after opening with 66. "I do play golf, but there are a lot of things that I'm pretty unaware of until people tell me about them. Especially with the history of the game."
Blissfully naïve isn't a bad thing in golf. It helps you, as Wolff put it earlier in the wake, "not really make this tournament even bigger than it needs to be." Adding to Wolff's chillness this week has been his company—Heinen and swing coach George Gankas, who was here for the practice rounds before heading back to California on Wednesday. Heinen and Wolff don't talk about golf between shots. Today, their conversations veered toward NBA playoff games and Oklahoma State football. With Gankas, in addition to some fine-tuning of the game, it's mostly inside jokes and laughs. "He's like a 50-year-old in a 12-year-old's body," Wolff said.
Maintaining that sense of serenity will be key on Sunday. He's experienced a lot in his 15 months as a pro golfer, but not a 54-hole lead at a major. But he has held a 54-hole lead over DeChambeau before—two months ago, at the Rocket Mortgage Classic in Detroit. Bryson beat him by six that day, 65 vs. 71, and won by three.
"I definitely can't count anyone out of the tournament, but I'll be able to keep calm tonight, watch some basketball, hang out with my caddie, Nick, who's a really good friend of mine. And I think that's the biggest thing, is not really looking ahead. I was kind of antsy at the beginning of the round in Detroit, the fourth round.
"I think I'm going to go out there and just do my thing."