News
Matthew Wolff is ready for his close-up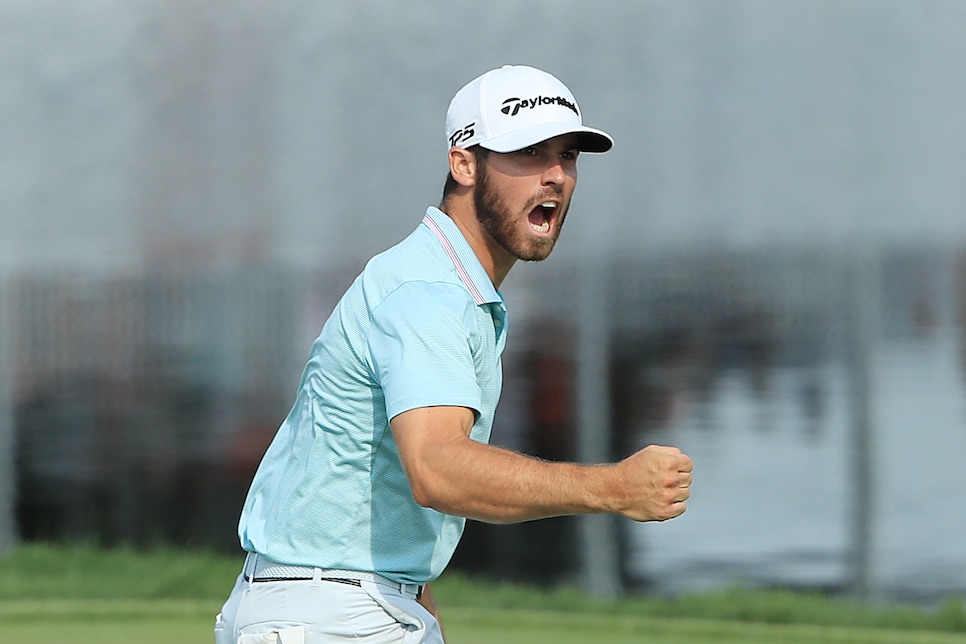 Matthew Wolff understands the premise. It is an exhibition for charity, stated right there, in the event's name. It is a diversion from current affairs, and a harbinger that normalcy, at least a semblance of what that word used to mean, may not be far off. His playing mates—Rory McIlroy, Dustin Johnson and Rickie Fowler—have reiterated the sentiments regarding Sunday's TaylorMade Driving Relief at Seminole, and Wolff has too. "It's a great cause, a chance to do something where we are giving back in multiple avenues," Wolff says.
But the other three characters are household names, pillars of the sport—and well known outside of it—to which this event is a biography footnote. For Wolff, barely old enough to drink, Sunday is an exhibition of a different sort.
"I'm definitely good enough to be with these guys," Wolff says. "I've proven it, and in a short amount of time. Now I get the opportunity to showcase it to a bigger audience."
There are echelons of fame. To golf zealots, Matthew Wolff has been a fledgling star since his sui generis swing—which looks like a coiled cobra waiting to strike, followed by a thunderous whack as if one is hitting a tire with a sledgehammer—went viral from SoCal instructor George Gankas in 2017. Gankas told everyone that would listen: This kid is going to be a disruptor.
Expansive as the golf world may seem, it only occupies the overall cultural landscape on occasion, many sports fans tuning in to just the majors and stumbling into the random Sunday broadcast. Golf's powerbrokers desperately seek a crossover star, but they are rare. And yet, Wolff seemingly has the qualities to be one.
He is photogenic, with the build of a baseball player belied by an effortlessly cool demeanor. He is approachable, someone who relishes the chance to sign his autograph and talk to whoever seeks his time. He is eloquent and thoughtful, unafraid to speak his mind. He understands the responsibilities that come with a heightened spotlight, and the platform at his disposal.
"We talk about growing the game, making it cool, but instead of these broad approaches, we really haven't tackled it at a micro-level, which is what you have to do," Wolff says. "We have to be more interactive with fans. We have to dismantle the stuffiness that some feel lingers in golf, making an event welcome to ancillary fans looking for a social gathering. To lighten things up. You can do that without upsetting the passionate base."
Above all else, Wolff has a peerless firepower to back it up. Even in the bomb-and-gauge era, where half the tour can wear a dri-fit shirt without remorse, Wolff does not so much maneuver his way around a course as he bludgeons it into submission. To watch Wolff roam off the tee, dressed by the bewildered looks and headshakes from his fellow pros, reminds one of a sadistic gym teacher posting up prepubescent teens in P.E. class.
In less than a year in the professional ranks, Wolff has shown he has the bite to match the bark. And he's not short on bark.
"How I go about playing is not the norm," Wolff says. "I'm not concerned about laying up. I do things with a driver that others can't, so there's not a lot of people I can go to course-strategy wise. It's a different game."
After initially committing to USC, the Southern California native instead went east to Oklahoma State in 2017 and quickly proved Gankas a soothsayer. Wolff won the Phil Mickelson Award as the top freshman in the country and converted the NCAA Championship-clinching putt for the Cowboys. There would be no sophomore slump, as Wolff won a school-record six times in his second year, highlighted by cruising to the individual title at the NCAAs in May 2019.
"What he did, you can't compare yourself to him, or you'll lose your self-esteem," says Victor Hovland, Wolff's OSU teammate and, it should be noted, the 2018 U.S. Amateur champ. "What he does on a golf course is so fun to watch it can take you out of your game."
Wolff would leave Stillwater soon after, making his professional debut at the 2019 Travelers Championship in June.
Most Internet phenomena get just 15 minutes, or bleed it to exhaustion. (Rest in peace, "Harlem Shake.") And more so than other sports, golf's highly touted prospects aren't guaranteed acclaim at the next level. There's an unfortunate meat-market mentality when it comes to rising talents, handed an opportunity only so long before the next up-and-comer gets his chance. Case in point: Norman Xiong, the game's "next big thing" the year before Wolff, has no professional status in 2020.
Against that pressure, it took Wolff all of … (checks notes) … three starts to hit paydirt, winning the 3M Open in July at age 20. He was the youngest winner on tour since 2013, securing his tour card in the process. Professional golf has undergone a youth revolution the past decade, but this was a different animal. Wolff became just the 10th player since 1980 to bypass Qualifying School or the Korn Ferry Tour Finals en route to PGA Tour membership.
"If there's one thing that surprised me, it was how easy it was off the bat," Wolff says. "It's hard out here. Extremely hard. But it was evident to me I belonged."
It was an epiphany not delivered in victory at the 3M Open but in making the cut at the Travelers in his pro debut. Wolff had doubled his final hole in Round 2 to make it on the number. That was the moment, he says, he knew.
"The double sticks out on the card, but I wasn't hitting it well over the first two days, period," Wolff said. "But I was able to score enough to make the weekend. And it gave me the confidence that, if this is how things can go when I don't have my best, think what I could do when things get going."
Former Cal standout Collin Morikawa, who also turned pro in the spring and finished second at the 3M Open, joined Wolff in the winners' ranks thanks to a triumph at the Barracuda Championship last July. As would Hovland, who secured PGA Tour status in the KFT Finals and won the Puerto Rico Open in February. Add in 2019 Rookie of the Year Sungjae Im, and the four comprise one of the strongest classes the tour has seen since, well, ever.
"It's a special group," Morikawa said. "We all have our own games, but you definitely feed off the others' performances. It adds to your drive."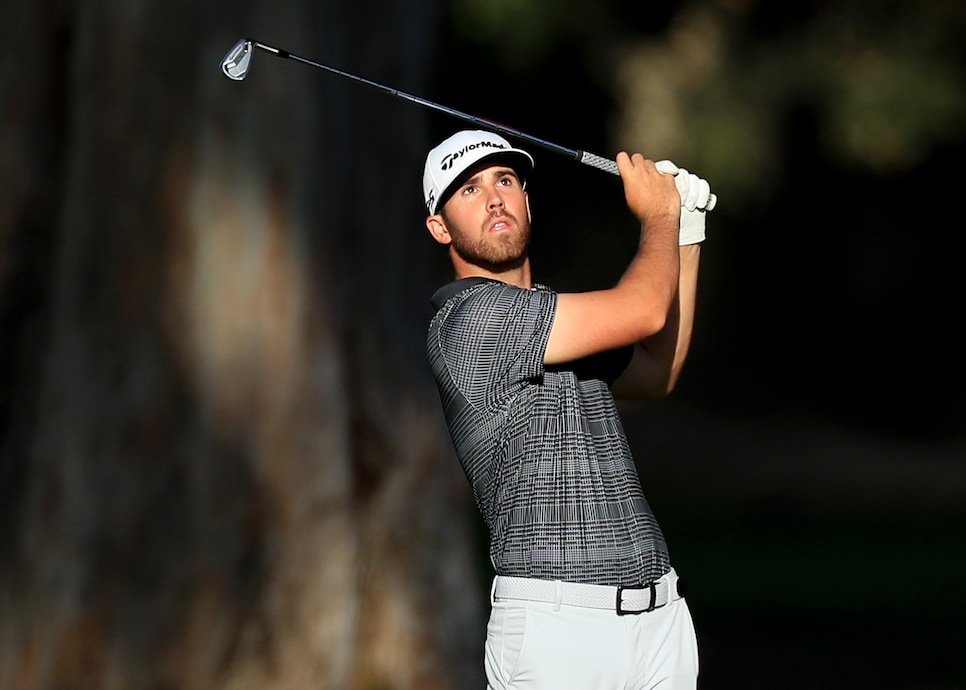 Thus far, Im, 22, has enjoyed the most success, already with 12 top 10s in two years. Morikawa is insanely polished, making the cut in all 20 professional events he's entered, and Hovland's tee-to-green game is that of a top-10 player in the world.
However, the leader of the pack when it comes to star power is Wolff. True, the examples of marketing-made "stars" who burned out are many, but this comes with the endorsement of his golf brethren.
"There are some players that you play with that surprise you how good they are," Hovland said earlier this year. "With Matt, it's noticeable the moment he steps foot on the range." Adds Morikawa: "We're all very good, but Wolff … he has the trappings to be a once-in-a-generation guy."
Wolff is not a goal-setter, not in the short-term at least. They can be distracting, that too much energy can be wasted on something ephemeral. "Especially if it looks like they might not happen, so you begin to press and it throws you off," Wolff says. "You lose sight of what matters." Instead, his gaze is down the road: Ryder Cups, World No. 1, majors.
It's a big appetite, he knows. But Wolff is the one setting the menu.
"I've learned fairly early to block things out," he says. "The only expectations I have come from me."
Wolff has grasped he can't build anything of merit without a foundation. He often eschews playing practice rounds or hanging out with the tour's younger crowd, favoring the presence of those who have been around. Fowler has proved a sounding board. Friendships have been struck with Chez Reavie and Charles Howelll III. ("I don't think Charles has ever said a cuss word," Wolff says in wonder.) They've taught Wolff how to be a professional, inside the ropes and out.
It's not a surprise, then, that Wolff carries himself like a 19-year-vet, rather than a player with 19 career starts.
And yet, that's all he has made, 19 starts. Wolff hasn't seen most of the venues on Tour and has not played in a major. His game is not flawless; his second-shot performance (165th in approach) and work around the green (221st in sg/atg) have given him fits. He is, after all, just 21.
"I'm confident, but I don't feel comfortable," Wolff said. "Guys who have been out here, there's a certain routine and preparation. I'm trying to learn about a course, trying to learn a bit more about my own game, then trying to prepare.
"I'm still nowhere close to fulfilling my potential. The guys that are on leader boards every week, there are no holes in what they do. Right now, what I do off the tee is great, but there are weak spots, and I need to eliminate or minimize those if I want to make the next step."
Wolff stated his goals and mindset remained unchanged following the 3M Open win. It did, however, bestow two years of breathing room, giving Wolff the chance to discover who he is as a person and player—and who he wants to become—unbeholden to anything but his own desires.
This weekend fans, the ones who only know golfers from majors and commercials, will get a chance to discover Wolff, too. "I feel like a lot of people are going to tune in and go, 'Who is this kid playing with Rory, Rickie and DJ?'" Wolff laughs.
He then pauses, clears his throat. "They're going to know by the end of the match, though."