News
Everything you need to know about the TaylorMade Driving Relief charity event
For the past month-plus, golf fans have had only one avenue to get their televised fix: rewatching classic tournaments. Sure, the Outlaw Tour and the Cactus Tour and a random charity event featuring Tony Romo have attempted to fill that void, but we've still been missing true, live, unscripted professional golf.
This Sunday will provide some semblance of just that with the TaylorMade Driving Relief Charity Event, which pits Dustin Johnson and Rory McIlroy against Rickie Fowler and Matthew Wolff in a skins game. How can you watch? Where is it taking place? Can you bet on it? We answer all of your most pressing questions about the event below in this Viewer's Guide.
Where is it being played?
The TaylorMade Driving Relief charity event will take place at Seminole Golf Club in Juno Beach, Fla., one of the most exclusive clubs in the world. The club has never before hosted a professional-only event, so this will be the first time the course will be shown on television for golf fans to see. The only way previously to get a glimpse of the Donald Ross gem was in pictures or to actually be there.
What will the broadcast be like?
Much like the NFL Draft, the broadcast will be entirely virtual. NBC lead anchor Mike Tirico will be providing commentary from his home in Michigan. Analysts Paul Azinger and Rich Lerner will join Tirico from an off-site production facility, while Jerry Foltz, Steve Sands and Gary Koch will be on the grounds of Seminole. All four players will be mic'd up for the duration of the competition. There will be no spectators.
The purse for the TaylorMade Driving Relief Charity Event, which is being provided by UnitedHealth Group, is $3 million, all of which is going directly to the American Nurses Foundation and CDC Foundation to assist in their efforts during the COVID-19 pandemic. An additional $1 million is being donated by Farmers Insurance for a birdie and eagle pool that will go to Off Their Plate, a fundraising initiative through World Central Kitchen that helps COVID-19 healthcare workers and impacted frontline-shift employees.
The format for the event is best-ball skins. Each hole is worth a certain amount of prize money, and if there is a tie, the money carries over to the next hole. The team with the most money at the end of the round wins. Here's an example of how the format works:
Dustin Johnson makes par, Rory McIlroy makes birdie
Matthew Wolff makes par, Rickie Fowler makes par
Result: DJ and Rory win the hole
Each team will begin the match with $500,000, and the remaining $2 million will be up for grabs during the competition. The first six holes will be worth $50,000 each. Holes 7-16 will be worth $100,000 each. Finally, the 17th hole will be worth $200,000 and the 18th hole worth $500,000. If the 18th hole is tied, players will return to the 17th hole and play from 125 yards. If that is also tied, the skin will be decided by a closest-to-the-pin competition from the same 125-yard distance on the 17th. If regulation play ends after 5:45 p.m. and it's tied, only the closest-to-the-pin competition will be employed to ensure the event finishes before dark.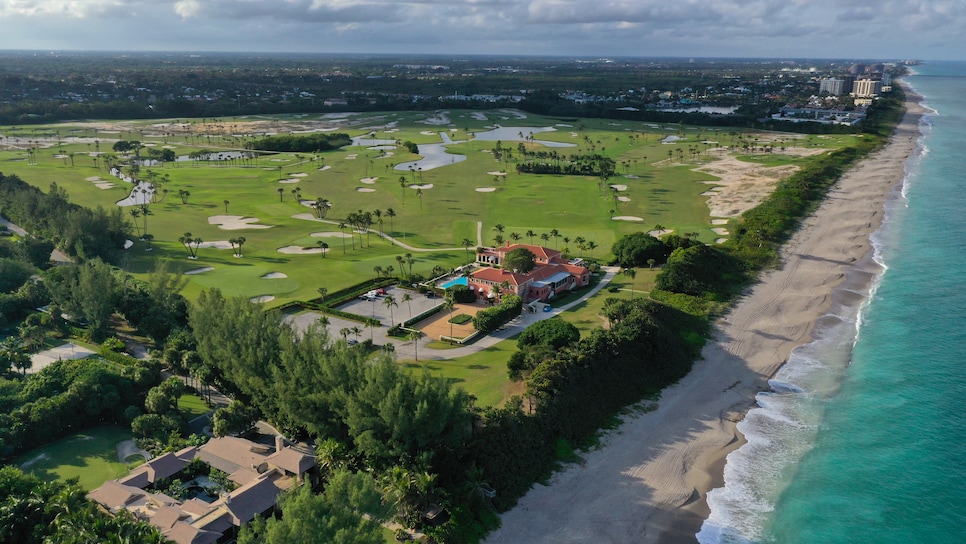 During the competition, additional funds will be awarded through a birdies and eagles pool thanks to Farmers Insurance. If a team makes multiple scores of under par on one hole, that team receives an additional $25,000 for a birdie and $50,000 for eagle. Teams may not concede birdies and eagles. They have to be holed out.
What are the safety measures that will be in place?
The TaylorMade Driving Relief charity event will adhere to strict social distancing guidelines and FDA-approved measures to help protect the health and safety of the golfers and production crew. The event will also follow all guidelines, executive orders and mandates issued by the State of Florida, Palm Beach County and the city of Juno Beach.
All four players and on-site personnel will receive COVID-19 testing prior to traveling to the golf course as well as upon arrival. Each player is permitted one guest, and only those deemed "essential" in conducting the competition will be allowed on site. The players will not have caddies, and will instead either carry their own bag or use a push cart. Flags, flagsticks and cup liners will be disinfected before play, and only members of the Rules Committee will handle the flagstick. All bunker rakes will be removed from the course. Players will be allowed to use distance-measuring devices.
Of course you can bet on it. As of now, the team of Johnson and McIlroy are prohibitive favorites at -223, according to BetMGM. Fowler and Wolff are +165. Depending on what book you look at, there are also plenty of prop bets, including "Who will win the first hole?" or "Who will lead after nine holes?"
Can I donate to the relief efforts?
Definitely. Fans at home will be able to contribute to fundraising efforts thanks to PGA Tour Charities, which has created a GoFundMe page with the proceeds going to the relief programs. For more info, go to pgatour.com/drivingrelief.