Borrowed Time?
British Open 2021: Even Phil Mickelson isn't sure which Phil Mickelson will show up at Royal St. George's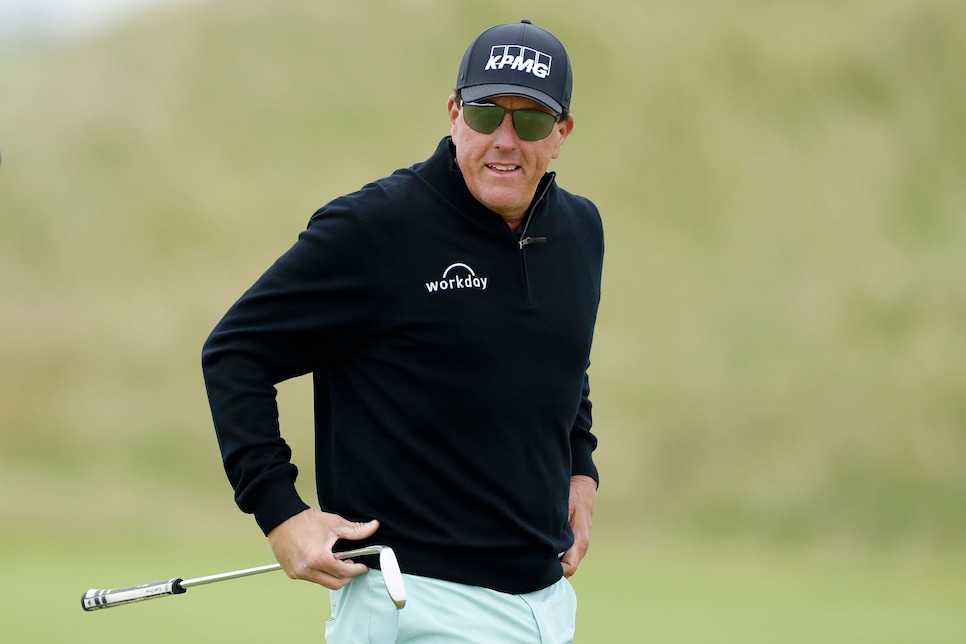 SANDWICH, England — What will Phil do next? It's always been a question with myriad possible answers, what with the typically up-and-down nature of the mercurial Mickelson's play. Still, given his recent form, at no point in the 51-year-old's storied career has the response to that timeless query been harder to predict. In a year when he added a sixth major title to his collection—becoming the oldest to win a men's major in the process—the 2013 Open champion has otherwise been reduced to also-ran status on almost a weekly basis.
That, of course, was long Mickelson's fate in the oldest of the four events that make up the men's Grand Slam. Only in his 12th attempt at Royal Troon in 2004 did he record his first top-10 finish in Great Britain. And another seven Opens would go by before he came close to contending again. Ten years ago, here at Royal St. George's, Mickelson was second behind Darren Clarke. It was a milestone event for the gallant runner-up. Two years later, the then 43-year-old was, finally, the "champion golfer of the year" at Muirfield.
"In 2004 is when I started to make the adjustments you need to make over here for the wind," said Mickelson on Wednesday, as he walked up the 12th fairway at St. George's in his final practice round. "In 2004, we had to contend with wind. In 2011, here at St. George's, we had some wind and rain. For the first time I wore two all-weather gloves. And I played really well in some awful weather. On the front nine in the final round, I played some of the best golf of my life.
"I do look at 2011 as a turning-point for me in my relationship with the Open and links golf," he continued. "It was the first time I had played that well in really poor conditions. I have to think what I did here 10 years ago had something of an influence in what I was able to achieve two years later at Muirfield. You have to have some success before you win this tournament. I know that's not the case for everybody. Some have played well pretty much immediately and have won within a couple of years. But it took me a while to get used to it."
That he is now well beyond that learning stage was obvious as Mickelson joined Jon Rahm, Bryson DeChambeau and Dustin Johnson out on the looks beside the English Channel. A series of beautiful iron shots, the flights low and penetrating, were the highlights of Mickelson's preparations. In particular, the running approach shot he hit to the ninth green will live long in the memory of those who saw it.
So, what can we expect over the next few days? More of the recent same (since winning the PGA, Mickelson's four starts have produced a missed cut, T-62, T-61 and T-74)? Or the focused Phil we saw en route to victory at Kiawah Island back in May?
"The first thing I have to say is that I will look back on this year as a great one, because I won the PGA," he said. "But I have been inconsistent in my scoring. From a physical standpoint, my body feels really good. And my physical game has been good nearly all season. I've hit the ball well nearly every week. So my inconsistency has stemmed from my inability to focus intently week-to-week.
"I really have no complaints physically," he reiterated. "As I said, I've played really well tee-to-green most weeks. But I've been sharp in only one of those weeks. At Kiawah, I was focused and felt great. Trying to get to that place more often is the goal. I just have to figure out ways to get back into that state of mind and that intensity. And nowhere is that more important than in conditions like we're going to have this week. This course can be very penalizing. You've got to be focused on every shot. The penalty for a miss can be so dramatic."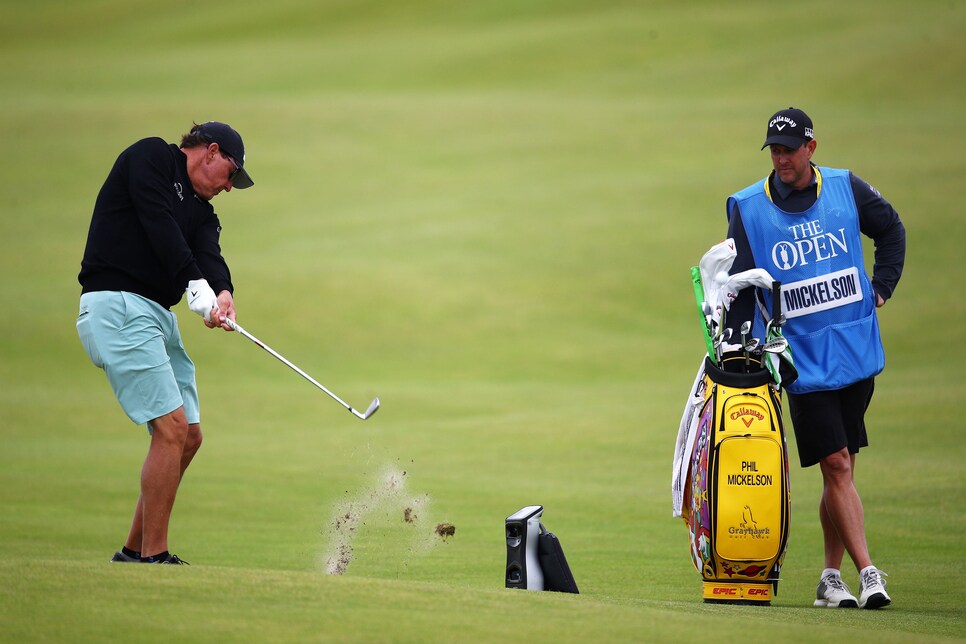 "I don't know. Your guess is as good as mine."
—Phil Mickelson when asked about his chances this week
OK, given that inherent danger, what is the best way to play this rumpled links, hailed by many as the most unpredictable and quirky on the 10-strong Open rota?
"There are so many ways to play each hole here, I'm not sure there is just one strategy," said Mickelson said. "It depends so much on the wind and the types of conditions we are going to be faced with. The goal is to be prepared for all different circumstances and try to pick the correct shot to minimize the mistakes and take advantage of the holes where, with the wind helping, you can make birdies. Those holes will change with the wind each day.
"Today, for example, the holes late in the round are where you can be a bit more aggressive. The par-5 14th will be reachable in two. The same is true of the opening holes. There are birdies to be made in that stretch. There are a lot of opportunities if you hit good shots."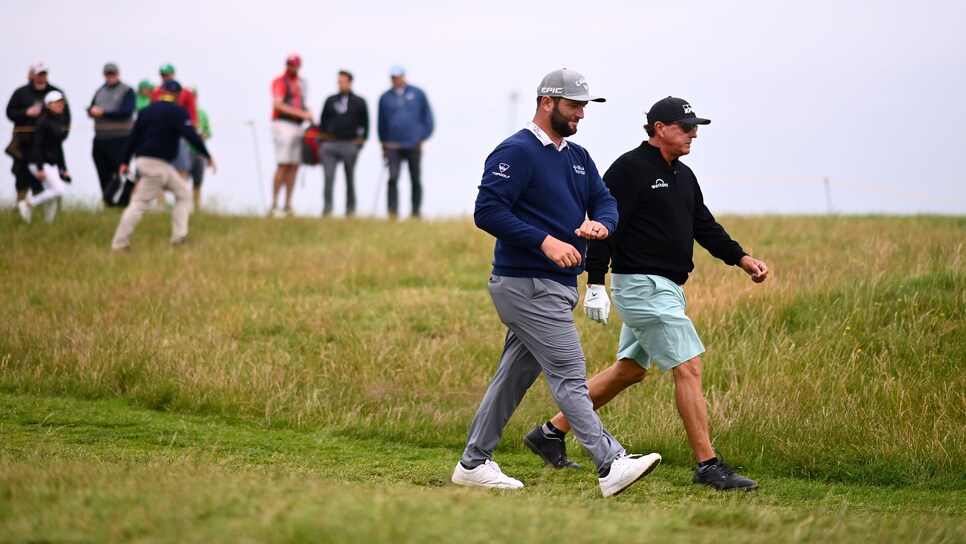 Jon Rahm and Phil Mickelson walk on the 17th hole during a Wednesday practice round at Royal St George's Golf Club.
Harry Trump/R&A
In closing, let's have one last try at determining which of the many Phils is going to show up this week.
"I don't know," said the man himself with a big smile. "Your guess is as good as mine. All I can tell you is that I like the course. We're going to have some nice weather. So, as always, I'm looking forward to playing over here."
Translation: Anything could happen. And probably will.