British Open
British Open 2021: DeChambeau-Spieth, a trio of bombers and a bad-blood pairing highlight our 11 favorite groups at Royal St. George's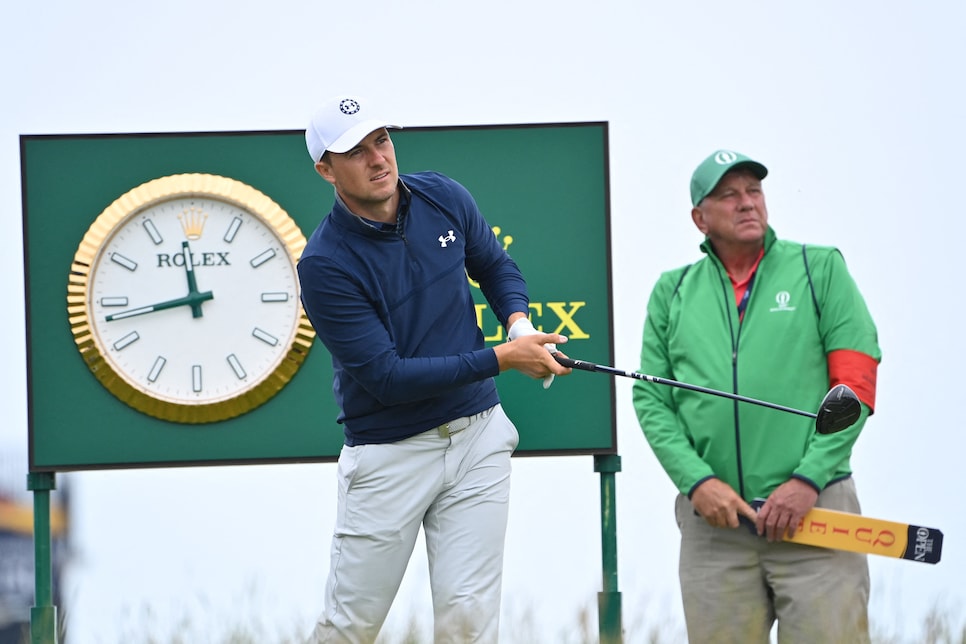 There are a number of players missing from this Open Championship, but—with all respect to those not making the trip to Sandwich—most of the game's marquee names remain in the field at Royal St. George's, and a pack of them will be paired together during the Open's first and second rounds.
Before you ask, no, Brooks Koepka and Bryson DeChambeau are not in the same group. As discussed at Torrey Pines; this is for the best; better to let that rivalry manifest over the weekend when it matters most rather than during the fleeting nature of a Thursday or Friday. So as we wait and pray for that heavyweight battle to come to fruition, here are 11 pairings to keep us entertained during the first two rounds of the Open Championship.
7:41 am local Thursday/2:41 am EDT -- Viktor Hovland, Ryan Palmer, Thomas Detry
Hovland is making his Open debut, and historically this is a tournament that favors—and arguably requires—experience. Conversely, what has made Hovland so good so early in his career is a blissful disregard to his surroundings, beholden to an inner command known only to him. Better yet, compared to the other majors, lights-out putting is not a prerequisite for contention, pacifying one of Hovland's few weak spots. Throw in Palmer's continued late-career revival and a red-hot Detry (two T-2s in past four starts) don't be surprised if these names are on the early board.
8:03 am/3:03 am -- Brooks Koepka, Jason Kokrak, Garrick Higgo
There's a "weapons of mass destruction" joke in here, but these three are more than muscle. Kokrak is fighting like hell for a U.S. Ryder Cup captain's pick and a top-five finish would move him from the "charming story that, realistically, doesn't have a shot" category to "about to burst some star's bubble" list of contenders. … Higgo is in a bit of a slump with three missed cuts in his last four starts; he's also won three times since late April so maybe we should keep an eye on him, yes? … As for the third player, let's save our words for later in the week. Because this is a major and this is Brooks Koepka, so you better believe we'll be talking about him in greater capacity come Saturday.
9:25 am/4:25 am -- Jordan Spieth, Bryson DeChambeau, Branden Grace
Aspiring gamblers could find a worse dark horse than Grace, who is back from the wilderness with a win earlier this year along with a fourth-place finish at the Memorial and T-7 at the U.S. Open. … Augusta National is his playground but the Open has been just as kind to Spieth, and Royal St. George's profile and past point to that providence continuing this week. The only thing keeping him from contending come Saturday will be finding himself in the wrong weather wave. … As for Bryson, this week ends with DeChambeau winning by three, forcing the R&A to convene an emergency session to declare persimmon and balata will be mandated at next year's Open at St. Andrews OR Bryson becomes so flummoxed by the wind and ground game that he walks off the course and into the sea. There is no in-between.
9:58 am/4:58 am -- Shane Lowry, Jon Rahm, Louis Oosthuizen
No matter what happens on the score card, this will be a long-overdue victory lap for Lowry. … Rahm will be treated with just as much love coming off his U.S. Open conquest. And amidst that parade Louis will very quietly put together two solid rounds to find himself near the lead because apparently that's a bylaw for majors now.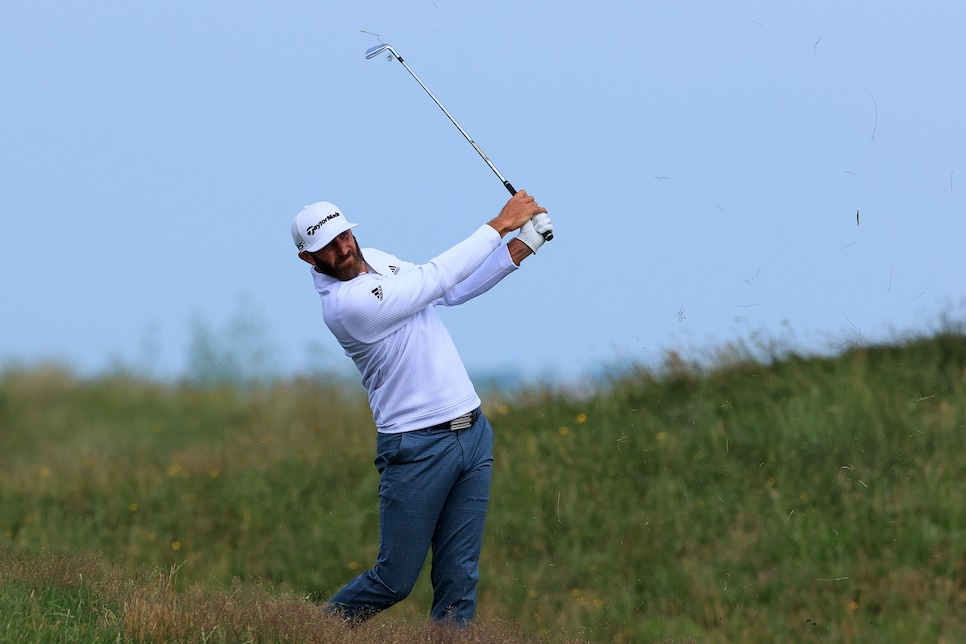 10:20 am/5:20 am -- Dustin Johnson, Will Zalatoris, Justin Rose
With two months to go before Ryder Cup rosters are finalized, Rose is shockingly on the outside looking in. He also has top-10s at the Masters and PGA, and a third this week can justify a captain's pick against a blah record the rest of the year. … Speaking of Zalatoris, despite his strong season he's trending to be snubbed for Whistling Straits. Yet if he contends at Royal St George's, that would be four top-10s—highlighted by the Masters runner-up—in his past five major starts. And that is a hard, hard line to bypass. … Sticking with the theme, Johnson has his Ryder Cup spot locked up. He also hasn't finished better than T-10 since February, which by DJ standards is a drought. Royal St. George's is the site of one of Johnson's major misses; can his putter wake up from its slumber (71st in putting this season) to give the 37-year-old his long-awaited payback?
1:04 pm/8:04 am -- Patrick Cantlay, Matthew Fitzpatrick, Ryan Fox
Cantlay has finished no better than T-15 in his last eight major starts. Fitzpatrick hasn't logged a major top-10 finish in his last 21 outings. Both are too talented for these streaks to continue.
1:26 pm/8:26 am -- Collin Morikawa, Corey Conners, Sebastian Munoz
Morikawa leads the tour in SG/approach by a mile. Conners ranks top 10 in the category (eighth). Munoz is a fine player coming off a strong performance (T-4 at the John Deere Classic) but legitimately worried the poor guy is going to quit after watching Morikawa and Conners pepper flagsticks for two days.
2:48 pm/9:48 am -- Phil Mickelson, Tyrrell Hatton, Kevin Kisner
In one sense it's unfair to Mickelson to view what happened at Kiawah as proof the man can still get it done, rather than recognize what he did defied all we thought we knew about age and sport. In other words, to treat that moment for just that, a moment, instead of extrapolating what is next for Phil. HOWEVER, experience matters at the Open. Creativity matters. Understanding bad breaks are inevitable and possessing the fortitude it takes to bounce back from them really, really matters. In short there's a decent chance the magic from Kiawah comes alive again in Kent, where Mickelson finished T-2 the last time the claret jug visited Royal St. George's ... As for Hatton and Kisner, our only wish is that Kisner pays tribute to Hatton with his own disgusted club toss at some point. Game recognize game, after all.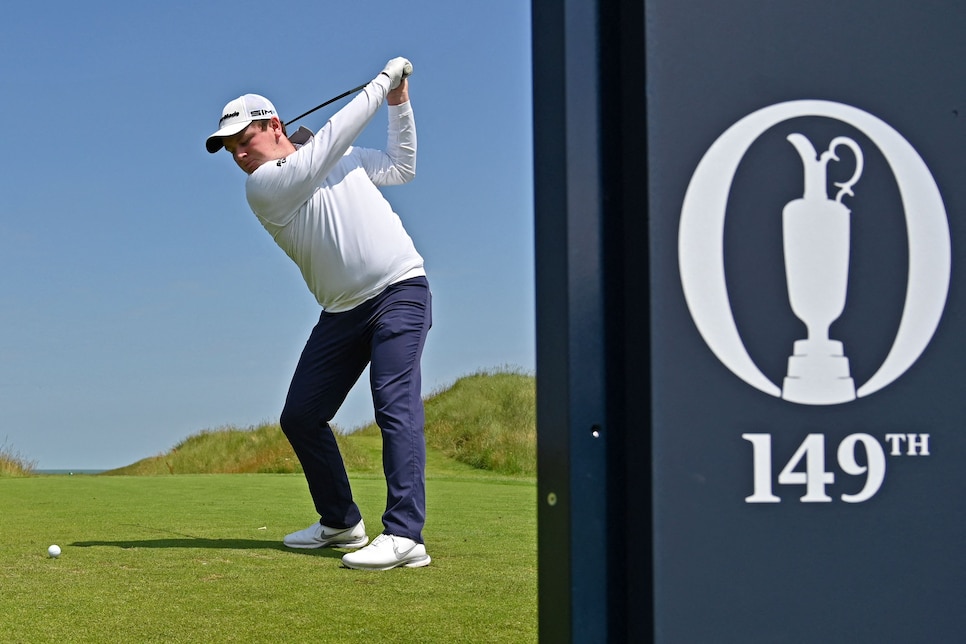 2:59 pm/9:59 am -- Xander Schauffele, Robert MacIntyre, Rickie Fowler
With Rahm capturing the U.S. Open Schauffele is now the best under-40 player to not have a major. That he's ditching his ill-fated arm-lock experiment should help the cause … Fowler has shown signs of life over the past six weeks, and did contend at the 2011 Open (T-5). Fowler's success in the wind is a bit overstated but it's also not wrong, which is why this week could be the turning point so many hope comes … The Euro cognoscenti desperately wants MacIntyre to be the next big thing. He's not far away from such status, proving his mettle at the 2019 Open (T-6) and playing well at a number of venues this year. His game is not necessary pretty, yet it's at its best when things get ugly, the type of game that so often decides who grabs the claret jug.
3:10 pm/10:10 am -- Justin Thomas, Tommy Fleetwood, Adam Scott
I know the golf gods are not just but it seems criminal these three men have a combined two majors.
3:21 pm/10:21 am -- Rory McIlroy, Patrick Reed, Cameron Smith
Rory McIlroy is an Open champ. He is the fulcrum of the European Ryder Cup team. He is everything a fan could want in a player avatar. So we have no idea what McIlroy did or who he betrayed to get thrown into the crossfire of Reed and Smith, two players who have an interesting past. (Smith called out Reed for his penalty for moving sand at the Hero World Challenge in 2019, then the two exchanged words shortly after at the Presidents Cup.) But if McIlroy traverses this minefield without incident, no one is stopping him from snapping his seven-year major slump.