Ten Years Later
British Open 2021: Darren Clarke debunks one myth about his 2011 win at St. George's, revels in another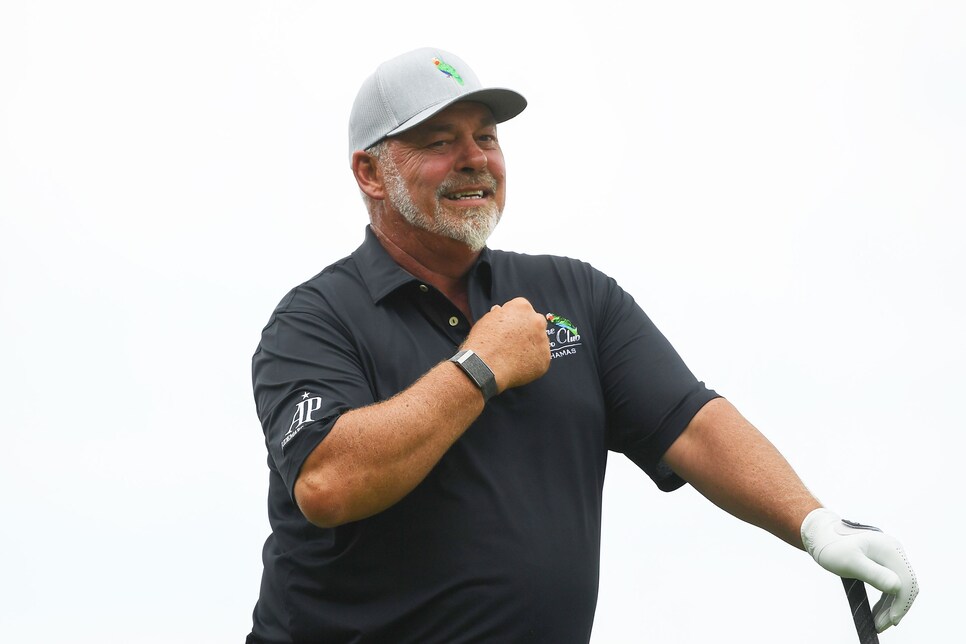 Darren Clarke is back at Royal St. George's for the first time since his Open victory in 2011.
Quinn Harris
SANDWICH, England — He was trying to hit some balls on the range, but wasn't having much success in that department. At Royal St. George's for the first time since he won the Open Championship here in 2011, Darren Clarke was too busy talking to just about everybody who passed to focus on the swing that carried him to victory a decade ago. Not that he seemed too concerned. Always one of the more social animals on any tour, the Northern Irishman was clearly enjoying himself. Which is appropriate. Ten years on from his infamously inebriated press conference the morning after the biggest win of his career, Clarke was just glad to be back.
"I take credit for the fact that no Open champion has held a similar press conference since," he said with a broad smile. "[R&A chief executive] Martin Slumbers told me I killed it. But what can I say? This is the Open Championship, the biggest and best event in the world. It's the one I've always looked forward to, even before I won. And to come back to where I actually did win is very special."
Clarke arrived in England on Monday, he and his wife passengers on Ernie Els' plane after playing last week's U.S. Senior Open (he finished T-28). A COVID test followed, which kept him away from the course, but Clarke did find time to do a bit of "sight-seeing" on a drive past the house that hosted the all-night party that preceded the aforementioned press conference.
Still with more serious matters ahead over the coming days, Clarke was quick to emphasize that his form has been good, as his two victories on this year's PGA Tour Champions underlines. His familiarity with links golf is another factor in his favor, albeit the last time he played by the seaside on this side of the pond was at Royal Portush exactly two years ago. Indeed, he hasn't seen his home in Northern Ireland since November 2019.
"The restrictions are part of that obviously, but my life is on the Champions Tour now," Clarke said. "I've generally been playing pretty well. There's been a few bad weeks in there too, which led me to try a few new things and tweak a couple of others. I've gone down a few rabbit holes. But that's nothing new. I don't think I'll ever change in that respect.
"Playing on the Champions Tour is a lot like playing on the PGA Tour," he continued. "Just not quite the same. The big difference is that the tournaments are generally 54 holes. So you have to get after it right from the start. Every week is a sprint, and your course management has to change to reflect that. If you shoot level par on the first day you're out of the tournament."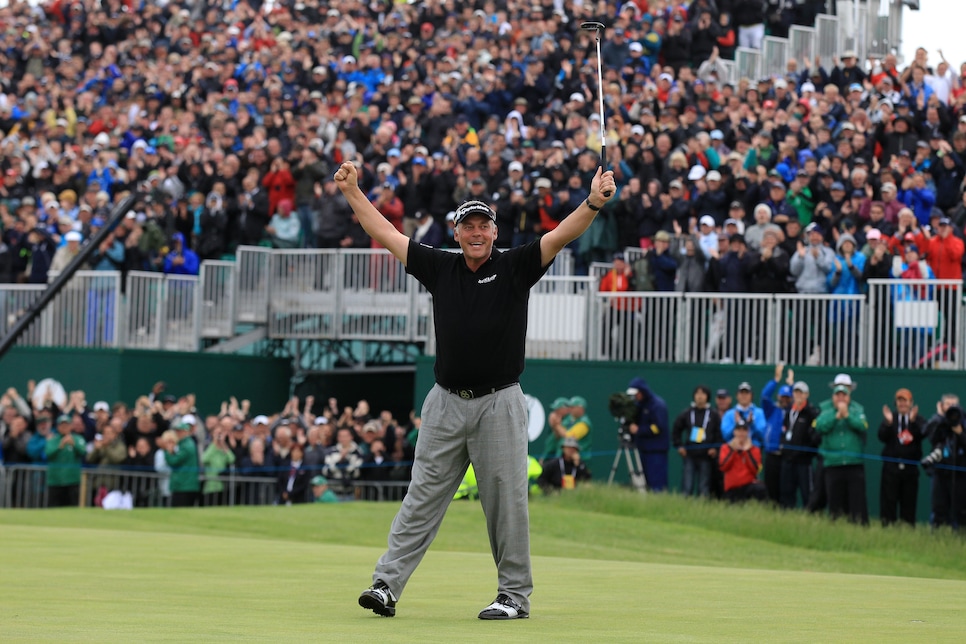 After Clarke closed out his win, the Sunday night/Monday morning celebration was awfully memorable.
David Cannon/R&A
Legend has it that such a fate almost befell Clarke even before his opening-round 68 at St. George's in 2011. So bad was his form that he walked in from one practice round. Or so the story goes. But, as ever, the folklore doesn't quite represent the full story.
"I hear people say that I was playing badly early in the week," said Clarke, who has Sandy Armour, grandson of 1931 Open Champion, Tommy, on his bag here. "But that's not true. I was not playing badly; I was putting badly. I had won in Majorca maybe a month before the Open. And the week before in the Scottish Open at Castle Stuart, I flushed it all week. But I had a poor last day. What saved me here was spending some time with [psychologist] Bob Rotella on the Wednesday afternoon. He cleared my head."
When it comes to the week ahead, Clarke wasn't giving away too many specifics about what would represent success. But he certainly doesn't see playing on the Champions Tour as a diminution of his competitive instincts, or a disadvantage at a major-championship level.
"There are a lot of misconceptions," he said. "I don't look at this week as me playing against a different level of competition. Many people seem to think we are playing short courses with the pins in the middle of every green. Not so. Most of the places we play are between 7,100- and 7,200-yards long. Maybe our pins are five off the left edge when the PGA Tour is only four. Our greens run 12-13 on the Stimpmeter ever week. And the players work really hard. The scoring reflects that. The standard is really high. I know I have to make the most of my window of opportunity in senior golf. It's been nice to win a couple of times. I'm still working my arse off. Nothing changes there."
Yes, yes, but what would be the ideal scenario come Sunday afternoon?
"My realistic goal is to play decent, enjoy myself and hopefully get a walk up the 18th fairway on the final day, no matter what position I'm in," Clarke said. "Links golf requires a little bit of experience and guile. I have both of those qualities. But we'll see. There's no reason why I can't have a good week. It's just nice to be back as an Open champion."