Insanity, we've been told, reportedly by Einstein, "is doing the same thing over and over again and expecting a different result." This thought should overwhelm any golfer to the point of what in literature is commonly known as "catatonia," but what I like to call "DeChambeau, 2021 U.S. Open, Sunday, Back Nine." More distressingly for me, though, is that Einstein never said such a thing, which seems especially remarkable since the guy with the best haircut in science history did once say, "The most incomprehensible thing about the universe is that it is comprehensible." Thinking about that sentence long enough will make you insane.
Mental disorder seems a good place to start, then, because there is nothing short of an acute psychiatric illness that explains why I keep trying and failing miserably to select the winner of a major championship. My 0-for-31 streak goes back to the era of other original great ideas like Google Glass and Our Moment, a women's fragrance introduced by One Direction. (That's right, the band that made Rory McIlroy's future agent, Harry Stiles, famous was at one time asking women to purchase a fragrance that was meant to, well, ick.) But yes, repeatedly I've done the same thing over and over again and expected a different result.
Now, it's not all bad, which as I've recently learned is what the veterinarian tells you when he finds approximately two dozen kidney stones in your dog's, er, undercarriage. Fact is, by my accounting, my predictions have five second-place finishes over the years, and my pick dang near rallied for a Sunday win at the Masters three months ago before a 16th-hole swimming lesson (but then this is what happens when your first name starts with an "X"). Of course, my Algorithms of Ineptitude (which could have been but wasn't the name of the acapella group I started in college) also have brought you a metric boatload (technical term) of awful guesses (Graham DeLaet, Bill Haas, Lanto Griffin and, most recently, K.H. Lee). For that, as someone I never picked to win a major once said, I am truly sorry.
But the Open Championship always gives me hope. Why? Because frankly it is as inscrutable and capricious as what I deign to present as my own special kind of theoretical analytics. In other words, of all the majors, the Open Championship is the most crappiest of crap shoots. And of all the Open Championship venues, Royal St. George's is the most inscrutably capricious, exacting to the point of, well, catatonia, or, of course, insanity. It is the very definition of a golf course on which the very best players in the world slice final-round tee balls out of bounds (Bernhard Langer, 1993, second place). Or flare approach shots from the middle of one fairway to the middle of another course (Dustin Johnson, 2011, T-2). Or where a legitimate professional golfer, a guy with his name on his bag and at least six real-live endorsement contracts visible on his cap and shirt (Thomas Bjorn, 2003, second), takes not one, not two, but three shots to get out of a bunker on the 70th hole to lose by a single stroke to a very nice young man who quite frankly would have considered his career a success if he simply had become the golf coach at Kent State. Which, as it turns out, in addition to becoming Champion Golfer of the Year, a multiple winner on tour and Ryder Cup player, he sort of did.
With such impossibilities (a phrase I've used in my pre-shot routine, somewhat counter to Bob Rotella's advice), I'm giving a bit of a rethink to my methodology. Rather than culling mountains of statistical sub-categories to the point of a paralyzing plexus of performance probability, I decided this time to just go with something more straightforward. Forget statistics, focus on score. This is important for the simple reason that demonstrated competency in links golf, or at least links-like golf, should be a precursor of success in the Open Championship. Just as it was for past winners at Sandwich like Walter Hagen or Henry Cotton or Bobby Locke or Greg Norman or Darren Clarke or, er, Coach Curtis. You get my point.
Links golf, though, is an acquired taste, like, well, the frog in boiling water theory, which like Einstein's insanity quote turns out to be also not a truism. (As the water is slowly raised to boiling, the frog does not unwittingly thermo-acclimate, it either immediately exits stage left or just eventually loses the ability to leap out of the water as the temperature increases, dying the kind of death that I believe the scientific literature now refers to as Thomas Bjorn Syndrome). But I digress.
Still, because the links game is not how the game is routinely contested at the professional level, it would seem an ability to successfully overcome the characteristics of the links game—the exposed landscapes, the bouncy terrain, the Jones-ian/Jenkins-ian "dogged victims of inexorable fate" of it all—must have a positive effect over time. As opposed to just leaving behind the scars of disappointment, distrust and disgust (not my dogs' names) in its wake. So in the interest of simplicity, let's just look at the player who has the best scoring average on links or links-like golf tournaments over the last 3½ years (starting in 2018) and there's a pretty valid prediction. Now, what other than the Open is links or links-like? That's up to you, or in this case, me. Gullane, Hillside and Portstewart? Hell to the yes. Pebble Beach? A hard no. Kapalua, Trinity Forest and The International in Amsterdam? Sure. Why? Because I'm insane.
Factoring all that in could have ended up tragically misinformed, which as I recall is pretty close to how the review panel assessed my senior thesis in philosophy. (I don't want to get into it now, but do you realize how impossible it is for me to know that when I say the sky is blue you're seeing the same blue as I am?) Seriously. Golf chimeras like Aaron Rai, Adrian Otaegui, Marcus Kinhult and Rick Fowler were on my short list. That could have been K.H. Lee-level unfortunate.
Thankfully, though, my logical insanity prevailed and the player with the lowest scoring average on links or links-like courses over the last three-plus years just happens to be the guy who was runner up the last time the Open was held. Tommy Fleetwood's scoring average is a tidy 69.31 over that time, just beating out Jon Rahm (69.41), Scottie Scheffler (69.42) and Tyrell Hatton (69.46). Now, Fleetwood was a "nearly man" as the Brits might say for a period a few years ago, but he's sort of wandered off lately. Statistically, he's inside the top 100 in very few meaningful categories so my choice makes no sense in that regard. But I've been relying on statistical profiles since the introduction of the iPhone 5, and that's gotten me to 31 misses in 31 tries. (Matches my free-throw statistics my freshman year of high school basketball, as it turns out, which not surprisingly did not lead to a sophomore season of high school basketball.) Besides, the Englishman Fleetwood is a home favorite and that worked out well for local hero Shane Lowry two years ago.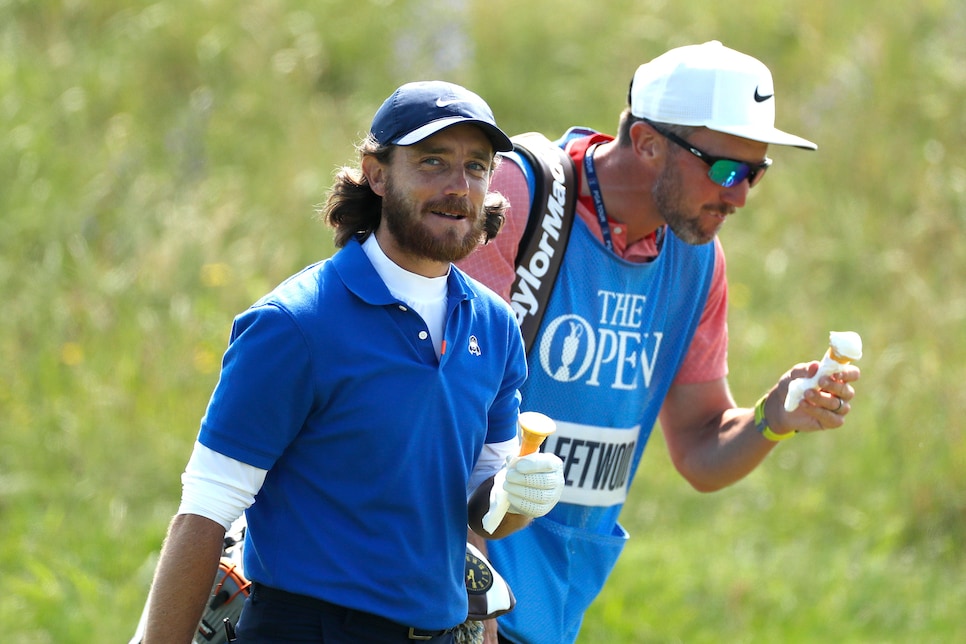 Fleetwood and his caddie, Ian Finnis, enjoy an ice-cream cone on the seventh hole during Tuesday's practice round at Royal St George's.
Oisin Keniry
So let's make Fleetwood the man. After the Euro soccer finals, England badly needs a win to prevent a nation from spiraling to insanity. So do I.
MIKE STACHURA'S PREVIOUS MAJOR PREDICTIONS
MAJOR/STACHURA PICK/FINISH/ACTUAL WINNER
'13 U.S. Open/Boo Weekley/MC/Justin Rose
'14 Masters/Jordan Spieth/2/Bubba Watson
'14 U.S. Open/Bill Haas/T-35/Martin Kaymer
'14 Open/Adam Scott/T-5/Rory McIlroy
'14 PGA/Graham DeLaet/T-15/Rory McIlroy
'15 Masters/Bubba Watson/T-38/Jordan Spieth
'15 U.S. Open/Phil Mickelson/T-64/Jordan Spieth
'15 Open/Bernd Wiesberger/T-68/Zach Johnson
'15 PGA/Jordan Spieth/2/Jason Day
'16 Masters/Bryson DeChambeau/T-21/Danny Willett
'16 U.S. Open/Retief Goosen/MC/Dustin Johnson
'16 Open/Justin Rose/T-22/Henrik Stenson
'16 PGA/Rickie Fowler/T-33/Jimmy Walker
'17 Masters/Rickie Fowler/T-11/Sergio Garcia
'17 U.S. Open/Francesco Molinari/MC/Brooks Koepka
'17 Open/Matt Kuchar/2/Jordan Spieth
'17 PGA/Patrick Reed/T-2/Justin Thomas
'18 Masters/Paul Casey/T-15/Patrick Reed
'18 U.S. Open/Sergio Garcia/MC/Brooks Koepka
'18 Open/Rory McIlroy/T-2/Francesco Molinari
'18 PGA/Webb Simpson/T-19/Brooks Koepka
'19 Masters/Bubba Watson/T-12/Tiger Woods
'19 PGA/Lucas Glover/T-16/Brooks Koepka
'19 U.S. Open/Tommy Fleetwood/T-65/Gary Woodland
'19 Open/Rory McIlroy/MC/Shane Lowry
'20 PGA/Jon Rahm/T-13/Collin Morikawa
'20 U.S. Open/Webb Simpson/T-8/Bryson DeChambeau
'20 Masters/Lanto Griffin/MC/Dustin Johnson
'21 Masters/Xander Schauffele/T-3/Hideki Matsuyama
'21 PGA/Gary Woodland/T-38/Phil Mickelson
'21 U.S. Open/K.H. Lee/MC/Jon Rahm