Some of the quirkiest trophies to date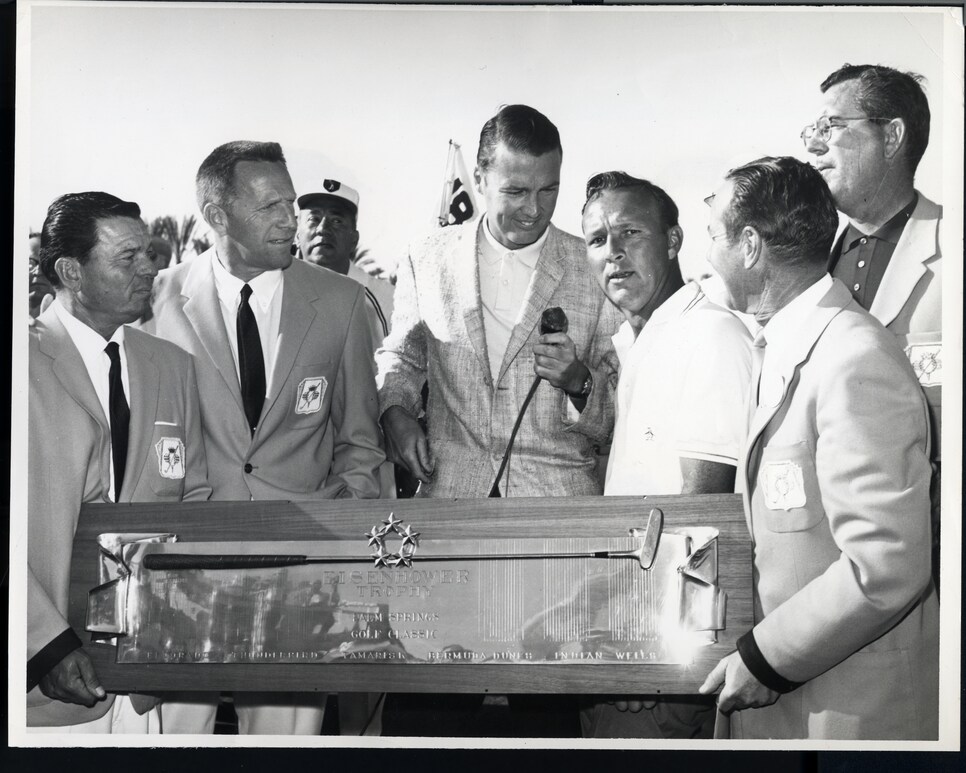 Photo By: ASSOCIATED PRESS
Photo By: ASSOCIATED PRESS
Palm Springs Golf Classic
Though the Dwight D. Eisenhower Permanent Trophy has gone through changes over the years (permanent, huh?), this was its appearance in 1962 when Arnold Palmer won the Palm Springs Golf Classic. At the time, it featured a putter set on top of a plank of wood and plaque where the winners names are engraved.
The Masters
Though the Green Jacket may seem like the real prize, winners at Augusta receive a trophy as well, sporting an outside look of the clubhouse at Augusta known simply as the Masters Trophy.
Australian Masters
The prize for winning this tournament is a trophy with a glass globe of the world on it. This rendition is from 1989 when Greg Norman won the Australian Masters.
Trophee Lancome
This European Tour event was hosted in France from 1970 to 2003, and the winner received a bronze bust trophy with a golf ball carved into one of the biceps. This version of the trophy, from 1992, went to the winner Mark Roe.
Hero World Challenge
It's only fitting that Tiger Woods wins a trophy with a tiger on it. Well, it is his tournament anyway. He won at the Target World Challenge in 2006 and posed with the miniature tiger with his paw over a golf ball of the world.
Photo By: ASSOCIATED PRESS
LPGA Safeway International
Though this tournament fell from the LPGA in 2009, its trophies may have been the quirkiest golf has seen. It was rather just a decorative bowl that may look nice as a centerpiece, or as something to hold chips when you have guests over. Lorena Ochoa took this bowl/trophy home in 2007 after she won the event.
Photo By: AP
Quail Hollow Championship
This trophy is rather just an emblazoned plate with a...quail...perched atop. Rory McIlroy won this trophy in 2010 after a scintillating score of 62 on Sunday.
Photo By: AP
Nedbank Golf Challenge
The winner of this tournament receives an enormous golf ball transformed into a trophy, where the dimples are actually smaller golf balls. Lee Westwood was given this trophy when he won the tournament back in 2011.
Photo By: AP
Farmers Insurance Open
In the nature of farming, the winner of this tournament receives a trophy with a tree on it. Plain, right? And rather tiny. Bubba Watson was given this trophy back in 2011 when he won the Farmers Insurance Open.
Photo By: AP
LPGA Taiwan Tournament
The winner of this tournament receives a trophy that is entirely deep red in color, with a ring of fire surrounding the cup. Yani Tseng won this trophy at the Sunrise Golf and Country Club in Taoyuan, Taiwan, in 2011.
Photo By: AP
DP World Golf Championship
Rather than just one item, the winner of this tournament receives a large trophy as well as a sparkling scepter as part of the Race to Dubai Trophy. Rory McIlroy took home both of these when he won in 2012.
Photo By: ASSOCIATED PRESS
Thailand LPGA Golf Championship
The trophy presented to the winner of this tournament is a glass tower with a golf ball encased in the glass, and a gold ball at the top. Yani Tseng won this version of the trophy in 2012.
Photo By: AP
Sanderson Farms Championship
The "Reveille" trophy, given to the winner of the Sanderson Farms Championship, received a makeover in 2014. The trophy is now entirely bronze and features a rooster, won by Peter Malnati on Nov. 9, 2015.
Photo By: AP