Landmarks
This week's PGA Tour venue has one of the more obscure golf course plaques we've ever seen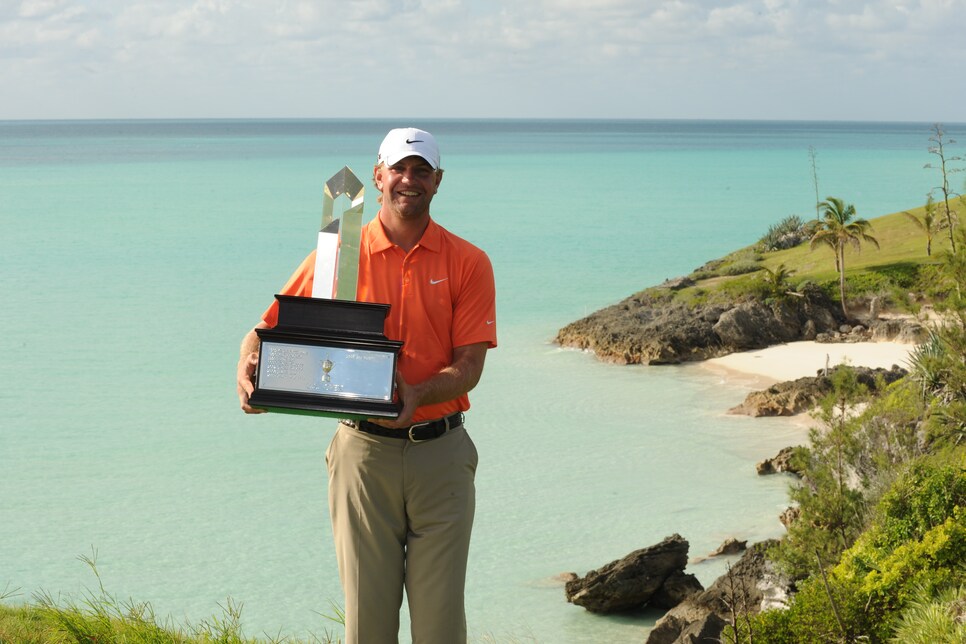 Montana Pritchard/PGA of America
For a fourth consecutive year, Port Royal Golf Course will be the site of the PGA Tour's Bermuda Championship. But it's going to be tough for the Robert Trent Jones track to create as much drama as it did when it used to host a major. Or, rather, an exhibition for major champions.
Remember the PGA Grand Slam of Golf? Sure you do! It was that 36-hole event in which the four men's major champs from that year played against each other. Over the course of 35 years, the event produced some great moments until it was canceled after the 2014 edition. Tiger Woods won seven times! Phil Mickelson fired a 59! And who can forget Lucas Glover cruising to a five-shot win?
OK, so most golf fans probably don't remember the latter, but it's Glover's triumph in 2009 (pictured above) that has been immortalized with a plaque at Port Royal. And a rather obscure one at that.
Port Royal's signature 16th hole is a spectacular 235-yard par 3 on a waterside cliff. It's a beast even in calm conditions, but you can imagine the difficulty with high winds. Or with a tournament on the line—even if it happens to be a four-man exchibition, which the course hosted from 2009 to 2014. Because, as legend has it, Glover uttered, "Man, I've never been so nervous on a shot" on his way to winning in 2009. And there's a plaque there with that quote.
Interesting. On the obscurity ranking, it still doesn't top El Camaleon Golf Club having a plaque where Jon Rahm struck his first-ever PGA Tour shot (as an amateur), but that's up there! Especially considering that, again, Glover won that little hit-and-giggle by five shots over that year's Masters champ, Angel Cabrera.
It's also amazing that Glover would actually say that considering he had just won the U.S. Open a few months prior. But apparently, he felt more nervous over that late October shot in Bermuda than over any shot that he faced at Bethpage Black in June. Again, interesting.
In any event, that plaque will be out there this week. And so will Glover, who is playing in the tournament, and even getting some love from one of our expert pickers. If the four-time PGA Tour winner finds himself in contention down the stretch at Port Royal once again, he'll have something to tap for a little inspiration.