Courses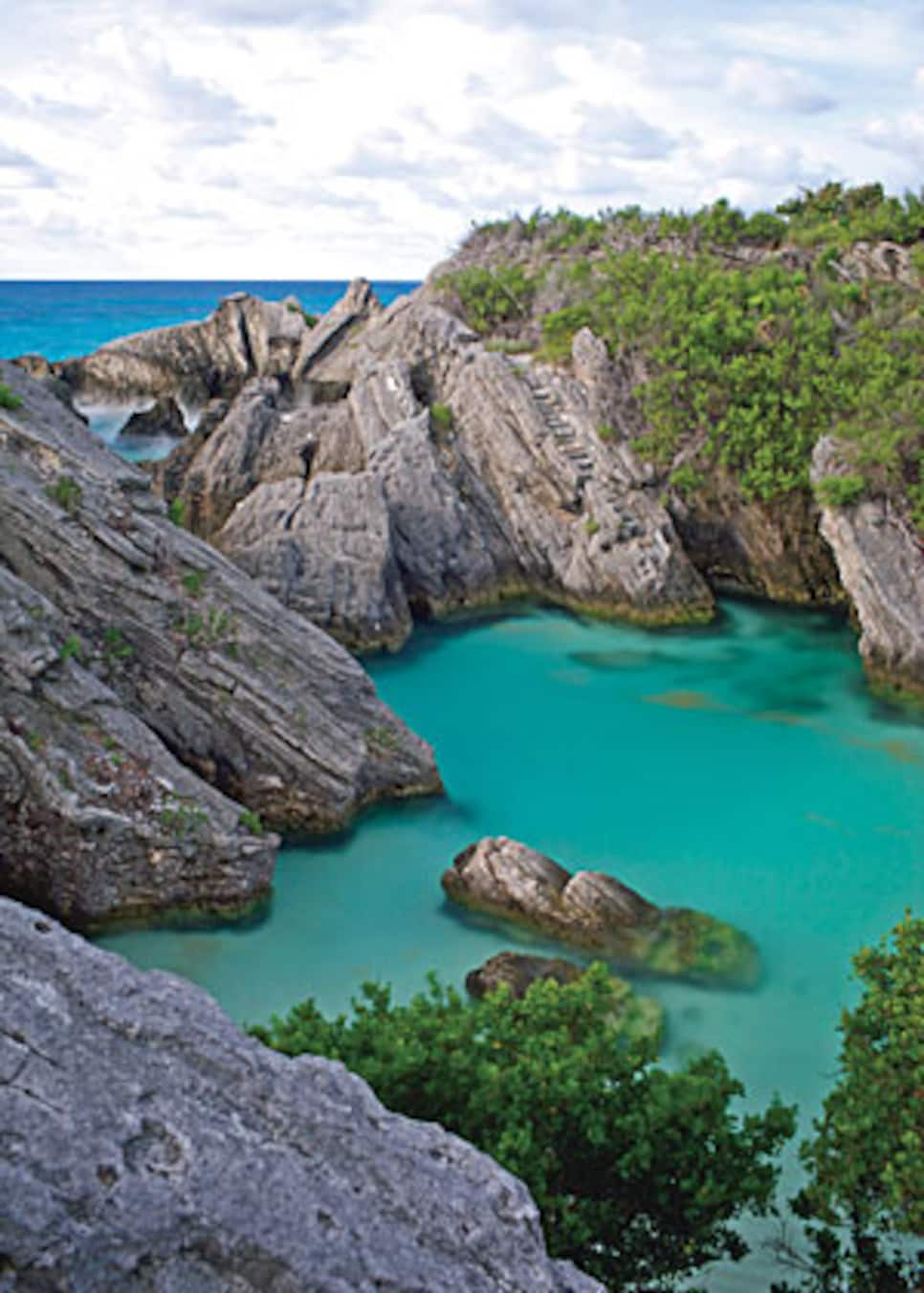 Cool off after your round at Jobson's Cove Beach
The first six holes at Port Royal Golf Course in Bermuda remind me of those early morning hours of Christmas Day when I was a kid. I knew it was too early to rush downstairs and open my presents, but I was too excited to sleep. As you work your way around the opening third of Port Royal, it's hard to enjoy what would otherwise be memorable holes because you're so excited about what is coming. Most of the front nine is framed by steep hills and tropical vegetation, but the par-5 seventh turns left toward the sea, and you finally get to see why Port Royal--and Bermuda in general--should be on your short list of golf destinations.
Have you ever taken a picture of just water? No mountains in the background. No sunburned relative in the foreground. Just water. You'll catch yourself doing that in Bermuda. Especially when you play Port Royal, one of seven golf courses (including par-3 and nine-hole layouts) squeezed onto an island smaller than Manhattan. In spots the water is a deep blue. In others, it's a stunning aquamarine. And in shallow coves, the water is so clear, it's like looking through a fishbowl.
Because of the famous pink-sand beaches and gorgeous water, many people think Bermuda is part of the Caribbean islands. It's actually considerably north, about 640 miles east of North Carolina in the Atlantic. You might not take a golf trip to the Carolinas in the winter, but the Gulf Stream keeps Bermuda relatively warm (the average low is 60 degrees in January and February), making it a great choice for an escape. This is especially true for anyone living in the eastern United States, where there are short, direct flights from a number of cities.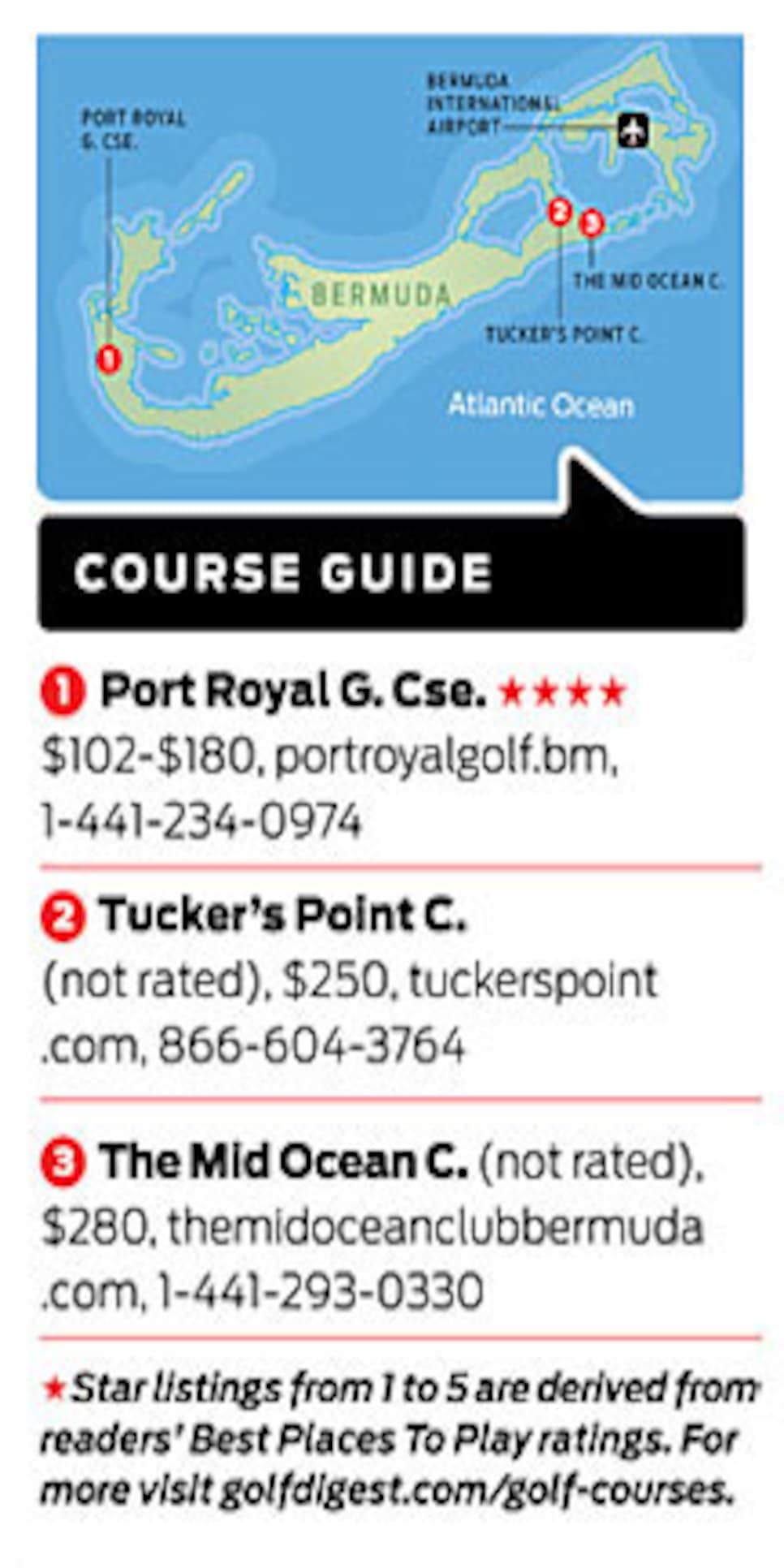 One caveat: Although the climate is friendly, the prices aren't. Consider yourself lucky if you get a decent hotel room for less than $300 a night, dinner for two for less than $100 and a round of golf for less than $150 (they gladly accept U.S. dollars). Nevertheless, Bermuda is the kind of place that can make you forget how much you're spending. Especially when you're standing on a tee box overlooking the ocean.
You might have seen Port Royal on TV in October. It's on the west side of the island, about a $40 cab ride from the airport, and it was the site of the PGA Grand Slam of Golf featuring 2011 major winners Charl Schwartzel, Rory McIlroy, Darren Clarke and Keegan Bradley. The Bermudan Government owns the course and spent $14.5 million renovating before the 2009 Grand Slam. That includes a new irrigation system, better conditioning, and new grass on the greens.
The Mid Ocean Club, which is near the airport, is typically considered Bermuda's best course. And it is terrific. But Port Royal is every bit as scenic, just as fun to play, and feels more like a golfer's local hang than Mid Ocean, a private club that allows some public play.
Port Royal's signature hole is the 235-yard 16th, which sits on the edge of a waterside cliff. There's a plaque on the back tee quoting 2009 U.S. Open champion Lucas Glover, who played the hole and said, "Man, I've never been so nervous on a shot." The 16th is memorable, but the two best holes might be Nos. 7 and 15. The seventh (517 yards) features a tabletop green defended by strong winds off the sea. You can go for it in two, if you own a howitzer. The 412-yard 15th is a dogleg-right, downhill par 4 that starts next to the Whale Bay Battery, a 19th-century British fort. If you come in late winter, you'll likely see humpbacks breach just off the coast.
Getting a tee time at Port Royal is easy. Either call the course, book online or go through your hotel (many offer golf packages). It's a little trickier at Mid Ocean: If you don't have an invitation from a member, you can play on Monday, Wednesday or Friday as an unaccompanied guest. Your tee time has to be arranged, and many hotels can set you up.
Mid Ocean is 6,548 yards, but it doesn't need to be any longer on windy days. (Port Royal is the longest on the island at 6,842.) It's not that the wind is overwhelming at Mid Ocean. Rather, it's just strong enough to whisper doubt into your ear as you play the seaside holes like the 203-yard 17th and the 421-yard 18th. The course, designed by the legendary C.B. Macdonald in 1921, is genius in spots, using its hilly terrain (there are several blind shots) and encouraging and rewarding shotmaking. Mid Ocean's history is pretty impressive, too: Winston Churchill and Dwight Eisenhower visited the club, and Babe Ruth is said to have carded a double-digit score on the 433-yard fifth, the best hole on the course.
If you need another course to fill out the trip, Tucker's Point Club (next door to Mid Ocean) is solid. The par-70, 6,491-yard resort course is quirky but has great gambling potential. Play the downhill 17th from the back tees (315 yards), which overlook a chunk of the island. Go for the green. Even if you don't pull off the shot, you'll have that incredible view.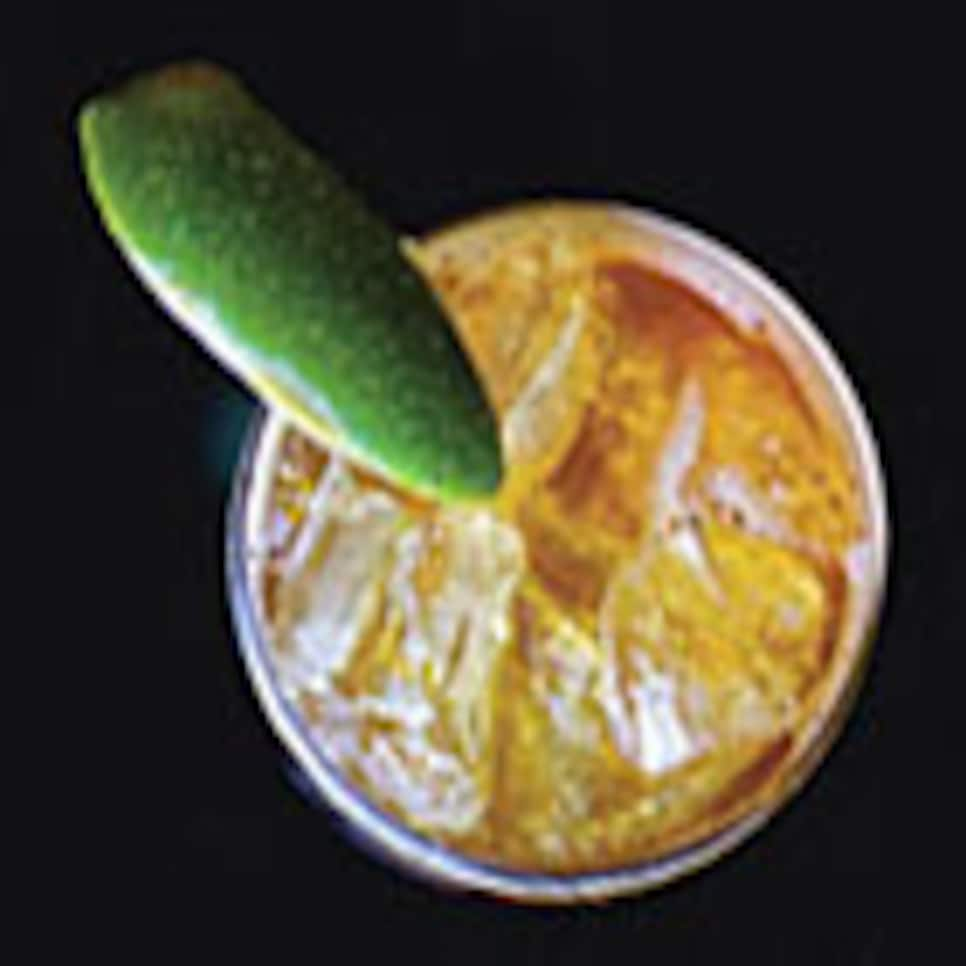 If you want to rub elbows with the locals, the Somerset Country Squire Pub & Restaurant is the type of place where you won't be a stranger for long. True story: Sitting at its outside bar, I watched a fisherman dock nearby with a 12-foot tiger shark hanging from his boat. You won't see that at too many bars--at least not before a few Dark 'n' Stormies (right).
The east side of the island is the most touristy and congested. Make the trek to the other side, and stay at Cambridge Beaches, where Bill and Hillary Clinton famously went for a "romantic getaway" a few years ago. The hotel has old-world service, fabulous views, and a beach with the clearest water you've ever seen.
The best way to get around the island is by taxi (the most you'll spend to go from one end of the island to the other is $70). The government regulates taxis, so most are clean, have air-conditioning and friendly drivers. If you like a driver, get a business card. The driver will likely pick you up whenever you need a ride.