Golf's 13 Greatest Strokes Of Luck
To celebrate St. Patrick's Day, we look back at major-winning golfers who had good fortune on their side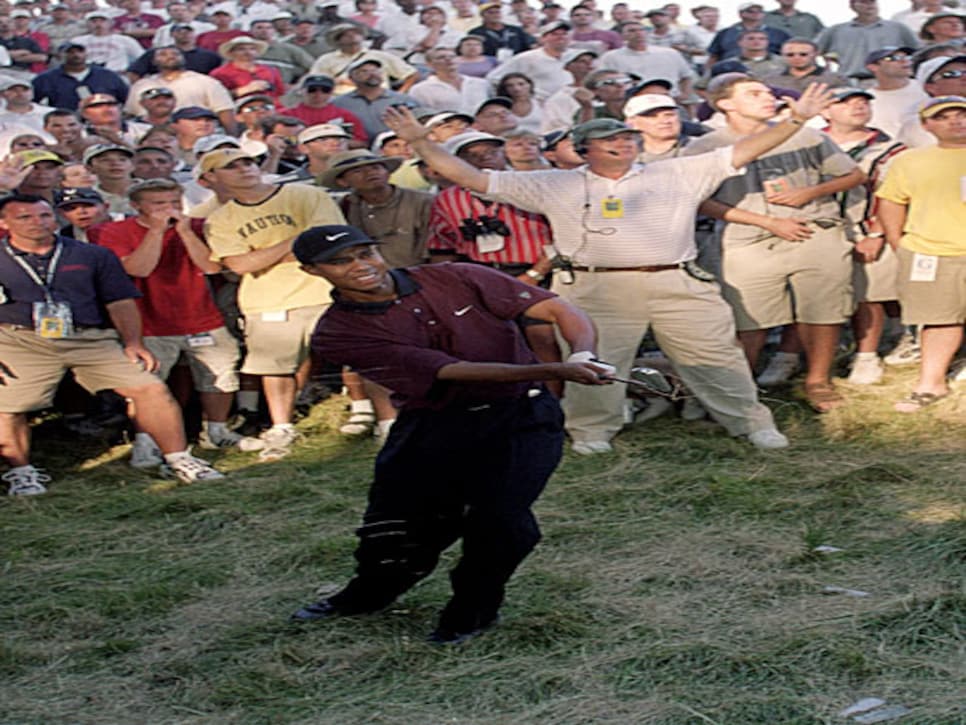 Tiger Woods (2000 PGA Championship)
Woods needed three extra holes to hold off journeyman Bob May and win his third straight major championship. He also needed a fortuitous kick on the tournament's final hole. With a one-shot lead while playing Valhalla's 18th hole for the second time that Sunday, Woods hooked his tee shot well left. The ball hit a tree and then vanished from TV cameras momentarily before it reappeared bounding down a path and back in play. Woods took advantage of the break by making a par to win by one and keep his chances of a "Tiger Slam" alive.
Lee Janzen (1998 U.S. Open)
Janzen locked up his second U.S. Open title when Payne Stewart's birdie try on No. 18 at Olympic curled around the cup. However, the margin of victory really came earlier in the round. On No. 5, Janzen's ball nearly got stuck in a tree before falling back to the ground, and he wound up chipping in for par. Then, on the 12th hole, Stewart drove his ball down the middle, but it found a sand-filled divot. He then missed the green with his short approach and made a momentum-killing bogey. The bad break was a stroke of luck for Janzen, who jumped into a lead he would never relinquish.
Paul Lawrie (1999 British Open)
You need a few breaks if you're going to come back from a 10-stroke final-round deficit, as Lawrie did at Carnoustie. In case you don't remember, it was Lawrie who became the beneficiary of Jean Van de Velde's infamous final-hole meltdown, with the Scotsman sneaking into a playoff he would ultimately win for his only major championship.
Fred Couples (1992 Masters)
Couples came to Augusta in 1992 as the top-ranked player in the world. He left as both the best and the luckiest. In the final round, Couples' tee shot on the famed par-3 12th hole came up short. But unlike the many similar shots before and after that have wound up in Rae's Creek, Freddie's ball seemed to defy physics by staying dry on the shaved bank. He would capitalize by getting up-and-down for a par that helped hold off Raymond Floyd for the only major of his career.
Ben Hogan (1950 U.S. Open)
Hogan authored his famous comeback story at Merion just 16 months after suffering a life-threatening car accident. As if there needed to be any more evidence that fate was on his side, he all but wrapped up the win when Lloyd Mangrum, trailing by just one shot on the 16th hole of the playoff, incurred a two-shot penalty for picking up his ball on the green and blowing a bug off of it (in those days, you couldn't even clean your ball on the green). With the extra cushion, Hogan limped his way home a little easier. He would go on to win by four for one of the most historic victories in sports.
Jack Nicklaus (1970 British Open)
Anyone who won 18 career majors obviously had a lot more skill than good fortune, but this victory, above all of Jack's others, was a gift. Doug Sanders all but had his name etched into the claret jug until he three-putted, on St. Andrews' final hole, missing a par attempt from 2½ feet. The next day, Nicklaus took advantage of his second chance by beating Sanders by one shot in an 18-hole playoff.
Bob Goalby (1968 Masters)
After concluding his final round, Goalby was readying for a playoff with Roberto De Vicenzo. That is, until he was handed the lone major championship of his career. Literally. The Argentine signed for a higher score and as a result had to settle for that number and for an agonizing one-shot loss. Goalby has said over the years that he feels he never got the credit he deserved for the odd win, but he certainly didn't give back his green jacket, either.
Nick Faldo (1989 Masters)
Not once, but twice, did Faldo come away with a green jacket in large part due to the misfortunes of others. Of course, in 1996 it was Greg Norman (a man the golf gods always seemed to shun in the biggest moments) whose final-round collapse gave Faldo a third Masters title, but Faldo did plenty himself that day with a closing 67. In 1989, his win was actually even more of a gift when Scott Hoch looked like he would take home his own green jacket until he missed a 2½ foot putt for the win. It's tough to find a player who worked harder than Sir Nick, but certainly, the old saying, "luck is the residue of design," aptly describes two of his biggest wins.
Birdie Kim (2005 Women's U.S. Open)
Maybe the South Korean changing her first name earlier in the year served as her lucky charm when she produced an improbable birdie for one of the most stunning major championship wins. Tied for the lead on the 72nd hole at Cherry Hills, Kim found a deep greenside bunker some 30 yards away from the hole. Just trying to get something close, her low sand shot hit the green and scooted perfectly into the hole. In the words of NBC analyst Johnny Miller, "Morgan Pressel just got robbed." Pressel, then a 17-year-old amateur, wound up finishing second after watching Kim's miraculous shot from the 18th fairway. To this day, it's Kim's lone LPGA victory.
David Toms (2001 PGA Championship)
While his layup and the up-and-down on the finishing hole to beat Phil Mickelson by a shot is well known, what is forgotten is how Toms got the lead in the first place. Sure, you may recall the Louisiana native making an ace in the third round to vault into the lead, but do you remember that his hole-in-one on the par-3 15th hole at Atlanta Athletic Club could have just as easily been a bogey? Toms' 5-wood from 243 was dead on, but had over-the-green written all over it until the ball took two hops, clanked off the flagstick, rattled off the front of the hole and fell into the cup for one of the most unlikely "1"s in PGA Tour history. What's not unlikely is that there's some yellow paint on that ball, wherever it is.
Darren Clarke (2011 British Open)
Darren Clarke played better than anyone at Royal St. George's during the 2011 Open, but he also used bit of Irish luck to his advantage. During the final round, Clarke's low approach from the left rough on the ninth hole appeared headed for a huge pot bunker about 50 yards short of the green. But his ball took a huge hop over the trap and then rolled onto the green. Clarke flashed a smile and then two-putted to keep his lead. He wound up beating Phil Mickelson and Dustin Johnson by three shots for his lone major title.
Sun Young Yoo (2012 Kraft Nabisco Championship)
We've talked about a couple guys benefiting from short missed putts by their opponents, but nothing tops Yoo's win in 2012. I.K. Kim (shown) just needed to two-putt from 15-feet, but stunningly missed this par putt from about 15 inches. Yoo made birdie on the first playoff hole to win her lone major and keep Kim majorless.
Rory McIlroy (2014 PGA Championship)
Holding a one-stroke lead on the 18th tee at Valhalla, McIlroy hit driver and nearly had a disaster. But his ball hung up on a bank, just a couple feet from the hazard line. Instead of an all-time blunder, McIlroy managed to make par in near darkness to capture his fourth major by a shot over Phil Mickelson.