Golf's Greatest Fireworks Displays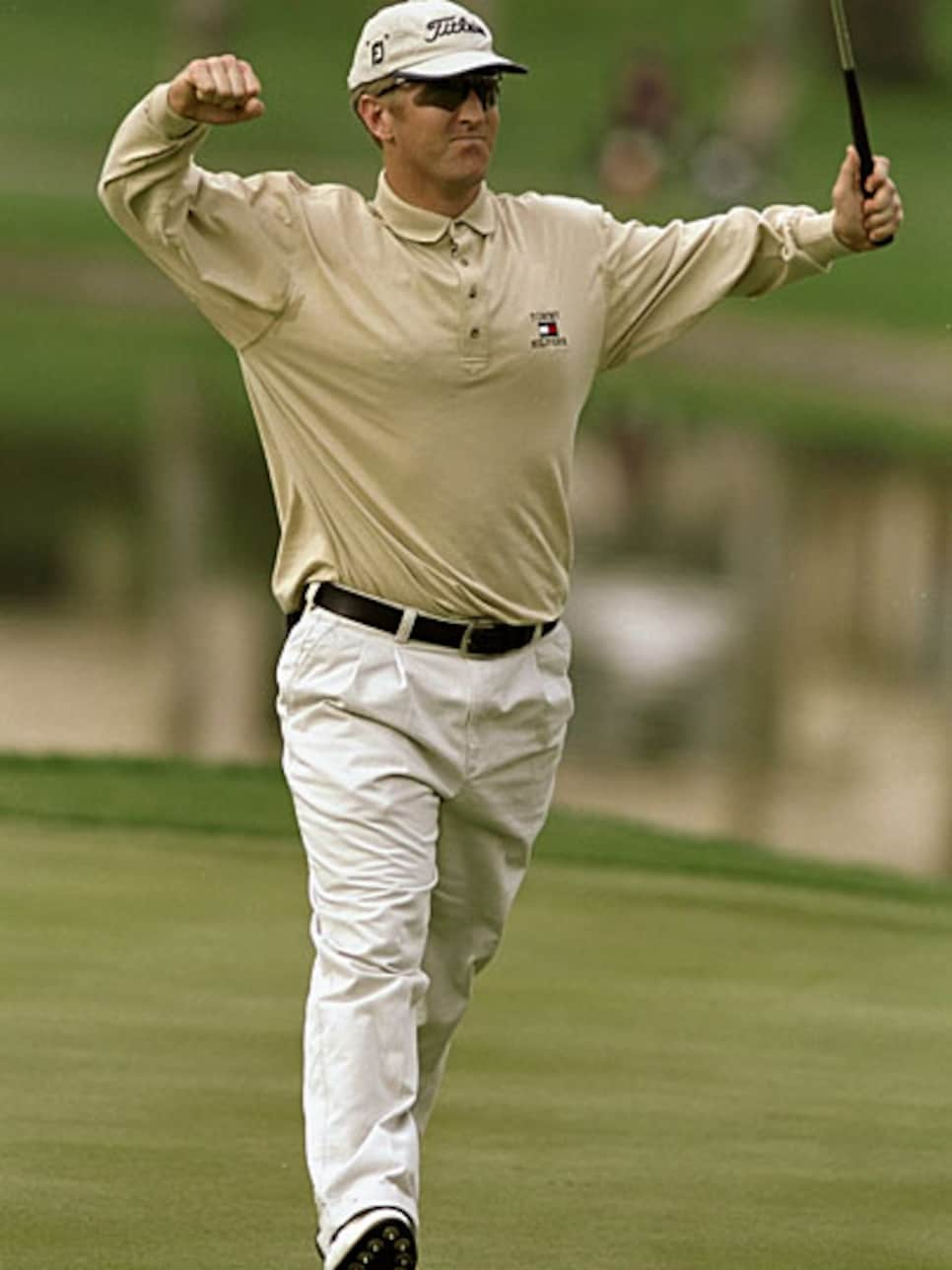 Photo By: Harry How/Getty Images
Photo By: Scott Halleran/Getty Images
Photo By: David Cannon/Getty Images
Photo By: Matthew Stockman/Getty Images
Photo By: Stephen Dunn/Getty Images
Photo By: Harry How/Getty Images
Photo By: Chris McGrath/Getty Images
Photo By: Jamie Squire/Getty Images
Photo By: Andrew Redington/Getty Images
Photo By: David Cannon/Getty Images
Photo By: Stan Badz/Getty Images
Breaking The BarrierAl Geiberger was the first to do it and only six players have shot the mythical 59 in a PGA Tour event. Only two, David Duval (left) at the 1999 Bob Hope Chrysler Classic and Stuart Appleby at the 2010 Greenbrier Classic, have pulled it off in the final round, with both coming away with victories.
Photo By: Harry How/Getty Images
"Ms. 59"In the middle of her reign as one of the all-time most dominant LPGA golfers, Sorenstam put an exclamation point on her mark in history with a 59 at the 2001 Standard Register Ping at Moon Valley CC in Phoenix. She remains the only female to ever accomplish the feat.
Photo By: Scott Halleran/Getty Images
Is There Something In The Water In Japan?When we think of ridiculous rounds the number 59 pops into our heads, but theses guys amazingly took it even lower. More recently, 18-year-old phenom Ryo Ishikawa (left) did the trick in the final round of the Crowns tournament in 2010 on the Japan Tour. It's the first 58 recorded on a major tour, but Shigeki Maryuma posted the same number a decade earlier in a U.S. Open qualifier at Woodmont Country Club in Rockville, Maryland. Needless to say, he was one of those advancing into the field at Pebble Beach that year.
Photo By: David Cannon/Getty Images
Standing Out In A CrowdThere have been 24 rounds of 63 recorded in major championship history, but one still stands apart. Johnny Miller's 63 at the 1973 U.S. Open at Oakmont is the lone one to come by an eventual winner in the final round. In his magical trip around the tough Pittsburgh-area track, Miller hit all 18 greens to erase a six-shot deficit and claim his first major title.
Photo By: AP Photo
In The ZoneAt the 2003 Valero Texas Open, Tommy Armour III went low all week. Armour shredded La Cantera GC for a 72-hole aggregate total of 254, a PGA Tour record. How locked in was he? His final-round 65 was his worst of the week.
Photo By: Matthew Stockman/Getty Images
Two Days In The ValleyNotorious for his occasional explosive outbursts, Pat Perez is also known for his ability to string together bursts of birdies. At the 2009 Bob Hope Classic, Perez notched the 36-hole scoring record for any PGA Tour event with a two-day total of 124 (61-63). Incredibly, he opened the five-round event with a 60 the year before, but only finished 73rd place. This time he hung on for his first and only PGA Tour title.
Photo By: Stephen Dunn/Getty Images
The Nine Of His LifeGolfers love getting off to good starts at tournaments, but this was just silly. On the front nine of the first round of the U.S. Bank Championship at Brown Deer Park GC in Milwaukee, Corey Pavin shot a score that is usually only reserved for miniature golf or video games. His 26 on the par 34 is the lowest score ever recorded for nine holes on the PGA Tour.
Photo By: Harry How/Getty Images
Now That's A StreakWhat's better than making a PGA Tour record nine straight birdies? Doing it with your son on the bag. Either young Eric Calcavecchia is a genius when it comes to reading greens or his father, Mark, just caught fire with the putter, but the pro couldn't miss for a nine-hole stretch during the second round of the 2009 RBC Canadian Open at Glen Abbey. This was by no means a fluke, though, for the 1989 British Open champion. Calc also has the record for most birdies in a 72-hole event, racking up 32 at the 2001 Phoenix Open.
Photo By: Chris McGrath/Getty Images
Phil Being PhilSure, everyone remembers Mickelson's gambling 6-iron from the pinestraw on Sunday to help wrap up his third green jacket, but he really won the tournament a day before in one spectacular half-hour period. Mickelson drained an eagle putt on par-5 13th, holed out his approach on the par-4 14th, and then spun wedge on his third shot to the par-5 15th to within inches of the cup, nearly pulling off a third straight eagle. Mickelson may not have officially set any records, but doing what he did with Augusta National as the stage instantly became one of the most electric stretches in golf lore.
Photo By: Jamie Squire/Getty Images
Bringing The Old Course To Its KneesComing off perhaps the most dominant performance in golf history, a 15-shot win at the U.S. Open at Pebble Beach, Woods kept his momentum going at St. Andrews. Successfully avoiding all 112 bunkers at the Old Course for the entire week, Woods steamrolled the field again and finished 19-under par, the lowest any golfer has ever finished a major championship.
Photo By: Andrew Redington/Getty Images
Was He Playing The Right Tournament?At many U.S. Opens, just being under par will get you a win. But at the 2011 edition at Congressional, Rory McIlroy made us forget that this was actually the tournament that's considered the toughest in the sport. McIlroy opened with a 65 and then became just the fifth player to ever reach double digits under par when he holed out for an eagle on the eighth hole of his second round. He didn't stop there, though, finishing at 16 under to win by eight and break Tiger Woods' tournament scoring record from 2000 by a whopping four shots.
Photo By: David Cannon/Getty Images
You Can't Be SeriousMost golfers would consider themselves lucky to have a hole-in-one in their lifetime. Yusaku Miyazato can always say he pulled off the trick twice. In one round. At the 2006 Reno Tahoe Open, the unheralded Japanese pro recorded two aces to join Bill Wheddon (1955 Insurance City Open) as the only players to do the remarkable double dip in a PGA Tour event. What's even more amazing, perhaps? Wheddon only managed to shoot a 75.
Photo By: Stan Badz/Getty Images