Diaz
My Five: Golf's Greatest Athletes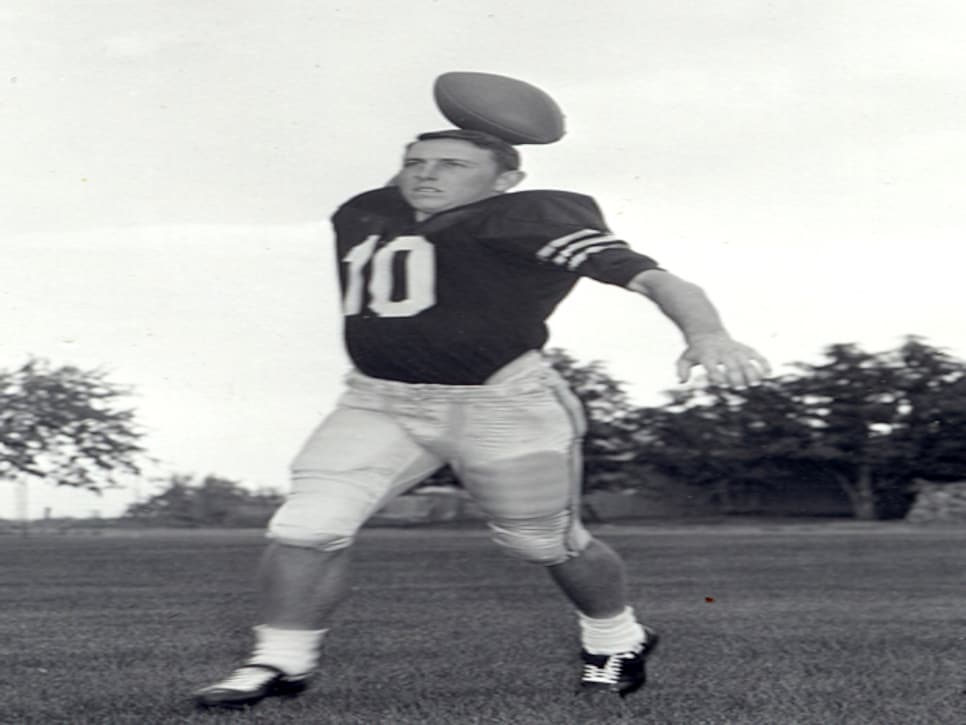 Hale IrwinBefore winning 20 times on the PGA Tour -- with three U.S. Opens -- and 45 more times on the Champions Tour, Irwin was a defensive back at the University of Colorado who was twice named All-Big Eight. His teenage friend and rival was Dick Anderson, the former All-Pro defensive back for the Miami Dolphins. "I was generally the smallest guy on the field," Irwin said in 1991. "I couldn't outrun anybody, so I had to do a lot little things better, hit harder pound for pound. When I was playing football, I felt my life was on the line on every play. I think there is a probability that much of that is ingrained and still follows me."
Ellsworth VinesAn all-time great tennis player who won at Wimbledon in 1932 as well as the 1931 and 1932 US Opens, Vines was so gifted athletically he attended USC on a basketball scholarship. Wrote Jack Kramer, "On his best days, Ellsworth Vines played the best tennis ever." But Vines lost interest in the game (Kramer also called him "lazy), retiring in 28. He followed his passion for golf, turning pro in 1942. As long a hitter as he had been a big server, Vines won several minor tournaments, including the 1946 Massachusetts Open and the 1955 Utah Open. On the PGA Tour, he was runner up in the 1946 All-America Open and reached the semifinals of the 1951 PGA Championship at Oakmont, losing to Walter Burkemo on the 37th hole.
Sam ByrdByrd played major league baseball from 1929 to 1936 as an outfielder for the New York Yankees and the Cincinnati Reds. His nickname was "Babe Ruth's Legs" because he would often pinch run for Ruth at the end of games. After baseball, Byrd turned to golf, going on to win six times on the PGA Tour, including twice in 1945, when he lost the final of the PGA Championship to Byron Nelson, 4 and 3. He finished third in at the Masters in 1941 and 1942, and is the only person to have played in that tournament and the World Series. Instructor Jimmy Ballard credits Byrd's ideas on the golf swing for forming the foundation of his teaching.
John BrodieBrodie was an All-American quarterback at Stanford who in 1956 led the nation in passing. He played the position for the San Francisco 49ers from 1957 to 1973. He made the Pro Bowl in 1965 and 1970, when he also received the NFL's Most Valuable Player award. When he retired, he ranked third in career passing yards behind Johnny Unitas and Fran Tarkenton. During his football career, Brodie played in several PGA Tour events, including the 1959 U.S. Open. He joined the Senior Tour in 1985, and in 1991 won the Security Pacific Classic in a playoff with George Archer and Chi Chi Rodriguez. He had 12 top-10 finishes on the Senior Tour.
Mike SouchakSouchak was a wide receiver, defensive end and kicker at Duke, where he won All-Conference honors while also captaining the golf team. Souchak came by his thickly-muscled 5-11, 215 pound frame naturally, telling Sports Illustrated, "I never did weight training in college. It was all calisthenics." As a golfer, Souchak won 16 PGA Tour events between 1955 and 1964. A long hitter, he was known for bursts of brilliance, as when he set the tour's 72-hole scoring record of 257 at the 1955 Texas Open, which included an incoming 27 in his opening round of 60. Beginning in 1959, he finished third in three-straight U.S. Opens, leading the 1960 championship at Cherry Hills after 54 holes, only to be passed by Arnold Palmer.