Diaz
My Five: Greatest Masters Performances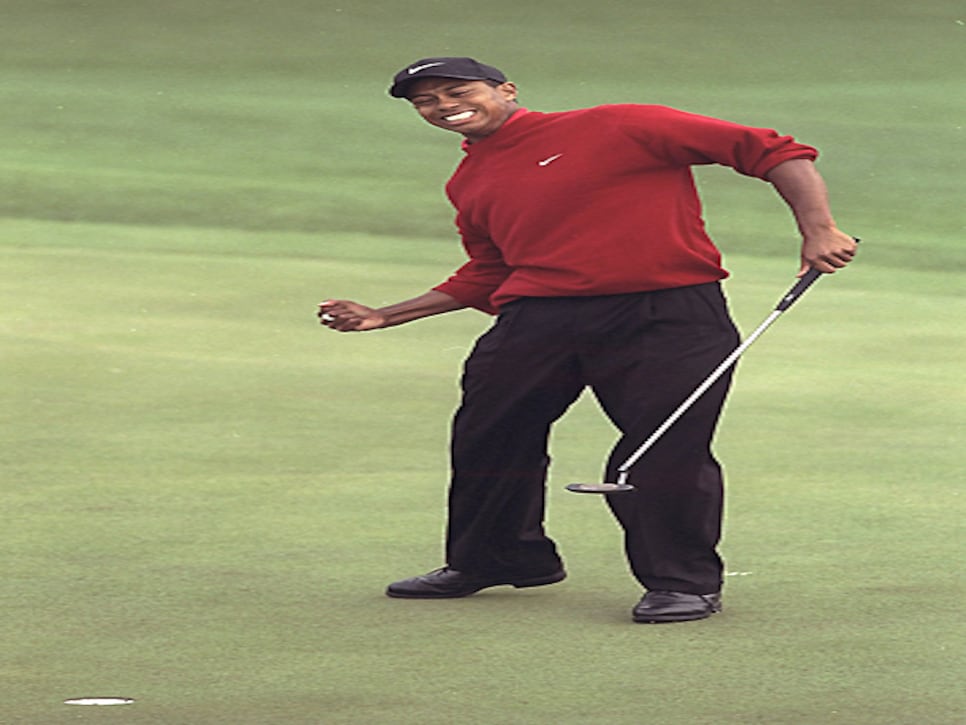 Tiger Woods - 1997As emphatically as any performance in the history of the game, a new era was announced with Woods' first major championship victory. The 21-year-old shot a record 70-66-65-69-270 to win by 12. Though only 155 pounds, Woods averaged more than 330 yards off the tee, never hitting more than a 7-iron into a par 4, and twice hit wedge for his second to the par-5 15th. "He's so long, he reduces this course to nothing," said Jack Nicklaus. "Absolutely nothing." Woods opened with a nervous 40 on his first nine, then played the next 63 holes in 22-under par. His putting was arguably as strong as his long game, causing the game's wise heads to predict he would win double-digit green jackets.
Jack Nicklaus - 1965The last great example of the young Nicklaus in full flight. At the time still the most powerful player in the game, Nicklaus simply dominated the course and the field, winning by nine strokes with scores of 67-71-64-69 for a record 271 total. Nicklaus calls his 64 of 10 pars and 8 birdies the best round he ever played. Regularly driving over 300 yards, he hit the 8th hole with a 3-iron, the 13th and 15th holes with 5-irons and the 18th with a pitching wedge -- unheard distances in those days. Nicklaus said a key component of his performance was sensing that for the first time, the fans were on his side. It made for "one of the great turning points of my career."
Ben Hogan - 1953After wintering in Palm Springs, and according to biographer Curt Sampson, getting a room in Augusta with a tall enough ceiling to make practice swings, Hogan was ready. His rounds of 70-69-66-69 for 274 broke the scoring record by five shots, the same as the margin of victory. Though he had begun freezing over and backing off of short putts by this time in his career and three putted several times, Hogan's ball-striking over 72 holes was nearly flawless. "That's as good as I can play," said Hogan afterward, adding, "A tournament is an anticlimax to preparation, the way I see it." He would go on to win that year's U.S. and British Open, completing a still never equaled "Triple Crown."
Raymond Floyd - 1976Floyd's recording tying 271 won by eight shots, and on Sunday he led by as many as 10. His rounds of 65-66-70-70 set or equaled tournament records after every round. Floyd put on a clinic on the par 5s, making 12 birdies and an eagle for a record of 14 under that still stands. Besides his putter, Floyd's most valuable weapon was a 5-wood -- a club rarely used by pros in those days -- that brought the ball in high and soft to the par 5s. He had never used the club in a previous event, and never used a 5-wood again for years. Considered an underachiever to that point, the second of Floyd's four majors marked his rededication to the game.
Arnold Palmer - 1964The last of Palmer's seven major championships also made him the first to win four Masters. With a score of 275, he won by six over Dave Marr and Nicklaus, who commented he had never seen Palmer hit such controlled and soft-landing irons. Knowing he was playing well, Palmer, whose previous three Green Jackets had been won in exceedingly tight affairs, had a specific goal. "I wanted to walk up 18 knowing there was no way I could lose the Masters," he said. On the fairway of the 72nd hole holding a five-shot lead, he asked Marr, who needed a birdie to tie Nicklaus, if there was anything he could do to help. Said Marr, "Yeah, make a 12." Both men sank long putts for birdie.