The Loop
A PGA Tour couple's crazy dance moves, golf's new "Mr. 58," and a Masters feast unlike any other
Welcome to another edition of The Grind where we are looking to a certain senior citizen for inspiration this Election Day. A guy who can still fire up a crowd, unite fans on both sides of the aisle, and has plenty of pep, even if lacking some pop. That's right, I'm talking about Fred Funk. At 64, he became one of the oldest players to ever make a cut on the PGA Tour. And he did it by averaging a whopping 234 yards off the tee. Yep, 234. That's it. Heck, even I can hit a golf ball that far! So thank you, Fred, for reminding us short hitters that we still have a chance.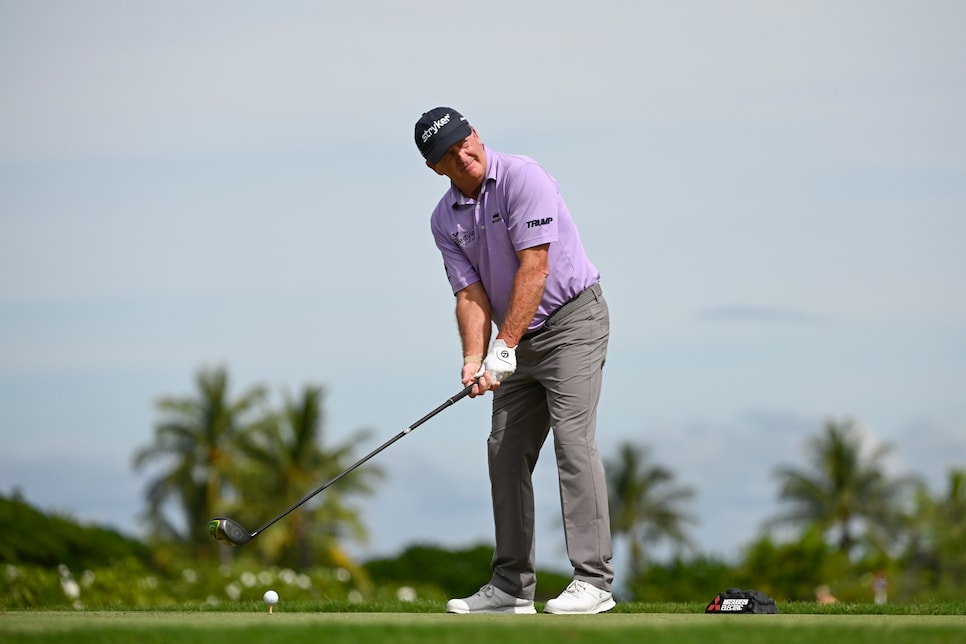 OK, here's what else has us talking. In golf, that is. We won't discuss politics. Promise.
Brian Gay: The fall continues to be Comeback SZN with Gay, who turns 49 next month, winning the Bermuda Championship. And doing it in dramatic fashion. Watch and listen to his clutch approach on the 72nd hole:
It didn't "go in the hole," but pretty darn close. Another birdie in the playoff beat Wyndham Clark and gave Gay his first PGA Tour win in more than seven years and the fifth of his career. Of course, at this point we're obligated to remind everyone that Gay has as many career wins as Rickie Fowler. That's right. Brian Gay. Good for him and good for the "geezers" like Stewart Cink and Sergio Garcia who have already won this season. These guys are (still) good.
Torey Edwards: There's nothing like a once-in-a-blue-moon Brian Gay win (then again, there was an actual blue moon on Halloween) to remind us of the incredible depth in professional golf. But that depth extends into the amateur game as well. Introducing Edwards, a 38-year-old who shot a 58 in a sanctioned Southern California Golf Association Scratch League event at Pasadena's Annandale Golf Club.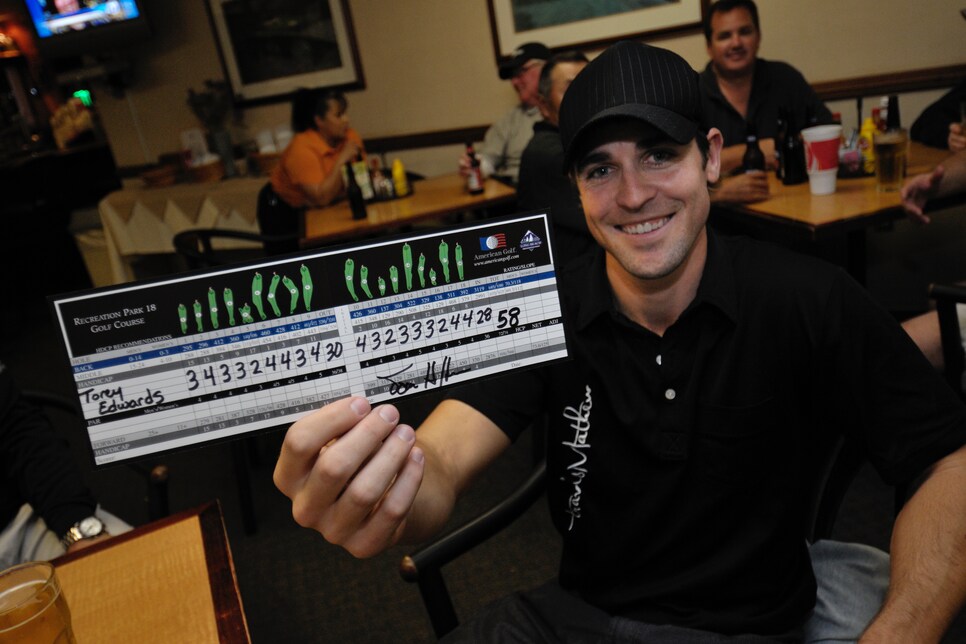 MediaNews Group/Orange County Register via Getty Images
And would you believe this is his second 58?! And that Mr. 58 (Sorry, Jim Furyk) now carries a plus-7.2 handicap index?! Talk about a ringer in a scratch league.
Masters food: As in, you can actually buy Masters food. From the Masters. From Augusta National. They will ship it to you so you can host a legendary Masters party or you can just pig out by yourself while you enjoy this feast for 10-12 people that's offered on the new online Masters Patron Shop: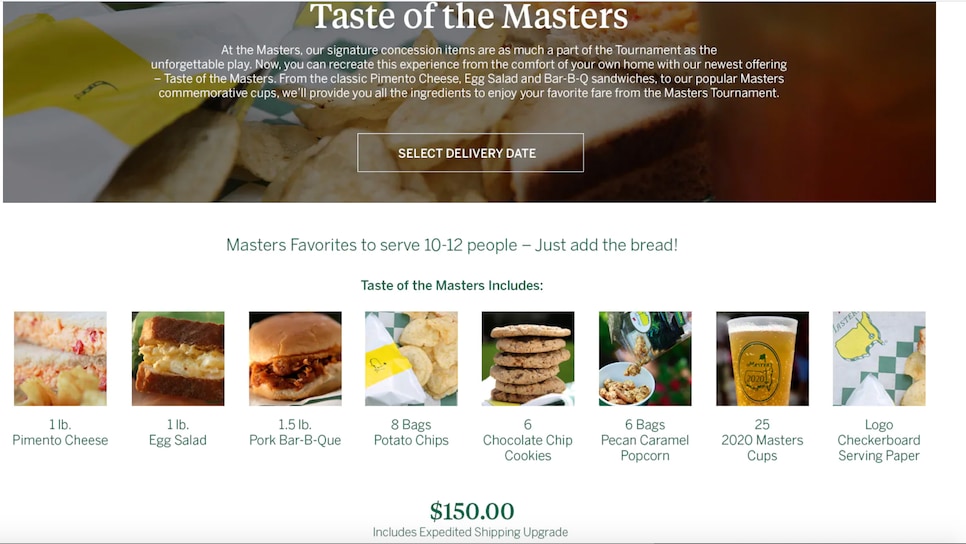 I'd like a few more cookies and their chicken sandwiches instead of the pimento cheese, but man, that's tempting.
Limited online Masters shopping: Sadly, you have to be a PATRON, AKA a ticket holder, for this year's Masters to be able to access the online Masters PATRON Shop. Even the online shopping is ultra exclusive at this place! But hey, who needs a And $175 Masters logo football anyway? Actually, even that looks pretty sweet. Yep, I've got access NBD. Wow, there's so much good stuff on here. . . Decisions, decisions. . .
Picking your ball up: When you're not supposed to, that is. Such was the case for Darren Clarke during the second round of the TimberTech Championship, mistakenly thinking they were still playing life, clean and place. This seemed ripe for a "Pros are just like us!" moment, but the dude still shot 62 with the penalty and went on to win his first PGA Tour Champions title, beating Jim Furyk and Bernhard Langer (How good is the senior circuit these days?!) by a shot:
Incredibly, it's Clarke's first win anywhere since claiming the claret jug at the 2011 Open. So again, Comeback SZN! It was also a great bounce back from recently being beaten and roasted in a long-drive contest by Vijay Singh. Way to battle, Darren.
This prank on a caddie: Last week we discussed someone pranking Jordan Spieth into thinking he'd made a hole-in-one on a par 4, but this might actually be worse. Joel Dahmen pranked his caddie, Geno Bonnalie, into thinking he had added this week's PGA Tour event to the schedule. Here's how Geno described it:
That's rough and deserving of some serious payback. But way to slip in the fact you were doing multiple home projects, Geno. I'm impressed.
The PGA Tour heads to Texas for the Houston Open, AKA that tournament that used to be the final Masters tune-up in April and is now the final Masters tune-up in November. It also is scheduled to be the first time two players, Dustin Johnson and Adam Scott, get in that last Masters prep while also playing for the first time since testing positive for COVID-19. Crazy times.
Random tournament fact: The event has moved to a Houston muny, Memorial Park Golf Course, which was reconstructed by Tom Doak last year. You may have already heard that, but you might be surprised to know that Brooks Koepka served as a player consultant on the project. Is it possible Koepka's too-cool-for-school demeanor is all an act and he's actually a big golf nerd?
RANDOM PROP BETS OF THE WEEK
—Any tour pro would prank Steve Williams like that: 1 MILLION-to-1 odds
—Dustin Johnson will win this week: 7-to-1 odds (Actual odds, favorite)
—Dustin Johnson won't get COVID-19 this week: LOCK (Actual odds, it's science)
Check out this look from Johnson Wagner: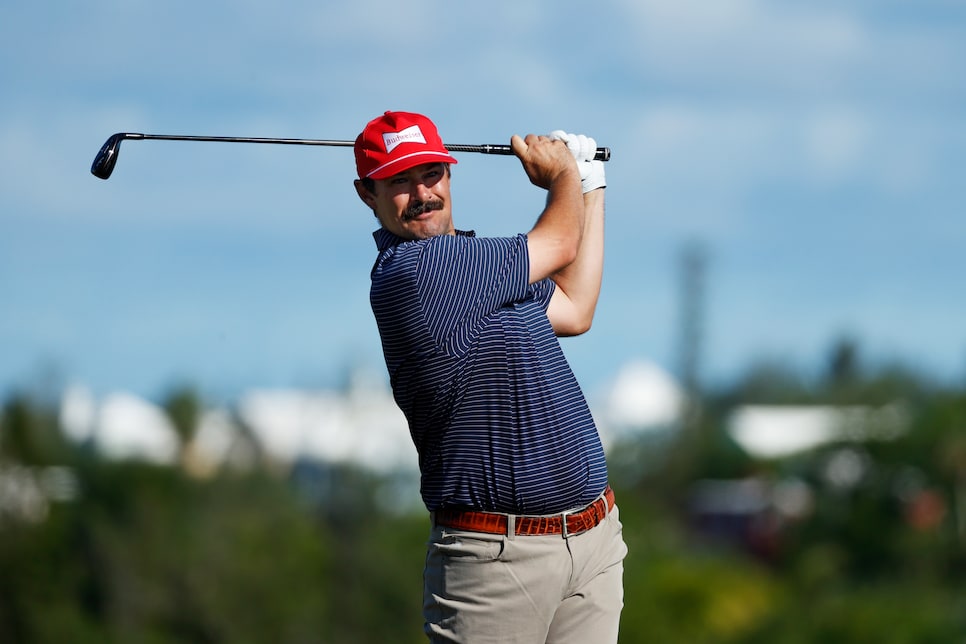 If he's sponsored by Budweiser, good for him. If he's shopping for a hat sponsor, savvy move. Either way, I'm guessing J-Wags' fridge is well stocked.
VIRAL VIDEO OF THE WEEK (TOUR PRO DIVISION)
Here's Bryson DeChambeau screaming as he hits a tee shot that probably went twice as far as an average Fred Funk drive:
What an animal. He could really put on a show next week …
VIRAL VIDEO OF THE WEEK (NET DIVISION)
Club Pro Guy does it again, this time with the help of a Jimmy Roberts narrated essay:
That's one of the funniest things I've ever seen. CPG is a genius.
VIRAL VIDEO OF THE WEEK (HEARTWARMING DIVISION)
Check out Camiko Smith birdieing the hole he used to sneak onto growing up in Bermuda while his grandma watched during his PGA Tour debut:
Now that deserves a Jimmy Roberts voiceover!
THIS WEEK IN PROS ARE JUST LIKE US! (SORT OF)
Tiger Woods freaked out on Twitter when his long-suffering team won the World Series!
OK, so freaked out is a bit of a stretch. As is the long-suffering part about the Dodgers. But Tiger is a lifelong fan, so that had to feel good.
THIS WEEK IN PHIL BEING PHIL
I've been critical of Phil Mickelson's taste in movies before, but he knows what's up when it comes to TV:
Great show. Get on it—especially with no NBA/MLB/NHL right now.
THIS WEEK IN TOUR PRO PUBLIC DISPLAYS OF AFFECTION
Tony Finau and his wife, Alayna, put on quite the show by recreating an extended dance from Michael Jackson's iconic Thriller video. Emphasis on "extended":
I knew the dude was a great athlete, but damn, those are some serious moves. Looks like we've got a future "Dancing with the Stars" contender!
Danielle Kang used an off week to support her boyfriend Maverick McNealy and assume the all-important job of snack provider:
And Paulina Gretzky made an important announcement regarding her status on social media: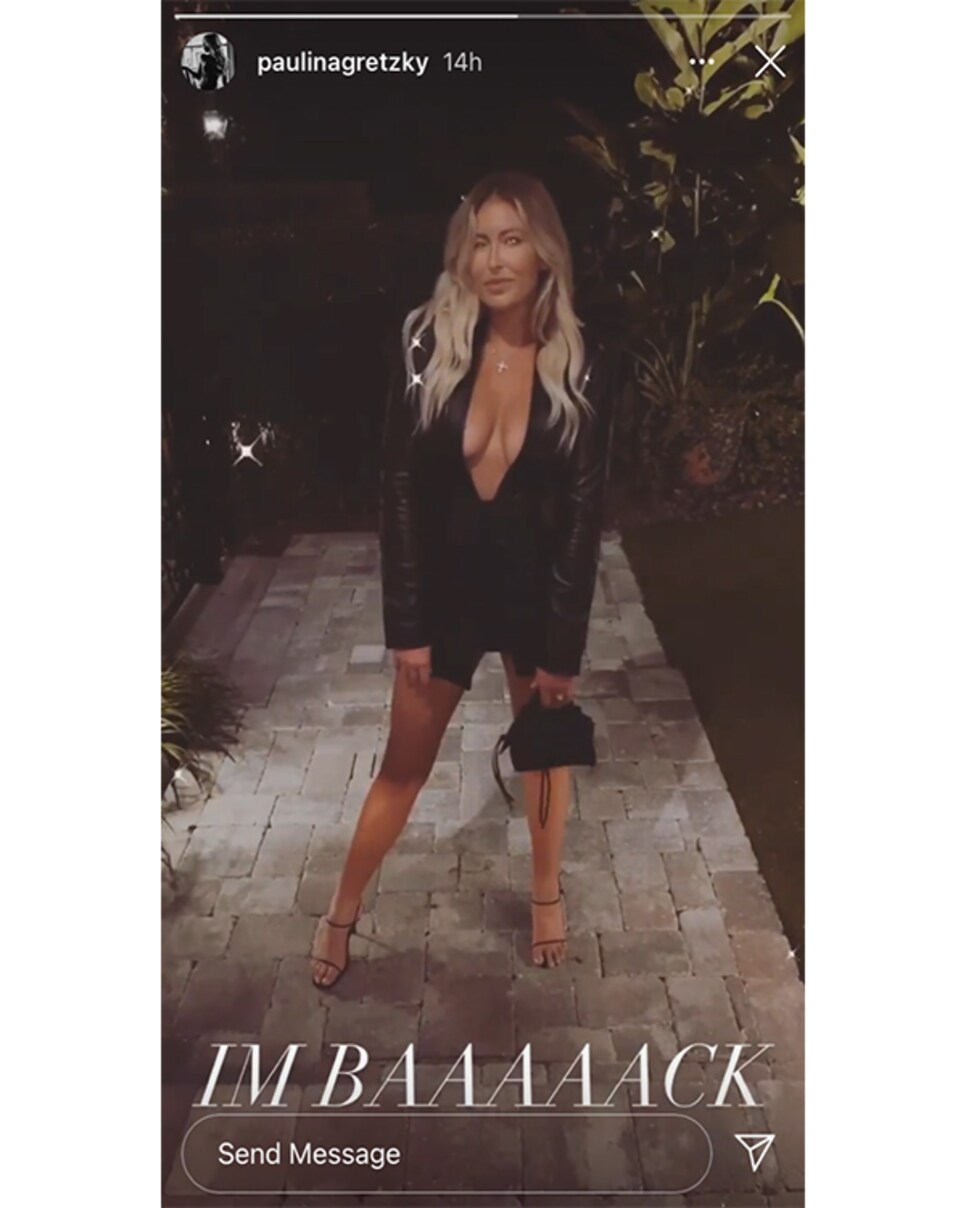 This might rank up there with Michael Jordan coming out of retirement (the first time) and me going back to work after paternity leave (the second time) on the all-time list of great returns.
"This is absolutely insane. I've been playing awful." —Brian Gay after winning in Bermuda. And yep, his story checks out.
Happy 85th birthday to the ageless Gary Player, who used the event to try to raise money for Golf Fights Cancer:
Well played, GP. The dude is going to outlive us all. … Congrats to Mike Miller on making his first PGA Tour cut at the Bermuda Championship and shooting a Sunday 68 to finish T-49. It won't be the last time. … Congrats to former co-worker Tim Rosaforte on being the first journalist to be given an Honorary PGA of America membership. I've never felt so alive than the time I held Rosie's constantly buzzing phone for a few minutes. What a legend. … And finally, this was the first Halloween with two kids. And one clearly had a much better time: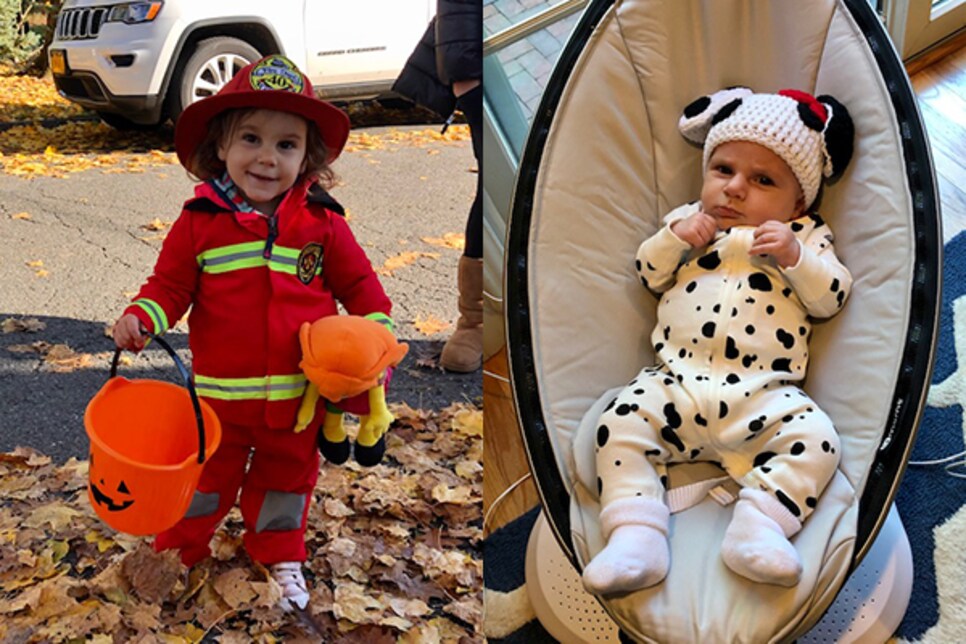 Hey, that's how I'd feel about the day if I wasn't able to stuff my face with candy.
RANDOM QUESTIONS TO PONDER
What's the most consumed Halloween candy?
What's more confusing: the Electoral College or the FedEx Cup?
How much will I spend at the Masters Patron Shop?