News
A first in golf history? Amateur scores second 58 of his life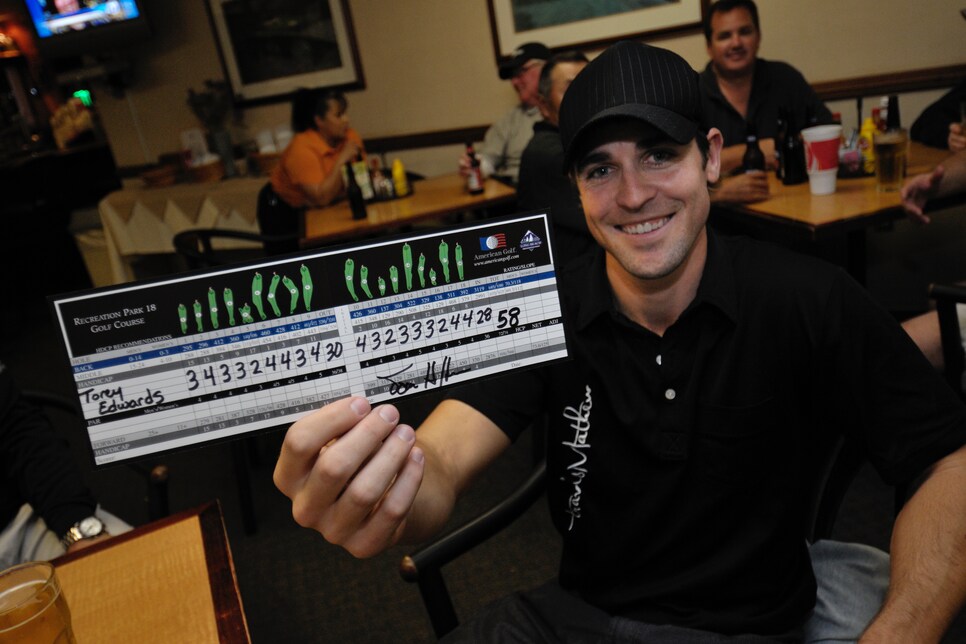 Torey Edwards shows off his scorecard from the 14-under 58 he shot in 2008 at Recreation Park in Long Beach, Calif.
MediaNews Group/Orange County Register via Getty Images
Torey Edwards was flirting with the unthinkable in golf and his friends weren't giving him any breaks. The 38-year-old Southern Californian shot a 14-under-par 58 in 2008 when he was still attempting to make it on the pro mini tours. Twelve years later, on Thursday in a sanctioned Southern California Golf Association Scratch League event in Pasadena, Edwards was nine under with three holes to play on the par-70 Annandale Golf Club.
With two more birdies he would break 60. Three more and he shoots another 58—which happens to be the lowest score ever recorded on a major professional golf tour.
Unfortunately for Edwards, his buddies apparently aren't the type to keep quiet during a no-hitter or when a guy is gunning for a piece of golf immortality. There was live scoring during the tournament that golfers could access on their phones, and as the other groups kept seeing Edwards' scorecard bleed red, they started bombarding him with texts. His playing partner and friend Steve Mena said, "Are you going to shoot 59?"
"I'm used to the lip wedge," said Edwards, who jokes that he's accustomed to jabs while playing regular money games with former PGA Tour pro John Mallinger at Virginia Country Club in Long Beach. "I started thinking about it seriously on the 16th tee. I didn't know how far under par I was, but it was just about not getting in my own way. … You usually self-sabotage it somehow. I was hitting good shots and thinking, 'Let's not get too distracted by anything weird.' "
The round ended in a dream-like sequence. After parring 16, Edwards birdied the par-4 17th to get to 10 under, and with a sizeable crowd of players and members standing behind the 18th green, he reached the par-5 finisher in two shots. Edwards thought his 20-foot eagle putt was for 59. When he drained it and the onlookers erupted, he knew he might have messed up on the math.
"That was for 58, dude!" Mena screamed at him.
The second 58 of his life, with Edwards breaking Annandale's men's course record by three shots.
"To do this again …" Edwards said over the phone, halting to find words. "As shocked as I've been, other people can't believe it either. It would have been super cool to shoot 59, but to shoot the same number, 58? It's the gold standard."
In the history of professional golf, only three 58s have been shot, all on par-70 golf courses—Jim Furyk on the PGA Tour in 2016; Stephan Jagr on the Web.com Tour in 2016; and Ryo Ishikawa on the Japan Tour in 2010.
It's worth reviewing Edwards' scorecard on the 6,612-yard course: He opened with four birdies in the first five holes and then cooled off with four pars to close his front nine of 30. On the back, he scored: birdie-par-birdie-birdie-birdie-birdie-par-birdie-eagle. Edwards said he made only one other long putt, from 30 feet, and that the rest of his rolls were less than 15 feet.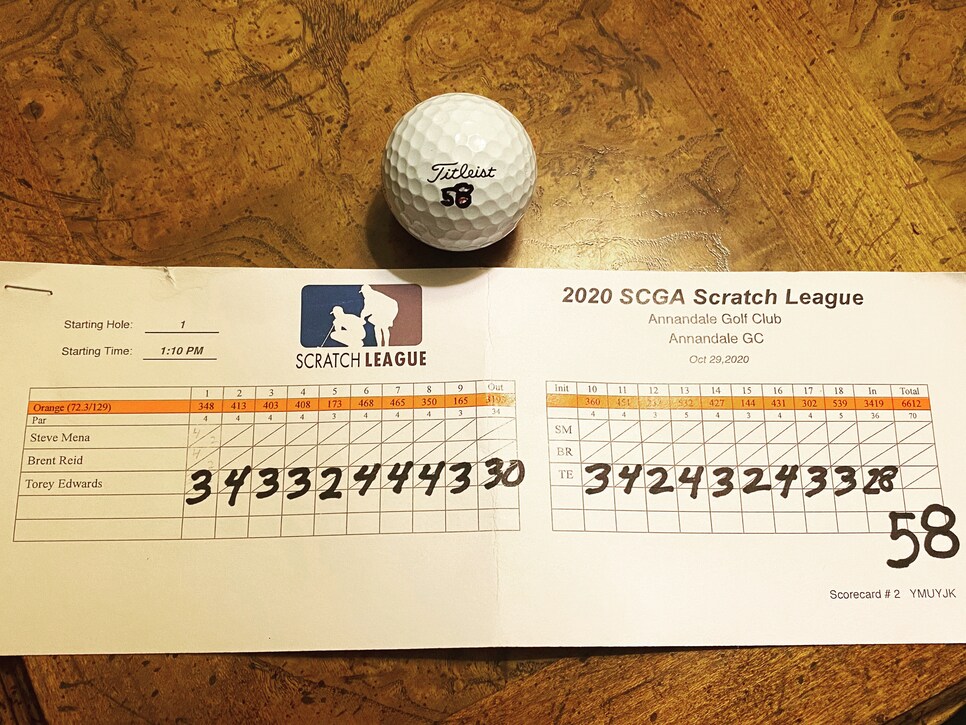 Torey Edwards' scorecard and ball from the 12-under 58 he shot on Oct. 29, 2020, at Annandale Golf Club in Pasadena, Calif.
"You have to be putting phenomenal. That's the ticket," Edwards said.
In the first 58 he scored, Edwards was playing in a skins game on the Friday after Thanksgiving in 2008 at the course he grew up on, Recreation Park in Long Beach. The layout is shortish for a par-72 at 6,355, but when anybody ever needled Edwards about that, he noted that he stood on the 18th tee at 14 under for the round. With a birdie, he'd have shot 57, but he ended up missing a downhill 12-footer. The 58 broke the course record of 61 held by two-time PGA Tour winner Paul Goydos.
At that time, Edwards was wrapping up a six-year effort at playing pro golf in which he didn't make it beyond the mini tours. He grew up in Long Beach with PGA Tour winner John Merrick and played at Long Beach State, but realized after trying to grind out a living that the road wasn't meant for him. Edwards became a financial planner and joined Virginia C.C., where instructor Jamie Mulligan has mentored many successful tour pros, including last week's PGA Tour winner at Sherwood, Patrick Cantlay.
The formidable competition at Virginia has no doubt steeled Edwards' game and resolve. This year, on the strength of his victory in the SCGA Mid-Amateur Championship, he was named the SCGA's player of the year. Edwards' index is an eye-popping plus-7.2 after the latest 58. "A lot of people want to gamble with me now," he said with a laugh.
New York Yankees center fielder Aaron Hicks is a good friend and Edwards said Hicks told him he'd front him some money if he wanted to try the pros again.
"I'm totally comfortable and happy," Edwards said. "There's a teeny bit of wishing I had the experience back then that I have today. Maybe I would have had a better career. But I totally love golf and the world of amateur golf fits me."
So does the title of "Mr. 58."