Diaz
My Five: Greatest LPGA Rivalries
A breakdown of the five best rivalries in LPGA history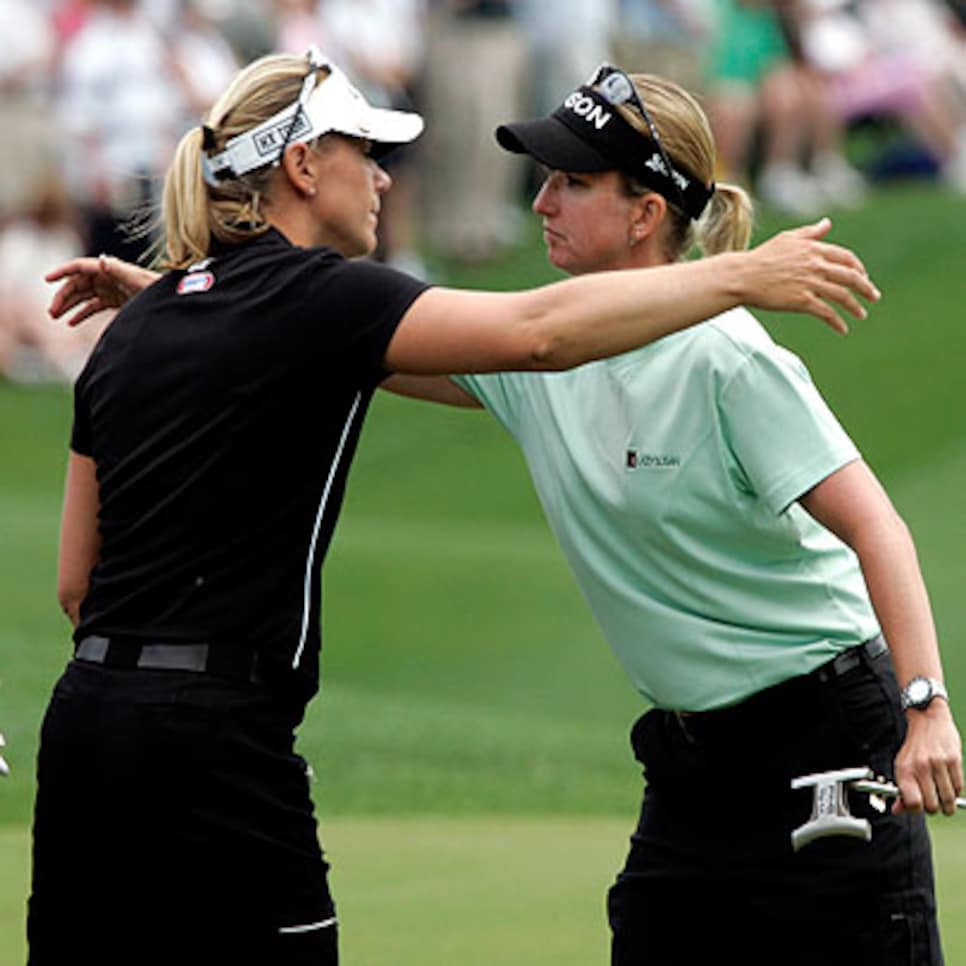 Photo By: Steve Helber/AP Photo
Photo By: Stephen Szurlej
Photo By: Lennox McLendon/AP Photo
Annika Sorenstam vs. Karrie WebbWebb, four years younger than Sorenstam, got things started her rookie year of 1996, winning the money title and four tournaments. It lit a fire under Sorenstam, who in 1998 became the first woman to finish with a scoring average under 70. The next season Webb went half a stroke lower, and then in 2000 won seven tournament including two majors. Sorenstam came back in 2001 with eight victories including a major, along with shooting 59. From there Sorenstam left Webb behind, the primary difference between them ambition. "Annika wants to be No. 1," Webb said in 2001. "I don't live and die for it."
Photo By: Steve Helber/AP Photo
Kathy Whitworth vs. Carol MannNo pair has ever put up such collective numbers over two years of sustained battle. Each won 10 tournaments during the 1968 season, with Whitworth taking the money title and Mann setting a scoring average record -- 72.2 -- that would last ten years. In 1969, Mann won eight and Whitworth seven. Both then slowed down, but Whitworth kept a steady pace for another 15 years to ultimately win a record 88 tournaments. Mann won her 38th, and last, in 1975. Mann, who considered herself an overly nervous competitor, both admired and deferred to Whitworth. "Kathy has great inner strength," she said. "She doesn't let negative things happen to her."
Photo By: AP Photo
Babe Didrikson Zaharias vs. Louise SuggsThe flamboyant Babe, the Associated Press Woman Athlete of the 20th Century, was understandably the show when the LPGA started in 1950. Suggs, who had won the 1949 U.S. Women's Open by 14 shots over runner-up Zaharias, was nearly as good, but vexed at being unappreciated. In the LPGA's first two seasons, Zaharias was dominant, winning the money titles along with 17 tournaments. But Suggs, who would go on to win 55 LPGA events, including 11 majors, came back to win nine and lead the money list in 1953. The tension between the two increased that year when Suggs refused to sign Zaharias' winning scorecard after disputing a drop. According to Whatta-Gal: The Babe Didrickson Story, when Zaharias was dying of cancer in 1956, Suggs did not send flowers, telling Betsy Rawls, "I decided I'm not going to be a hypocrite about this thing."
Photo By: AP Photo
Nancy Lopez vs. Pat BradleyBradley tried to conceal the hurt she felt at being largely ignored during Lopez' prime in the late 70s and early 80s, but wasn't convincing. "The LPGA has always based a lot of its image with Lopez," she said. "Nancy has been marketed very well. Worrying about Lopez is wasted energy." Even after Bradley had a historic season in 1986, winning three of the four majors, Lopez's then husband Ray Knight said it would have been different if his wife hadn't taken time off to have a baby. "Obviously, if Nancy had been out there, Pat wouldn't have had as great a year as she did," Knight said. Bradley's grim response: "I don't think I would have been denied." Both are in the Hall of Fame, Lopez with 48 victories, Bradley with 31.
Photo By: Stephen Szurlej
Patty Sheehan vs. Betsy KingThese two very different contemporaries throughout the 80s and early 90s drove each other to remarkably similar Hall of Fame totals. The mercurial and sweet-swinging Sheehan won 35 events and six majors, while King relied on disciplined grinding to get 34 and six. King won the money title, the Vare Trophy and Player of the Year three times each; Sheehan a Player of the Year and a Vare. When paired together, they seemed to represent two different worlds -- King an introverted, born-again Christian from small town Pennsylvania, Sheehan an openly gay extrovert from Northern California -- making for a palpable intensity. When Sheehan lost a 10-shot lead at the 1990 U.S. Women's Open to lose by one, the winner was King.
Photo By: Lennox McLendon/AP Photo