The Greatest Comebacks in Golf History
From injury to illness to paralyzing slumps, the golfers who fought their way back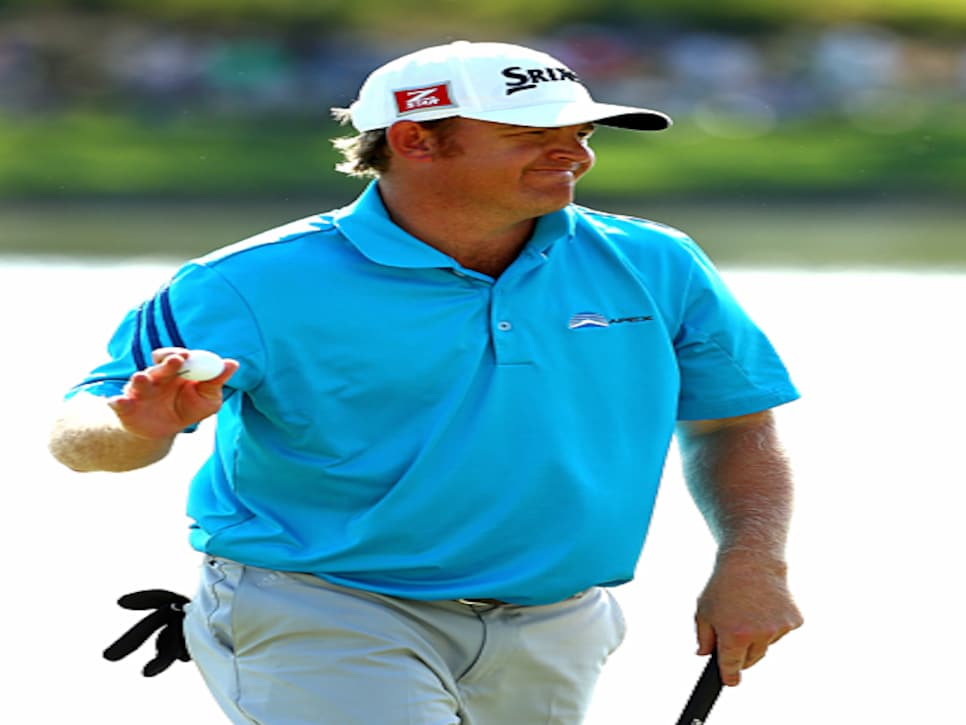 J.B. Holmes
A return in any way, shape or form to the PGA Tour after undergoing brain surgery in 2011 to address balance issues would genuinely have been a success for the 32-year-old Kentucky native. That Holmes pulled off a victory at the Wells Fargo Championship, the third of his career but first since 2008, makes the journey all the more impressive. The comeback becomes even more amazing/improbable thanks to the fact he also had to recover from ankle surgery after a roller blading accident in March 2013. While sidelined, Holmes figured he might as well have elbow surgery as well to help address a separate injury. Suffice it to say, Holmes was grateful finally to feel like his old self in 2014, and he's shown it by finishing in the top 20 in five of six starts prior to Wells Fargo while using a major medical extension.-- *
Ryan Herrington
Follow: @GWcampusinsider
Ken Venturi
The former pupil of Byron Nelson overcame a stutter as a youth to become a standout amateur golfer in Northern California. After turning pro in 1956, he became a bright light on the PGA Tour, winning 10 tour titles in a 36-month span from 1958-60. Venturi's game, though, deteriorated around the time of a 1961 car accident, in which he suffered minor injuries that were compounded by personal struggles with alcohol. He went winless until a historic victory at the 1964 U.S. Open at Congressional, when Venturi famously overcame searing heat and humidity to claim the biggest individual triumph of his career. -- R.H.
Henrik Stenson
The 38-year-old Swede's career went off track not so much due to various physical ailments he suffered, but a psychological setback when he fell victim to a Ponzi scheme orchestrated by one of his sponsors, Stanford Financial Group. News of the financial fraud broke just prior to him winning the 2009 Players Championship and moving to No. 4 in the world. Stenson would lose as much as $7 million, an off-course jolt that seeped into his on-course play as he slid to No. 230 in the world in February 2012. His talent, however, was too great not to allow him to turn things around. In 2013, top three finishes in the British Open, WGC-Bridgestone Invitational and PGA Championship helped him eventually claim both the PGA Tour's FedEx Cup and the European Tour's Race to Dubai titles. He closed the year at No. 3 in the world ranking, the highest of any Swedish golfer in history.-- *
Luke Kerr-Dineen
Follow: @LukeKerrDineen
Ben Hogan
Just surviving a head-on car collision with a Greyhound bus was impressive, but what Hogan did after is one of the most remarkable accomplishments in sports. Hogan suffered a broken clavical, a complex pelvic fracture, a fractured ankle broken ribs, and facial injuries. Plus, he nearly died in the hospital from blood clots, which caused him circulation and fatigue problems the rest of his life. The physical ailments never allowed Hogan to play nearly a full schedule again, but it didn't keep him from winning. Sixteen months after being released from the hospital, Hogan won the 1950 U.S. Open at Merion. He would go on to win five more majors, including all three he played in 1953.-- *
Alex Myers
Follow: @AlexMyers3
Lloyd Mangrum
A U.S. soldier during World War II, Mangrum saw serious battle action, including participating in the Invasion of Normandy and at the Battle of the Bulge. At the latter, he was shot in the knee and the shoulder (another bullet deflected off his helmet), but survived and earned two Purple Hearts. Incredibly, he earned a U.S. Open medal as well upon returning home. Mangrum captured the lone major championship of his career in his first year back from the service, winning the 1946 U.S. Open at Canterbury Golf Club in a 36-hole playoff over Byron Nelson and Vic Ghezzi. -- A.M.
Tiger Woods
Plenty of physical injuries have plagued the 14-time major winner throughout his career, but his biggest setback came from a damaged psyche. A car accident in his own driveway on Thanksgiving, 2009, set off a sex scandal that wound up costing Woods his marriage, much of his popularity, and almost all of his endorsement deals. It hurt his golf game as well. Woods returned five months later with a T-4 at the Masters, but he'd go winless for the first time as a pro in both 2010 and 2011 to fall outside of the top 50 in the Official World Golf Ranking. In 2012, Woods finally returned to the winner's circle, capturing the Arnold Palmer Invitational. He'd win twice more that year and five times in 2013 to return to No. 1 and take home a record 11th PGA Tour Player of the Year Award. -- A.M.
Babe Zaharias
In the earliest days of the LPGA, Zaharias was the tour's Tiger Woods, a larger-than-life figure who transcended her sport. In 1950, she won what was then the Grand Slam of women's golf -- the U.S. Women's Open, the Titleholders Championship, and the Women's Western Open, then came back and won a second-consecutive money title in 1951. Diagnosed with colon cancer in 1953, Zaharias had invasive surgery to remove her colon, but still returned to the women's tour in 1954. Remarkably she won five times that year, including the U.S. Women's Open, when she survived 36 holes on Saturday to win by 12 strokes. She died two years later.-- *
Sam Weinman
Follow: @samweinman
Johnny Miller
Though one of the premier players of the mid-1970s and one of the greatest ball-strkers ever, Miller lost his edge due to an acute case of the putting yips in the late 1970s. After 18 wins between 1971-76, Miller never played more than 20 events on the PGA Tour after 1977, and stopped playing the tour altogether in the late '80s. By 1994, he was a broadcaster for NBC, but still entered the AT&T Pebble Beach National Pro-Am essentially on a whim. At age 46, he claimed an improbable one-stroke win over Tom Watson, but still wasn't tempted to return to the game full-time. -- S.W.
Steve Jones
After winning four times on the PGA Tour in 1987-88, Jones suffered a setback when he suffered ligament and joint damage in a 1991 dirtbike accident. He only played sparingly over the next few years, and by 1996 needed a sectional qualifier to make it into his first U.S. Open in five years. But Jones remarkably edged Tom Lehman and Davis Love III for his first and only major title. Three more PGA Tour wins would follow, but a series of elbow injuries derailed his career again. -- S.W.
Steve Stricker
Once upon a time, Steve Stricker was golf's next can't-miss kid. But after three top fives in five majors from 1998 to 1999, Stricker fell into a debilitating slump that almost forced him out of the game. He won just once between 1996 and 2006, fell outside the top 300 in the world ranking and lost his tour card. He questioned everything about himself and his game before eventually recovering, winning nine times between 2007 and 2012. -- L.K.D.
Gene Littler
Had Gene Littler's golf career ended with his diagnosis of skin cancer in 1972, it still would have been worthy for the Hall of Fame -- by that point he had won the U.S. Amateur, U.S. Open, 23 other PGA Tour events and was a member of six Ryder Cup teams. After removing and recovering from a cancerous lymph node, Littler won five more times on tour, made another Ryder Cup team and lost in a playoff at the 1977 PGA Championship. -- R.H.
Erik Compton
It started for Compton when he was nine. His heart wasn't pumping as hard is it should be, so three years later, he underwent a heart transplant. Then, in 2008, after playing 19 times on the Nationwide Tour a year earlier, he had another heart transplant. But all that paved the way for the feel-good story of 2010 when Compton made it onto the Web.com Tour through Q-School. A year later, in 2011, Compton won his first tournament on that tour en route to earning his PGA Tour card. -- L.K.D.
Paul Azinger
By the end of 1993, when he was diagnosed with cancer in his shoulder, Paul Azinger was one of the best golfers on the planet. He had been a member of three Ryder Cup teams and had never lost. He boasted seven major top 10s, and between 1987 and 1993, 11 PGA Tour wins including a PGA Championship. Cancer took its toll on Azinger, but he fought back into the winner's circle at the 2000 Sony Open and onto another U.S. Ryder Cup team in 2002. -- L.K.D.