The Greatest Irish Golfers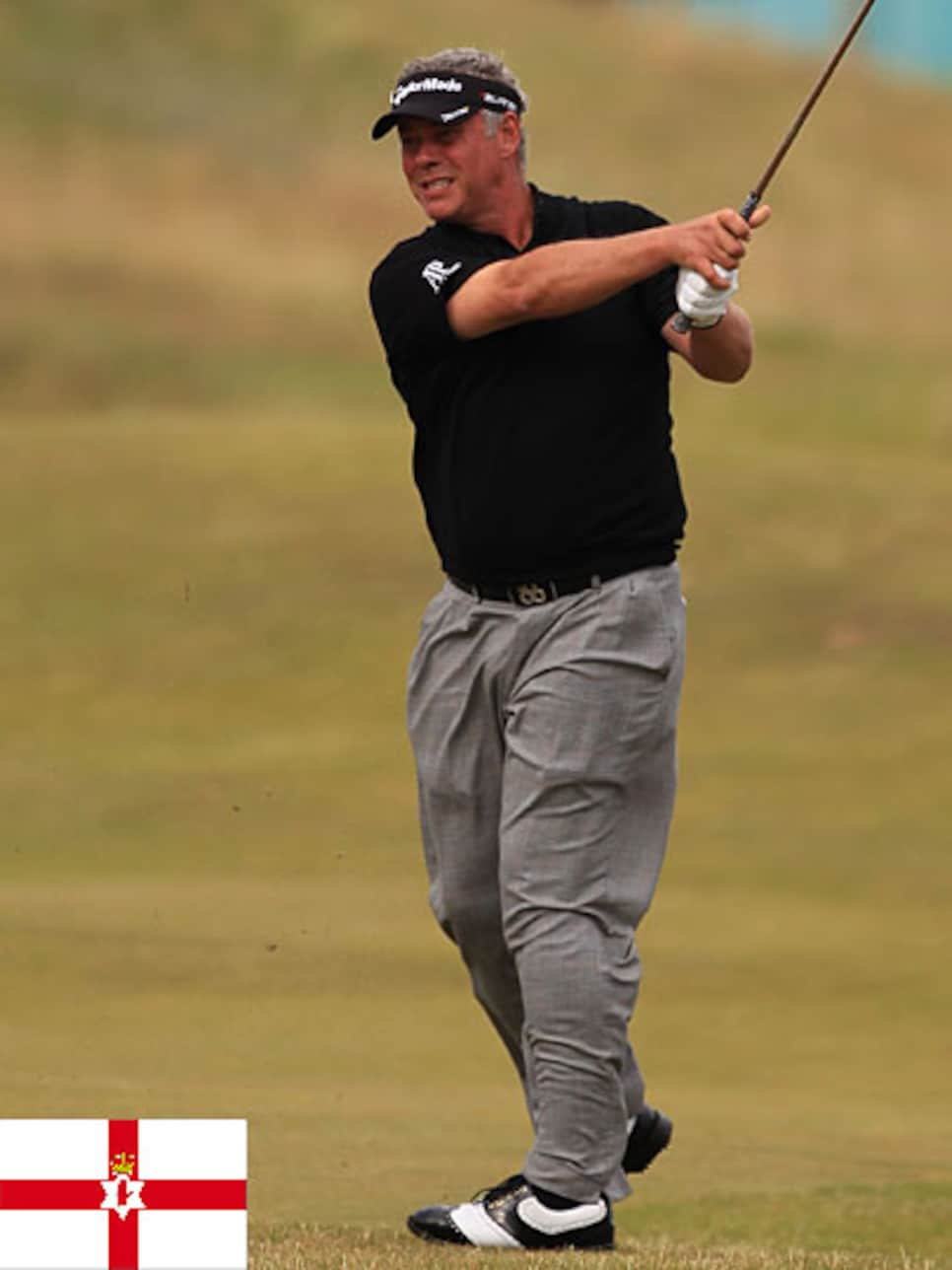 Photo By: Streeter Lecka/Getty Images
Photo By: Golf DIgest Resource Center
Photo By: Andrew Redington/Getty Images
Photo By: Matthew Stockman/Getty Images
Photo By: Ross Kinnaird/Getty Images
Photo By: Chris Trotman/Getty Images
Photo By: Phil Inglis/Getty Images
Photo By: Ross Kinnaird/Getty Images
Photo By: Rusty Jarrett/Getty Images
Photo By: Paul Severn/Getty Images
Photo By: Golf Digest Resource Center
Photo By: Phil Inglis/Getty Images
Darren Clarke
The Northern Irishman's breakthrough at the 2011 British Open gave him his first major title and a third in the last six majors for his home country that has a population of just 1.8 million. Born in Dungannon, Clarke's first major didn't come until age 42, but the popular pro had already accomplished plenty. He came to Royal St. George's with 13 career European Tour titles and two on the PGA Tour, including the 2000 World Match Play in which he defeated Tiger Woods 4&3 in the 36-hole final.
Photo By: Streeter Lecka/Getty Images
Fred Daly
While Darren Clarke is given credit for his role in Northern Ireland's current golf boom, it was the Belfast-born Daly who put the tiny nation in the sport's spotlight first. Daly won the 1947 British Open at Hoylake to become the first player from the coastal country to claim a major championship. He was also the only player of Irish descent to win the Open Championship until Padraig Harrington broke through at Carnoustie in 2007.
Photo By: Golf DIgest Resource Center
Padraig Harrington
Long regarded as one of the best players in the world, the affable Paddy morphed into an all-time great for a 13-month period. During a stretch of six major championships, Harrington captured three, including back-to-back wins at the British Open in 2007 (Carnoustie) and 2008 (Royal Birkdale). His win at the PGA Championship in 2008 at Oakland Hills gave the man from Dublin two of the season's four biggest trophies and earned him the PGA Tour Player of the Year award.
Photo By: Andrew Redington/Getty Images
Christy O'Connor Sr.
Born in Galway, the prolific O'Connor won at least one professional event on the British Tour during each year of the 1960s and eventually claimed 43 titles, along with a T2 at the 1965 Open Championship. He also played in every Ryder Cup from 1955 to 1973, setting a record that stood until Nick Faldo surpassed it in 1997. Later in his career, O'Connor won the PGA Seniors Championship six times and the World Senior Championship in 1976 and '77. Ever since O'Connor's nephew of the same name became a prominent golfer, he has been referred to as "Himself."
Photo By: AP Photo
Christy O'Connor Jr.
Like his uncle of the same name, O'Connor, who is simply known as "Junior," hails from Galway. He turned professional in 1967 and joined the European Tour when it was founded, in 1972. His best ranking on the Order of Merit was seventh in 1975, and he played in the Ryder Cup twice (1975 and '89). As a senior, Junior has won two Senior British Open titles and two Champions Tour events.
Photo By: Matthew Stockman/Getty Images
Ronan Rafferty
Born in Newry, Rafferty turned professional in 1981 and finished at the top of the European Tour Order of Merit just seven years later. In the early 1990s, he almost broke the then record for consecutive cuts made on the European Tour, but shortly after he struggled through injuries and never regained top-notch status. His seven professional wins came between 1989 and 1993, and Rafferty is now involved in broadcasting and golf course design.
Photo By: Ross Kinnaird/Getty Images
Rory McIlroy
Long hailed as golf's next big thing since he shot a 61 at Royal Portrush (site of the 1951 British Open) when he was 16, McIlroy lived up to that billing and more at the 2011 U.S. Open. The 22-year old brought Congressional CC to its knees, breaking Tiger Woods' tournament scoring record by four shots and finishing eight strokes clear of the field. His rapid rise in the world rankings make the Holywood, Northern Ireland native one of
golf's all-time phenoms
.
Photo By: Chris Trotman/Getty Images
Eammon Darcy
Born in Delgany, Darcy turned professional in 1968 and joined the European Tour the year it was founded, in 1972. Despite having one of the most unorthodox swings on tour, he won four European Tour tournaments and finished in the top 20 on the Order of Merit nine times, including second in 1976. Darcy's best finish at a major was T5 at the 1991 Open Championship at Royal Birkdale, and in 2002 he joined the European Seniors Tour.
Photo By: Phil Inglis/Getty Images
Graeme McDowell
G-Mac brought the golf world's attention to the tiny country of Northern Ireland with his surprising win at the 2010 U.S. Open at Pebble Beach. It was the start of a magical run for the Portrush native that included becoming a Ryder Cup hero at the end of the year by winning the event's deciding match. But he's been winning for awhile despite his relatively young age. McDowell was the U.S. collegiate player of the year in 2002 while attending the University of Alabama at Birmingham and he already has seven career wins on the European Tour.
Photo By: Ross Kinnaird/Getty Images
David Feherty
Before he became golf's main TV funnyman, the Northern Irishman made his name on the links. A five-time winner on the European Tour, the Bangor-born Feherty played on the 1991 Ryder Cup team. Never a winner on the PGA Tour, Feherty did have three top 10s in majors, including a T-4 at the 1994 British Open at Turnberry.
Photo By: Rusty Jarrett/Getty Images
Joe Carr
One of golf's greatest amateur players was born in a suburb of Dublin. His mother's sister and her husband, who had just been appointed steward and stewardess of the Portmarnock Golf Club, adopted Carr when he was just 10 days old, allowing him to learn how to play golf at an early age. He went on to win 12 East of Ireland titles, 12 West of Ireland titles, six Irish Amateur Close Championships, four Irish Amateur Opens, and three South of Ireland titles. Carr was the first Irishman to compete in the Masters in 1967, and in 2007 he was inducted into the World Golf Hall of Fame. He died in 2004.
Photo By: Paul Severn/Getty Images
Harry Bradshaw
A leading Irish golfer in the 1930s and 40s, the Delgany-born Bradshaw would practice 100-yard approach shots until he'd hole one as an adolescent. His most infamous moment occurred during the 1949 British Open at Royal St. George's. After opening with a 68, Bradshaw's drive on the 14th hole during his second round sprayed right and came to rest in the bottom of a broken beer bottle. Instead of waiting for an official to offer a ruling, Bradshaw took a wedge and blasted the ball (and shattered glass) a mere 25 yards. The subsequent bogey led to a 77. He eventually lost the Open in a 36-hole playoff against South Africa's Bobby Locke. Bradshaw later teamed with Christy O'Connor Sr. to win the 1958 World Cup. He died in 1990.
Photo By: Golf Digest Resource Center
Des Smyth
A longtime member of the European Tour, Smyth, who is from Drogheda, now plays on the senior circuits both abroad and in the states. He's won twice on the Champions Tour and has a total of 23 professional victories. Despite his eight wins on the European Tour, he never competed in any major championship outside the British Open.
Photo By: Phil Inglis/Getty Images