Tour Pro Life
Besides playing golf for big money, there are plenty of other perks that tour pros and their families enjoy.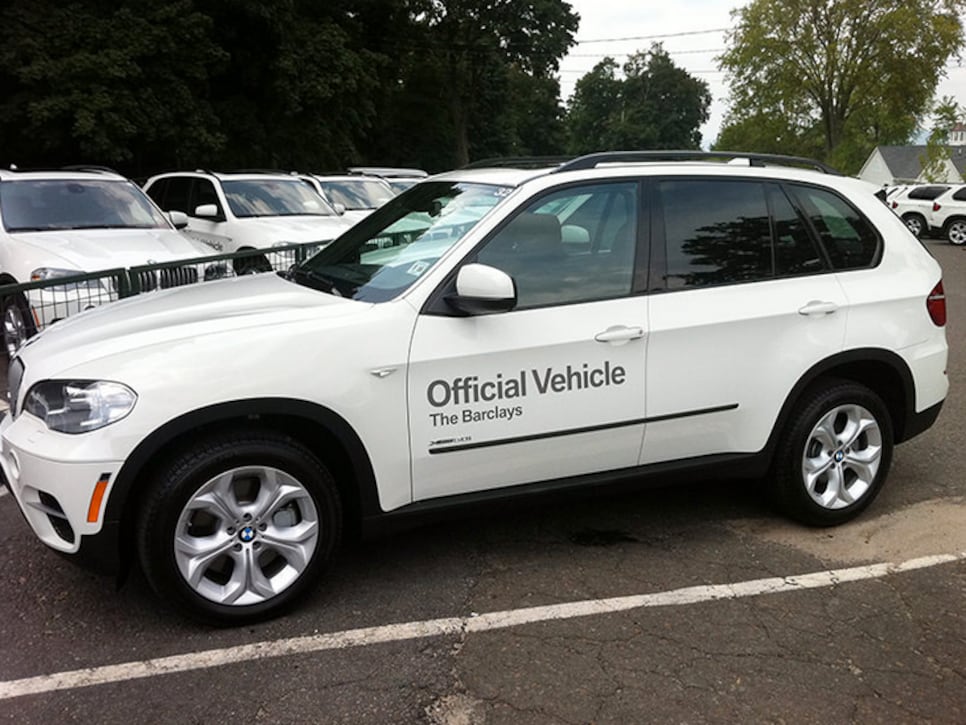 Courtesy Cars
The standard when it comes to tour perks no matter what the event, these come in all shapes and sizes.
Dry Cleaning/Laundry
Another staple. It's not the most exciting perk, but probably the most needed for a tour pro's nomadic lifestyle.
Free Food
From an all-you-can eat night at the famed ACME Oyster House in New Orleans during the Zurich Classic to on-course food trucks during rounds at the Honda Classic, tour pros never go hungry on the road. Plus, there's always player dining at the course.
Fishing
Or, tour pros can often go try to catch their own meals either at the resorts they're staying/playing at or through excursions set up by tournaments. And many do, because if there's an activity tour pros enjoy as much as golf, it's going fishing. There's a deep-sea fishing trip at the OHL Classic and chartered boats in New Orleans. And at the Greenbrier Classic, there's even a fishing competition.
Male Accessories
At the Zurich Classic, tour pros have their pick of a wide-range of luxury belts. At the Hyundai Tournament of Champions, it's sunglasses. These guys are good -- and they look good, thanks in part to all the SWAG that comes their way. Then there's the Big Green Egg grill all players get at the Sanderson Farms Championship. Again, food is not a problem on tour.
Female Accessories
The WAGs aren't forgotten, either. Last year in Maui at the Hyundai Tournament of Champions, for example, the ladies received handbags and jewelry. And at the WGC-Cadillac Championship, Ivanka Trump hosts a "fashion experience."
Spa Time
The ladies also take advantage of passes to spas that are frequently available at events. Like with the rest of the world, the phrase "happy wife, happy life," also applies on tour.
Day Trips For Kids
At the Arnold Palmer Invitational in Orlando, families have access to Universal Studios. At the Valspar Championship, there's a trip to the Clearwater Aquarium. At the Farmers Insurance Open, there are trips to the San Diego Zoo. Providing family activities is a helpful way to keep traveling kids occupied while daddy goes to work.
Day Trips For Adults
But tour pros are often big kids at heart, and there are certain sites they want check out. At the Frys.com Open, a popular option is a wine tour of Napa Valley. That's Mark Wilson (right) taking advantage of an excursion to Rio Secreto, an underground river, during the OHL Classic in Mexico.
Slow-Paced Activities
For the less adventurous, there are cooking classes with executive chefs at events like the Zurich and OHL Classics, and at the John Deere Classic, players and their families can try out all of the company's farm machinery at an outdoor barbecue called the "Big Dig." And there are concert tickets at Colonial and Doral.
Fast-paced activities
If starting a tractor or driving around in a luxury courtesy car isn't enough excitement, players in the Zurich Classic can try zipping around race cars at the NOLA Motorsports Park, and those in the BMW Championship can test drive, you guessed it, BMWs at the BMW Driving Experience. And in Hawaii for the Hyundai Tournament of Champions, they can literally put their entire year on the line and give zip-lining a shot.
Charter Flights
These make planning simpler and cheaper, and they help certain tournaments attract more players. Two of the most-used charter flights are from U.S. Open to the Travelers Championship and from the John Deere Classic to the British Open. It's a lot of fun -- unless you're looking for a peaceful plane trip.
Tickets To Games
From catching a Spurs game while in San Antonio for the Valero Texas Open to visiting Fenway Park to see the Red Sox play while teeing it up at the Deutsche Bank Championship, taking in a sporting event is a popular activity that many tour stops provide. To be safe, tour pros shouldn't wear enemy colors.