Fantasy Golf
13 PGA Tour Sleepers To Watch For In The 2016-2017 Season
From Jimmy Walker in 2014 to Brooks Koepka in 2015 to Smylie Kaufman and Emiliano Grillo last season, our recent track record of picking sleepers* has been pretty good. So which under-the-radar golfers do we expect big things from in 2016? Read on to find out.(*We define a sleeper as a player who has never won on the PGA Tour or qualified for the Tour Championship.)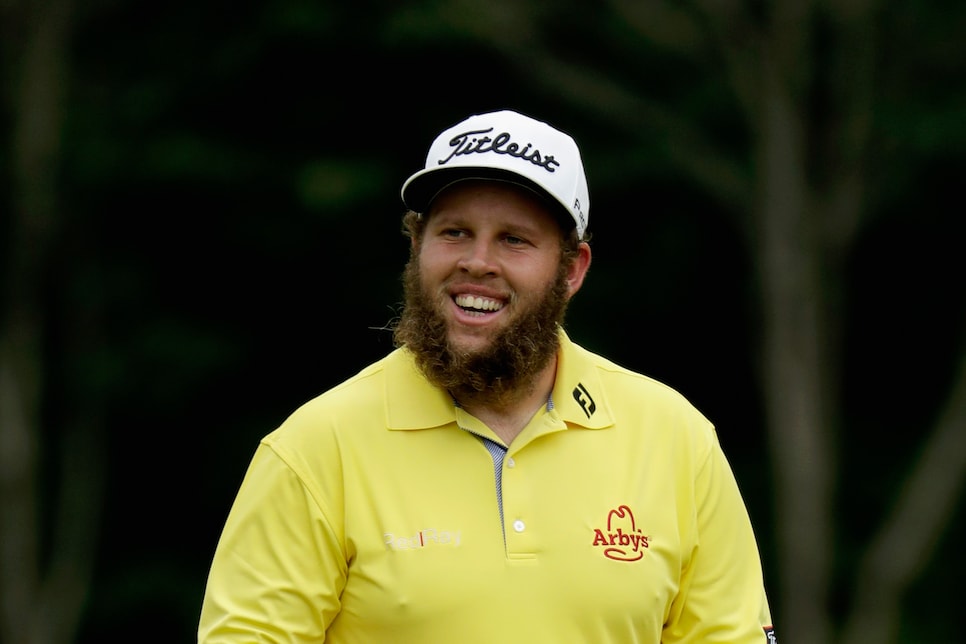 Photo By: AFP/Getty Images
Andrew (Beef) Johnston
OK, so this guy is anything but under the radar, but he could be someone you forget about in your fantasy draft. Beef will be a rookie on the PGA Tour this season, and although his schedule is a big unknown (he figures to still play a lot of European Tour events), he's proven he can have success in the biggest events (T-8 at the Open Championship). When he does play in the U.S., he will have no shortage of crowd support.
Photo By: Getty Images
Bryson DeChambeau
Another guy who you've heard plenty about, DeChambeau should fare a lot better in PGA Tour events now that he knows he has a full season to play. The 2015 U.S. Amateur champ finished T-4 at Hilton Head in his pro debut, but struggled until winning a Web.com Tour Finals event to earn his PGA Tour card for the new season. Get ready to see a lot more of the cap -- and hear a lot more about his single-length irons in 2017.
Photo By: Getty Images
Harold Varner III
Varner is coming off a solid rookie campaign on the PGA Tour in which he finished 75th in the FedEx Cup standings, coming up just short of a spot in the third playoff event. In one two-month span he had three top-10 finishes, including a solo seventh at the Quicken Loans National, which earned him a last-minute spot in his first Open Championship. We're expecting him to check off a lot more firsts in his second season on tour.
Photo By: Getty Images
Seamus Power
In addition to a cool name, Power has an interesting background having graduated magna cum laude with a degree in accounting from East Tennessee State. The 29-year-old earned his PGA Tour card by finishing ninth on the Web.com Tour's regular-season money list, and he finished T-15 at the Olympics representing Ireland. He can also hit a golf ball 300 yards both lefty and righty -- a special talent that's less useful than that accounting degree, but probably a bigger hit at parties.
Photo By: Getty Images
C.T. Pan
A former No. 1 in the World Amateur Golf Ranking thanks in large part to winning eight tournaments during his time at the University of Washington, Pan only turns 25 in November. The native of Chinese Taipei won twice on the Mackenzie Tour in Canada in 2015 and he finished 11th on the Web.com Tour's regular-season money list in 2016 to earn his PGA Tour card for the first time.
Photo By: AFP/Getty Images
Jamie Lovemark
No matter what happens this season, Lovemark can always say he's made our list of sleepers more times than any other golfer. But now that the issues with his back seem to be behind him, we're confident the former NCAA individual champion and top-ranked amateur will do enough this year to guarantee he won't be, um, back. Lovemark is coming off the best year of his pro career with a 49th-place finish in the FedEx Cup standings.
Photo By: US PGA TOUR
Patrick Rodgers
Another guy who has made this list before and who is ready to really bust out, Rodgers finished 74th in the FedEx Cup standings in 2015-2016. Changing away from Nike equipment could be a hurdle, but the man who tied Tiger Woods' Stanford record for school wins has the game to figure things out.
Photo By: Getty Images
Grayson Murray
A former junior golf phenom, Murray seems to have finally found his footing as a pro after stops to four different colleges. Murray won the final event of the shortened Web.com Tour season to claim the tour's Finals money title and earn a full exemption for the 2016-2017 PGA Tour season. And he did that all while missing a front tooth after biting into a chicken leg in May. Murray plans to have the tooth fixed after the PGA Tour's season-opener. We guess that makes sense.
Photo By: Getty Images
Wesley Bryan
Before 2016, you may have known Wesley as half of the Bryan Bros trick-shot duo. Then he earned a spot on the Web.com Tour and had one of the best seasons in the developmental circuit's history. Bryan won three times to earn a "Battlefield Promotion" to the PGA Tour. In four starts on the big tour, he made three cuts, including a T-8 at the John Deere Classic. The only trick he's focused on now is conjuring up a first PGA Tour title.
Photo By: US PGA TOUR
Trey Mullinax
The Alabama product finished 11th on the Web.com Tour's regular-season money list with a season highlighted by his first professional win at the Rex Hospital Open. "He's probably as close as you can come to Dustin Johnson in terms of raw power, just raw talent," said PGA Tour winner Michael Thompson. How's that for a ringing endorsement?
Photo By: Getty Images
Jon Rahm
Another star amateur who had no problem making the transition to the pro game, Rahm was racking up top-10s on the PGA Tour while he was still at Arizona State. Upon turning pro last June, he earned enough money through sponsor's exemptions (highlighted by a runner-up at the RBC Canadian Open and a T-3 at the Quicken Loans National) to earn his card for this season. The only downfall of all that quick success? He's not eligible for the PGA Tour's Rookie of the Year Award in 2017. We're expecting much bigger things from this big Sun Devil, though.
Photo By: Getty Images
Cameron Smith
Anyone who finishes T-4 at the U.S. Open as a 21-year-old impresses us -- no matter how disappointing his rookie season on the PGA Tour was. The Aussie burst onto the worldwide scene with his performance at the 2015 U.S. Open, but after failing to keep his tour card, Smith got it back through the Web.com Tour Finals. We're guessing it won't be as difficult for him in his second go-round.
Photo By: Getty Images
Ollie Schniederjans
The Georgia Tech product had a win and a runner-up in his rookie season on the Web.com Tour to punch his ticket to the big show. He's our pick to win Rookie of the Year on the PGA Tour in 2017 -- and to be most mistaken for a European golfer thanks to his hatless look.
Photo By: Getty Images