The Majors
13 Graying Golfers Who Nearly Won Majors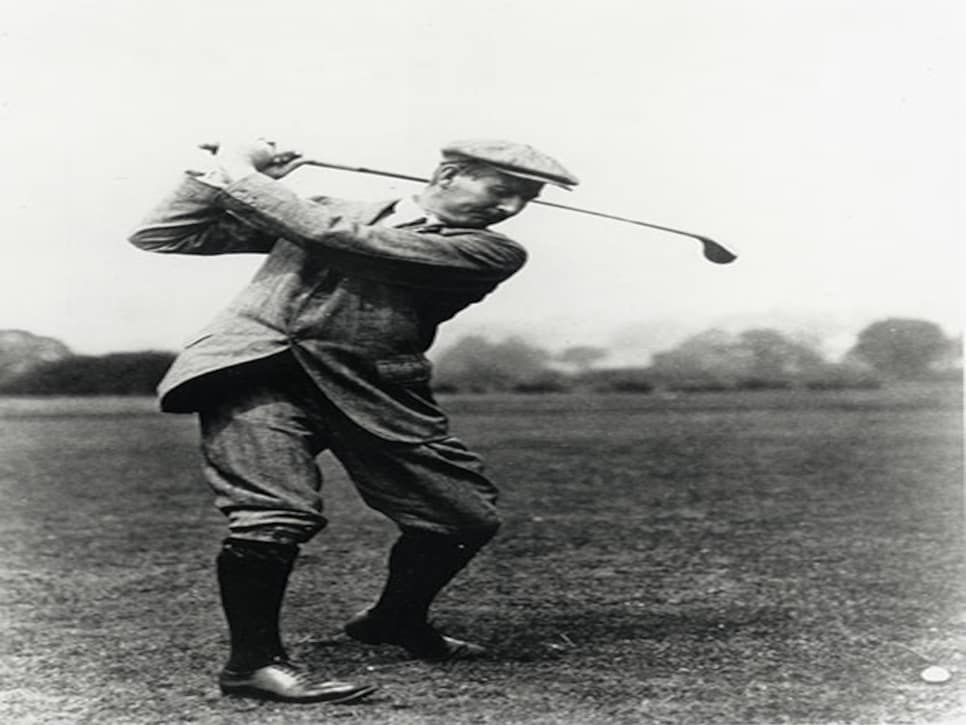 Harry Vardon, 1920 U.S. Open
A 50-year-old Vardon had a chance to capture his second U.S. Open when he took a five-shot lead with five holes to play at Inverness. But he imploded with a 42 on the back nine, which included a missed short putt on the final hole that would have forced a playoff with fellow Englishman Ted Ray. The second place finish was not Vardon's final top 10 in a Grand Slam event -- he finished T-8 in the Open Championship two years later -- but it remained his last realistic chance of capturing an eighth major title.
Ben Hogan, 1960 U.S. Open
Eleven years removed from his near-fatal car accident, Hogan was a fragile 47 years old when he arrived at Cherry Hills, yet he became a huge part of what many consider one of the greatest major championships ever. In search of a record fifth U.S. Open title, Hogan hit the first 34 greens in regulation on Saturday (they played the final 36 holes on Saturday then) and had a share of the lead as he reached the penultimate hole. There, he spun a wedge off the front of the green and into the water on his approach to the par 5, which led to a bogey. Needing a birdie on No. 18, Hogan made a triple bogey to fall all the way to T-9. Arnold Palmer held off Jack Nicklaus to win this historic event and Hogan never seriously contended at a U.S. Open again.
Jimmy Demaret, 1962 Masters
Local knowledge is king at Augusta National, and a 51-year-old Jimmy Demaret used it to his full advantage at the 1962 Masters. The three-time champion had missed the cut in his previous three starts and was five years removed from his last victory, but shot 71-70 on the weekend to finish T-5 -- the closest he got to the lead all week. His round on Sunday was the lowest of anybody in the top 10.
Sam Snead, 1963 Masters
Snead won three Masters between 1949-1954, but he nearly captured a fourth in 1963 at age 51. Tied for the lead through 15 holes on Sunday, he three-putted 16 for one bogey, then missed the green on 18 for another. He ended up finishing T-3 on a day when Jack Nicklaus captured his first green jacket, but it was proof Snead could still play beyond age 50. And as he later proved, he wasn't done.
Ben Hogan, 1967 Masters
Seven years after his close call at Cherry Hills, Hogan, was pretty much a ceremonial golfer at 54, with just one win after 1953 and not having played in competition since the previous year's U.S. Open. But the legendary ball-striker gave galleries one last thrill with a back-nine 30 on Saturday to pull within two shots heading into the final round. Unfortunately, the magic ran out on Sunday with a 77 that dropped him to T-10, but it didn't stop crowds at Augusta National from giving him repeated standing ovations.
Julius Boros, 1973 U.S. Open
With just one win on the Senior Tour and PGA Tour combined since 1968, Julius Boros' career was winding down -- but the 52-year-old wasn't done yet. Tied for the lead at three under after 54 holes, he slipped back on Sunday, dropping to T-7 at one under while Johnny Miller shot 63 to win.
Sam Snead, 1974 PGA Championship
In addition to becoming the oldest player to win a PGA Tour event when he won the Greater Greensboro Open at age 52, Snead continued to contend in majors into his 60s. He posted nine top 10s in majors after turning 50, including the 1974 PGA Championship, when at 62 he finished T-3 at Tangelwood Park in North Carolina, three shots behind winner Lee Trevino. It was the last of three straight top 10s in the PGA for Snead, but he continued to play well even beyond that. Five years later, he became the oldest player to make a cut in a PGA Tour event when at 67 he qualified for the weekend in the 1979 Westchester Classic.
Raymond Floyd, 1992 Masters
Just six years after Jack Nicklaus won the Masters at 46, Floyd almost set a new mark. At 49, Floyd was tied for the lead with 10 holes to play, but finished runner-up to Fred Couples by two shots -- both of which could have been made up if not for Couples' ball miraculously staying out of Rae's Creek on the par-3 12th. For Floyd, it was his second close call at becoming the oldest winner of the green jacket. In 1990, he also finished runner-up, losing in a playoff to Nick Faldo.
Jack Nicklaus, 1998 Masters
After sneaking his way onto the first page of the leader board on Saturday, few thought the 58-year-old Jack Nicklaus was occupying anything more than a token spot after 54 holes -- Nicklaus, after all, hadn't won on the Champions Tour since 1996, and his last PGA Tour victory was the 1986 Masters. But his Sunday 68 had remnants of an old Nicklaus charge, lifting him to within two shots of the lead at one point and into a T-6 finish.
Greg Norman, 2008 British Open
Most remarkable about Greg Norman's run at Royal Birkdale was not that he was 53, nor was it that he was on his honeymoon with his now-ex-wife Chris Evert. It's instead that Norman, more than a decade removed from his last win of any real significance, wasn't playing much competitive golf at all when he showed up for that year's Open. But after rounds of 70-70-72, Norman took a two-shot lead into the final round, and still had a chance to win on the back nine on Sunday. Some late stumbles proved costly, with a Sunday 77 dropping him to T-3, six shots behind winner Padraig Harrington. But it was a captivating tournament for a guy who at that point was more a businessman than a professional golfer.
Kenny Perry, 2009 Masters
Of all the close calls on this list, Perry's playoff loss was particularly painful. After missing a hole-in-one on No. 16 by a few inches, Perry, 48, still held a two shot lead and seemed on his way to becoming the oldest winner in major championship history. But back-to-back bogeys after not having a blemish over the previous 22 holes forced a three-man playoff with Angel Cabrera and Chad Campbell. Perry's chip for the win on the first hole of sudden death came up a foot short, and he then bogeyed the next hole to lose to Cabrera. The Kentucky native has collected several major championships on the Champions Tour, but an otherwise great PGA Tour resume that includes 14 wins still has one gaping hole.
Tom Watson, 2009 British Open
Unlike Greg Norman, Watson was still playing plenty of tournament golf when he showed up at Turnberry, the site of his famed "Duel in the Sun" win over Jack Nicklaus in 1977. But Watson was also approaching 60 years old. The five-time Open champion was still a superb ball-striker. and still knew had to navigate the links better than any other player. That fact he made about a mile's worth of putts that week didn't hurt, either. With a one-shot lead on the 72nd hole, Watson hit what he thought was a perfect 8-iron into the green. But the ball bounced just over the green, and when Watson couldn't get up and down, the magic seemed to wear off. His playoff against Stewart Cink was devastatingly anti-climactic, and the Hall of Famer had to settle for a worldwide outpouring of support for a 59-year-od runner-up.
Miguel Angel Jimenez, 2014 Masters
Miguel Angel Jimenez may have had only one top 10 finish in his last nine starts at the Masters, but the 50-year-old is still a force to be reckoned win on the European Tour. He shot 66 on Saturday to get within two shots of the lead after 54 holes, and after a 72 on Sunday, finished the tournament in fourth place -- his best finish ever at the Masters. A month later, he won the 2014 Spanish Open in a playoff.