The Masters
16 Majors Remembered More For The Guy Who Lost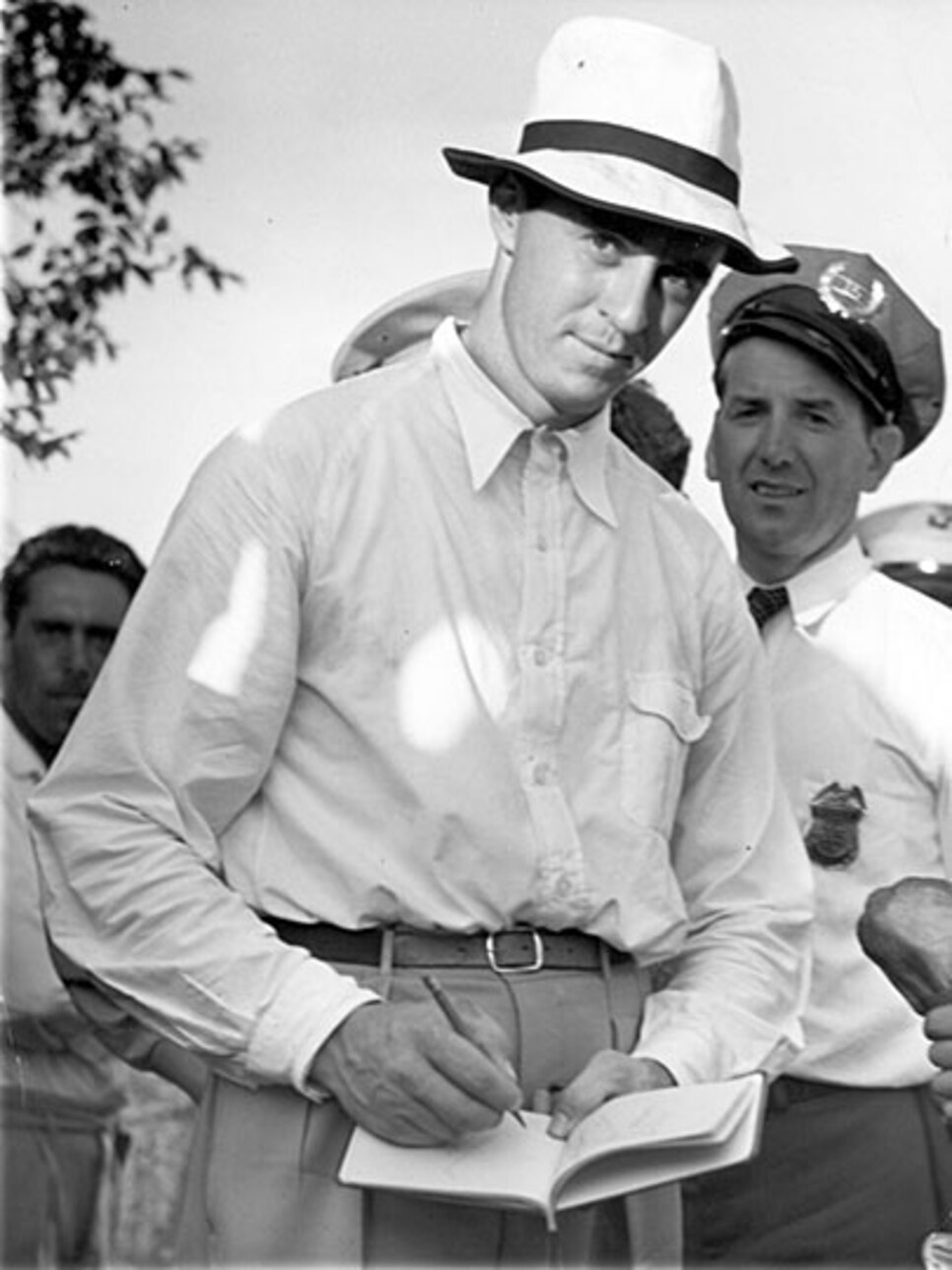 Photo By: Bob Thomas/Getty Images
Photo By: Peter Dazeley/Getty Images
Photo By: David Cannon/Getty Images
Photo By: Bill Haber/AP Photo
Photo By: Stephen Munday/Getty Images
Photo By: Ross Kinnaird/Getty Images
Photo By: Jamie Squire/Getty Images
Photo By: Charles Laberge
1939 U.S. Open
The only blemish on Sam Snead's career is never winning the U.S. Open. In 1939, he had arguably his best chance to do it, needing a par 5 on the 72nd hole at Philadelphia C.C. to win. Snead, though, mistakenly thought he needed a birdie, played the hole aggressively and made a triple-bogey 8 to finish in fifth, with Byron Nelson winning.
Photo By: AP Photo
1955 U.S. Open
Ben Hogan was eyeing a record fifth U.S. Open title but was chased down in the final round at the Olympic Club by Jack Fleck, a little known municipal course pro from Iowa. Fleck's closing 67 forced a playoff with Hogan, in which the Cinderella prevailed in one of golf's biggest major championship upsets.
Photo By: AP Photo
1966 U.S. Open
A seven-shot lead with nine holes to play at the Olympic Club seemed safe for a player of Arnold Palmer's talent. But the desire to set the U.S. Open 72-hole scoring mark got the best of him, as Palmer shot a back-nine 39 that let Billy Casper tie him in regulation. Casper won the 18-hole Monday playoff by four.
Photo By: AP Photo
1968 Masters
Roberto De Vicenzo's final-round 65 at Augusta National should have gotten him into an 18-hole playoff with Bob Goalby. However, De Vicenzo's scorecard had a 4 instead of a 3 on the 17th hole. Having mistakenly signed for a 66, he fell to second and gave Goalby the victory. Afterward, De Vicenzo uttered the sadly memorable phrase: "what a stupid I am."
Photo By: AP Photo
1970 British Open
The distance of the par putt Doug Sanders missed on the 72nd hole at St. Andrews to win the claret jug is remembered as anywhere from 30 inches to three feet. Whatever the length, Sanders painfully pushed the short putt right to fall into a playoff with Jack Nicklaus. Nicklaus prevailed, 72-73, to claim the second of his three British Open victory. "I won 20 times on the PGA Tour," Sanders told Golf Digest in 2003. "But it's that putt everybody remembers."
Photo By: Bob Thomas/Getty Images
1979 Masters
"I went to the 16th hole thinking it was impossible for anything to happen except for me to win," said Ed Sneed, who held a three-shot lead with three holes to play. Then he wrenchingly bogeyed in to drop into a tie with Tom Watson and Fuzzy Zoeller. The collapse led to the first sudden-death playoff in tournament history, in which Zoeller prevailed and became only Masters rookie to win the green jacket.
Photo By: Peter Dazeley/Getty Images
1985 U.S. Open
Andy North was the one-stroke winner at Oakland Hills thanks in part to Tze-Chung Chen's gaffe on the fifth hole in the final round. Playing his fourth shot from the thick greenside rough, Chen (who had recorded the first double eagle in Open history during the first round) double-hit the ball with his wedge. The resulting quadruple-bogey 8 sent the third-round leader reeling. With his first name often shortened to the initials T.C., he unfortunately inherited the nickname "Two Chip."
Photo By: David Cannon/Getty Images
1989 Masters
If Scott Hoch makes his two-foot par putt on the first sudden-death playoff hole, he claims the green jacket. But somehow he missed, giving Nick Faldo new life. On the next hole, Faldo rolled in a 25 footer for birdie to take the title. If not for the fact that Faldo was a six-time major winner, Hoch ignominious miss might even occupy a greater place in golf's history of bad beats.
Photo By: Bill Haber/AP Photo
1996 Masters
Arguably, Nick Faldo doesn't get enough credit for shooting a closing 67 en route to winning his third green jacket. Still, without Greg Norman shooting a Sunday 78 after starting the final round with a six-stroke lead, Faldo's score doesn't matter. Norman's mid-round unraveling was painful to watch as his last best chance to grab an elusive Masters victory slipped away.
Photo By: Stephen Munday/Getty Images
1999 British Open
Jean Van de Velde's name was already being engraved on the claret jug as he played the 72nd hole at Carnoustie with a three-shot lead. But rather than stay safe and take trouble out of play, it seemed he sought it out, traipsing through the Barry Burn and making a triple-bogey 7. Paul Lawrie, 10 strokes back to start the day, would win a four-hole playoff between Van de Velde and Justin Leonard. And "to Van de Velde" became a derogatory golf term.
Photo By: Ross Kinnaird/Getty Images
2006 U.S. Open
If Phil Mickelson never wins the U.S. Open, this might be the one he wishes he had back most. Leading by one on the 72nd tee at Winged Foot, Mickelson sliced his drive into the gallery, hitting a hospitality tent. He continued to try to play the hole aggressively, eventually making a double-bogey 6. "I am such an idiot," he said afterward. When Colin Montgomerie similarly double bogeyed -- the final hole after his drive safely found the fairway -- Geoff Ogilvy walked off with the trophy.
Photo By: Jamie Squire/Getty Images
2009 British Open
At age 59, Tom Watson would have easily become the oldest player to win a major championship when he held a one-stroke lead on the 72nd hole at Turnberry. An unfortunate bounce with his approach shot to the home hole allowed it to roll to the back of the green, and Watson couldn't get up and down to save par. The five-time British Open champion then struggled in the four-hole playoff, with Stewart Cink winning the claret jug over the sentimental favorite.
Photo By: Donald Miralle
2010 PGA Championship
It appeared Dustin Johnson would be part of a playoff at Whistling Straits with Martin Kaymer and Bubba Watson after making a bogey 5 on the 72nd hole. Until, that is, a rules official informed Johnson on the green that he should add two strokes to his score for grounding his club in a bunker when he hit his second shot. That Whistling Straits had nearly 1,000 bunkers, many of them small sandy patches that spectators walked through during the week, didn't do anything to make the situation less confusing. However, the PGA of America had alerted players throughout the week that everything was to be treated as a hazard.
Photo By: Dom Furore
2011 Masters
Rory McIlroy had a four-stroke lead entering the final round at Augusta National only to implode on Sunday, shooting a eight-over 80 and giving Charl Schwartzel the green jacket. McIlroy's forgettable round was made unforgettable in part by images of McIlroy playing the 10th hole from the bushes and cabins left of the fairway. Media and fans appreciated how the then 21-year-old owned up to his blunders after the round, and a month later McIlroy earned some redemption by winning his first major title at the U.S. Open.
Photo By: Charles Laberge
2012 British Open
Four strokes ahead with four holes to play at Royal Lytham & St. Annes, Adam Scott looked like he had his first major title locked up. But four straight bogeys instead reaffirmed a reputation for being shaky with his putter in pressure situations. Ernie Els claimed his second claret jug. Scott says the mishap steeled him moving forward and attributed the experience in part to helping him with the Masters the next April.
Photo By: J.D. Cuban
When the defending Masters champion -- a guy who's led the tournament for seven consecutive rounds no less -- holds a five-shot with nine holes to play, that's about as close to a sure thing in golf as you can get. Which is why what unfolded late Sunday afternoon in the 2016 Masters was so shocking. And it's why Danny Willett, a rising star in golf who put together a magnificent final-round 67 to win his first major, is getting short shrift in the tournament's immediate aftermath.
Photo By: Getty Images