Major Championship Rewind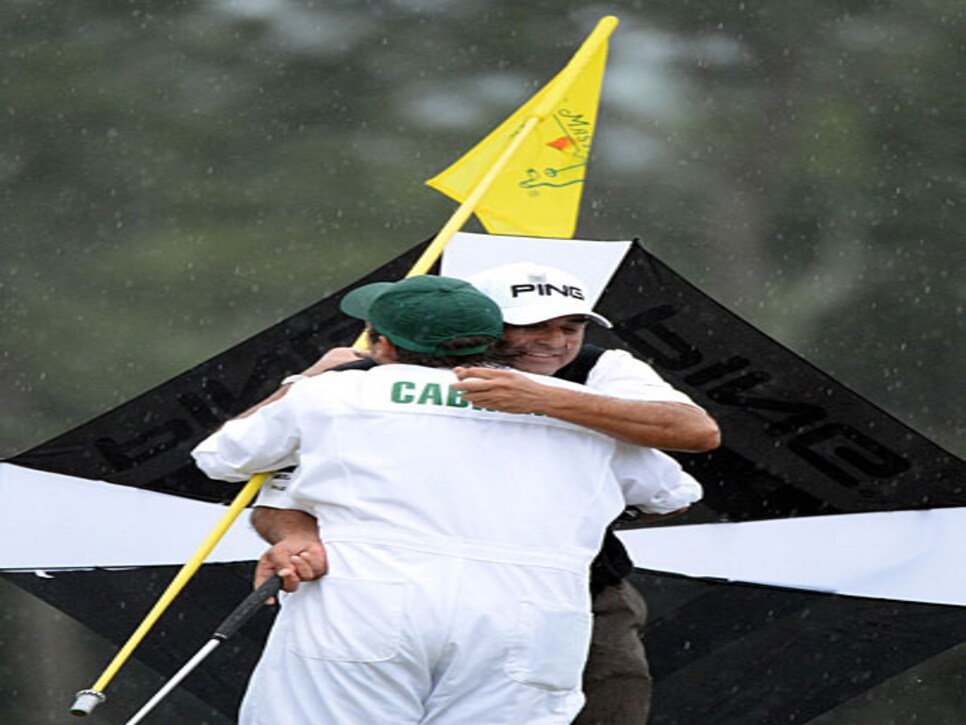 Best shot in a losing effort
Angel Cabrera: Needing a birdie on the 18th hole to force a playoff at the Masters, Cabrera took dead aim at the flagstick from 163 yards and pulled off a brilliant approach shot to within three feet. He made the putt and celebrated with his son and caddie, Angel Jr. Unfortunately for the Argentine pair, the celebration would be short-lived as Adam Scott would claim the green jacket with a birdie on the second playoff hole. But Cabrera's clutch effort proved again that he means business in the game's biggest events.
Best shot in a winning effort
Justin Rose: Some six decades after Ben Hogan hit his famed 1-iron onto the 18th green at Merion to set up a playoff at the 1950 U.S. Open, Rose faced a longer approach under the same pressure. His 4-iron from 230 yards (thanks, modern technology!) never left the flagstick, trickling just off the back of the green. It set up a par that wound up being good enough to wrap up the Englishman's first major championship.
Worst break
Tiger Woods: Can a shot be too good for its own good? Tiger Woods found out it can when his approach to No. 15 during the second round of the Masters caromed off the flagstick and into the pond guarding the front of the green. The bad break took him out of the lead by turning a probable birdie into a bogey, which wound up being a triple bogey when it was discovered that Woods took an illegal drop. He finished T-4 to start what would become a frustrating season of majors. Which leads us to. . .
Biggest disappointment
Tiger Woods: A T-40 at the PGA Championship made Woods 0-for-4 in 2013's majors. Meanwhile, he was 5-for-7 (!) in all other PGA Tour stroke-play events to that point. People will point to the T-4 at the Masters and the T-6 at the British Open as bright spots, but for Woods, they'll just go down as two more chances squandered in his quest to catch Jack Nicklaus and his 18 major titles. Woods will be 38 when he tees it up at the Masters next April and his drought in golf's biggest events will be nearly six years long.
Biggest disappointment (Non-Tiger division)
Matt Kuchar:
Perhaps it's a little harsh to be so critical of someone who finished in the top 30 in all four major championships, but expectations have grown for Kuchar after his Players win in 2012 and wins at the WGC Match Play and the Memorial in 2013. He put himself in position to take his career to the next level at the PGA Championship when a first-hole birdie on Saturday brought him within one shot of the lead. But he stumbled to a 76 to remain in the conversation of the "
Best player to never win a major
."
Best hero impersonation
Jason Dufner:
The waggle. The flat swing. The stoic demeanor. Everything about Dufner's performance -- in particular his ball-striking -- at the PGA Championship was reminiscent of his idol, Ben Hogan. OK, so the Hawk probably wouldn't have sat down with
Howard Stern after to discuss his sex life
, but you get the point.
Most heartbreaking loss
Phil Mickelson: A sixth runner-up at the event he covets most couldn't happen, right? Right? Wrong. Despite having the 54-hole lead, everyone in the country rooting for him, and a miraculous holeout for eagle in the final round, Mickelson managed to finish second at the U.S. Open yet again. On the bright side, his heartbreak didn't last long this time. . .
Most surprising performance
Phil Mickelson: Mickelson erased Merion's bad memories with a Sunday performance for the ages at Muirfield at the British Open. After staying in touch with the leaders all week, he exploded for four birdies on the final six holes to dust the field by three shots. He characterized his final-round 66 as possibly the best round of his life. Again, this was Phil winning the British Open (a tournament most people thought he would never win) and NOT the U.S. Open (a tournament he's defied all odds by not winning). What will Phil do next? After more than two decades as a pro, we still have no clue.
Most surprising performance (Non-winner division)
Henrik Stenson: Once known mainly as "that guy who stripped down to his briefs to hit a shot out of a water hazard," Stenson reemerged as one of the game's elite players in 2013. No, he didn't win on the PGA Tour. In fact, he didn't win on the European Tour either. But he stayed in contention down the stretch in each of the last two majors, finishing runner-up at the British Open and third at the PGA Championship. A T-18 at the Masters and a T-21 at the U.S. Open weren't too shabby, either. Is he the best player in the world without a major to his name? Perhaps. Is he the most-likely to breakthrough next if he keeps this up? It would be tough to argue that.
Biggest international controversy
Guan Tianlang: As if qualifying for the Masters as a 14-year-old wasn't impressive enough, Guan then made the cut thanks in large part to avoiding a three-putt on Augusta National's tricky greens for the entire week. It wasn't all a fairytale, though, as the Chinese prodigy was hit with a slow-play penalty -- believed to be the first such penalty in tournament history -- during Friday's round. A fair/unfair debate ensued, with an overwhelming majority taking the teenager's side. Then again, is it really fair for someone that young to be able to putt so well?
Best Celebration
Adam Scott: Scott screamed, "C'mon, Aussie!" after draining a 20-footer for birdie on the 18th hole of regulation, showing just how much a first green jacket would mean to both himself and his country. There was just one problem. He hadn't won yet. Minutes later, Angel Cabrera birdied the hole to set up a playoff. Fortunately for Scott, he got to celebrate again -- this time, for a lot longer -- when he birdied the second playoff hole to officially put the tournament away.
Worst celebration
Jason Dufner: What do you do when you accomplish a lifelong goal and capture your first major? If you're Jason Dufner, not much. Even Lucas Glover must have been bored watching this reaction. But did we expect anything more from the deadpanning Dufner? Nope. And hey, he wound up giving us so much more in the form of a rather intimate hug/squeez with his lovely wife, Amanda. On second thought. . .
Best Celebration (Take Two)
Good for you, Jason. Good for you.