Gifted sports stars can thrive with less than picture-perfect: The practice range at Edgewood Tahoe Golf Course during the annual American Century Championship is a fascinating place to study golf swings, yet on this absolutely-nowhere-better-in-the-world July day alongside Lake Tahoe, Calif., there isn't a notable golf instructor in sight. Not that any of the golfers here are looking for help. For the next 12 hours -- and every day all week -- Hall of Famers, Super Bowl MVPs, NHL legends, current NFL starting quarterbacks, Michael Jordan and Charles Barkley will spend several hours trying to master the one sport they know they'll never conquer. It's beautiful to watch.We saw all kinds of funky swings, but most of them produced golf scores we'd all like to shoot. Truth is, everyone who posed for a swing sequence for these pages is capable of rounds in the 70s (some even in the 60s).How do they do it? By channeling the same competitiveness and determination that makes (or made) them great at sports to begin with. Look at Dallas Cowboys quarterback Tony Romo (see below). None of the 75 athletes we saw at Edgewood gets as much from an aggressive lash. Super Bowl champ Ben Roethlisberger moves it a long way, too. Even Jerome Bettis, whose backswing is restricted by the bulk that produced the fifth-most rushing yards in NFL history, drives it past a lot of his playing partners.These guys might not have the most picturesque swings in golf, but they know how to get the ball in the hole. Besides, they never expected Golf Digest would be photographing their swings.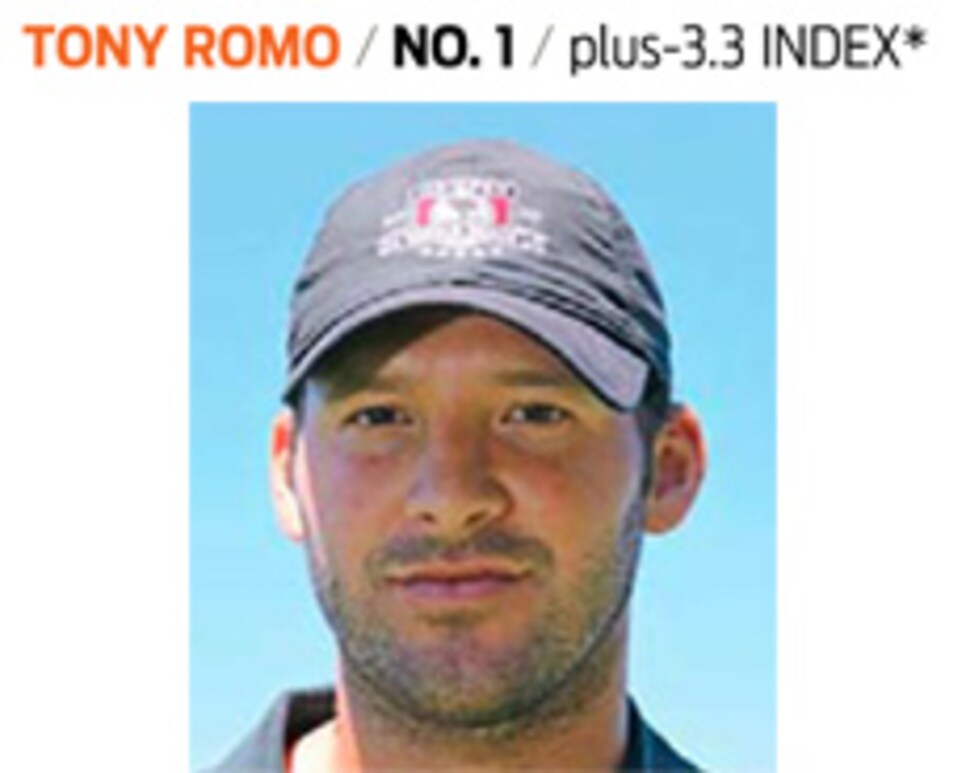 Tony says
For me, hitting a solid drive is all about extension. When I extend my hands and arms away from my body in the backswing, I usually hit it pretty well.
John says
I try to swing the club flatter going back without getting it too far to the inside. When you're tall, the swing can get too upright.
Mario says
I have just two simple thoughts with my driver: Get my left shoulder behind the ball going back, and release the club through the ball.
Ray says
The first thing I do is check the clubface: I want it to be closed. Then I just turn my left shoulder behind the ball and turn through, making sure my right shoulder clears before I lift my head.
Penny says
The key for me is to stay connected during my takeaway, and then to feel my triceps on my chest as I turn through to a finish.
Ben says
First off, I'm just trying to hit it straight. For me, it's all about staying still with my lower body. I want to keep my legs from moving too much during the swing.
Jerome says
I try to feel like I'm swinging my left arm over my right shoulder on the backswing, and then I just let it go.
Bode says
Lately, I've been playing bad ... and worse! The one key that usually helps me with my driver is to concentrate on taking the club away slowly.
Marcus says
My biggest challenge is innate, the animal inside that makes me want to go after the ball hard, that wants me to be aggressive. I have an aggressive gene inside and just want to go get it, causing me to swing at the top instead of letting gravity rule and accelerating through the shot.
Swing Sequence: Marcus Allen
My game With Marcus Allen