News & Tours
9 Not-So-Obvious Guys Who Could Win The FedEx Cup
In the last five years, no one inside the top five of the FedEx Cup standings to start the playoffs has gone on to claim the $10 million bonus. Here's a list of guys who could be this year's "surprise" big winner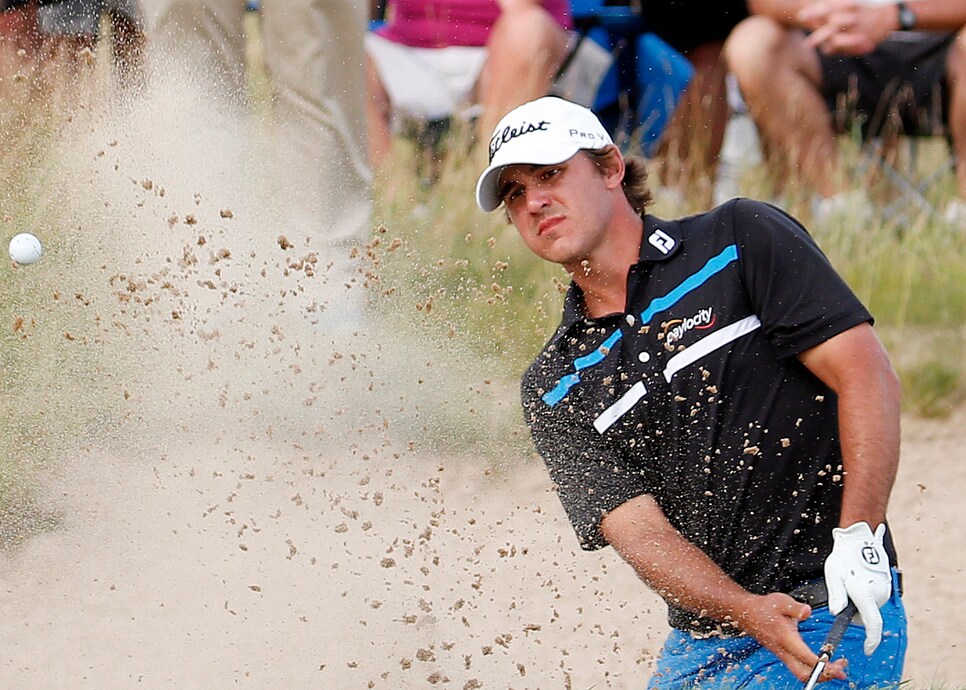 Brooks Koepka (No. 12 in FedEx Cup standings)
Koepka started his first full year on the PGA Tour with a win in Phoenix in January and he finished the season strong with three straight top-6 finishes, including a T-5 at Whistling Straits. We're predicting the Paylocity pitch man takes home golf's biggest payday next month.
Photo By: AP
Chris Kirk (No. 29)
Kirk hasn't competed since the U.S. Open due to a broken hand he suffered while playing with his kids. It might take him a little time to ease back into form, but last year's runner-up in the FedEx Cup Playoffs is the defending champ at next week's Deutsche Bank. As long as he's in better position by the time the Tour Championship rolls around, he'll be a threat.
Photo By: AP
Paul Casey (No. 19)
It's been a bounceback season for Casey, who has five top-5 finishes, including playoff losses at Riviera and Hartford. After a three-year absence from the PGA Tour's postseason, he'll be looking to make up for lost time.
Photo By: AP
Kevin Kisner (No. 17)
Speaking of playoff losses, no one has more this year than Kisner, who has come up painfully short of a first PGA Tour win three times in 2015. But the 31-year-old University of Georgia product could forget about all those close calls with a fruitful first trip to Atlanta for the Tour Championship.
Photo By: AP
Robert Streb (No. 6)
Streb is probably the tour's breakout player of 2015 and he's positioned himself nicely heading into his second FedEx Cup Playoffs. He also recently found out a computer glitch dropped him in the Presidents Cup standings, so he won't be lacking in motivation down the stretch.
Photo By: AP
Bill Haas (No. 23)
Another guy looking to make a late impression on the Presidents Cup captain (It helps that it's his dad) is Haas. And if anyone knows about making a surprise run in the playoffs it's the 33-year-old whose famed watery up-and-down at East Lake helped him win the FedEx Cup in 2011.
Photo By: AP
Hideki Matsuyama (No. 20)
Matsuyama has been a staple on leader boards at both the majors and regular tour events this year, but finds himself at just No. 20 in the standings due to none of his six top-5 finishes translating into wins. The 2014 Memorial champ is still only 23, though, and a strong playoff push would surprise no one.
Photo By: AP
Justin Thomas (No. 36)
Another young gun, Thomas, 22, has enjoyed a solid rookie year with seven top 10s and he seems on the verge of breaking through for a first PGA Tour title. His position might seem like too far to come back from, but keep in mind Billy Horschel entered last year's playoffs at No. 69 in the standings.
Photo By: AP
Danny Lee (No. 10)
Perhaps Streb's biggest competition in the breakout-player category this season, Lee has been on fire this summer since winning the Greenbrier. Another big week like that at any of the first three playoff events would put him in the all-important top-five spots heading into the Tour Championship.
Photo By: AP