Mr. Congeniality
The Top 30 Nice Guys of the PGA Tour
Players, caddies, media members, golf executives, locker-room attendants and tournament volunteers, among others, participated in our voting. Candidates must be younger than 50, so good-guy seniors like Steve Stricker, Jay Haas, Nick Price and Jeff Sluman have to be content with honorable mentions. We weren't quite as specific in our criteria this time, knowing people have their own opinions of what constitutes a genuinely nice guy, though one trait seemed common: the propensity for treating people of all walks with equal respect.Related: What it takes to be a PGA Tour nice guy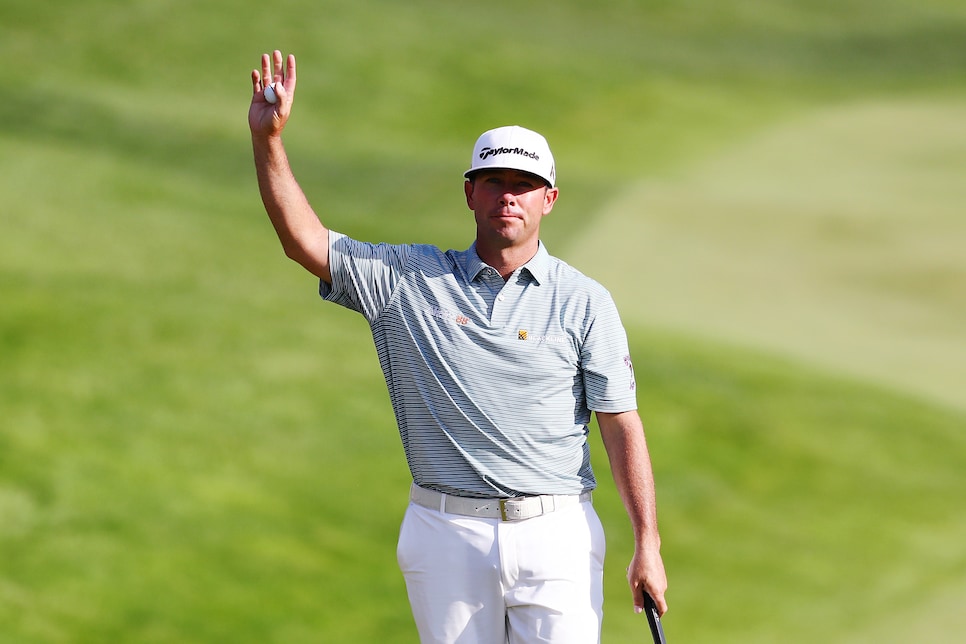 Photo By: (Photo by Stuart Franklin/Getty Images)
Photo By: Quality Sport Images
Photo By: Chris McPherson
Photo By: Matthew Lewis/R&A
Photo By: (Photo by Matthew Lewis/Getty Images)
Photo By: Ben Stansall/AFP/Getty Images
Photo By: Andrew Redington
Photo By: Jared C. Tilton
T-29 Chez ReavieReavie had a feel-good win at the 2019 Travelers Championship. It was just his second career PGA Tour title, and first in nearly 11 years.
Photo By: Tim Bradbury
T-29. Max HomaHoma won the Wells Fargo Championship in May and raised money for St. Jude's Children's Hospital for every birdie he hit.
Photo By: Dom Furore
T-27. Zach JohnsonThe two-time major champion runs the annual Kids On Course Classic through the Zach Johnson Foundation to raise money for a college scholarship fund.
Photo By: (Photo by Stuart Franklin/Getty Images)
T-27. Kevin StreelmanThe two-time PGA Tour winner, along with his wife, Courtney, raised money to open two development centers in the African nation of Togo, in addition to co-hosting the Tenth Avenue North Classic, a tournament held annually in Raleigh, N.C., which supports area ministries.
Photo By: Tyler Lecka
26. Paul CaseyCasey launched a crowdfunding campaign in 2017 to support UNICEF.
Photo By: Quality Sport Images
25. Matt KucharKuchar focuses his charitable efforts on helping children with serious illnesses live fuller lives.
Photo By: Stan Badz
T-23. Graeme McDowellThe 2010 U.S. Open winner has set up The GMac Foundation with his wife, Kristin, to support children's medical research.
Photo By: Francois Nel
T-23. Joel DahmenDahmen told MassGolf during a First Tee event he participated in before the WGC-Dell Technologies Match Play in 2018: "To do this means so much to me. The game has given me so much. The game has given me pretty much everything I have. To try and give back to the game and these young kids, who are very impressionable, is awesome."
Photo By: Chris McPherson
22. Aaron BaddeleyThe four-time PGA Tour winner is a supporter of HopeKids, which provides for families who have a child with cancer or other life-­threatening medical conditions.
Photo By: Matthew Lewis/R&A
21. Justin RoseRose founded the Kate and Justin Rose Foundation, which is focused on improving children's lives.
Photo By: (Photo by Matthew Lewis/Getty Images)
T-19. Peter MalnatiWinner of the 2015 Sanderson Farms Championship, Malnati has been a supporter of the Walking For Kids Foundation, which allows PGA Tour pros and sports fans the opportunity to support several children's charities.
Photo By: Gregory Shamus
T-19. Charles Howell IIIHowell supports the Arnold Palmer Medical Center in his adopted home of Orlando.
Photo By: Ben Stansall/AFP/Getty Images
18. Dylan FrittelliThe South African who won the 2019 John Deere Classic played in the inaugural Spirit Charity Challenge at Whispering Pines Golf Club outside of Houston, which benefitted the charity of each player's choice.
Photo By: Chris Condon
17. Danny LeeLee, after winning his first PGA Tour event in 2015, donated $90,000 to New Zealand Golf to help the development of the game in his home country.
Photo By: Sam Greenwood
16. Jason DayThe former World No. 1 founded the Brighter Days Foundation, which provides funding and resources to deserving projects and organizations in their hometowns.
Photo By: Keyur Khamar
15. Tommy FleetwoodFleetwood surprised a 12-year-old, who has raised thousands of dollars for different charities, with a personal golf lesson on the range at the BMW PGA Championship.
14. Xander SchauffeleSchauffele, a four-time PGA Tour winner, plays for his father—who is also his swing coach—after his father's Olympic dreams in the decathlon were dashed when he was partially blinded in a collision with a drunk driver.
Photo By: Matthew Lewis
13. Brandt SnedekerSnedeker supports the Sneds Tour, a year-round junior golf tour in Tennessee for kids to learn the game of golf.
Photo By: Andrew Redington
12. Justin ThomasThe 2017 PGA champion launched the Justin Thomas Foundation in 2019 to help children in need, military families and junior golf.
11. Lucas GloverThe 2009 U.S. Open winner donated his Presidents Cup charitable allotment to the Humane Society, Pros Beating Cancer and his alma mater, Clemson University.
Photo By: Stan Badz
10. Marc LeishmanLeishman, the 2009 PGA Tour Rookie of the Year, started the Begin Again Foundation after the near-death experience of his wife, Audrey, in 2015. The organization helps families with medical crises.
Photo By: Sam Greenwood
9. Scott StallingsStallings is a three-time PGA Tour winner and has worked with the Tennessee Golf Foundation to provide free golf to juniors at a pair of nine-hole, par-3 courses, Concord Park and Beverly Park.
Photo By: Donald Miralle
8. Tony Finau"Super approachable and always has time for anyone who asks. He's the same guy now as when he was struggling to keep his card."
Photo By: Mark Runnacles
7. Harold Varner III"He's open and honest and friendly to everyone. He's as real as they come."
Photo By: Jared C. Tilton
6. Adam Scott"The nicest guy on tour relative to his ability to play golf."
Photo By: David Cannon
5. Webb Simpson"His philanthropy work and his approach to people is very genuine. He lives it all the time."
Photo By: Tyler Lecka
4. Rory McIlroy"He's flat out the best. He's great with the press. He's really good with kids. He sees the bigger picture of life."
Photo By: Mark Runnacles
3. Jordan Spieth"If I had to entrust someone on tour with my kids in my will, he'd be one of those people."
2. Gary Woodland"Gary is the kind of person who reaches out privately and is very sincere and thoughtful. He goes out of his way to say thank you."
Photo By: Stan Badz
1. Rickie Fowler"He has that friendly, calm and quiet demeanor that is all about kindness and connecting with people."
Photo By: Mike Ehrmann