The Loop
A PGA Tour nice guy finishes first, a caddie's wicked sunburn and a WAG's hidden talent
Welcome to another edition of The Grind where we really wish Jim Nantz had been on the call at the 3M Open. Not because his sentimental touch would have been perfect for Michael Thompson's win—although, obviously, it would have been—but more because the man who is also my Golf Digest colleague likely would have mentioned my story on Thompson and his wife adopting a second child during quarantine when it came up during the broadcast.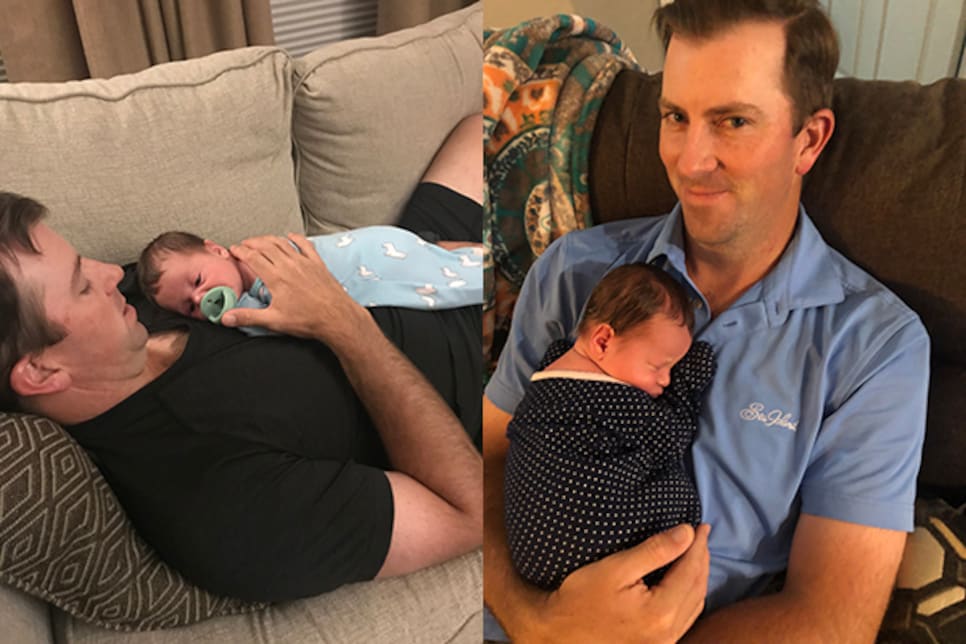 That would have made my mom's year. But of course, Nantz just happened to be taking a rare and well-deserved break from the booth. Oh well. Maybe when Michael wins the Masters. In any event, here's what else in golf had us talking.
Michael Thompson: What a year it has been for the Thompsons. From early-season struggles to finally figuring something out at the Players to having the season unexpectedly halted to being there for the birth of a second adopted baby to winning a second PGA Tour title.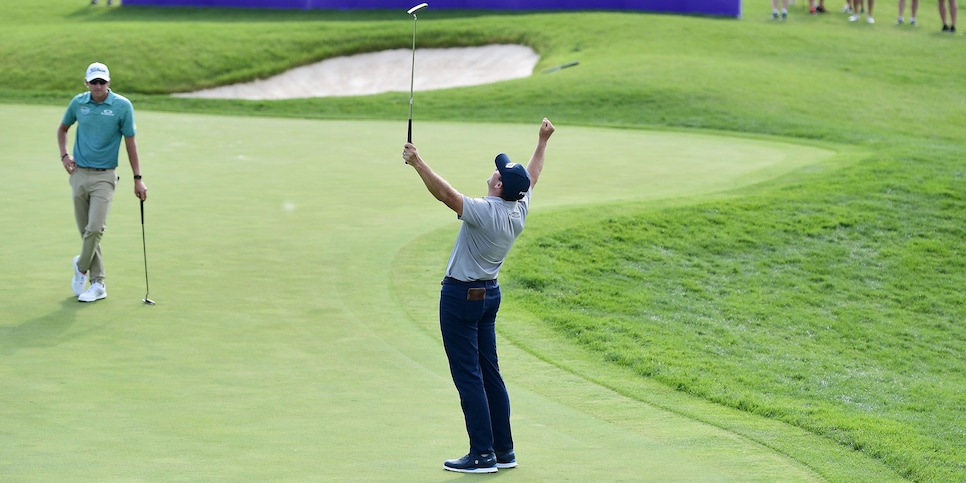 Not surprisingly, the emotions poured out of the 35-year-old during his post-round interview with CBS' Amanda Balionis:
I'm not crying, you're crying. Just kidding, I'm crying. That was awesome.
Michael Thompson's bunker shot: For someone with one prior PGA Tour title, Thompson sure played like a champion down the stretch at TPC Twin Cities. A birdie on the closing par 5 to win by two, a pure tee shot over the water on the dangerous par-3 17th and this spectacular—and bold—long bunker shot on No. 16 that set up what wound up being the winning birdie:
After a close call at the 2012 U.S. Open and winning the 2013 Honda Classic, it's hard not to wonder: Michael, what took you so long to win No. 2?
Jordan Spieth: Yes, it has now been more than three years since Spieth's last win at the 2017 Open Championship. Yes, he has struggled mightily in that time. But even after those three years he'd probably like to forget—well, other than the whole getting married thing—the 11-time PGA Tour winner and three-time major champ only turned 27 on Monday. TWENTY-SEVEN. That's it. He's still younger than Brooks Koepka was when he won his first of four majors. He's nearly seven years younger than when Phil Mickelson won his first of five majors. In other words, let's not write his career obituary just yet.
Tony Finau's Sundays: Finau parted ways with longtime caddie Greg Bodine, but it didn't change a disturbing trend in final rounds. A Sunday 68 wasn't terrible, but in the second-to-last group and against a less-than-stellar leader board, Finau failed to put much pressure on early. He was a non-factor down the stretch and needed a closing birdie just to finish in the top 10.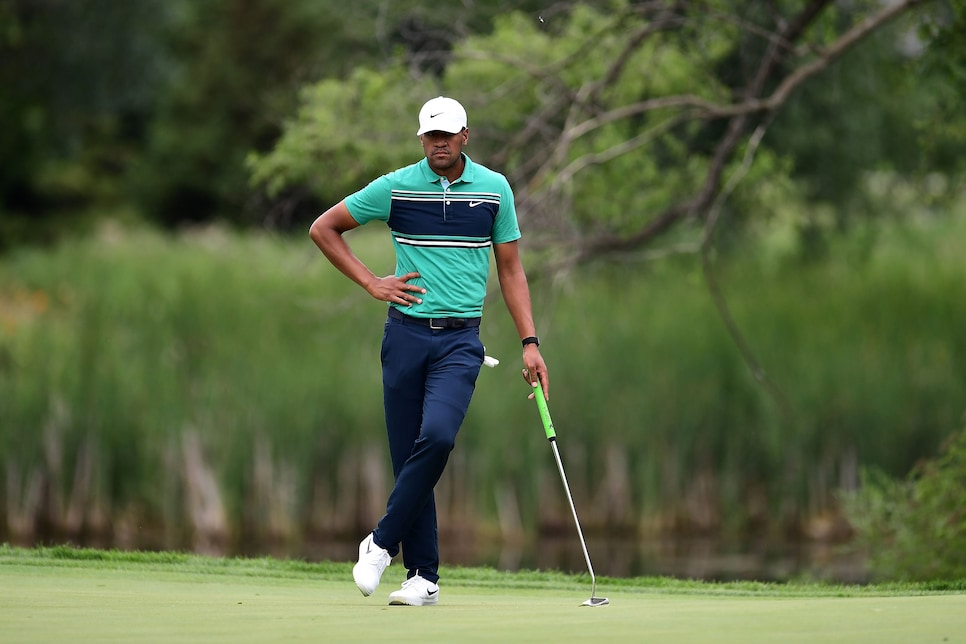 For the season, Finau ranks ninth, 14th, and 13th in scoring average over the first three rounds, respectively. For the final round, he drops to 165th. Incredibly, despite 30 top 10s since his first and only PGA Tour win at the 2016 Puerto Rico Open, Finau is still stuck on that one win.
Charl Schwartzel's hat: It was nice seeing the 2011 Masters champ playing well again, but that hat: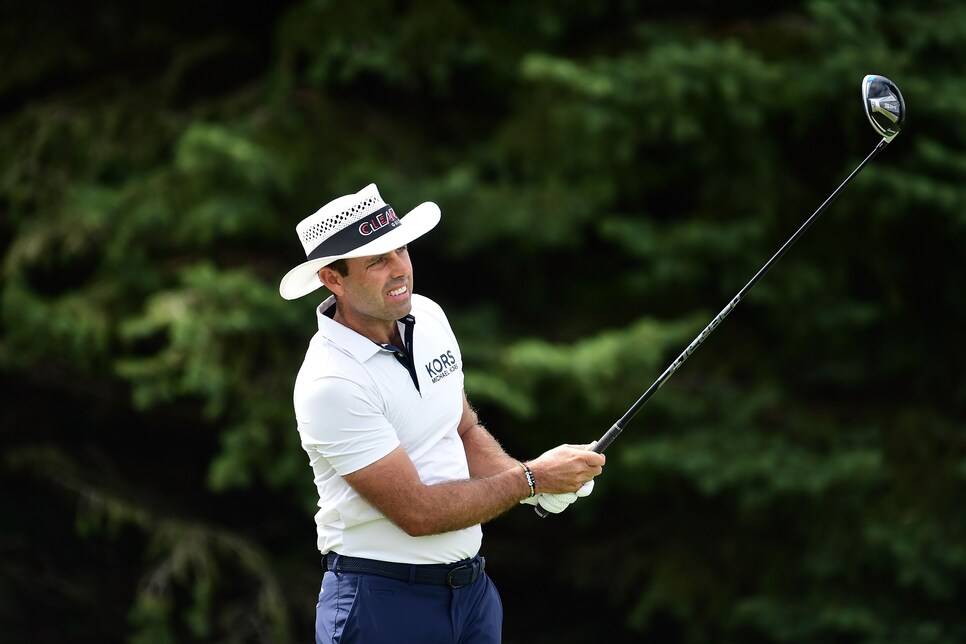 Only two groups of people can pull that off: Golfers older than 70 and Greg Norman. At least that thing helps with sun protection. Something someone else clearly didn't prioritize …
Forgetting to put on sunscreen: Either that, or Tony Finau's fill-in caddie, swing coach Boyd Summerhays, apparently didn't realize you can get sunburned in Minnesota:
That's a painful lesson to learn. Boyd will be replaced on the bag for at least the next two weeks by Finau's younger brother Gipper. Hopefully, Gipper brought plenty of sun protection. Memphis in August? BBQ isn't going to be the only thing cooking.
The PGA Tour heads to Memphis for the WGC-FedEx St. Jude Invitational, AKA that tournament where Brooks Koepka beat Rory McIlroy head-to-head last year to solidify his status as No. 1 and wrap up PGA Tour Player of the Year. Or so we thought. Rory beat Brooks at the Tour Championship and took the POY title. There's also the Barracuda Championship, where Collin Morikawa picked up his first PGA Tour title last year. Of course, that means he will not be defending that title, but will instead be walking in Memphis as a potential PGA Tour POY himself. And the LPGA is back! Golf! Catch the fever!
Random tournament fact: The Barracuda Championship is the only PGA Tour event that uses the Modified Stableford scoring system. So when you see numbers flash across the screen that look like your normal scores in relation to par, just know they are not.
RANDOM PROP BETS OF THE WEEK
—Collin Morikawa will play in the Barracuda anytime soon: 1 MILLION-to-1 odds
—Collin Morikawa will win his first WGC this week: 22-to-1 odds (Actual odds)
—Tony Finau is still happy with $15 million in earnings the past four years: LOCK
Christina Kim is taking COVID-19 traveling precautions to a whole new level:
Or, as co-worker Joel Beall noted:
Joel is an Ohio native by the way. Please send your hate mail directly to him.
Considering I seem to spend half my free time loading the dishwasher with actual dishes and the other half emptying it, I envy this guy.
VIRAL VIDEO OF THE WEEK (FAIL DIVISION)
I'm not a swing coach, but I'm going to say this kid's downswing is a little steep.
THIS WEEK IN TOUR PRO PUBLIC DISPLAYS OF AFFECTION TALENT
Erin Walker continued to show off her talents show-jumping:
And apparently, Angela Akins, Sergio Garcia's wife, has put quarantine to good use by working on her juggling skills—both with two kids and with water balloons:
Well done, Angela. But I didn't need another reminder that I'm one of the last people on the planet who hasn't seen "Hamilton" yet. I guess it might be time to break down and pay for Disney +.
"Being mad is OK, for everyone out there that plays golf. Being mad is OK, being frustrated is OK, but being negative is not OK. Punishing yourself, basically, through your words is not OK." —Max Homa on the Get a Grip Podcast following his T-3 finish at TPC Twin Cities. That is actually great advice even hackers like me can use. Also great? After a brief respite, Homa is back on Twitter. And one of these days, I'm going to muster up the courage to send him a video of my swing to critique.
THIS WEEK IN PROS ARE JUST LIKE US! (SORT OF)
Sangmoon Bae hit two balls in the water on the same hole. Been there, done that. The difference? He holed his next shot for par. From 250(!) yards. Not surprisingly, that's a record.
Our Chris Powers loves to (over)use the headline "This is it, this is the greatest (fill in the blank) in history," but this actually is the greatest par save of all time. Unfortunately, Sangmoon didn't make the cut so this also might be the most wasted greatest par save of all time.
Tony Finau is now tied with Jim Furyk for the most top 10s without a win in a four-year span. Something tells me he won't be popping open any bubbly if he breaks the mark in his next few starts. … A junior golfer was disqualified for being 15 minutes late to his tee time after his dad's tire popped from hitting a pothole. Not exactly helping to grow the game with that ruling. … Eddie Pepperell revealed he once was received a six-month suspension from his home club for slamming his putter into the green. I don't think that's what Max Homa meant when he said it was OK to get mad and frustrated. … And finally, I took my wife out for a special five-year(!) anniversary dinner at a place called The Cookery in Dobbs Ferry and it was as good as advertised: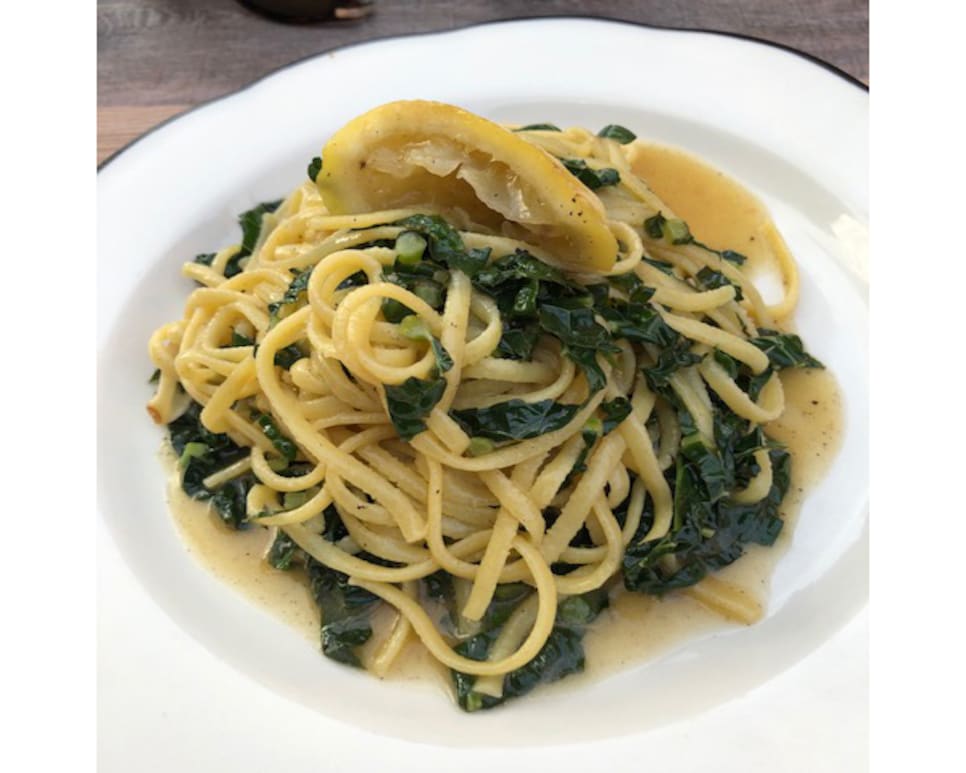 I'll even admit that this lemon linguine was slightly better than the Cajun chicken pasta at Chili's. Slightly.
RANDOM QUESTIONS TO PONDER
How did Jim Nantz spend his off week?
How do I avoid being negative when I'm such a bad golfer?
How do I apply to be Tony Finau's caddie?