ANALYSIS
U.S. Open 2022: In passing up big money, Rahm, McIlroy, and Thomas have found a voice instead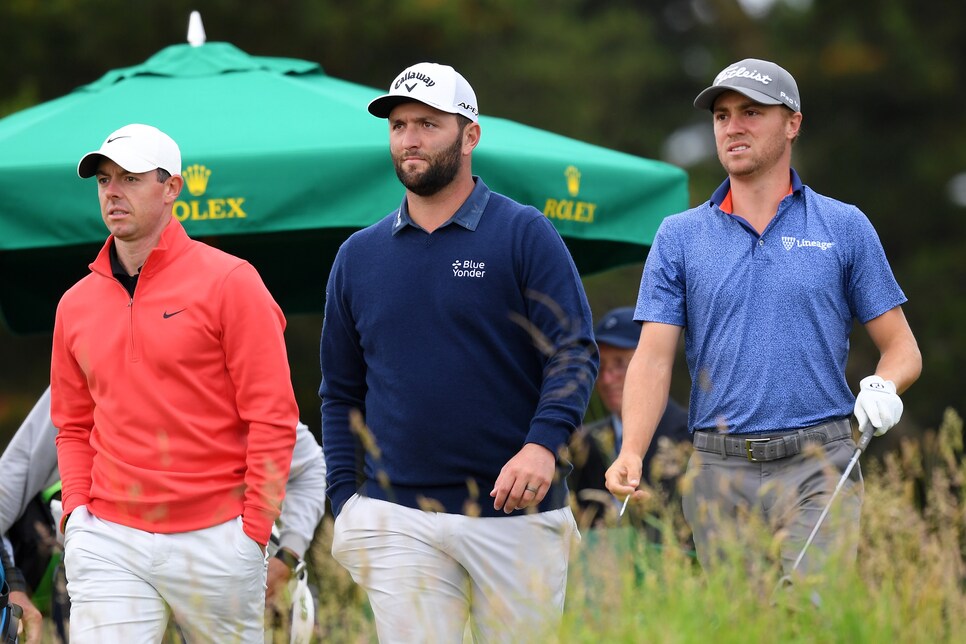 BROOKLINE, Mass. — Should the PGA Tour emerge from this existential crisis and remain the dominant force in professional golf, it'll be in no small part due to pro-bono work from the law firm of Rahm, McIlroy & Thomas. Quite literally every professional golfer of note has been asked about LIV Golf, the Saudi-backed entity hoping—and, on some level, succeeding—to lure the game's biggest stars away from the PGA Tour with, to use an en vogue term, "generational wealth."
The vast majority of players have responded to these endless inquiries—are you staying? are you going?—with platitudes and non-answers. Viktor Hovland told us at Riviera that all he wants is to compete against the best players in the world. Patrick Cantlay told us at Muirfield Village that these are interesting times and he looks forward to seeing how the dust settles. Cameron Smith told us at Brookline that he's not smart enough to understand the moral minefield that follows the Saudis. Brooks Koepka told us on Tuesday to, essentially, shut the hell up and stop asking questions about it.
Playing it down the middle like this—refusing to make anything resembling a definitive statement as to your future—makes total sense from a business perspective. It preserves options. It keeps you in good-enough graces with the PGA Tour. It simultaneously sends a message to LIV: make me an offer, and I'll consider it.
Rahm, McIlroy & Thomas aren't interested in any offers. They've made that abundantly clear throughout the two-year period that LIV percolated in the rumor-verse, and they've made it clear since the upstart circuit launched last week. Rahm, McIlroy & Thomas know LIV Golf can offer money that the PGA Tour simply cannot, that flirting with the challengers could give them more leverage, and they are not interested. PGA Tour commissioner Jay Monahan can publicly represent his organization, and one can argue he hasn't done so enough, but he's not the star. Impassioned defenses carry extra significance coming from major winners.
"I feel bad for them," says world No. 130 Joel Dahmen, who can count on one hand the press conferences he's had this year. "I played with JT, [Jordan] Spieth and [Rickie] Fowler yesterday in the practice round. There are so many people around, it felt like a final-round Sunday of a big tournament for me. And for them to always have a microphone, always say the right thing, support the tour. It's just a lot of extra on their plate that they have to deal with all the time."
Why, then? Why take on this burden that is most certainly not part of the job description? Why have these three emerged as spokesmen for the pro-PGA Tour faction of professional golfers?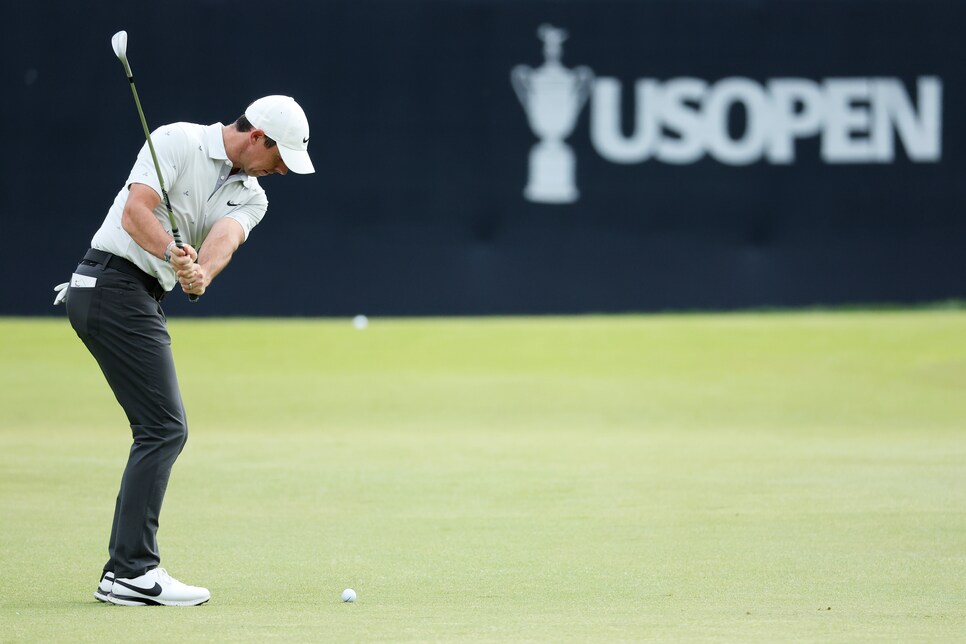 "Because in my opinion it's the right thing to do," McIlroy said Wednesday. It's that simple. The Internet can turn the most earnest soul into a skeptic, and the Machiavellian will tell you that, all posturing aside, it's always about money. For many tour players, perhaps even most, that is true. For Rahm, McIlroy & Thomas, generational wealth should come as a byproduct of honest competition. It is a fantastic part of the job, but it is not the sole purpose of the job. Simply put: it's not all about the money.
"The format is not really appealing to me," Rahm said Tuesday. "Shotgun [start], three [rounds] to me is not a golf tournament, no cut. It's that simple. I want to play against the best in the world in a format that's been going on for hundreds of years. That's what I want to see. Yeah, money is great, but when [wife] Kelley and I—this first thing happened, we started talking about it, and we're like, will our lifestyle change if I got $400 million? No, it will not change one bit.
"Truth be told, I could retire right now with what I've made and live a very happy life and not play golf again. So I've never really played the game of golf for monetary reasons. I play for the love of the game, and I want to play against the best in the world. I've always been interested in history and legacy, and right now the PGA Tour has that."
There's a common denominator between Rahm, McIlroy & Thomas that goes beyond their deep belief in the sanctity of this game, its traditions and history—all are incredible golfers. Rahm is No. 2 in the World Ranking, McIlroy is No. 3, Thomas is No. 5. They are thinking about legacy and history because they could realistically be a part of it. We hear from them often because they're asked to speak often. That's not the case for the vast majority of players at The Country Club this week.
"They're playing for legacy, they're playing for Hall of Fame," says Dahmen. "It's a different conversation for them. They're playing to leave their mark as the greatest of their generation if not the greatest of all time. It's a completely different calculation than Talor Gooch going over [to LIV] and set his family up for life."
It's true—Rahm, McIlroy & Thomas don't play golf for money because they have the luxury of not worrying about money. They're way past that. Still, there are ultra-rich golfers with similarly impressive resumes that have decided to become even ultra-richer golfers. They're taking the money, and they're not thinking much beyond that. Contrast that with Thomas' agonizing over it.
"I tossed and turned and lost a lot of sleep last week thinking about what could potentially happen," Thomas said Monday. "I grew up my entire life wanting to play the PGA Tour, wanting to break records, make history, play Presidents Cups, play Ryder Cups. The fact that things like that could potentially get hurt because of some of the people that are leaving, and if more go, it's just sad. There's really no other way to say it."
He's sad because he cares. All three of them do. Rahm, McIlroy & Thomas. No matter how this saga plays out, that will not be forgotten.