The future of pro golf
On the sidelines of the PGA Tour-LIV Golf battle, the DP World Tour faces a crucial decision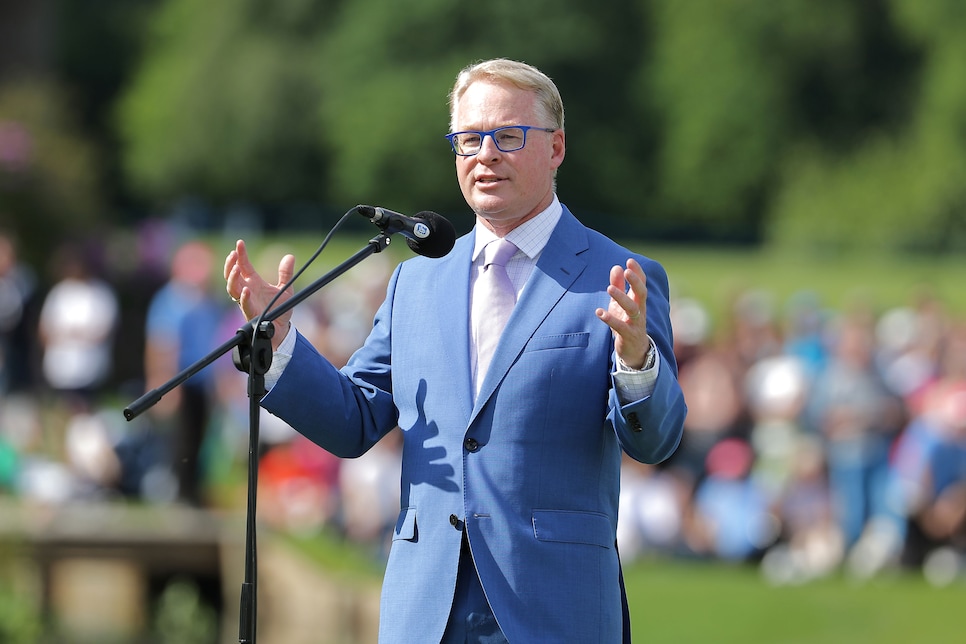 BROOKLINE, Mass. — The battle for golf's future has featured two main characters: the PGA Tour, fronted by commissioner Jay Monahan, and LIV Golf, headed by CEO Greg Norman. Both men have portrayed confidence in their organizations and their respective paths forward. Their posturing has come in stark contrast to their counterpart at the DP World Tour, CEO Keith Pelley, who has stayed silent—conspicuously so given the DP World Tour's "strategic alliance" with Ponte Vedra.
More than a dozen sources from across the DP World Tour and PGA Tour landscape have told Golf Digest that Pelley is mulling a rather impactful decision: a partnership of sorts between his tour and LIV Golf Investments, or a further integration with the PGA Tour. A spokesman for LIV declined to comment for this story, but a source intimately familiar with discussions between the PGA Tour and the DP World Tour says both sides see potential value in aligning more closely.
And yet, there is nothing resembling a consensus among DP World Tour players as to which path to take.
"[Pelley's] getting serious pressure from his rank-and-file members to consider the Saudis," says one high-profile player.
According to sources, Pelley was seen at Centurion Golf Club during LIV's inaugural event last weekend, though it is not known whether any formal discussions with LIV took place. A spokesperson for the DP World Tour declined comment when asked about any conversations with either LIV Golf or the PGA Tour.
A partnership with LIV Golf for the former European Tour could present benefits to both sides. According to sources closely connected to the tour, the DP World Tour could provide a safety net to the start-up circuit, whose core vision involves only 48 players teeing it up on a weekly basis. Meanwhile, LIV would pump money into the DPWT to increase purses, and there would be some mechanism for players to move between tours. Any such partnership would surely face a number of legal and logistical hurdles given the PGA Tour's investment into the DP World Tour as part of the alliance, first announced in November 2020 and widely seen as a pre-emptive response to LIV's challenge.
"I heard on Sunday that Pelley might be thinking of a U-turn," says one multiple-time DP World Tour winner. "I think that is very disappointing. But I'm not surprised. Pelley has never been very truthful in what he has told the players. I understand you have to make some decisions that are best kept behind closed doors. But I think this is something that went too far down that path. We should have been told what was going on right from the start. The motivation for this I think is coming from the pressure Pelley is feeling from tournament sponsors. They won't be liking the fact that they are losing some of their star players. … Pelley is not coming out of this too well. I think it will be the end of his reign. How can you go into a strategic alliance with the PGA Tour then six months later—after they found sponsors for the Irish Open and the Scottish Open—backstab them like this? From a PR and image point of view, that is a s*** move."
That view is but one of a diverse range of opinions regarding the DPWT's potential alliance with LIV Golf. Others feel the existing strategic alliance with the PGA Tour has not benefited the DPWT as much as previously hoped—that the PGA Tour's aim is to cherry pick and co-opt the biggest events on the Old World Circuit, and that rank-and-file players feel no closer to earning playing privileges on the PGA Tour.
That could, of course, change should the PGA Tour opt to respond to the ever-shifting dynamic by integrating further with the DPWT. Multiple sources have confirmed to Golf Digest that that option is on the table and will be discussed at a series of meetings at next week's Travelers Championship. A PGA Tour Policy Board meeting was previously scheduled, but a mandatory players meeting also has been added to the slate for Travelers week.
The rank-and-file members of the DP World Tour could, however, serve as a potential roadblock to a further embrace between the DPWT and the PGA Tour. Any such move would require a majority of DPWT membership to vote in favor, and there is some belief that a quasi-merger would result in the lower-ranked DPWT players having less access to significant events.
"We're in a place where something has to be done," says a DP World Tour player. "They are making such a scene that our lads are going to drift over [to LIV], albeit slowly, eventually. There is just too much money involved."
Take Adrian Otaegui, for example. Otaegui teed it up in the LIV event last week and took home $800,000 when he tied for sixth place. That's nearly double the $475,000 the Spaniard has earned on the DP World Tour in 12 starts, which included three top-five finishes. In contrast to PGA Tour members who played, Otaegui has not been suspended by the DP World Tour.
On Tuesday, Pelley informed DP World Tour membership in a letter obtained by Golf Digest that he had not yet made a decision on the ramifications for those who played in the LIV event. Any such decision would not come until June 23, the day entries close for the Genesis Scottish Open, which this year is being played as a co-sanctioned event with the PGA Tour. That means players in the field for next week's BMW International Open who played in the first LIV event—which include Otaegui, Sergio Garcia, Martin Kaymer, Louis Oosthuizen, Pablo Larrazabal and Bernd Wiesberger—will be allowed to tee it up in Germany.
"Some members asked me why we simply do not follow what the PGA Tour have done and immediately suspend these players," Pelley wrote. "While I understand the frustration, I remind you all that although we work closely with the PGA Tour, we are different organizations and our rules and regulations are therefore different too.
"From many of your messages and my conversations, I know that many of you share the same viewpoint that Jay Monahan expressed in his note to PGA Tour members, namely that the players who have chosen this route have disrespected the vast majority of the members of this tour. As for what we are going to do, because of the complexity of our situation we are still evaluating an overall course of action. We will use the next seven days to continue to assess the impact the two conflicting events in the UK had on our own tournaments played in those weeks [the Porsche European Open and the Volvo Car Scandinavian Mixed] as well as on your tour overall."
The PGA Tour does not have much of a history with the PIF, Saudi Arabia's sovereign wealth fund that is bankrolling LIV Golf, but the DPWT worked with the Saudis to build out the Saudi International, which was an official event on the European Tour from 2019-21. Back in the summer of 2020, when Golf Saudi was still deciding how to get more involved in the golf space, Golf Digest reported that the European Tour considered a Saudi-funded proposal before ultimately opting for the strategic alliance with the PGA Tour.
"I think the worst decision we ever made on the European Tour was not signing with the Saudis," says Sean Crocker, a 25-year-old ranked 222nd in the world who grew up in Southern California, plays under the Zimbabwe flag and has been playing on the DP World Tour after playing collegiately at USC. "I think that's absolutely ruined our tour because we can't fight the Saudis, and we can't fight the PGA Tour, so we're going to be a backburner tour in the next two years. I think our best opportunity to thrive as a tour was with the Saudis".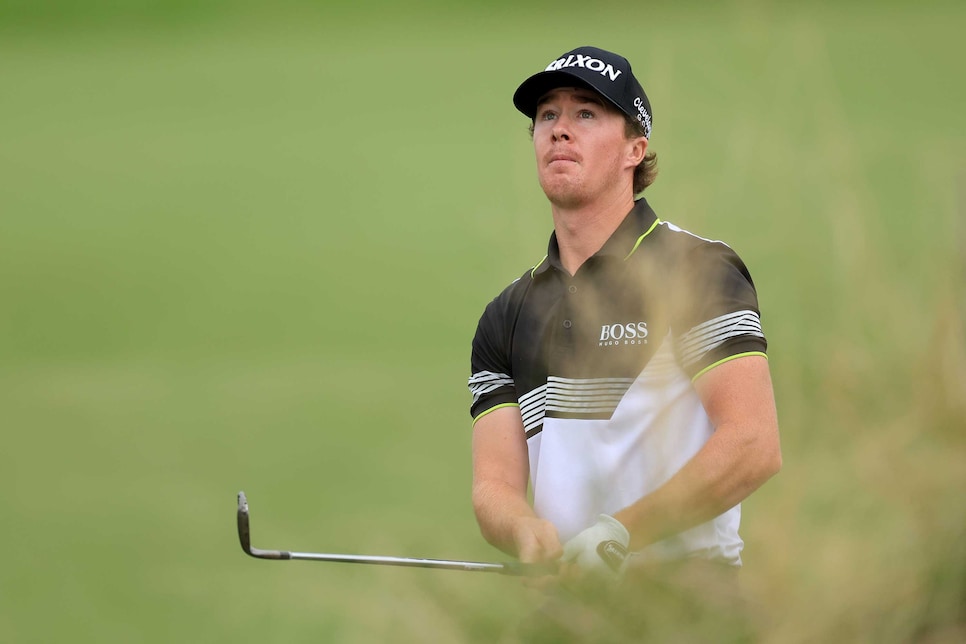 Sean Crocker believes the DP World Tour should have accepted an original offer from Saudi Golf in 2020.
David Cannon
Adds a different DP World Tour player: "The arrangement with the PGA Tour is a mess. Yes, it does give a young guy a chance to go and play in a couple of lesser PGA Tour events. But there are so many other issues. … All I can tell you is that there are a lot of our guys wondering if Pelley made the right decision. And he will be hearing that from them."
Whereas the PGA Tour has sought to highlight the moral and reputational implications of aligning with the Saudis—Monahan discussed the 9/11 terrorist attacks, in which 15 of the 19 hijackers were Saudi Arabian nationals, in an interview with CBS on Sunday—there seems to be less of a visceral opposition to the source of the money in Europe. Besides the DP World Tour holding an event in Saudi Arabia for three years, Saudi money is invested in a number of the corporate sponsors behind DP World Tour events. The Saudis have also been involved in soccer and Formula 1 racing, two massively popular sports in Europe, for years, and a healthy fraction of the DP World Tour membership view the Saudi option as a financial lifeline for a tour that has seen its finances and world standing diminish in a PGA Tour-dominated ecosystem.
Adds a DP World Tour veteran: "Why would Pelley not sit down and talk with the Saudis? That's his job. He has an obligation to hear what they have to say. A lot of people are giddy about it. Others are panicking, as in they think they might have missed the boat re the Saudi money. They want to be involved asap. So many players are pissed off by that thought.
"I don't know any more about the Pelley situation re LIV. But he wasn't at Centurion for the good of his health."