PGA Tour
'It's been an unfortunate week': Jay Monahan defends PGA Tour actions against LIV golfers during CBS interview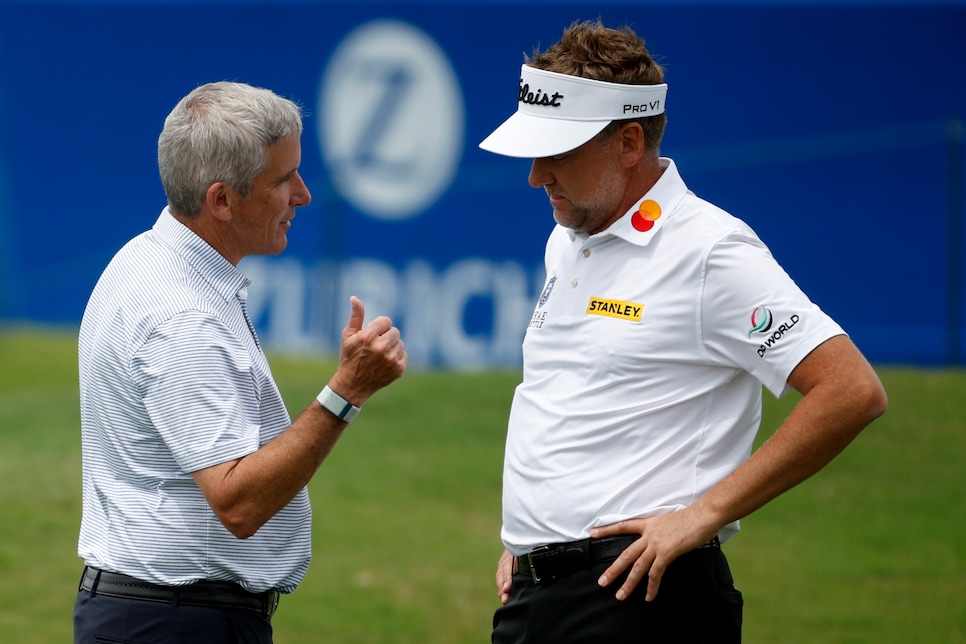 Despite some electric front-nine play from the final threesome of Rory McIlroy, Justin Thomas and Tony Finau on Sunday at St. George's, there was still a massive, LIV-shaped black cloud hanging over the RBC Canadian Open.
In an attempt to answer many of the questions surrounding the new LIV Golf series and its impact on the PGA Tour, Commissioner Jay Monahan joined Jim Nantz shortly after the start of CBS' final-round telecast. A day earlier, former Masters champion Charl Schwartzel claimed the first LIV title, earning $4.75 million in total prize money at the Centurion Club outside London.
"But it's my job to protect, defend and celebrate our loyal PGA Tour members, our partners and our fans, and that's exactly what I did. And I don't think it was a surprise to anybody given how clear I had been about how we were going to handle the situation."
As McIlroy, Thomas and Finau awaited to hit their tee shots on the 11th hole, which was quite backed up, Monahan fielded a number of questions about the LIV series from Nantz. Perhaps the most pressing of all came next: Why can't players play in both LIV and PGA Tour events?
"I'd answer that question by asking a question, and that is, why do they need us so badly?" Monahan said. "Because those players have chosen to sign multi-year, lucrative contracts to play in a series of exhibition matches against the same players over and over again. You look at that versus what we see here today, and that's why they need us so badly. You've got true, pure competition, the best players in the world here at the RBC Canadian Open, with millions of fans watching. And in this game, it's true and pure competition that creates the profile and presence of the world's greatest players, and that's why they need us. That's what we do. But we're not going to allow players to freeride off of our loyal members, the best players in the world."
Why, then, did the tour grant player releases to play in the Saudi International this past February, an Asian Tour event backed by the same group (Saudi Arabia's Public Investment Fund) that is behind Greg Norman's LIV series?
"Well, they are two different things. The Saudi International was an individual event recognized by a sanctioned tour. The 'series' is a group of events predominantly based in North America. So when you look at that you realize that a player would not be able to fulfill their responsibilities as a [PGA Tour] member, so they are two very distinctly different things. I'll go to what I just said: in protecting our loyal members, we can't allow players to freeride off of them."
Monahan, who refused to mention the LIV Golf by its name, was asked if the players who played in the 54-hole event in London this past weekend will ever be allowed to return to the PGA Tour. His answer was hardly a confirmation.
"We made a decision last week to suspend those players and they are no longer eligible for tournament play," he said, adding, "and that, at this point, is all we're prepared to talk to. We'll see how things continue to develop as we go down the road here."
As for the majors and whether or not LIV players will be allowed to play in them, Monahan says that's not his call. He noted that the PGA of America already made its position known at Southern Hills last month, with CEO Seth Waugh saying players have to be a recognized member of a recognized tour in order to be eligible for the PGA Championship. The USGA announced last week that players who earned their way to Brookline will be allowed to play in next week's U.S. Open. Questions remain in regard to both the Masters, run by Augusta National, and the Open Championship, overseen by the R&A, however.
Nantz brought up a story first reported by the New York Post on Saturday detailing how a prominent 9/11 survivors group called 911familiesunited.org sent a pointed letter to representatives of Phil Mickelson, Dustin Johnson, Patrick Reed, Bryson DeChambeau and Kevin Na, accusing the players of sportswashing and betraying the United States. On that topic, Monahan offered his most passionate answer.
"I've talked to a number of players individually for a long period of time, and I think you have to be living under a rock to not know that there are significant implications," he said. "As it relates to the families of 9/11, I have two families that are close to me that lost loved ones, so my heart goes out to them.
"I would ask any player that has left, or any player that would ever consider leaving, have you ever had to apologize for being a member of the PGA Tour?"
Monahan went on to say that he "couldn't be more excited" about where the tour is headed, pointing to the group of emerging young stars from all over the world who compete on the best tour in the world week in and week out.
"I just look at how life is all about meaning and purpose, and we're an organization with meaning and purpose," Monahan said. "This organization is going to continue to evolve in the face and shape of the great members that we have here and we're going to continue to advocate and grow this great game in the right way and continue to make meaningful contributions as an organization."