FIRE PIT COLLECTIVE
LIV Golf has reason to feel good about itself, but where does the sport go from here?
Editor's Note: This article first appeared in Fire Pit Collective, a Golf Digest content partner.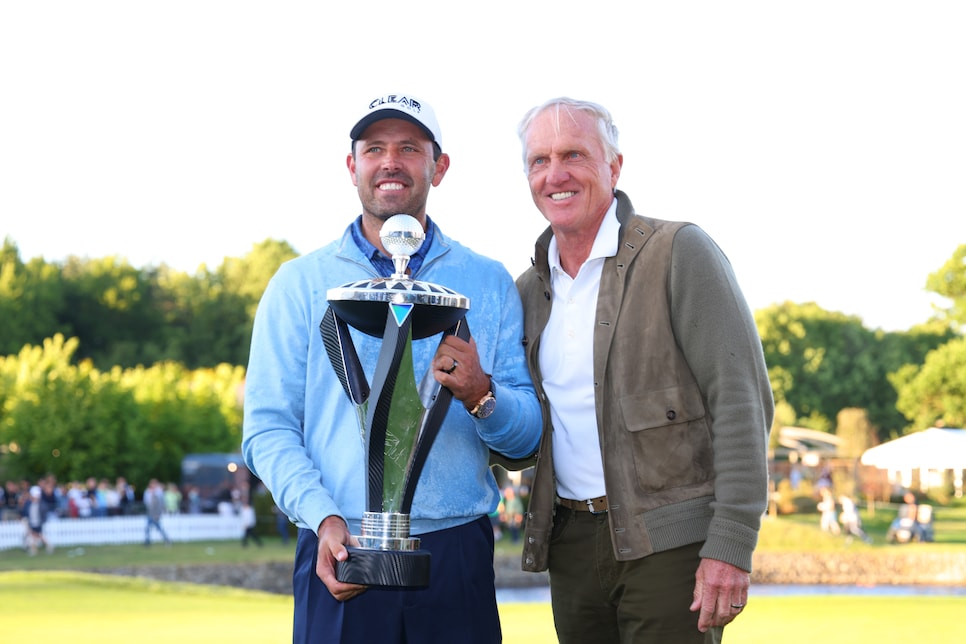 Charl Schwartzel poses alongside Greg Norman with the LIV Golf Invitational trophy after winning the inaugural title on Saturday at The Centurion Club.
Chris Trotman/LIV Golf
Pressing flesh at the glitzy trophy ceremony was Yasir bin Othman Al-Rumayyan, a top official from the Saudi Arabian government. It is the Saudis and their vast reserves of oil money that launched LIV. Al-Rumayyan's preppy Western clothes and impeccable manners did not hint at the atrocities his government repeatedly has committed. Acting as emcee at the ceremony was LIV frontman Greg Norman, who has taken to spouting empty clichés about modernism and inclusivity but only two days earlier looked on impassively as tournament security goons strong-armed a reporter out of a press conference without cause. All this messiness lurked beneath the surface, like a turgid shark, as the feeling at the trophy ceremony was celebratory. Fueled by excellent food and beer offered at reasonable prices in the spectator village, the fans were loud and rowdy. (The final round was billed as a sellout, though free tickets had been available before the tournament.)
In a cute touch, LIV gave out trophies to the top three finishers in both the individual and team competitions, and the assembled players radiated Christmas morning giddiness and exchanged incredulous looks that could be interpreted as holy shit—this actually worked! Taking it all in was disorienting, a reminder that in this complicated moment for professional golf many things can true at once: It is impressive what LIV has built from scratch in a short period of time; the Saudi money and palpable player greed is distasteful in the extreme; a 54-hole tournament with a shotgun start feels weird, but it is still a pleasure to watch accomplished golfers tussle with a challenging course with something at stake; in the space of a week, LIV has seized most of the leverage in the battle for golf's future, some three decades after Norman first floated the idea of an independent world tour; the monolithic and monopolistic PGA Tour is somehow now the underdog.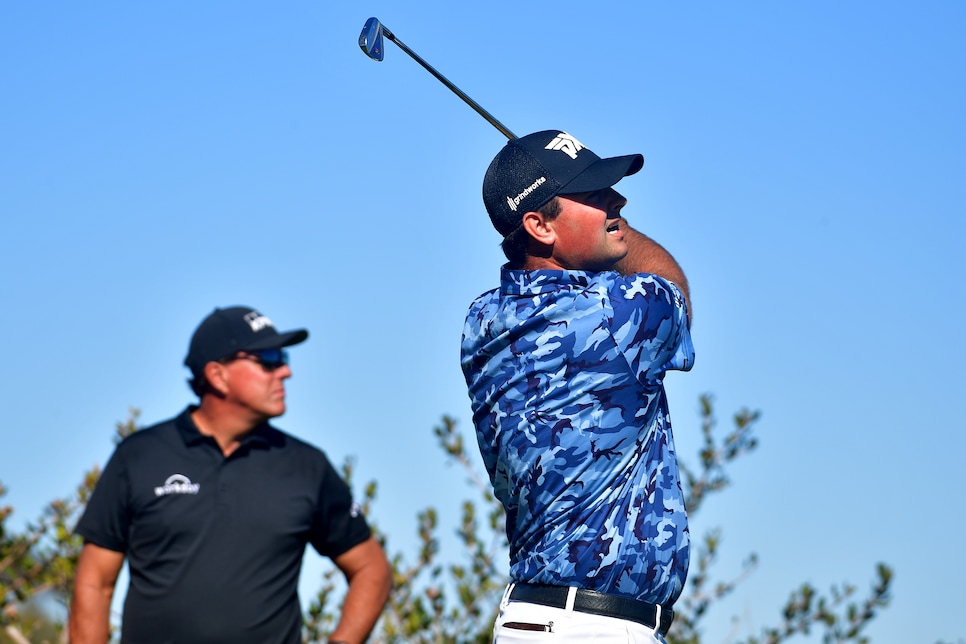 Patrick Reed was announced as the next major champion to join LIV Golf on Saturday.
Donald Miralle
"The evolution of the game of golf has arrived," Norman said at the trophy ceremony. "LIV is alive. For 27 years there have been a lot of obstacles put in our path. There have been a lot of dreams squashed. But they couldn't squash us. Golf was always going to be a force for good. The fans wanted this. We wanted this for you. We wanted this for the players, we wanted this for the caddies, for the players' families."
As was the case throughout tournament week, the on-course action was overshadowed by larger developments. Schwartzel had a commanding five-stroke lead at the turn of the final round, making it easier to focus on the breaking news that Patrick Reed and Pat Perez are the latest players to leave the PGA Tour to join LIV. This followed Bryson DeChambeau's similar announcement from the day before. LIV has now acquired a critical mass of Hall of Famers (Phil Mickelson and, someday, Dustin Johnson), major championship winners (Schwartzel, DeChambeau, Reed, Sergio Garcia, Martin Kaymer, Graeme McDowell and Louis Oosthuizen) and spiky personalities who generate conversation (Perez, Ian Poulter, Kevin Na and Lee Westwood). Rumors are flying that Harold Varner III and Jason Kokrak are next; they're not stars but this kind of established veteran is important for filling out the 48-man fields and bumping some of the unknowns who dented LIV's credibility in its opening event. The Pat Perezes of the world also bring respectable World Ranking positions, making it increasingly difficult for the OWGR folks to continue to deny points to LIV events. (This is a key point, as World Ranking is the key metric for players earning access into the major championships.) More players are sure to jump as good word-of-mouth spreads among their peers.
In London, the players enjoyed the shorter work week and jaunty, non-conformist feeling of the tournament. They especially liked the money. Schwartzel's haul (including the $750,000 for his share of the being on the winning team) would have placed him 29th on the season-long 2020-21 PGA Tour money list. Hennie du Plessis, 25, who finished second, cashed $2.875 million in individual and team money—that's nearly double what the winner of this week's Canadian Open on the PGA Tour will claim, and it triples Du Plessiss's career worldwide earnings. Journeyman Peter Uihlein won $1,050,000 for finishing fourth, more than seven times what he has earned in 15 starts on the PGA Tour this year. The money was mentioned incessantly during the streaming coverage of the final round, because what else did this soulless tournament have to offer?
"It's a business," says McDowell, who once seemed like a golf romantic. "Yes, we love the sport, we love competing, but the purse that we are playing for any given week, appearance money, you know, we're running a business here. It's like the sacrifice that we make being away from our families—I hate to use the word 'sacrifice.' We are all here playing golf for a living; it's a pretty sweet life. But still, you're away from your family 30, 35 weeks [per year playing the PGA or European Tour]. It has to be worth it financially. Otherwise it's a big sacrifice you're making for no reason. You're always weighing up from a business point of view: What is the best financial outcome for my time spent?"
This is the cold, hard reality facing PGA Tour commissioner Jay Monahan, who clearly has been outmaneuvered by Norman, a man far more comfortable working in the shadows. Monahan thought he had a hammer in threatening PGA Tour members with suspensions if they defected for LIV, but Johnson and others have resigned their membership with minimal regrets. DJ is now going to make more money playing half as often, in what could be interpreted as the American Dream. (For top players, weekly tournaments have always been filler between the majors, and LIV has just made this more clear.) What will Johnson, a noted boater and occasional Tik Tok star, do with all that free time? "Whatever the hell I want," he says. Of course, this kind of insouciance is possible only if you don't think about the source of the money buying all that freedom. And given that pro golfers have long competed in Saudi Arabia and China and Qatar and the United Arab Emirates, they are clearly disinclined to fret about who is writing the checks, which Schwartzel confirmed on Saturday. "Where the money comes is not something I've ever looked at in playing a 20-year career," he said. "If you start studying all the places I've played, you could find faults in anything."
Schwartzel, McDowell, Poulter and Westwood aren't in the field, but a few LIV participants will now travel to Boston for next week's U.S. Open. Monahan was surely hoping the major championships would close ranks and ban the LIV players, but a turf war between competing tours is not the USGA's fight (or the PGA of America's or the Royal & Ancient's or Augusta National's). Schwartzel may have won a historically large paycheck, but in the victor's press conference he managed to maintain some perspective, saying, "Majors is what defines our careers. Major pressure is definitely different. Money is one thing, but at majors you are playing for prestige, history."
It's a quaint thought. Old-fashioned, even. Now more than ever, money is what makes the golf world go 'round. A lot of cash was won at this first LIV event. But it felt like the sport lost something, too.