LIV GOLF
Players aren't the only ones getting pampered at inaugural LIV Golf event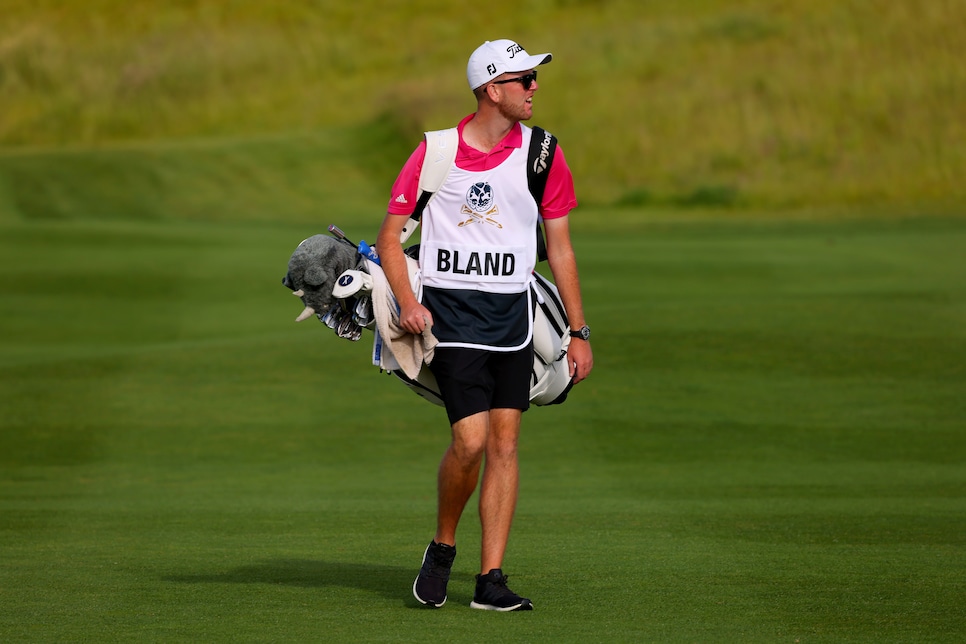 Caddies are also receiving red-carpet treatment this week at the inaugural LIV Golf event.
HEMEL HEMPSTEAD, England — We've all heard the stories. Over the years, tales of caddie adventures have added much color to life on tour. Yes, alcohol has sometimes been involved. But many of the best narratives have involved the endlessly creative ways caddies have gone about cutting down in expenses. Seven or more in a room designed for a couple was once commonplace. The sight of half a dozen caddies squeezed into a small car was far from unusual. Anything to save a few quid for men on a budget.
"I've stayed in hotels where, if rats had walked in during the night, they would have taken one look and left because it was too dirty," says Billy Foster, who works for World No. 17, Matt Fitzpatrick. "But I couldn't afford anything else. I hitchhiked a lot. I once slept in a bush in the middle of a motorway in France."
None of that nonsense has been in play this week though. In common with the professionals they work for, the caddies working the LIV Golf Invitational at The Centurion Club are being well looked after. There are a few exceptions—Lee Westwood's wife/caddie, Helen, is presumably one of those—but most of the bagmen are staying at the plush Jury's Inn Hotel at Watford, just under eight miles from the host venue.
"There is a big gang of us in the Jury's," confirms Ken Comboy, who has been on former U.S. Open champion Graeme McDowell's bag for nearly two decades. "It's like the old days on the European Tour, when everyone stayed in the same hotel. The bar has a great atmosphere. Everyone is finishing at the same time. It's been fun."
All of which has gone down well with three of the most experienced caddies out there: Comboy, Colin Byrne, who works for Louis Oosthuizen, and Craig Connelly, who walks the fairways alongside Martin Kaymer.
"The tournament that used to be our equivalent of hitting the jackpot was Sun City in South Africa," Byrne says. "That was the junket of all golf junkets. But that was then. This week has out-junketed Sun City. Having talked to Greg [Norman] and others on the organizing team, it has been 'what can we do for you' all week. They want to help us and make us happy. It's been great to be included like this. We've been pampered and had nothing by a red-carpet treatment."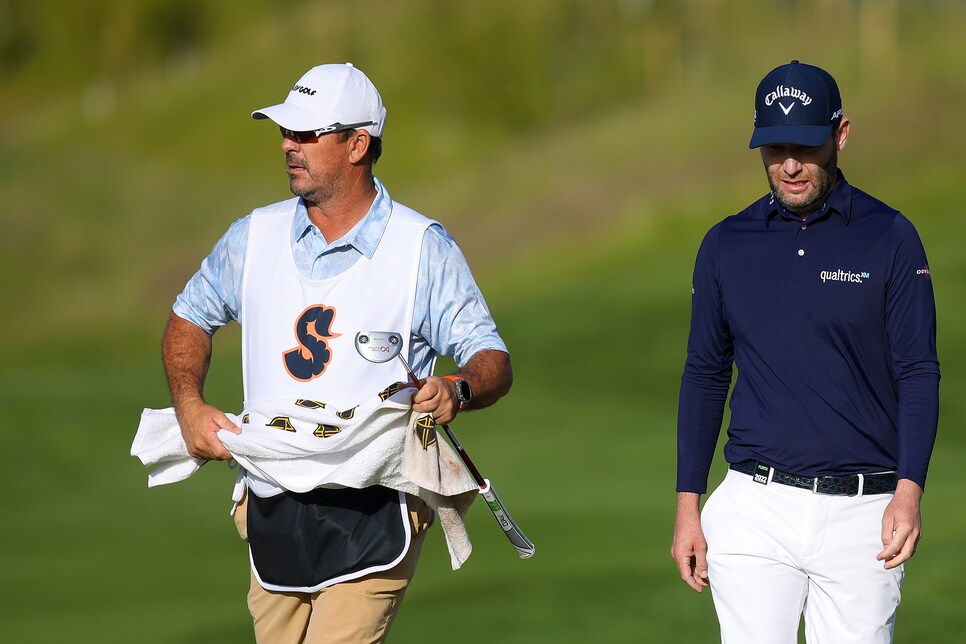 Charlie Crowhurst/LIV Golf
"We were all invited to the draw ceremony on Tuesday evening, no questions asked," adds Byrne, who has also worked for major champions Ernie Els, Paul Lawrie and Retief Goosen. "They've been keen to mike us up as well—again paying us for doing it. I'm not so sure about that though. Some lads might need a three-second delay on what they say. We are also part of the bonus pool attached to the team event this week. I've even been asked what kind and size of towels I like to carry on the course. All in all, we are part of the scene rather than on the periphery. Which is unusual for caddies."
Connelly, who has spent time with Paul Casey and Colin Montgomerie, is just as enthusiastic.
"This is as good an event as I have ever seen, from a caddie's point of view," says the Scot universally known as Wee Man. "At the Ryder Cup you are made to feel special. You arrive at the hotel and everything is laid on. There's no need for a credit card at the front desk. There are no expenses. This week has been just like a Ryder Cup. They flew me down from Glasgow and there was a guy waiting for me at Heathrow. Then they are taking care of us from here to the U.S. Open. And if I was going to another LIV event after that, they would fly me there too."
The big-ticket items have all been taken care of. But there have been little touches, too. The bar area at the Jury's Inn has been closed to all but the caddies. Gifts were left in every room. And free bar has been in operation each evening from 7-11 p.m.
"Some of us are going to need new livers after this week," says Connelly, only slightly tongue-in-cheek. "There isn't one thing that stands out, in terms of what they have done for us. It's a whole host of things. We have been made to feel like the players. I know LIV have a lot of money to spend, but you still need to do all things they have done. They didn't have to."