FIRE PIT COLLECTIVE
The inaugural round of LIV Golf felt a lot like a tour event, and that could be a problem for the PGA Tour
Editor's Note: This article first appeared in Fire Pit Collective, a Golf Digest content partner.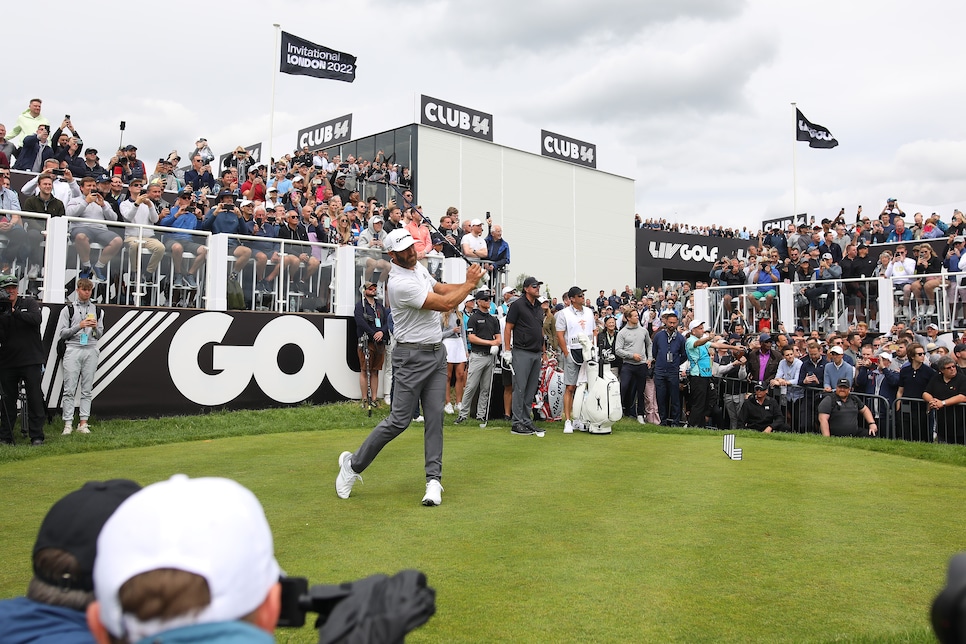 Charlie Crowhurst/LIV Golf
HEMEL HEMPSTEAD, England — In the end, it all felt so … routine? One of the most freighted days in the recent history of the sport began with trumpets blaring and was interrupted by a trans-Atlantic saber-rattling, but across the grounds at The Centurion Club, a rather normal golf tournament broke out on Thursday. Poulter preened, Sergio pouted, Dustin strutted, Phil grinned and a surprisingly robust crowd spooned it all up. For all the angst created by LIV Golf—more specifically, by the taint of its Saudi money—and all the lip service paid to its (modest) innovations, the inaugural tournament felt pretty much like a run-of-the-mill event on the European or PGA Tour.
For LIV, that has to be considered a monumental achievement.
"You could feel it's different," first-round leader Charl Schwartzel said of the much-ballyhooed shotgun start. "I was standing on the third tee box for about 10 minutes, and there was nobody with me. And eventually I took my phone out and I was phoning Graeme [McDowell]. I said, 'Graeme, mate, where are you? Am I on the right tee box?' That made it very different for me than what you would be used to, being announced on the first tee. But then once you got going, it was just golf for me."
At 2:15 p.m. local time, just before the first shot was struck, a military flyover crowded the gunmetal-gray skies, but such theatrics were wholly unnecessary for one simple reason: Phil Mickelson was teeing it up again. It was his dalliance with LIV that had sent the Hall of Famer into a four-month exile. His return to public life began with an awkward but occasionally revealing pre-tournament press conference: It was significant and commendable that Mickelson spoke of his ongoing battle with a gambling addiction; the anecdotal evidence had long suggested he had a problem, but publicly taking ownership required courage and humility. He also walked back his previous callous comments about Saudi atrocities. Late-period Phil had become something of a cartoon character, with the aviator sunglasses, hair dye and all the crowing about his calves and the bombs he was hitting off the tee. Even with his carefully parsed press conference words, Mickelson displayed a little less hubris and a little more humanity.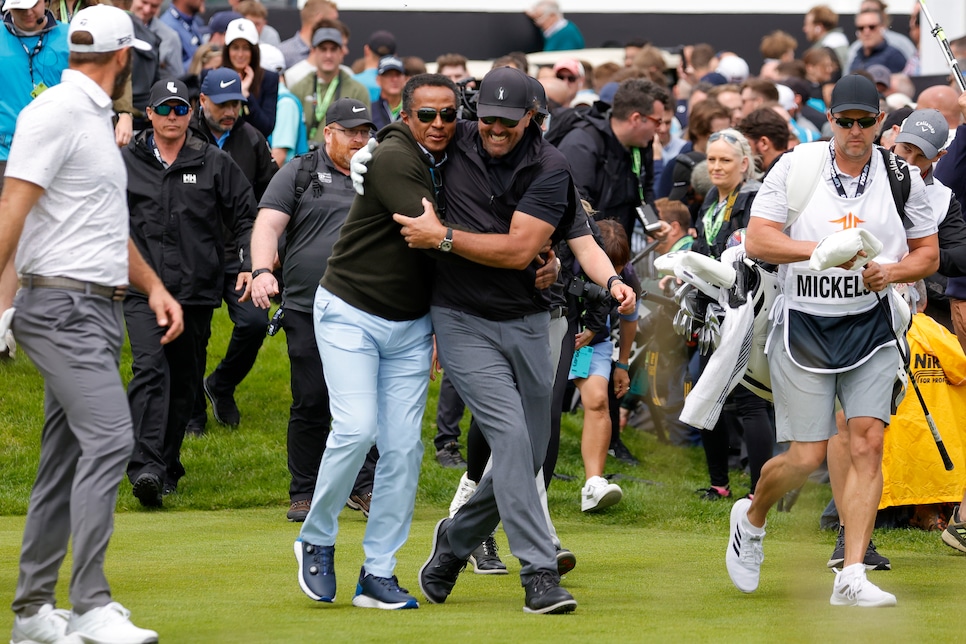 Phil Mickelson of Hy Flyers GC embraces Majed Al Sorour, CEO of Saudi Golf Federation during day one of the LIV Golf Invitational.
John Phillips/LIV Golf
And during the first round, he seemed visibly relieved to re-enter his sanctuary between the ropes. On the first drive of the rest of his life, Mickelson roasted one down the middle, and he grinded with an intensity that belied the tournament's lack of gravitas. Precise iron play overcame some sloppy driving and rusty putting, and Mickelson's opening 69 put him in a tie for seventh, four strokes back of Schwartzel. Mickelson competed with the determination of a man who knows that how he will be remembered will depend in part on the success of a renegade tour he helped launch. Is his name destined to be spoken with reverence like Curt Flood's, as an agent of change who reshaped the sports landscape? Or will this last act of Mickelson's career evoke Jake LaMotta in Las Vegas, as a past-his-prime palooka serving as a curiosity for fans who are drawn by spectacle and not sport? When the round was over, Mickelson couldn't hide his relief. (Deliverance was the overriding emotion of the day, as a couple of high-ranking Saudi dignitaries dispensed plenty of celebratory hugs throughout the round.) "I really enjoyed today," Mickelson said. "It was fun for me to get back out playing. It's a very cool energy here."
Mickelson's group attracted by far the biggest gallery of the day, though it surely helped that he was playing alongside Dustin Johnson; at 15 in the World Ranking, DJ is the highest-ranked player in the 48-man field. The crowd was unmoored, especially early in the round, with many fans simply ducking under the ropes to get closer to the action. In a shallow field, the more established players needed to deliver for LIV, and Johnson fought his way to a 69 despite push-slicing a drive O.B. on the seventh hole. Along with Mickelson and Schwartzel, that's three Masters champions on the leaderboard. Meanwhile, the top eight spots at the PGA Tour's concurrent Canadian Open are being held down by Wyndham Clark, Matt Fitzpatrick, Doug Ghim, Harold Varner III, Mac Hughes, Lee Hodges, Tony Finau and some dude named McIlroy. The lack of starpower at the top of the leaderboard illustrates what a threat LIV has already become to the PGA Tour, so it was no surprise that an hour after the first round commenced in England, an email leaked in which PGA Tour commissioner Jay Monahan informed his constituents he was suspending the 17 tour members who teed it up for LIV. This is the first gambit in what promises to be a long, complicated, legalistic battle that threatens to blow up the world order of professional golf. The ex-communicated didn't learn their fate until stepping off the course. Ian Poulter was among those who said he was ready to fight. "I've done nothing wrong," he maintained.
When it comes to LIV, very little is black-and-white. But after more than a year of talk and speculation and misdirection, one thing is abundantly clear: This new renegade tour is the real thing.