HEMEL HEMPSTEAD, England — Golf tournaments, big golf tournaments, have an individual feel that bequeaths a certain and identifiable vibe. Take the four men's majors. They all have a certain something, and not necessarily all the same something, that makes them distinct from the norm. The LIV Golf Invitational at The Centurion Club is halfway to that ideal. It is, with a prize fund of $25 million, the richest golf event ever. That alone sets it apart. But it is also where any comparison with the Masters, U.S. Open, Open and PGA ends.
For one thing, the overall quality of this field falls far short of your typical Grand Slam event. Which is not to say things may change on the front. The impression here is that certain big names are lurking in metaphorical bushes, waiting to come out when the second in this eight-part series of events is held later this month in Oregon, but for now a general level of mediocrity prevails.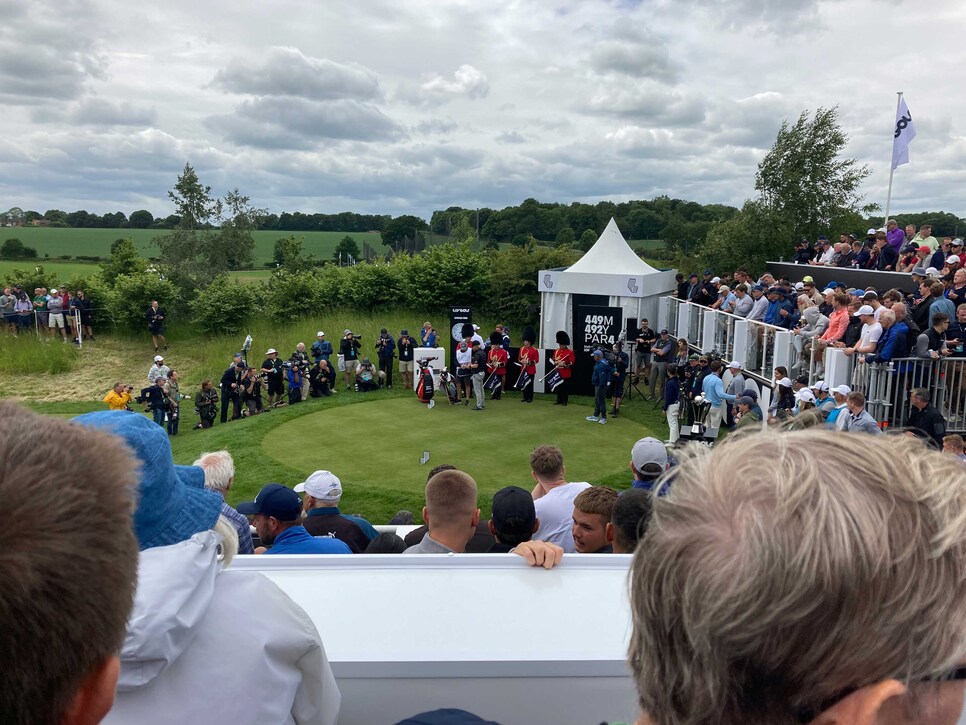 The scene on the opening tee at The Centurion Club.
In its own publicity, this event boasts that 18 members of the 48-strong field are inside the top-100 in the World Ranking. Which also means that 30 are ranked lower than that arbitrary figure. And only four are inside the top 50. Significantly too, only 20 players are younger than 30, while 10 have already passed their 40th birthdays. So this gathering is neither top-heavy nor youthful.
But things are happening, on and off the course, as the inaugural round of the inaugural event got underway Thursday. Take the gaudy "Fan Experience" that sits to the left of the first tee. All kinds of stuff was going on in there. Alongside the requisite bar, music, merchandise tent, food market, chipping challenge, mini-golf course and performance zone, a few lurches into cliché can be found. There's a red double-decker bus that is actually a "vintagebusbar." There's a red phone box that may or may not contain a working telephone. And there are 25 black London taxis, complete with authentic cockney cabbies, ready to ferry the players to their starting tees. "Alright mate, how's it going?" is a familiar refrain around the car park.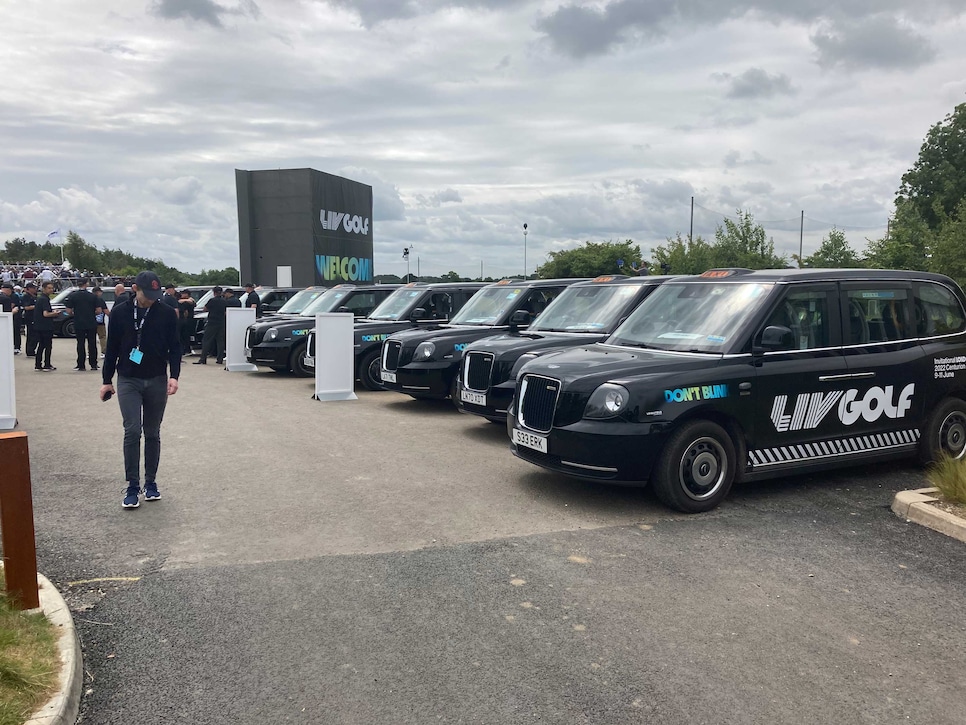 London cabs awaited the players to take their to their assigned holes.
On the (too small) range things have looked pretty much as you'd expect on any other tour. Swing coach Pete Cowen has been there doing his thing. And putting guru Phil Kenyon was in position on the practice green. And, thankfully, we seem to have been spared the rumored team uniforms. Not sure anyone needs to see that sort of nonsense outside of a Ryder Cup, Presidents Cup or Solheim Cup play.
Just before the 2:15 p.m. local time shotgun start to Round 1, the last man on the range was the familiar figure of Phil Mickelson. That made sense given that the six-time major champion was due to start from the nearby first tee alongside Scott Vincent and Dustin Johnson. No cab ride for those guys.
Logo-less in all black attire (only those with 20-20 vision would notice the blacked-out Masters emblem on his vest) the six-time major champion warmed up in preparation for the tee shot that would soon enough see the PGA Tour suspend him and 16 other players. "Vindictive" LIV Golf called it in a prompt rebuttal.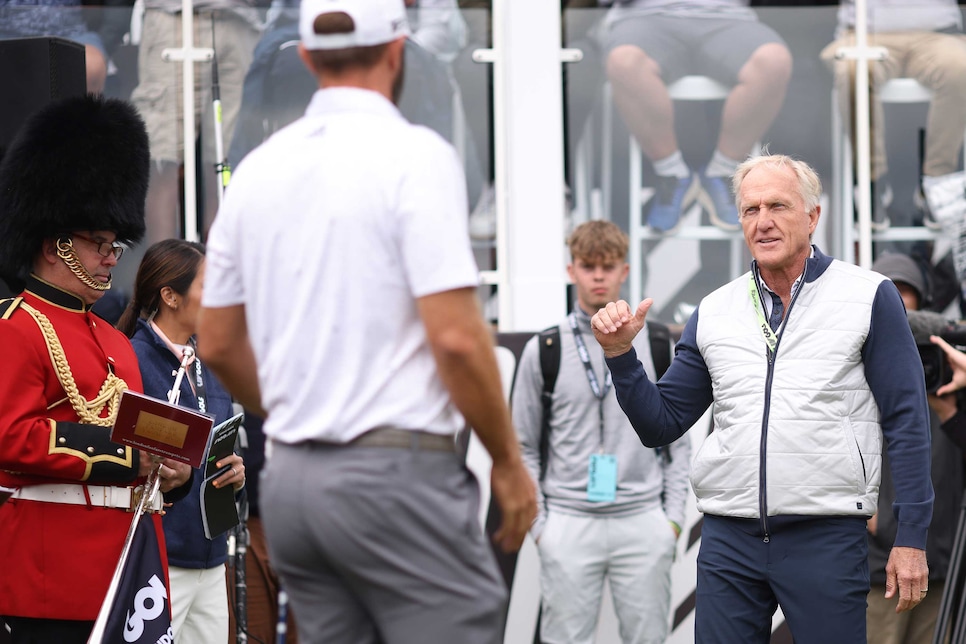 LIV CEO Greg Norman greets Dustin Johnson on the first tee.
Charlie Crowhurst/LIV Golf
In truth, Mickelson's first hole was a bit chaotic and noisy. On the tee there was a quick on-camera interview with the official broadcaster, a four-trumpet salute by grenadiers guards (picture the guys guarding Buckingham Palace), a loudly positive reception as he walked onto the tee and a brief knuckle-fondle with LIV Golf CEO Greg Norman. The Great White Shark's reception, it should be noted, did not come close to Mickelson's, either in volume or affection.
All that activity didn't end with the tee shots. Not Phil's fault, of course. His routine par on the 492-yard opener involved a long drive into the fairway, an approach to maybe 18 feet and two putts. No, in the apparent absence of any marshals, many members of the crowd spilled onto the fairway as if they belonged there—"what ropes?"
Things settled down after that rocky prelude to a day that ended with Charl Schwartzel with a one-shot lead at five-under-par 65. Only nine players broke par of 70.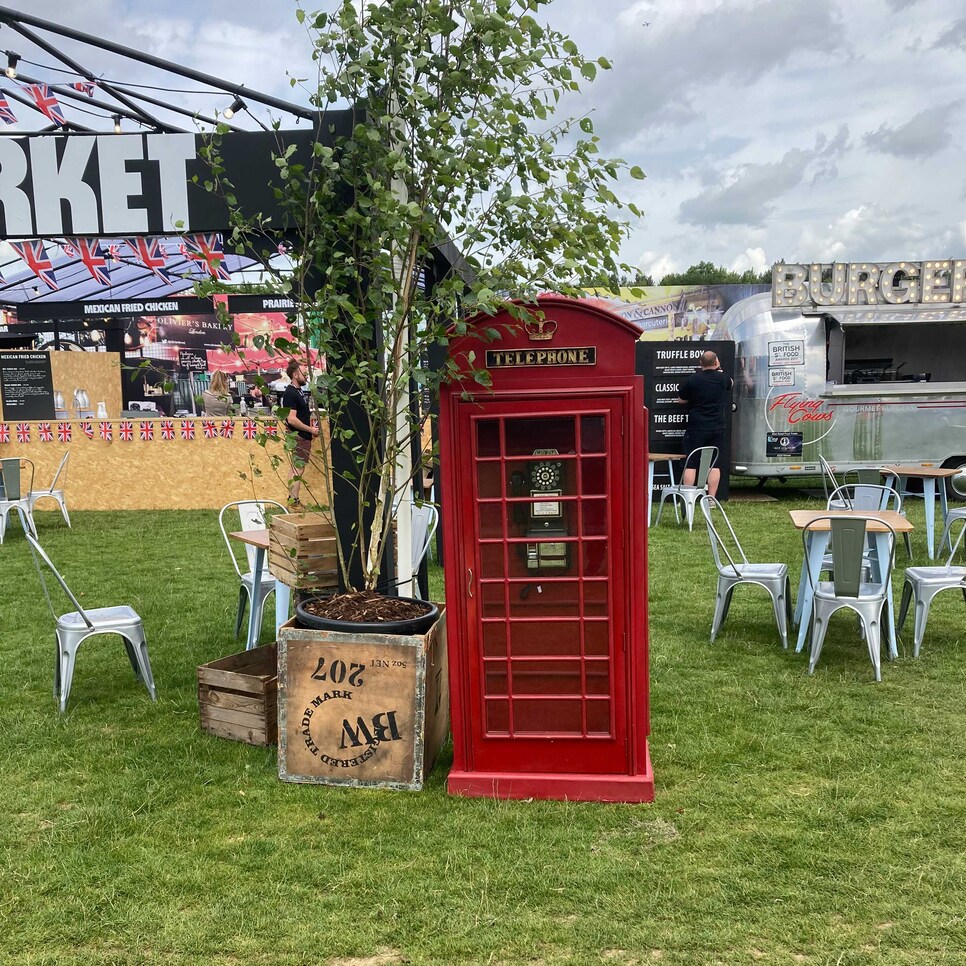 It's unclear if there was a working phone inside this antique phone booth.
Still, it was hard to get past one nagging question: Did any of this actually mean anything? No Order of Merit. No World Ranking points. No cut. Not much atmosphere (LIV declined to release attendance figures, other than to say the crowd was capped at 8,000), or real pressure. Then there is the guarantee of a handsome check, no matter how one plays. Given all that, how much are we supposed to care about an outcome so lacking in significance?
Maybe that will change in the next two days, but likely not. Or maybe down the road. Time will tell, but until it does there is something different for this tournament in the feel department.