Analysis
'An unwinnable situation': The delicate marriage between the PGA Tour and Bryson DeChambeau is over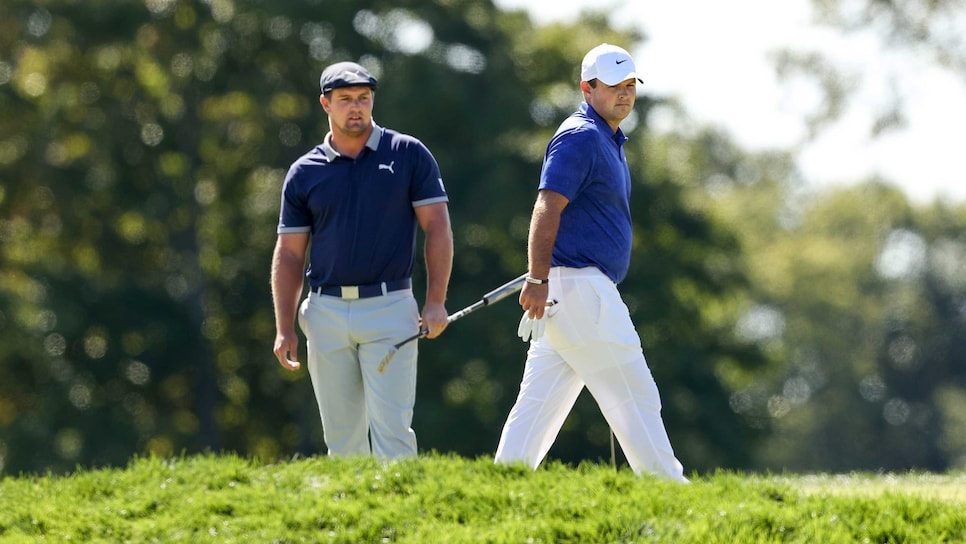 Bryson DeChambeau called PGA Tour Commissioner Jay Monahan on Tuesday to say he will play in the LIV Golf event in Oregon later this month, and there's nothing that could change his mind. DeChambeau is a transcendent figure in the game, one of the precious few golfers capable of capturing general sports fans' attention. At 28, he is one of the game's longest hitters, a major champion, and a compelling enough figure to finish fifth in the inaugural Player Impact Program, behind only Tiger Woods, Phil Mickelson, Rory McIlroy and Jordan Spieth.
In that respect, the news that DeChambeau, alongside similarly polarizing figure Patrick Reed, would join the group of players cashing in with LIV was a gut punch to the PGA Tour. But there was, however, an accompanying emotion pulsing through PGA Tour circles on Wednesday: the type of relief that comes at the end of a turbulent and often toxic relationship.
Interviews with a broad spectrum of sources, including PGA Tour players, employees, agents and caddies, produced various perspectives, but consistently portrayed DeChambeau and Reed as two elite talents whose play was often overshadowed by their difficult behavior. Representatives for DeChambeau and Reed did not respond to requests for comment on Wednesday.
"It began to feel like an unwinnable situation," a tour source said of DeChambeau. "It was clear that he did not feel like he had to play by anyone's rules."
DeChambeau's defiant and often erratic behavior began shortly after he played his way onto the PGA Tour in 2016. At an AT&T Pebble Beach Pro-Am early in his career, DeChambeau unleashed a profanity-laced tirade on a volunteer who failed to spot his errant ball. The incident was reported up the chain of command and, per sources familiar with the tour's operations, almost certainly resulted in discipline. The tour didn't speak to the incident, as is their long-standing policy, but according to one tour player, a similar situation played out years later at the Rocket Mortgage Classic.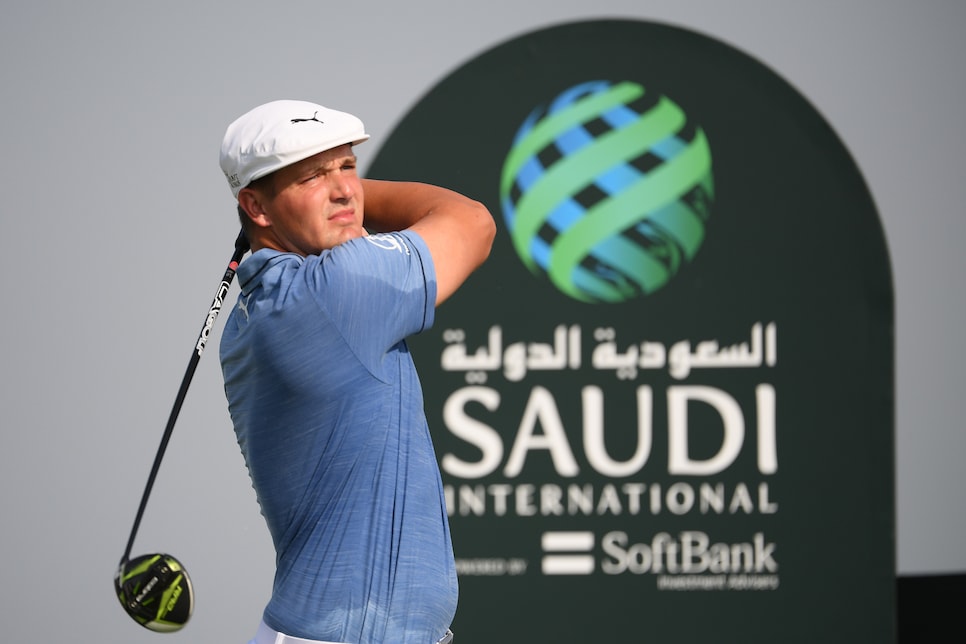 Bryson DeChambeau plays his tee shot on the 17th hole during Day One of the 2021 Saudi International.
Ross Kinnaird
In the summer of 2020, during the height of the COVID-19 pandemic, tour officials and volunteers were instructed to be particularly conscious of where people could and could not go. After pounding range balls long after sundown, DeChambeau attempted to enter a building without his credential. When he was denied access, he grew agitated. Shortly thereafter, a tour official addressed the incident with an adamant DeChambeau, who was dumbfounded that the volunteer did not recognize him. This was the same week he objected to a cameraman following him for too long, after which he took a thinly veiled shot at the PGA Tour.
"I understand it's his job to video me," DeChambeau said, "but at the same point, I think we need to start protecting our players out here compared to showing a potential vulnerability and hurting someone's image. I just don't think that's necessarily the right thing to do." He wound up winning the tournament with an emphatic display of his new-found power.
As DeChambeau's physical transformation and strong play continued to elevate his profile, his relationship with the PGA Tour steadily deteriorated. In his next start after the Rocket Mortgage, at the Memorial, DeChambeau told a rules official that his ruling was "garbage" and bluntly asked for a second opinion. His seminal six-shot victory in the U.S. Open that September was met with groans from Winged Foot members who, with the help of a hot microphone, caught his under-his-breath assessment of the putting surfaces (These greens f***ing suck), objected to the way he treated volunteers and cringed when he listed sponsor after sponsor during his winner interviews. Throughout these semi-frequent blowups, tour officials would try to placate the burgeoning star. With little success.
"He's a smart guy, and he knows he's a smart guy, but he's not as smart as he thinks he is," says a tour source. "He doesn't want advice."
The emergence of the Saudi-backed LIV Tour only exacerbated any rifts. DeChambeau, who is close with Phil Mickelson, came to believe Mickelson's assertions that the tour was withholding millions of dollars in image rights from its players. In an attempt to monetize a particularly viral highlight—the one with him hoisting his arms in the air after nearly driving a par 5 green at the Arnold Palmer Invitational—DeChambeau released an NFT of an artist's rendering of the moment.
"Phil was in his ear," a tour source said.
As rumors about the Saudi-backed league continued to swirl, multiple sources say DeChambeau was simultaneously reassuring PGA Tour officials in private while publicly bashing the tour and espousing the virtues of LIV. One source remembers a particularly awkward encounter when DeChambeau sang the praises of the Saudi-backed venture while playing in a pro-am with an executive from Rocket Mortgage, a corporate sponsor of the PGA Tour and of DeChambeau.
In the summer of 2021, DeChambeau's feud with Brooks Koepka forced PGA Tour officials—including Monahan—to play mediator in a prolonged spat. Later that summer, DeChambeau drew additional criticism when he claimed he would not get a COVID-19 vaccine because he'd "rather give it to people who need it." This came at a time when vaccines were readily available across the United States. After his comments were lambasted by traditional and social media, DeChambeau informed tour officials that he would no longer conduct post-round "flash" interviews with print/digital media, a long-honored prerequisite of tour players. Pleas to his representatives were often met with exasperation—for they, too, could not change his mind.
DeChambeau has never been a conformer, and he has shown a willingness to venture into new arenas. He turned to YouTube and Tiktok to connect with his fans, a practice that inevitably clashed with the PGA Tour's media regulations. A source with direct knowledge of the situation says DeChambeau attempted to bring a film crew onto the course during a practice round, a clear violation of those regulations. They were denied access.
Despite his complaints, DeChambeau joined other top-ranked players—including Dustin Johnson, who also later flipped back to supporting LIV—in releasing statements regarding their futures.
"I want to make it very clear that as long as the best players in the world are playing the PGA Tour, so will I," he wrote. At present, each of the top 14 players in the world remain committed to the PGA Tour, but DeChambeau has bolted. Just six days before his agent, Brett Falkoff—who has been described as "vastly underpaid, no matter what he's making"—confirmed that DeChambeau would make the jump to LIV, a reporter at the Memorial asked DeChambeau why he wasn't listed among the names set to play in LIV's inaugural event this week in London.
"I think that's mostly … a lot of it is private," he said, looking a bit flustered. "There's not really any conversations that need to be made about that, other than the fact that every person out here has their own opinion on it. Me, there's obviously a lot of conversation. For me, I personally don't think that at this point in time I'm in a place in my career where I can risk things like that."
Inside the PGA Tour, however, there was little doubt DeChambeau would make the jump.
"It's like, 'Look, if you want to go, go,'" Justin Thomas said at the AT&T Byron Nelson. The player he most had in mind, according to a tour source, was DeChambeau. "I mean, there's been plenty of guys that have been advocates of it and have just talked it up all the time, and they have been guys behind the scenes that are saying, 'I'm going, I'm doing this.' And like my whole thing is, just go then."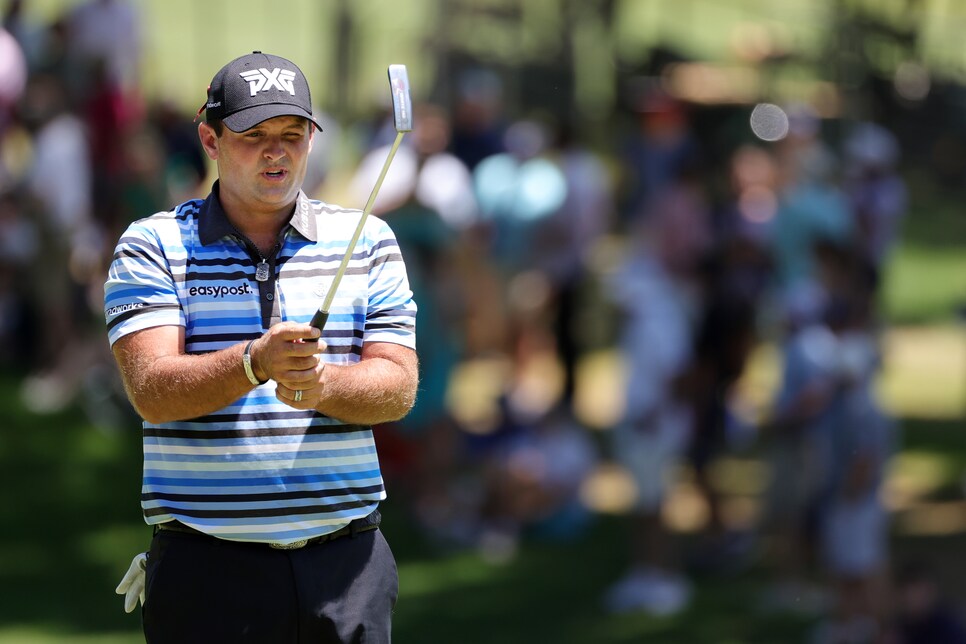 Patrick Reed lines up a putt on the fifth green during the second round of the 2022 Charles Schwab Challenge.
Carmen Mandato
Now DeChambeau has. The guaranteed money he will receive—more than $100 million according to a well-placed source—surely loomed large in DeChambeau's decision. But so did his icy relationship with the PGA Tour.
"He's going to LIV because he wants to be loved, and he doesn't feel like he's getting that on the PGA Tour," said one high-profile player.
Reed's exit is similarly unsurprising given his history with the PGA Tour. The gripes by "Team Reed" with the tour were so frequent that his wife, Justine, had a direct line of communication with a high-ranking tour official. The two would speak often about what Justine perceived to be unfair treatment of her husband. The complaints, many of which were aired publicly by the usegolfFACTS Twitter account, which is widely believed to be associated with the Reed family, were constant. They didn't like his tee times. They didn't like his pairings. They wondered why he didn't get asked for a pre-tournament press conference. Then they were upset that he was getting asked so often for interviews. And the complaints came despite the tour's best efforts to protect Reed's image, even after a number of dust-ups—including his rules violation at the 2019 Hero World Challenge and his caddie's physical altercation with a fan during the following week's Presidents Cup.
One tour official described Reed's inner circle as the single most difficult group they've had to deal with on the PGA Tour. And that inner circle kept changing—while DeChambeau has had the same agent for his entire career, Reed has cycled through multiple managers.
"He'd hire one guy to bridge the gap with the tour," says a source, "and then the guy will say 'hey, the tour isn't being so bad here,' and then he'd fire the guy for not telling him what he wanted to hear."
It's hardly a surprise, then, that DeChambeau and Reed would leave the PGA Tour for boatloads of cash and a fresh start with a new tour. Perhaps LIV Golf officials will find common ground with the pair that their counterparts on the PGA Tour never could.