LIV Golf
LIV golfers suspended by PGA Tour hint at future legal action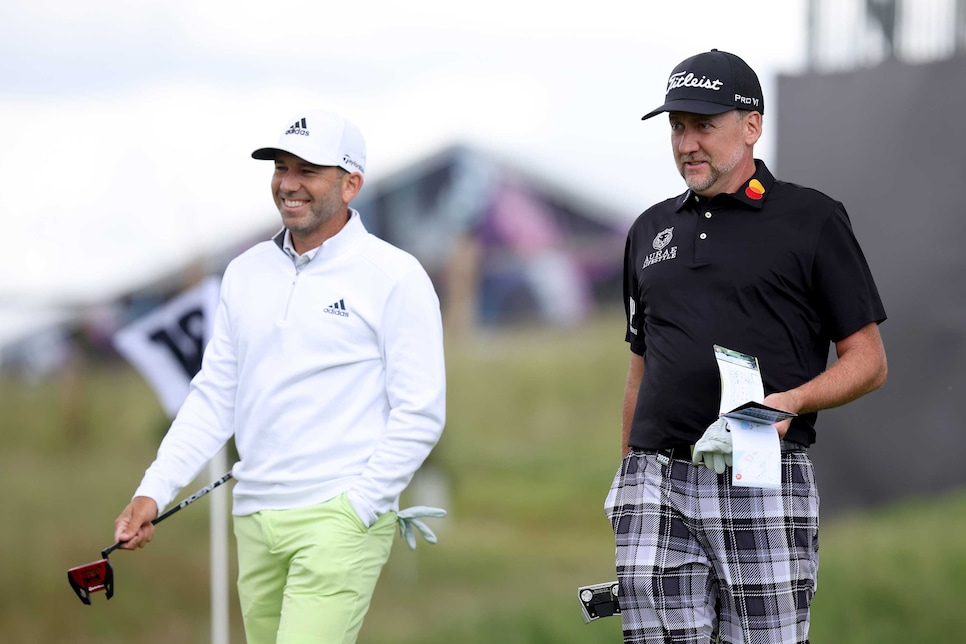 Sergio Garcia and Ian Poulter during the Pro-Am ahead of the LIV Golf Invitational at The Centurion Club.
Charlie Crowhurst/LIV Golf
HEMEL HEMPSTEAD, England — One by one they finished their rounds. One by one they heard the news that they had been suspended by the PGA Tour. Which, for those of the 17 willing to comment, came as no real surprise. By competing in the LIV Golf Invitational at The Centurion Club without a release from the PGA Tour, there were always going to be consequences.
"This was obviously expected," said former U.S. Open champion Graeme McDowell, who resigned his PGA Tour membership "30 minutes" before teeing-off. "The PGA Tour has to do what they feel is necessary. But, as I mentioned earlier in the week, I don't think it's healthy for the sport. We're here because we believe we are independent contractors. We should be allowed to compete and play where we want to all over the world. Sergio García has been doing that for the last 25 years of his life. I've been doing it for the last 20 years of my life with no hesitation and no arguments from anybody.
"But we're in the midst of a competitive threat," he continued. "We have a compelling option, which is not agreeable to the big tours in the world. So now we have a situation. It's disappointing. But there's not a whole lot we can do about it."
Well, not quite, as McDowell went on to explain.
"I have spoken to some players," he revealed. "We have spoken to the lawyers. We have the LIV legal team, which is fantastic. We have our own legal team. Some players have decided to resign and try to stay away from any litigation. But some guys believe they shouldn't be in the situation where they have to resign. They don't feel like they are doing anything wrong."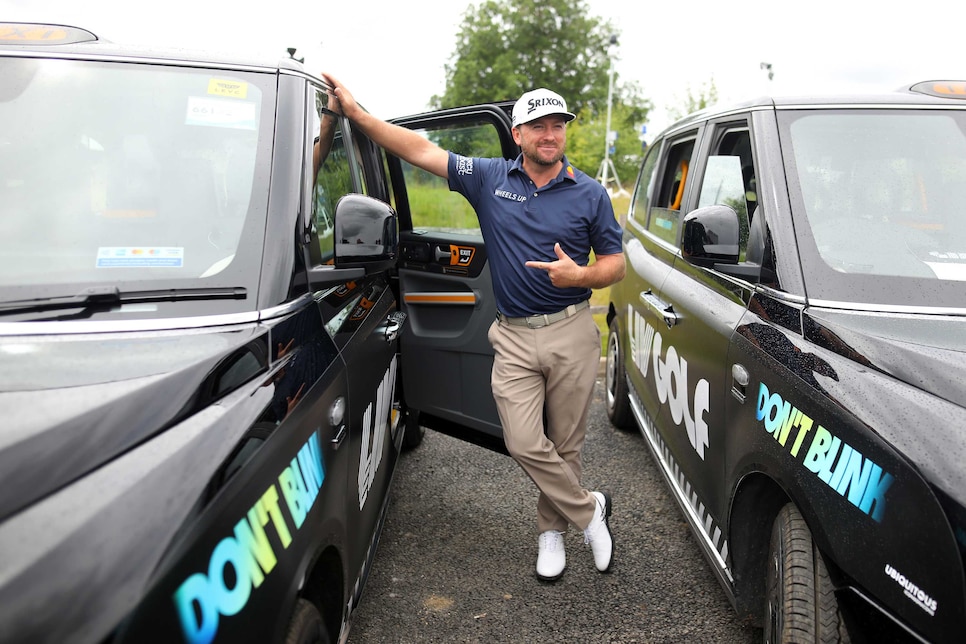 Graeme McDowell said he resigned his PGA Tour membership 30 minutes before the start of the first round of the LIV Golf debut event.
Charlie Crowhurst/LIV Golf
Ian Poulter is one of those. Unlike McDowell, Lee Westwood, Garcia, Martin Kaymer and a few others, the 46-year-old Englishman who makes his home in Florida has not resigned from the PGA Tour.
"I don't feel like I've done anything wrong," he said. "I've played all over the world for 25 years. I've played a lot outside continental Europe. This event is no different; it's the same. I have committed to play just as I have done around the world. It's a shame if they view this as something that is different. I will appeal for sure. Of course, I'm going to appeal. It makes no sense. I've played the game all this time with two tour cards that gave me the ability to play all over the world. What's wrong with that?"
Nothing if Garcia is to be believed, although the Spaniard, having already resigned, claimed to be unconcerned at the PGA Tour's actions. Expressing the aforementioned wish to avoid "legal battles," the Spaniard was instead "excited' at what lies ahead for him on the golf course.
"I'm very happy to be here for many reasons," he said. "It's going to allow me to do what I love, which is playing golf. It's going to allow me to see my family more, spend more time with my kids. And I can make a good living doing it. For me it's a win/win. To be totally honest, I wasn't going to be able to play 15 [PGA Tour events], anyway. So I was never going to be able to be a member."
Asked why he has not resigned from the DP World Tour, Garcia's response was to say "because I still want to be a member."
And Phil Mickelson? The six-time major champion stuck to his week-long mantra: "Any PGA Tour matters I'm not going to discuss publicly at this time."
Plenty of others will though. As McDowell said, "watch this space."