Letter from Europe
The tricky situation facing the DP World Tour as it braces for LIV Golf
Keith Pelley is trying to keep members from competing in the Saudi-backed series, but he can't talk quite as tough as his PGA Tour counterpart Jay Monahan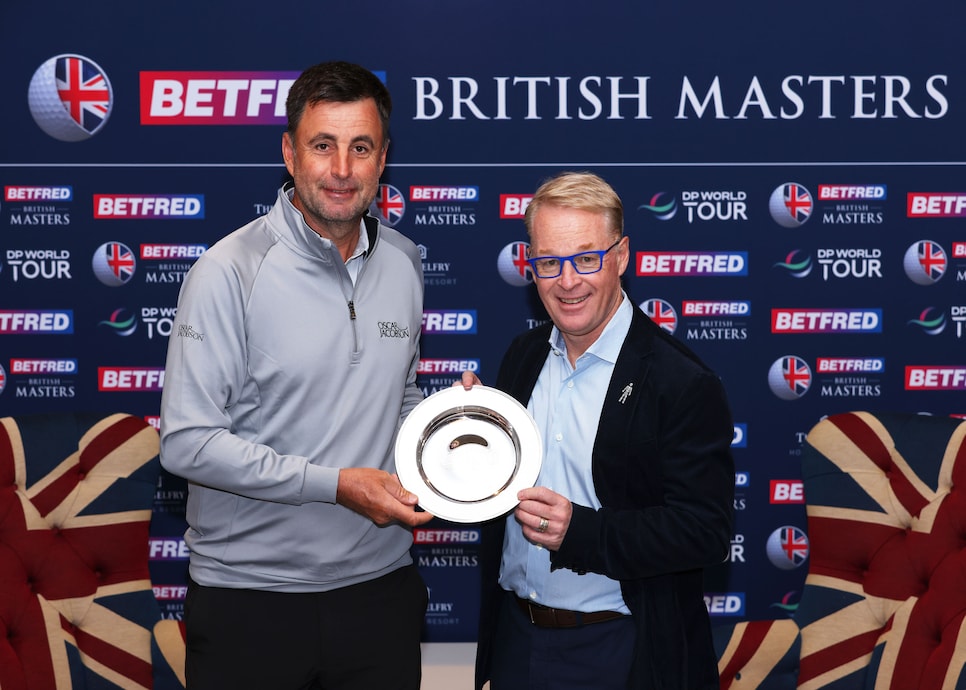 Photo By: Richard Heathcote
SUTTON COLDFIELD, England — Inherently the same. But, in so many ways, distinct. Forever, those have been the only and obvious conclusions when comparing the PGA Tour and the Old World circuit formerly known as the European Tour, what is now the DP World Tour. Different in culture—certainly. Different financially—for sure. Different in the quality of the product—oh, yes.
All of which is why golf's two biggest and longest-established tours have had contrasting reactions to the (at least for many) unedifying emergence of the Saudi-backed LIV Golf Invitational Series. Where the PGA Tour was quick to publicly denounce Greg Norman and his controversial plans for the future of professional golf, the London-based DP World Tour has been, through necessity, more circumspect.
Weakened by his organization's connections to a nation widely condemned for its human-rights record—for three years the Saudi Invitational was sanctioned by the then European Tour—DP World Tour chief executive Keith Pelley has been largely silent on possible measures he might impose on players tempted by the Arabian experience. Where PGA Tour commissioner, Jay Monahan, has made it clear his members will be dealt with severely should they make the switch, Pelley's reaction has been restricted. The DP World Tour's constitution does not contain any provision for the banning of players who compete in conflicting events.
All of which goes some way to explaining the tour's terse (and immediate) "no comment" response when asked to clarify its policy on release requests from players amid reports of possible fines to those who might compete in the breakaway events. Lee Westwood and Richard Bland are two who have already gone public with their interest in participating in the first $25 million LIV Golf Invitational event at the Centurion Club north of London June 9-11. Golf Channel reported that Sergio Garcia, through his management team, has applied for a release to play as well, and The Telegraph is reporting that major winner and former World No. 1 Martin Kaymer has, too. But exactly how the DP World Tour hierarchy will respond to them and others will remain unclear until this Tuesday, May 10, the deadline for release requests.
Pelley's most obvious area of vulnerability is financial. Ask just about any competitor on the DP World circuit what they most envy about the PGA Tour and the answers invariably involve money. More specifically, tournament purses (too low in Europe) and pension funds (non-existent) are the biggest sources of player disquiet. Which is why numbers like $25 million provoke understandable temptations for those open to joining the Saudi circuit, never mind any baggage that comes with doing so.
"This is my job," explained Westwood, who has earned more than €38 million over the course of his 29-year European/DP World Tour career. "I do this for money. It's not the only reason for doing it. But if anybody comes along and gives any of us a chance at a pay rise, then you have to seriously consider it."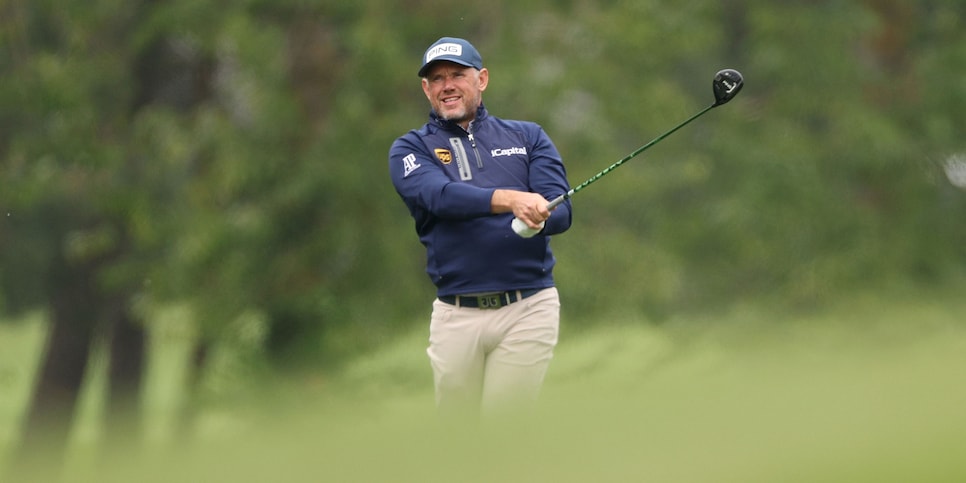 Lee Westwood says the money being offered by LIV Golf is too attractive not to consider, a point other DP World Tour players are likely to echo as more who have asked for releases become public.
Richard Heathcote
While what Westwood says is undeniable, the course of action he proposes is one that has obvious dangers for the future—or at least the economic well-being—of the DP World Tour. There will be collateral damage when DP World Tour members play in the Saudi events.
As things stand, corporate sponsors like BMW and Emirates Airlines put money into the tour. Let's say 10 of them put in $10 million each. And let's say DP World puts up another $100 million. It is then not difficult to imagine their collective reaction when there is a competing event on European soil against one of their own.
If the quality of the field in that competing event is better than in the DP World tournament, the cry from those sponsors will be that they are not getting value for money. They thought they had rights to the players. So, going forward, that original $10 million investment might be $2 million if the investment continues at all. So the tour's $200 million will soon be a memory. Which will have consequences for the players. Prize money would certainly go down.
Still, for all that such a scenario is a real possibility, there also remains in some quarters an air of mistrust over the now three-year-old strategic alliance that exists between the PGA Tour and DP World Tour.
"I worry about the PGA Tour's long-term agenda," says one player. "They have no need to help us really. Or do they? This is just my opinion. There is going to be a change in the landscape, but what exactly is that going to be? The PGA Tour will inevitably cherry-pick the best events on the European Tour. Ultimately, the top-100 players on the world rankings will play on the biggest tour and be able to play in all the best events everywhere in the world. But most of those will be in America."
Then again, there is also a view that sets the current state of the DP World Tour as something to be praised in the wake of the COVID-19 pandemic. International in the truest sense of the word, the DP World Tour maintained almost a full schedule when others were struggling. It is, according to some, an effort worthy of loyalty in return.
"Yes, the prize money did go down during the pandemic," says a tour insider. "But the European Tour was thrown under the bus compared to the PGA Tour. Try managing 500 people around Europe in and out of countries and getting events played. They did a wonderful job with that. The players should be complimenting the officials for the work they have done.
"The Asian Tour didn't play an event for 18 months. Australia shut down. Everyone struggled compared to America. But we are always compared to the States, especially in terms of prize money. Last week our winner was paid €400,000. That was a huge prize fund five years ago. But everyone has green eyes looking at the PGA Tour."
Add all of the above together and one can understand why, according to multiple sources, Monahan has yet to speak directly with anyone authorized to represent the Saudi proposals. That reluctance is, of course, a byproduct of the PGA Tour's inherent strengths. It has money in abundance; it has most of the world's top players. All of which is in compete contract to the status and strength of the DP World Tour. When, three years ago, the Raine Capital Group came close to an agreement with the European Tour on behalf of the then-Saudi-led Premier Golf League, Pelley had no alternative but to listen and seriously consider what was on the table.
In essence, that was a fork in the road for the Old World circuit. Raine came with a massive proposal, one that would have re-structured the tour and aimed to re-invent professional golf. Armed with hundreds of millions of dollars, they wanted Europe to take on America.
There were reservations about that aspect of the deal, however. Direct competition with the PGA Tour would have meant "world war" in the words of one insider. But European Tour officials were duty-bound to at least consider it, which they did, looking at it "up and down and inside out." But they were also transparent. The PGA Tour was told what had been offered and asked to come back with a proposal that could align the two existing tours.
Monahan was quick to act. Asking for time, he took the situation to his board and came back with a counterproposal that the European Tour board accepted. The desire to avoid divisiveness and create cohesion at the sharp end of professional golf beat out the dollar signs. And the strategic alliance was born, with Monahan taking a seat on the DP World Tour board of directors. Three years on, according to more than one insider with knowledge of the new dynamic, relations between the two tours are better than ever.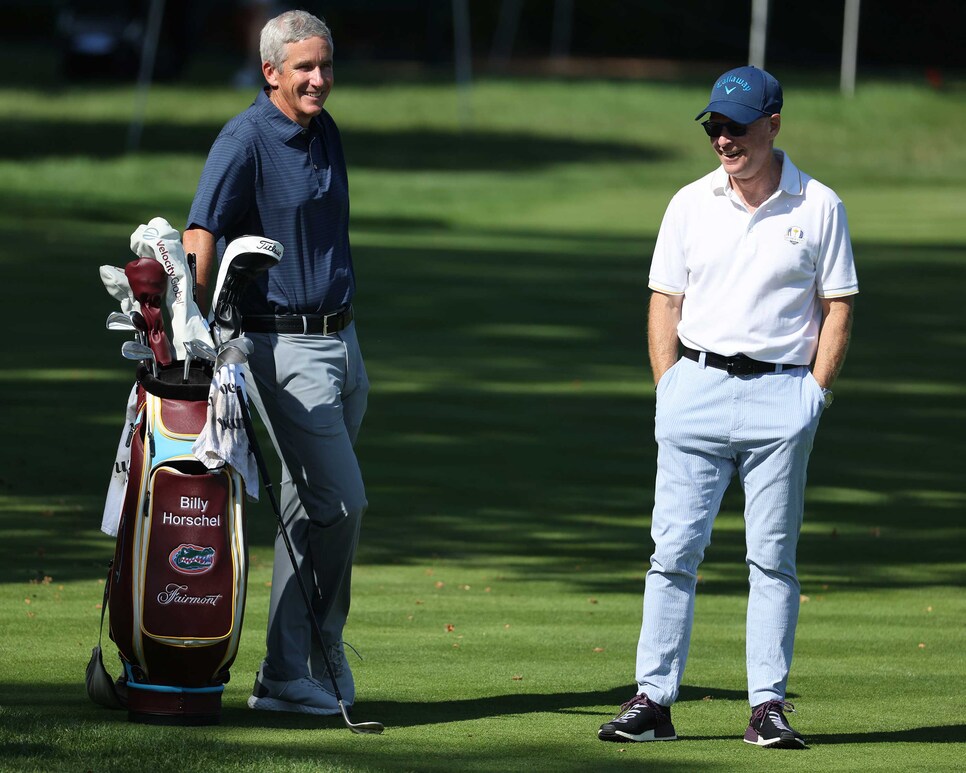 Since the creation of the strategic alliance between the PGA Tour and the DP World Tour, Jay Monahan and Keith Pelley have developed a closer working relationship that has benefitted both tours.
Warren Little
That coziness, in the face of on-going challenges from the LIV Golf Invitational Series, continues to evolve. By the end of this year, according to multiple sources, a proposal will be put to the DP World Tour players. More co-sanctioned events will be added to an increasingly joint schedule. And pathways to the PGA Tour will be created for DP World Tour players, as well as pathways back for those who don't quite make it across the pond.
More immediately, however, exactly what Pelley can do to discourage or sanction members who wish to play in the upcoming event at the Centurion Club remains murky. To paraphrase Phil Mickelson, it's all about "leverage." Right now, most of that belongs to the players. And, especially on the DP World Tour, they are exercising it in what they see as their own best interests. Throw in a touch of cynicism and what you have is a recipe for leaving. Westwood and Bland are far from alone.
"I'm 41 and I don't want to be playing golf for the rest of my working life," says another tour player who asked not to be named. "This week [at the Betfred British Masters] we're playing for €2 million, which is the basically the same as 15 years ago. And I have to finish in the middle of the pack to clear maybe £1,000. That's not much, when expenses have quadrupled in that time.
"So I'm tempted. The tour doesn't care about me. They say they do, but they don't. If I disappeared tomorrow, it would make no difference to them. Plus, there is hypocrisy here. The Saudi event was OK for three years and now it's not? I worry for the future of this tour. It might be here in 10 years time, but I can't imagine it will look like it does now."