PGA Tour
Sergio Garcia tells rules official 'I can't wait to leave this tour' following rules dispute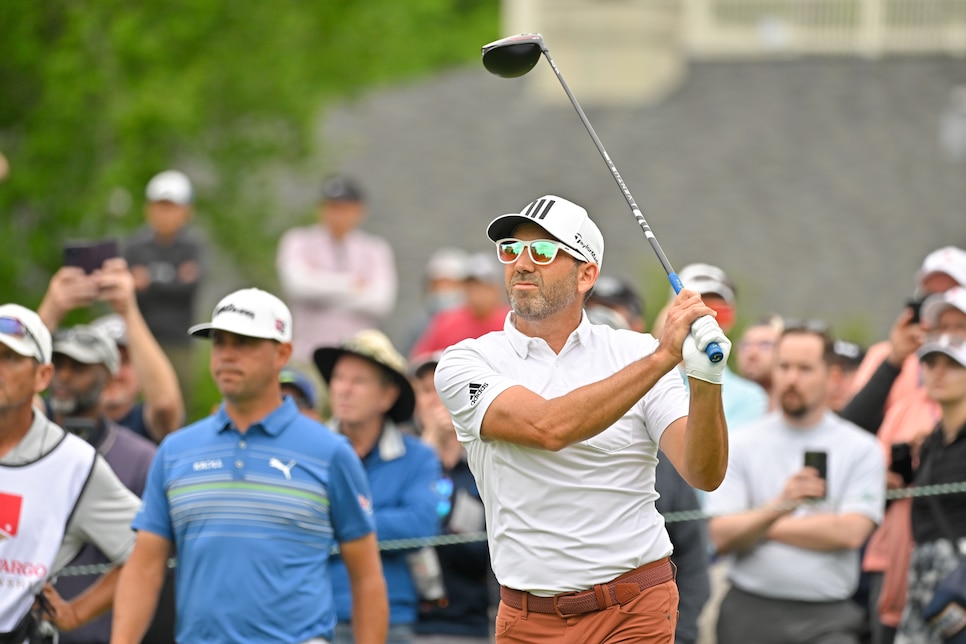 Sergio Garcia has been linked as a possible defector to the Saudi-backed LIV Golf series. His remarks during a rules dispute Thursday at the Wells Fargo Championship did little to quell those rumors.
At TPC Potomac's 10th hole during the first round of the PGA Tour event, Garcia rope-hooked his drive into a marsh, the area marked as a penalty area. Though Garcia eventually found his ball, a rules official deemed he took longer than the three minutes granted for search and thus could not play his initial ball.
Garcia countered that the rules official was too quick with his timing, a point that the PGA Tour acknowledged was correct after the round. Understandably upset at the ruling in the moment, the 2017 Masters champ—in a scene caught on PGA Tour Live and shared over social media—proceeded to tell the rules official, "I can't wait to leave this tour."
Microphones also picked up Garcia saying he "Can't wait to get out of here," and "Just a couple more weeks until I don't have to deal with [the rules official] anymore." He finished with several expletives directed at the ruling.
Garcia ultimately made par on the hole, holed out from 161 yards for eagle on par-4 15th and shot a three-under 67. He declined to speak with reporters after the round.
Thursday's on-course comments from Garcia are noteworthy given reports that he is among those considering jumping to the aforementioned LIV Golf series. Garcia has made no public comments about playing LIV Golf events, but the Spaniard has been a frequent participant at the Saudi International—an event sponsored by Saudi Arabia's Public Investment Fund, which is also backing the LIV Golf endeavor. According to a recent story in The Telegraph, Garcia is said to be "willing to snub the Ryder Cup" in order for a guaranteed payday. (The DP World Tour has threatened that those that jump to LIV Golf will be disqualified from participating in future Ryder Cups.) The first LIV Golf event is slated for June 9, the week before the U.S. Open.
After the round, Steve Rintoul, PGA Tour senior tournament director, released a statement via PGA Tour Communications noting that, in fact, the rules official had mistakenly started timing Garcia too early. "To clarify, the time spent by Garcia trying to access the other side of the creek should have delayed the start of the search time clock, and the ball would have still been 'in play' if not for that error. Garcia was informed of the developments following his round. Under the Rules of Golf, Garcia's score does not change despite the clarification."