News & Tours
Greg Norman claims players returned money to Saudi-backed LIV Golf after Phil Mickelson's comments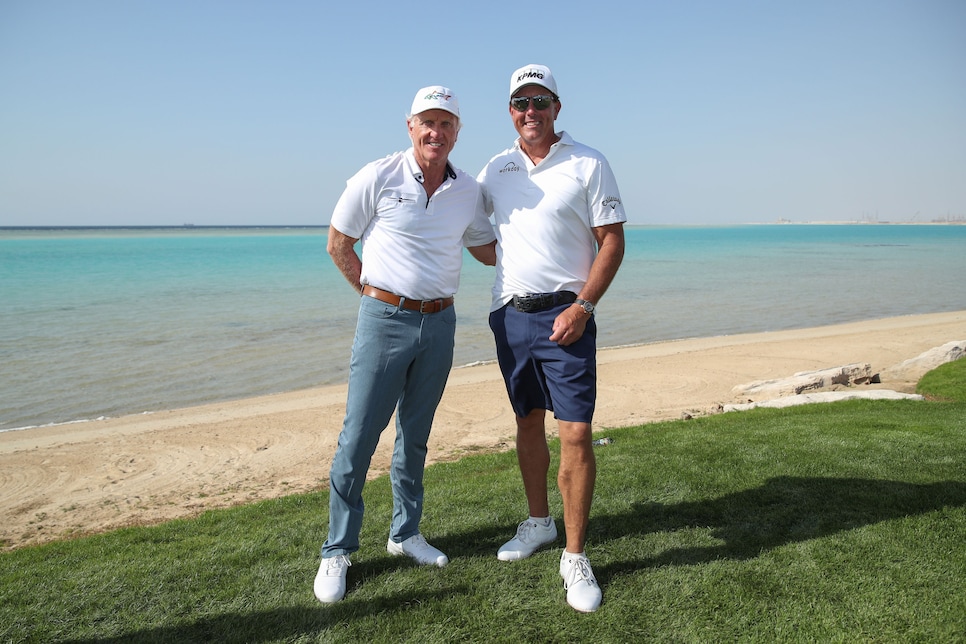 The LIV Golf series is set to launch in a month with its first event outside of London at Centurion Club. Though nearly all of the sport's top and relevant names have publicly distanced themselves from the Saudi-backed enterprise, LIV Golf CEO Greg Norman claims 15 of the top 100 players in the world have asked for waivers from the PGA and DP World Tours for the London tournament.
But, according to Norman, the original LIV Golf concept boasted a far deeper field.
In an interview with ESPN the former two-time Open winner said 15 players of the world's top 50 were signed up for the rogue tour, yet a large contingent backed out after the fallout from Phil Mickelson's comments to the Fire Pit Collective regarding Saudi Arabia and using LIV Golf simply as a means to leverage the PGA Tour.
"There's no question [Mickelson's comments] hurt," Norman told ESPN. "It hurt a lot of aspects. It hurt the PGA Tour. It hurt us. It hurt the game of golf. It hurt Phil. So yeah, across all fronts. It wasn't just specifically to us. But it definitely created negative momentum against us.
"Quite honestly, we were ready to launch on the Tuesday or Wednesday of Genesis [Invitational week]," Norman continued. "We had enough players in our strength of field, or minimal viable product, ready to come on board. And when all of that happened, everybody got the jitters, and the PGA Tour threatened people with lifetime bans and stuff like that."
That timeline doesn't quite jive with how things played out, as Mickelson's comments to the Fire Pit Collective did not go public until Feb. 17, the Thursday of the Genesis Invitational. Still, Norman went so far as to assert that players are still signed and under contract with LIV Golf.
"The ones who wanted to get out because of the pressure of the PGA Tour gave back their money and got out," Norman explained. "Guys had money in their pockets."
In spite of Mickelson inadvertently torpedoing his enterprise, Norman said Mickelson is still welcomed to compete in the LIV Golf Series. Although, in a related note, the Telegraph reported last week Mickelson has already received $30 million from the LIV group, money he would have to give back if he doesn't play in all eight tournaments in the inaugural LIV Golf season. Mickelson, through his agent Steve Loy, has acknowledged seeking a conflict-event release to compete in the initial LIV Golf event, but hasn't said whether he will actually play in the tournament.
The LIV Golf series is scheduled to begin the week before the 2022 U.S. Open.