DP World Tour
Richard Bland's British Masters title defense takes twist after seeking LIV Golf release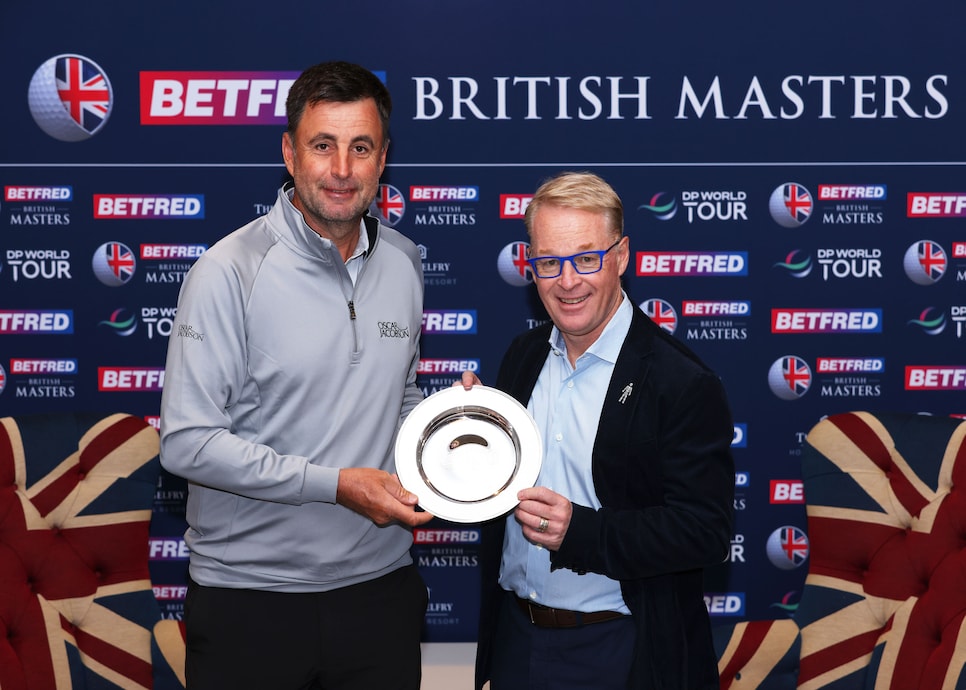 Richard Bland receives a Silver Salver from DP World Tour CEO Keith Pelley in honor of playing his 500th career tour event this week at the British Masters.
Richard Heathcote
SUTTON COLDFIELD, England — Richard Bland didn't have much to say on the subject. But what he did say was revealing enough. On the eve of defending the Betfred British Masters title he so memorably won a year ago at The Belfry, the 49-year-old was asked if he had requested a release to play in the first of the LIV Golf Invitational Series at the Centurion Club next month.
"I have," said Bland, the highest-ranked player in the field this week. "And if it's OK. That's where I want to leave it. I want to concentrate on this tournament. I want to respect Betfred. Right now, the DP World Tour is my hundred percent focus this week. I want to make a good defense and we'll leave it there if that's OK."
Chances are, of course, that Bland will indeed make a good showing of what will be his 500th appearance on the European/DP World Tour. One year ago, the Englishman left this four-time Ryder Cup venue as the 134th best player on the planet, having just won for the first time in his 478th appearance on the Old World circuit. Today he is 53rd, testimony to his fine play over the past 12 months.
In the wake of his maiden victory, Bland grabbed seven more top-10s on the DP World Tour, famously led the U.S. Open at Torrey Pines after 36 holes, was given the honor of hitting the opening tee shot in the Open Championship at Royal St. George's. By season's end he was 11th on the DP World Tour money list. This year he lost out to Viktor Hovland in a sudden-death playoff for the Dubai Desert Classic and made his (regular) PGA Tour debut at the Valero Texas Open, where he finished a creditable T-29. All in all, heady stuff after 477 weeks of relative futility.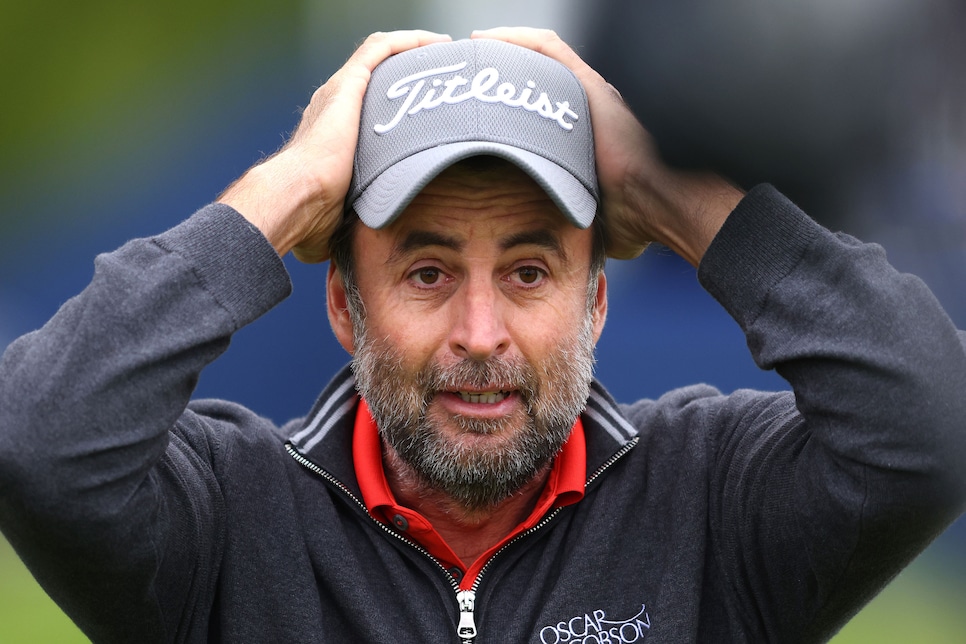 Richard Bland's reaction after winning the Betfred British Masters, his first career DP World Tour title, a year ago.
Richard Heathcote
"What went on 12 months ago was obviously a dream come true," said Bland, who lost his tour card at the end of the 2018 season and spent a year on the second-tier Challenge Tour. "It was something I had worked toward for 20 years. I knew I was getting closer to 500, so I looked at my schedule and tweaked it around a little bit. I didn't play here and there to make it this week. Just to make it even more special."
Perhaps the best part of Bland's breakthrough week—he defeated Guido Migliozzi in sudden death—came afterward. Touched by his perseverance in the face of long adversity, hundreds of people got in touch.
"My phone was ringing off the hook," Bland said. "That's something you can't prepare for. You can prepare for standing over a three-footer for your first tournament win. But what came after it, no. I was glad I had a week off afterwards. The next four or five days were just a blur. I was being pulled, left, right and center with media commitments.
"The messages I got from social media, from people all across the globe, is something I wasn't ready for," he continued. "It was quite emotional to read some of the messages. People who had been losing faith in whatever journey they were on were helped by my story It helped them reevaluate. 'If he can do it, I can do it.' I hope they all got there. I've still got the same phone, so the messages are all here. I'll never get rid of them. I'll never delete what's on this phone. They will stay with me forever."
One last thing: He's getting married a week after the Open Championship at St. Andrews. For Richard Bland, the good times just keep coming.