The Grind
Scottie Scheffler wins the PGA Tour's super party, the USGA(?) loses the Super Bowl and golf fans brace for Netflix's new series
Welcome to another edition of The Grind, where we can't believe the big Feb. 15 drop date on Netflix is almost here. In just a few hours, finally, the new season of … "Cocomelon" will be available! Not familiar with "Cocomelon"? Then you're either not a parent or you have older kids. And for that, consider yourself lucky, because watching/listening to "Cocomelon" is torture. But at least, we'll have a new torture on our hands instead of the same episodes we've had on loop in our house the past couple years. Ohhhh, right, Feb. 15 is also the long-awaited Netflix premier of "Full Swing," and that's something people should actually be excited about.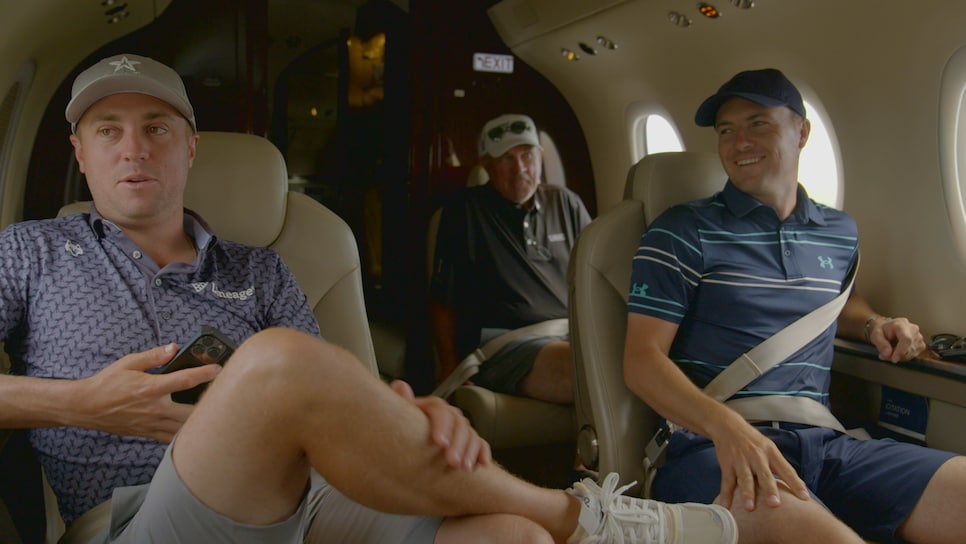 More on that—and another crazy week in golf—now. Peas, peas, it's time to eat your peas. Yes, yes, yes, it's time to eat your p-- … sorry, it's a Pavlovian response to mentioning "Cocomelon." OK, buckle up and let's get going.
Scottie Scheffler: With all this talk about who is World No. 1 between Rory McIlroy and Jon Rahm, it felt like Scheffler was overlooked. But what a freaking player—and closer—this guy has turned into. A year after finally picking up his first PGA Tour title, Scheffler successfully defended at the WM Phoenix Open, overcoming a stacked field and some crazy early week wind:
In the last 12 months, Scheffler has now won five of the 13 tournaments featuring the strongest fields. That's Tiger-like stuff right there. And yet, everyone will probably be rushing to pick Rory, Rahm, or someone else like JT, Morikawa, etc., this week at Riviera. Again, for whatever reason, this 26-year-old dude remains under the radar even as World No. 1. And after watching the episode of "Full Swing" that features him, it doesn't look like he minds one bit. Speaking of that …
"Full Swing": I was lucky enough to get advanced screeners of all eight episodes of the new Netflix docuseries on pro golf for a (PLUG ALERT!) special run of our Local Knowledge podcast and I'll give the series a solid B+/A-. I applaud Chad Mumm and his team for condensing a year's worth of footage into about five hours, and I hope that casual golf fans will like it even more. By the way, here's our podcast reviewing Episode 1, which dropped during the Super Bowl (Savvy!):
After seeing what this crew's F1 series, "Drive to Survive," has done for that sport, I'm excited and thankful this vehicle is out there for golf. Fingers crossed there's a Season 2!
Ockie Strydom: A final-round 63 propelled this South African to victory at the Singapore Classic. More impressively—and surprisingly—it's the 38-year-old's second DP World Tour win of the season and his career. After an incredible 19(!) runners-up as a pro. Talk about a late bloomer. And talk about a great name.
"It's a mindset that's changing at the moment. You've been in a situation before and you know you can do it again," he said. "I was thinking of not being here this week, I was hitting it so badly. My coach flew in, my wife said to me, 'Listen, this may be your week,' and look what happened. It's my week." It certainly is. Unfortunately, we can't say the same for the following …
"Tahoma 31": That's the type of grass used at State Farm Stadium for the Super Bowl that was created with the help of the USGA. Yep, the United States GOLF Association had a hand in the biggest sporting event on the planet. Or, rather, a foot. And as we saw with players including Jalen Hurts having to change cleats, Tahoma 31 gave the players fits. Just like a typical U.S. Open setup! Cue Zach Johnson saying, "They've lost the golf course"!
One Philly lineman went as far as to say it was like playing in a "water park" with all the slipping and sliding going on. Not great. To be fair to the USGA, they've struggled with the grass a lot at this stadium (Remember TCU-Michigan?), and it was still a great game (until that last holding call). That being said, Tahoma 31 might be a one-and-done when it comes to the Super Bowl.
The "Streaker": I love everything about this tournament, but can't everyone keep their clothes on? Although, technically, this wasn't a PROPER streaker because he didn't take it all off:
In any event, that guy wouldn't have made it 10 yards running like that on Tahoma 31. Maybe TPC Sawgrass should consider putting down some of that stuff to deter people from doing this.
The "Snail": I'm a fan of Mark Hubbard's sense of humor, but there's no way this unorthodox putting technique is as effective on short putts as he claims:
That being said, it couldn't hurt Jordan Spieth to give it a try after what we saw all week from him at TPC Scottsdale. Yikes.
The PGA Tour heads to Riviera for another designated event, the Genesis Invitational—AKA that one at Riviera, AKA that one hosted by Tiger Woods, and AKA that one that Tiger Woods is actually playing in this week! That's right, folks, the 15-time major champ and two-time defending PGA Tour PIP King makes his first official start since the Open Championship. And he's also playing host at Riviera. Let's hope he doesn't get stuck with all the grilling duties. The dude needs to rest that bad leg.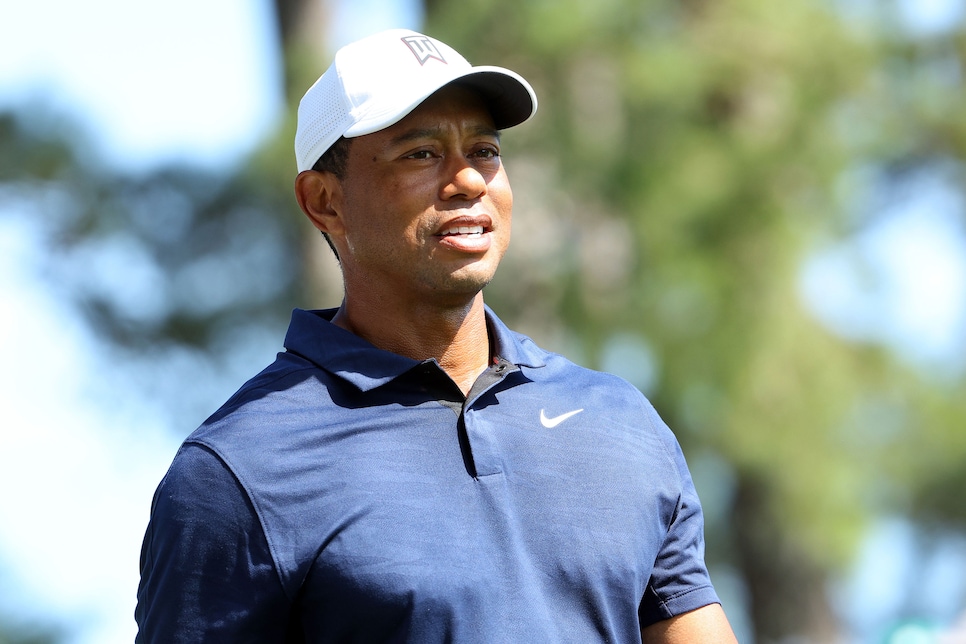 Random tournament fact: The one time Riviera wasn't the tournament venue in the last 40 years is the closest Tiger came to winning, losing in a playoff to Billy Mayfair at Valencia Country Club. As a pro, Woods is 0 for 12 at Riviera. Just a wild stat considering his dominance at virtually every other course he's ever played.
RANDOM PROP BETS OF THE WEEK
—There will be a streaker at Riviera: 100-to-1 odds
—Tiger Woods will win this week: 130-to-1 odds (Actual odds)
—Tiger Woods will win the PIP just for playing this week: LOCK
Kudos to Stephen Ames for winning the PGA Tour Champions Hassan II Golf Trophy by five shots. And to the winner of the Hassan II Golf Trophy goes the Moroccan DAGGER, apparently:
That's a keeper. Just be careful with that thing, Stephen.
CLUB PRO GUY TWEET OF THE WEEK
Glad to see CPG finally hit a bet, and that he won't have to make another "hole-in-one" to pay his bookie. Although, admittedly, I thought my Eagles -1.5 bet was a lock when I saw this before kickoff. Sigh.
Two big Netflix superstars, Joel Dahmen and Geno Bonnalie, along with one big superstar, Shaq: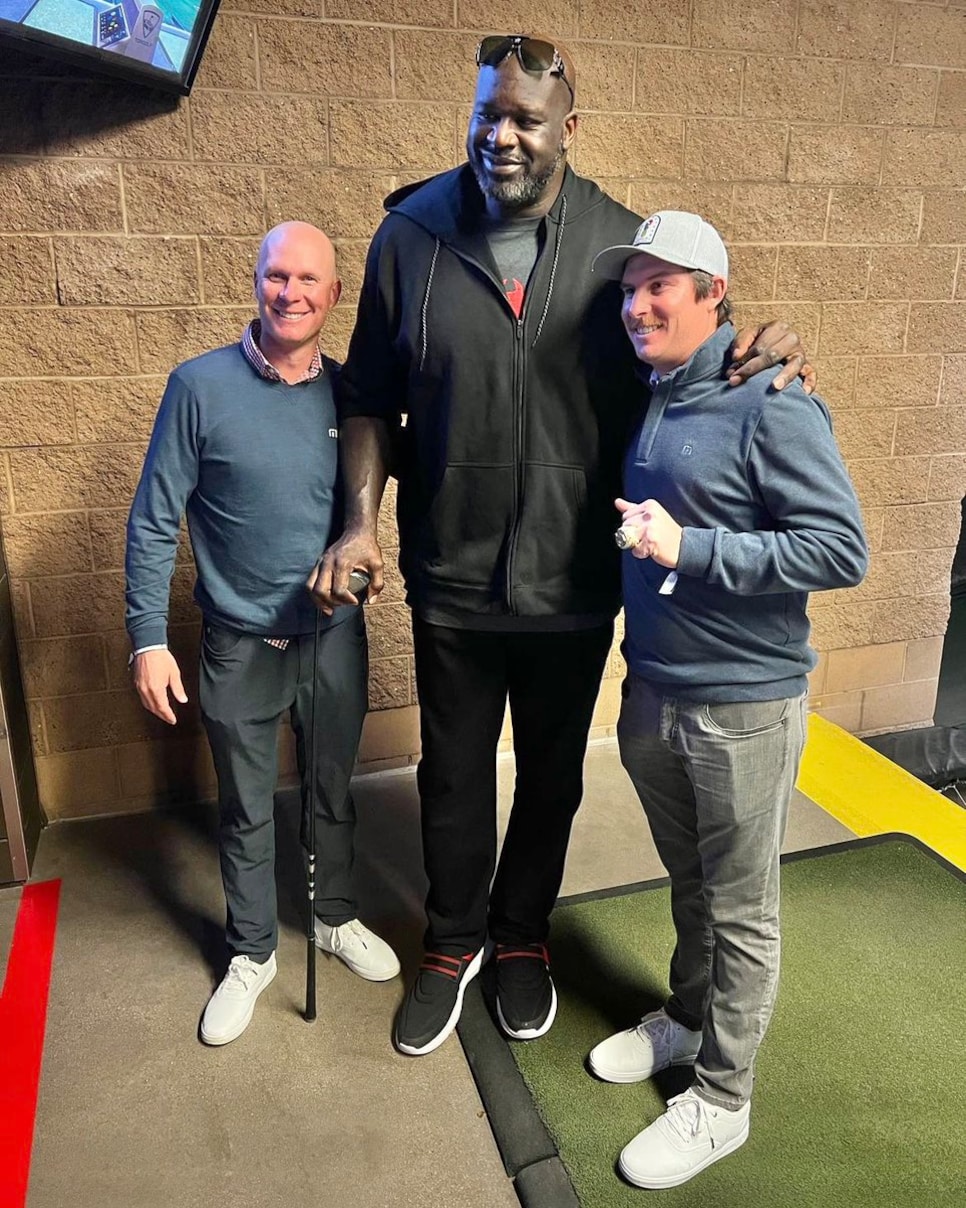 What a photo. And seriously, what an episode of "Full Swing" it is with Joel and Geno. No. 4 is No. 1 in my book, not even close.
PHOTO OF THE WEEK (NON-CELEB DIVISION)
Good lord, that's a lot of golf balls.
This "Full Swing" spoof called "Half Swing" and produced by Conor Moore and NOTFLIX is an absolute masterpiece:
VIRAL VIDEO OF THE WEEK (CELEBRITY GOLFERS DIVISION)
Thanks to some sleuth reporting by our Madeline MacClurg, we got a look at Serena Williams' golf swing:
Not bad—especially since she's using a crosshand grip. The GOAT of women's tennis could have probably had a nice career in golf had Richard Williams chosen that instead. Speaking of which, I still haven't seen the Will Smith role that led to the "Slapgate" at the Oscars. Is it worth it? And is it suitable for Valentine's Day? Let me know, thanks.
THIS WEEK IN PUBLIC DISPLAYS OF AFFECTION
Forget about the Champions Dinner at the Masters or drinking wine from the claret jug, Ryan Palmer tossing out beer money to the fans at TPC Scottsdale is the best tradition of golf:
"I had a trial in New York City and as a result, the way things work out, Phil and I no longer have the relationship we had today. But all of that will be in detail in the book, our relationship, the six-year gambling relationship we had. And the book gives me a chance to set the record straight on what happened in the Southern District of New York." —Billy Walters on his upcoming autobiography that promises "explosive details" regarding Phil Mickelson. Ooo baby. Netflix may have just found the topic of their next golf-related docuseries.
Congrats to Rickie Fowler for making a hole-in-one on TPC Scottsdale's seventh hole on Sunday:
It's good to see him back playing well. And it's a good thing this didn't happen on No. 16 or the place might have burned to the ground. … Congrats to Adam Scott for being elected the new PGA Tour Player Advisory Council chairman. If he gets to wield a gavel with that title, even better. … Dustin Johnson has fallen out of the (gulp) top 50 in the Official World Golf Ranking. But considering he's still in all the majors for another few years and that he made nearly $40 million for working part-time last year, we're guessing he's not too upset about it. … Texas A&M's Jennie Park made 36(!) consecutive pars during a college tournament last week:
Not sure if that's any kind of record, but wow. More like Jennie Par, am I right?
RANDOM QUESTIONS TO PONDER
How much will "Full Swing" help grow golf's popularity?
How much beer money has Ryan Palmer given out through the years?
How long will it take to get these "Cocomelon" songs out of my head?