When Tiger Woods returns to competitive golf this week at the Genesis Invitational, his first official PGA Tour event since the Open Championship in July, he'll be getting reacquainted with a golf course that, paradoxically, is one he deeply cherishes but which chafes him like no other venue on Earth.
Winner of a record-tying 82 PGA Tour titles, including 15 majors, Woods has conquered many of the game's fiercest and most famous layouts. Yet Riviera Country Club in Pacific Palisades, Calif., remains a riddle. The first tour event Woods attended was the Los Angeles Open at Riviera, and the first tour event he ever played (as an amateur) was the 1992 Nissan Open at the famed, rugged George Thomas design.
This week will mark Woods' 15th appearance in the tournament that he now hosts but has yet to win. What a story that would make if the 47-year-old, were to surpass Snead by making his hometown event his 83rd tour win—and in just his fourth official start since he returned to competitive golf after a horrific 2021 auto accident following that year's Genesis Invitational?
Obviously, Woods will have a lot to overcome, and that includes the litany of frustration he has endured at Riviera. Here is a rundown of his record at the tour event in which he has appeared the most times without taking home the trophy.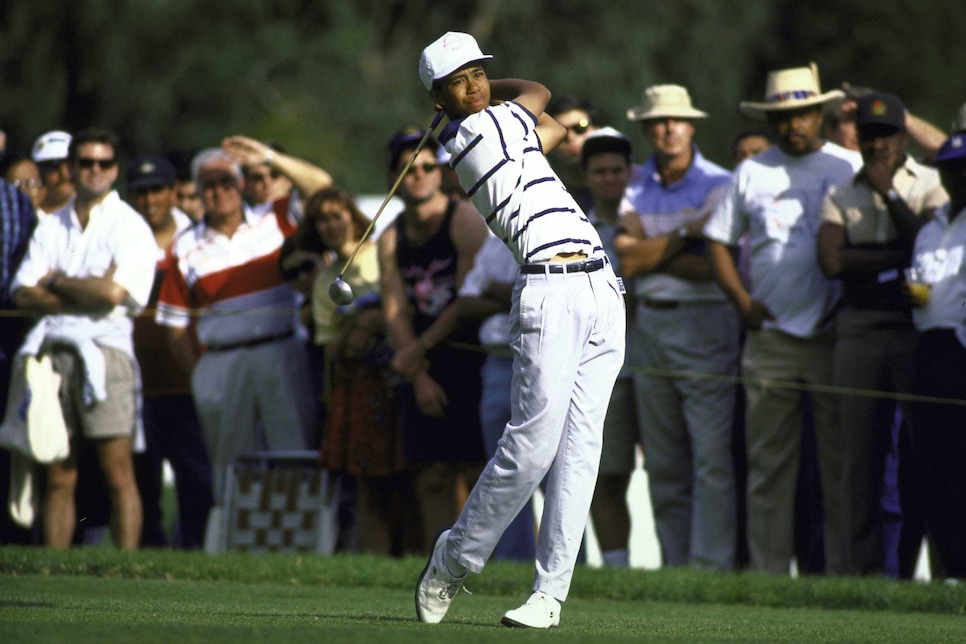 As a wispy 16-year-old high school sophomore, Tiger made his PGA Tour debut on one of the most difficult tournament layouts in America. The reigning U.S. Junior champion acquitted himself well with rounds of 72-75, but his 247 total left him 17 shots behind 36-hole leader Davis Love III, who went on to lose to Fred Couples in a playoff. "It was a learning experience. I learned I wasn't that good," Woods, then the youngest player to compete in a tour event, said after missing the cut by six shots. "I learned I have a long way to go. I'm not competitive at this level. I am at the junior level, but not at the pro level. These guys are so much better. I didn't think I was ready for it, and it showed me that I'm not. I just have to grow up, that's all."
Though a year older, wiser and even a shade taller at 6 feet 1½, Woods struggled, shooting 74-78—152 that left him seven strokes outside the cutline at the weather-plagued event shortened to 54 holes.
In his first appearance at Riviera as a professional and less than two months shy of winning the first of his five Masters titles in dominating fashion, Woods closed with a two-under 69 to post three-under 281 and finish T-20. Reigning Masters champion Nick Faldo won by three shots at 272.
1998: Second (lost in playoff)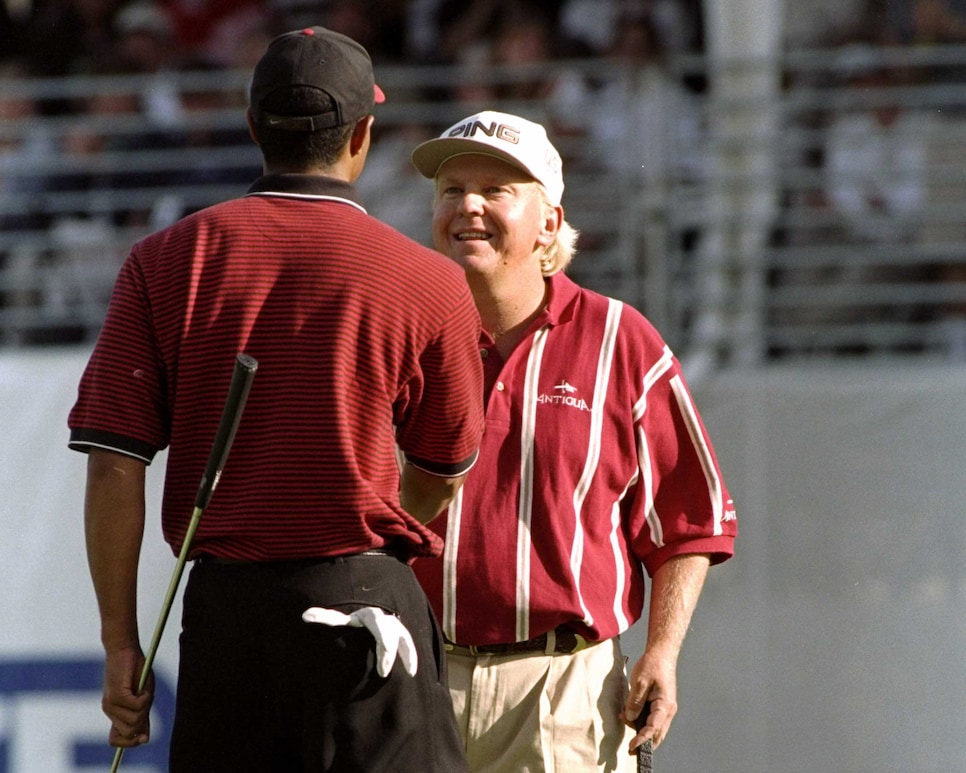 With Riviera hosting the U.S. Senior Open later in the year, the Nissan Open was moved to Valencia Country Club. The change in venue didn't change Woods' fortunes. In the midst of undertaking his first significant swing changes, Woods shot weekend scores of 65-66 to finish in a tie with fellow Californian Billy Mayfair at 12-under 272. Mayfair had to birdie the 72nd hole in regulation and then birdied it again on the first playoff hole after Woods missed the fairway on the par-5 18th and was forced to lay up, eventually settling for par. Twenty years later, Woods admitted that the loss, his only blemish in 12 career playoffs, still bugged him.
Back at Riviera, Woods, coming off a victory at the Buick Invitational at Torrey Pines, suffered undoubtedly his biggest disappointment in the tournament. A bogey-free 65 left Woods two strokes behind Ted Tryba after 54 holes, but he failed to convert on several birdie chances throughout the final round. Needing a birdie on the 18th to tie Ernie Els at 14-under 270, Woods flared his approach right of the green and into a concession stand. He failed to get up and down for par and ended up in a tie for second with Love and Tryba.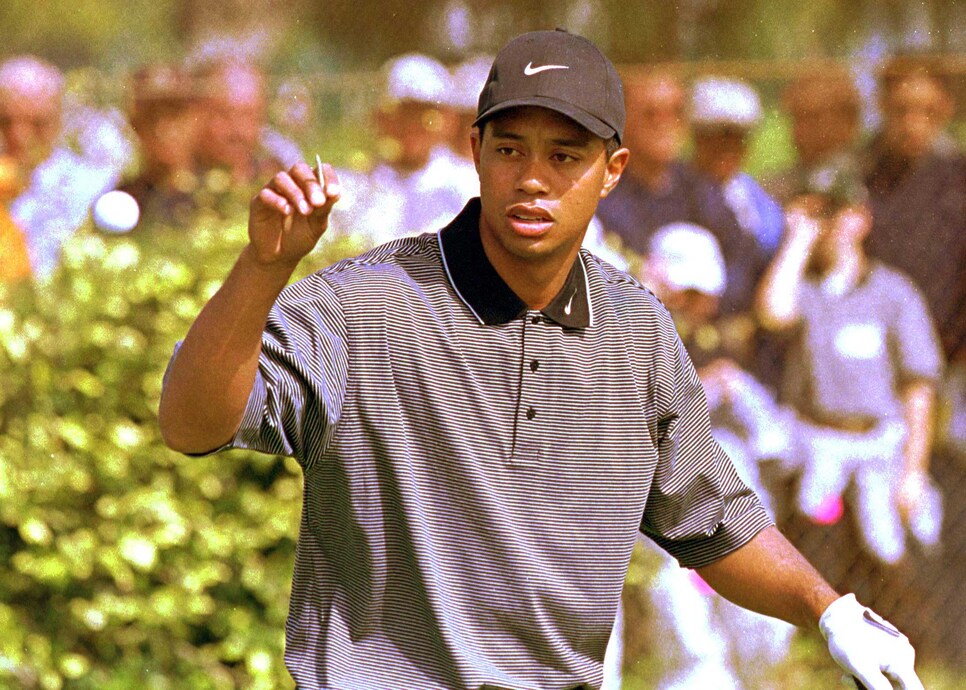 Tiger enjoyed easily the most dominating year of his career, winning nine times, including three majors, in 20 starts, but his T-18 finish at the Nissan Open would be his second-worst of the season (after T-23 at the Advil Western Open). A final-round one-over 72 gave him a five-under 279 total, seven strokes behind Kirk Triplett. Only his four-under 284 at the Masters was a higher score in relation to par that year.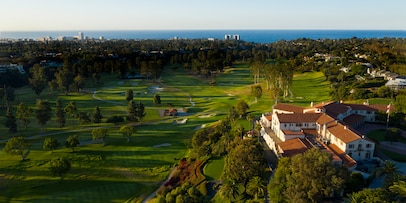 Private
Pacific Palisades, CA
A compact and shrewd design by George C. Thomas Jr. and associate William P. Bell, Riviera features everything from a long Redan par 3 to a bunker in the middle of a green to an alternate-fairway par 4. With its 18th green at the base of a natural amphitheater, and its primary rough consisting of club-grabbing Kikuyu, Riviera seems tailor-made as a tournament venue. It hosted a PGA Championship in 1995, a U.S. Senior Open in 1998 and a U.S. Amateur in 2017, but no U.S. Open since 1948. With the U.S. Open awarded to nearby LA Country Club for 2023, it doesn't appear Riviera will get another Open (though it will host the 2028 Olympics). But it's the site of an annual PGA Tour event, which is even better exposure to the golf world.
View Course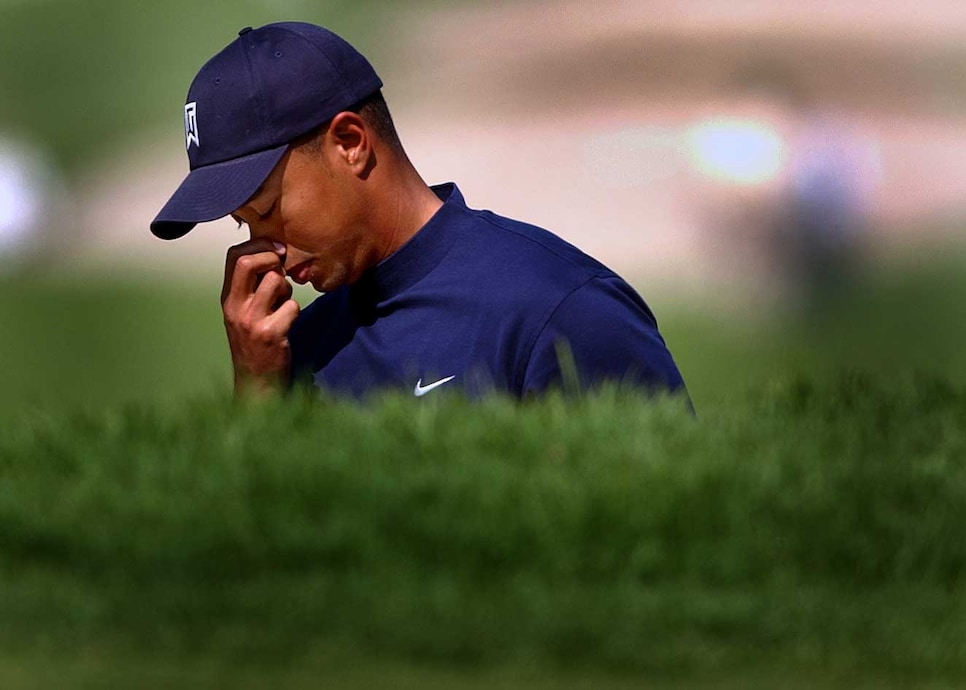 After missing the 2002 edition as he recovered from the flu, Tiger couldn't shake his Riviera cold. A closing 65 was not nearly enough to catch the leaders, and he ended up T-5 at six-under 278, three shots out of a playoff between Charles Howell III and eventual champion Mike Weir.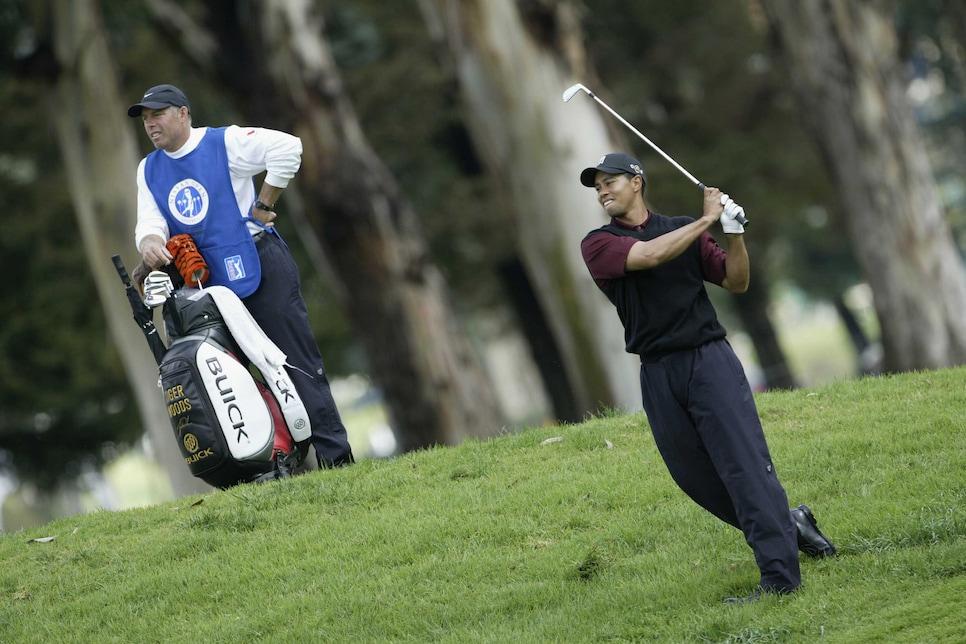 For the second year in a row, Woods opened with a one-over 72 and spent the rest of the week trying to catch up. An impressive Sunday 64, his lowest round at Riviera, was little consolation as he jumped up to T-7. Neither was his 10-under 274 total, the second-best of his career in the event.
A first-round 67, the best opening of his career at Riviera, left Woods two shots behind Brian Davis. Would this be the year? Nope. Riviera got deluged by rain, and Woods and the rest of the field didn't complete the second-round until Sunday. He double-bogeyed his final hole for a 70 and dropped eight spots to T-13 and left without saying a word. Adam Scott won the 36-hole unofficial tournament.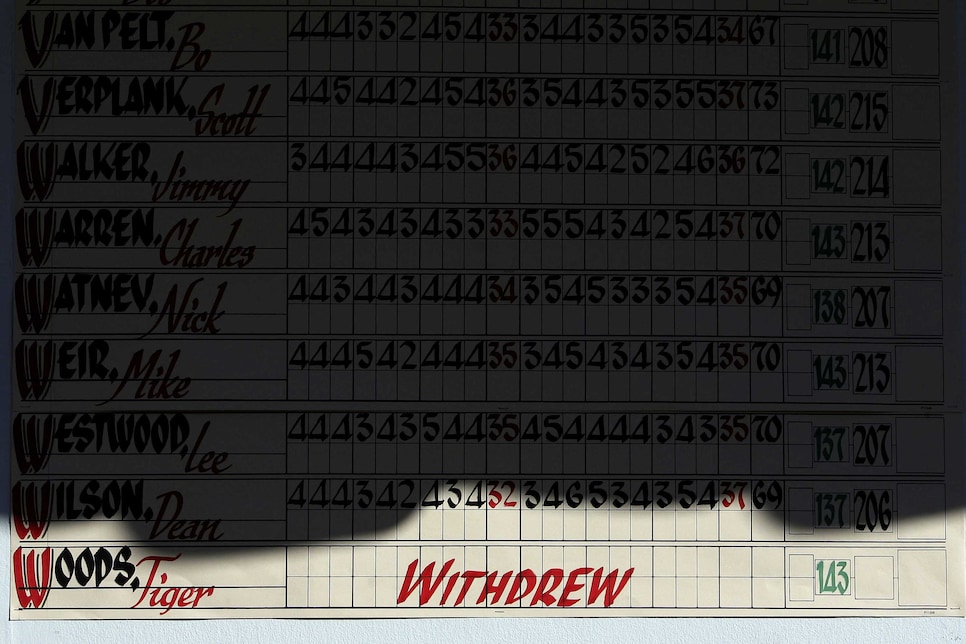 Winner in his previous two starts, Woods showed up at Riviera battling the flu, and it got the best of him eventually, forcing him to withdraw for the first time in his career on Saturday morning after he bogeyed his final two holes in the rain on Friday and made the cut on the number at one-over 143.
After missing most of the previous two years because of a back injury that eventually required fusion surgery in 2017, Woods was "fired up" to return to Riviera, where he now was serving as tournament host of what had become the Genesis Open. However, the story of unrequited love continued. Woods shot 72-76—148 and missed the cut for the first time in nine appearances. "I've just got to play more tournaments," he said after just his third official tour event since 2015.
A third-round 65 that he had to complete on Sunday morning gave him a slight ray of hope, but Woods had to settle for T-15 when he ran out of gas. His closing 72 left him at six-under 278 and well behind Justin Thomas and J.B. Holmes, the latter winning in a playoff.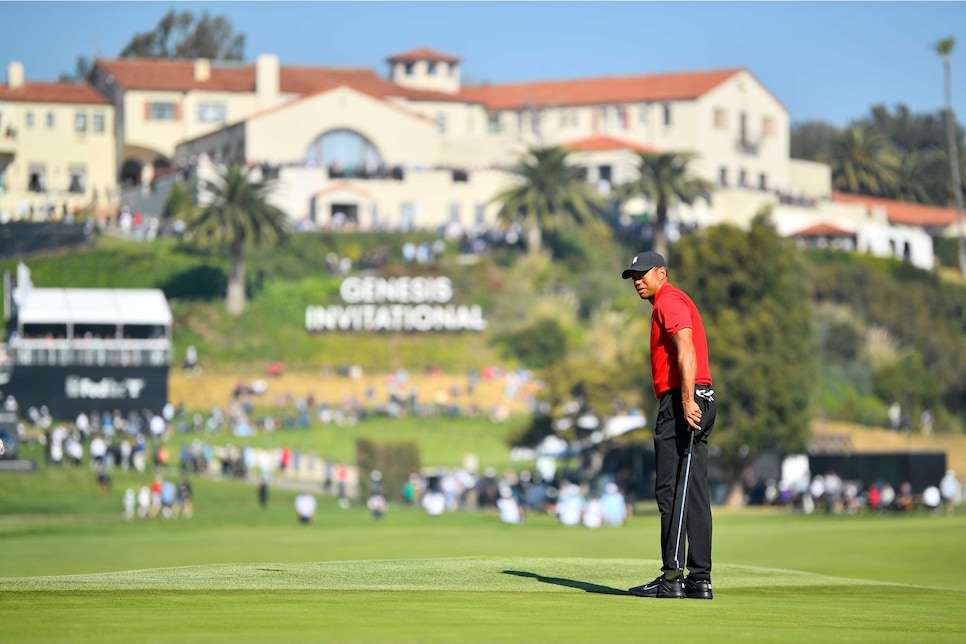 Woods managed to keep his sense of humor after weekend scores of 76-77 dropped him to last place among the 68 players who made the cut. "Good news, I hit every ball forward, not backwards, some sideways," he said after finishing at 11-over 295, his first 72-hole aggregate score over par at Riviera.