Pacific Palisades, CA • Private
1 / 8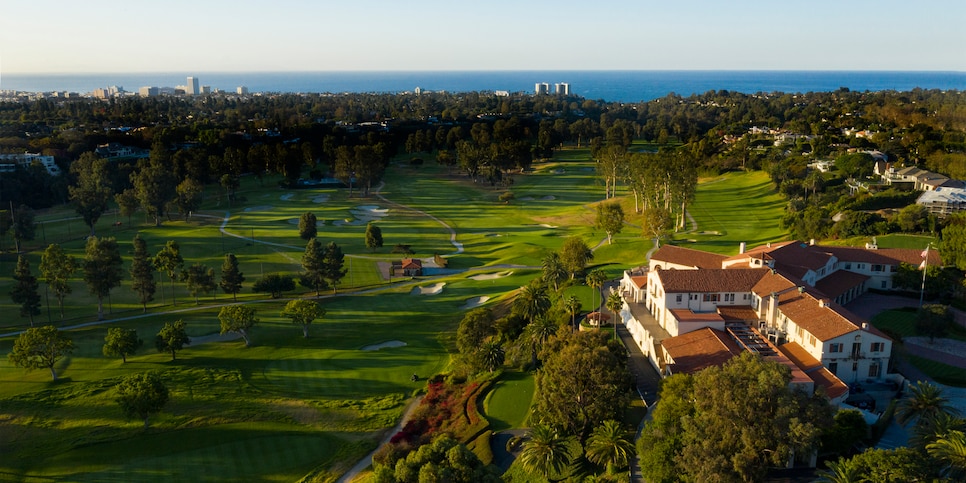 2 / 8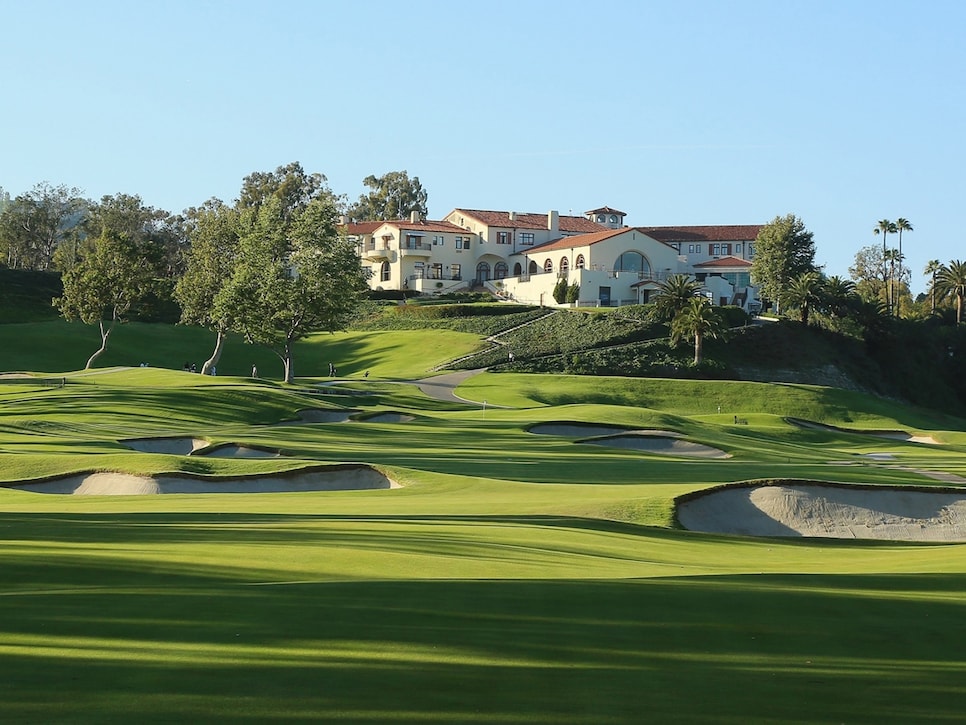 Taku Miyamoto/Courtesy of Riviera Golf and Tennis, Inc.
3 / 8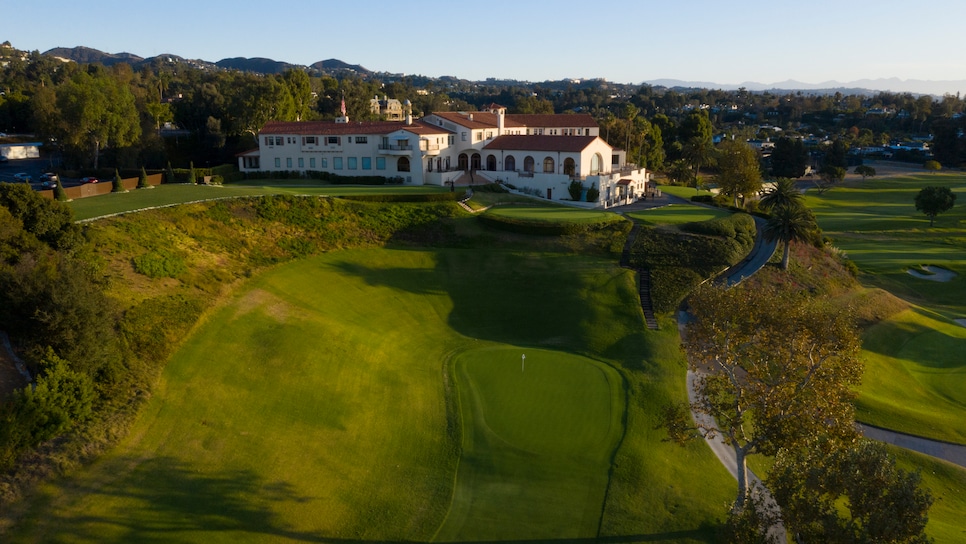 4 / 8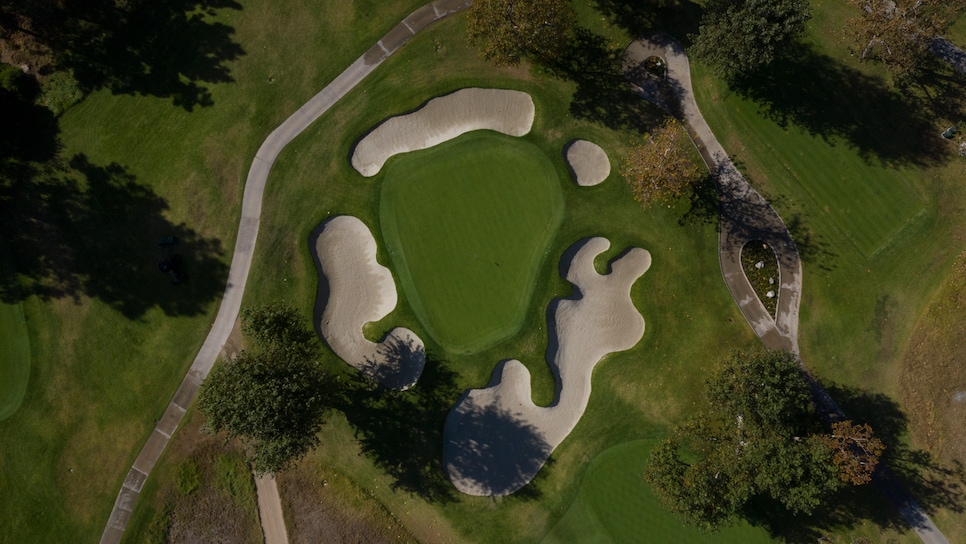 5 / 8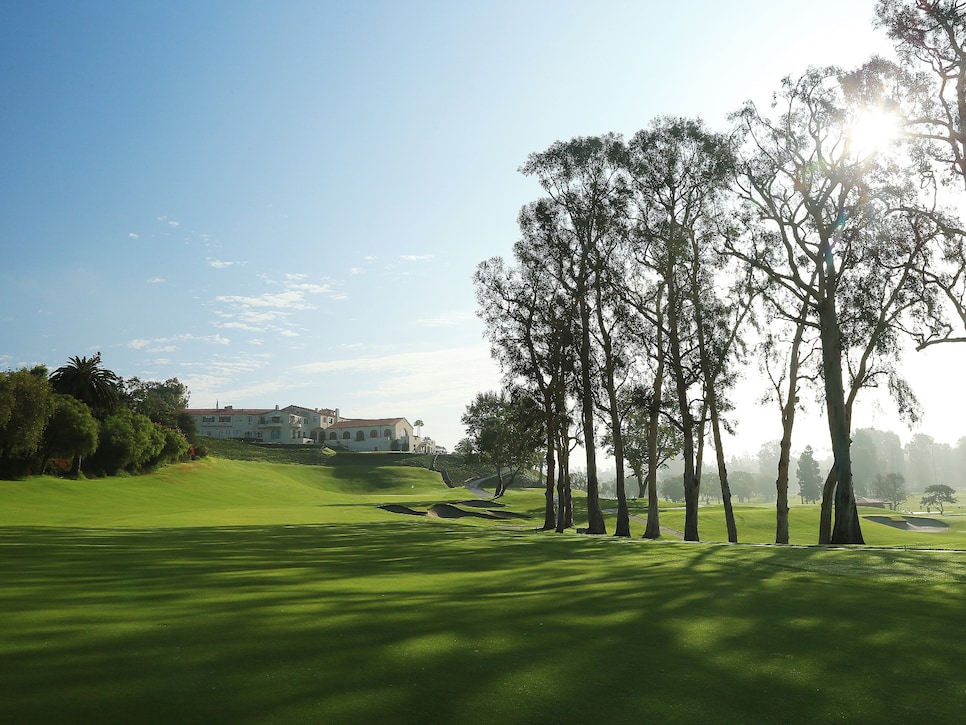 Taku Miyamoto/Courtesy of Riviera Golf and Tennis, Inc.
6 / 8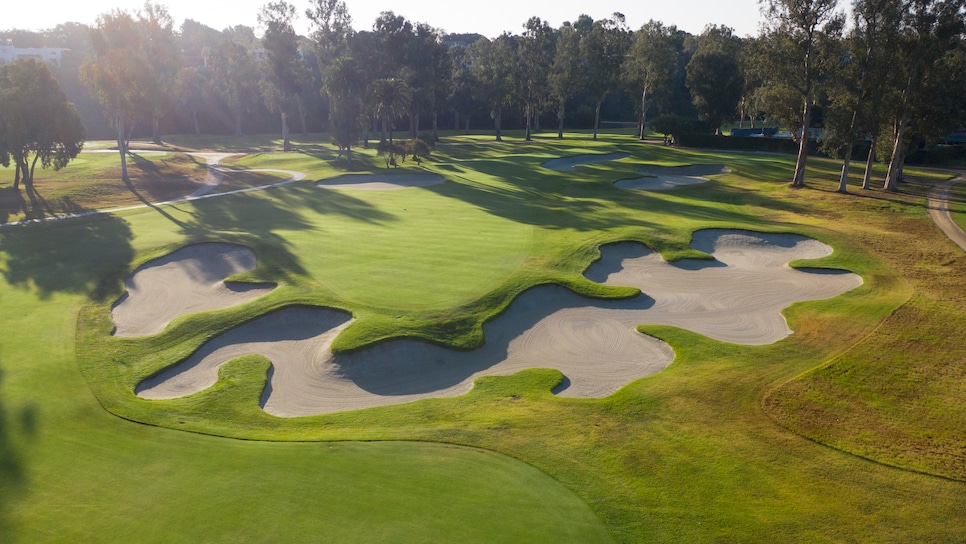 7 / 8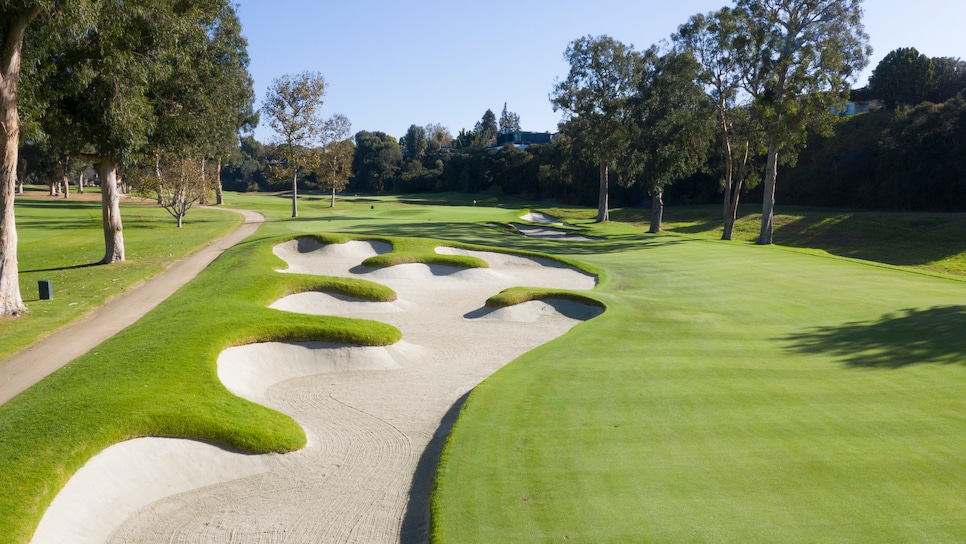 8 / 8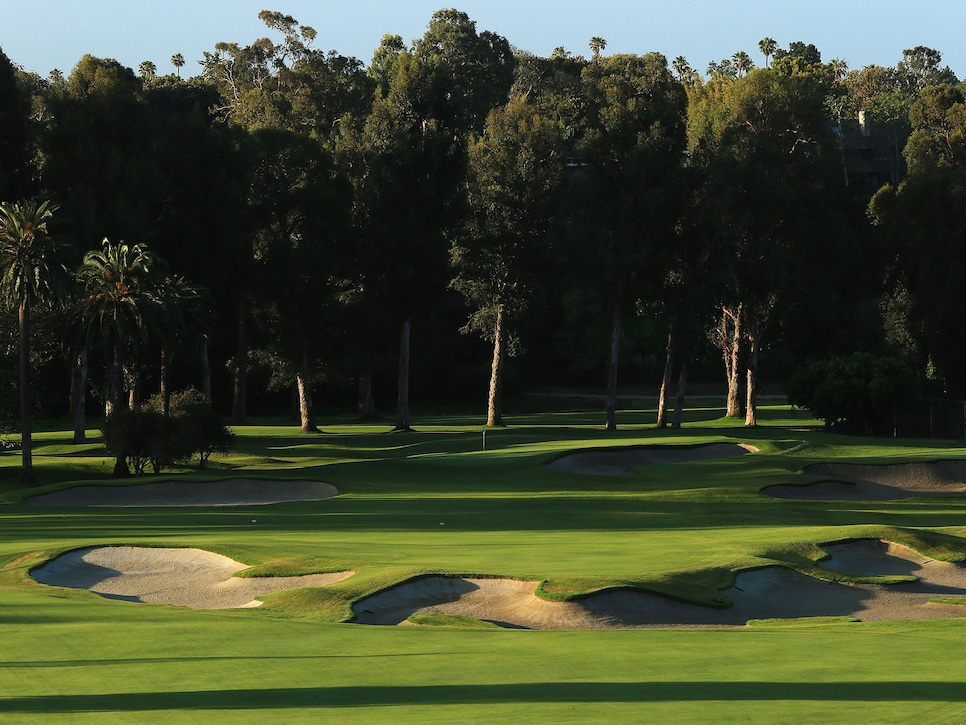 Taku Miyamoto/Courtesy of Riviera Golf and Tennis, Inc.
Overview
A compact and shrewd design by George C. Thomas Jr. and associate William P. Bell, Riviera features everything from a long Redan par 3 to a bunker in the middle of a green to an alternate-fairway par 4. With its 18th green at the base of a natural amphitheater, and its primary rough consisting of club-grabbing Kikuyu, Riviera seems tailor-made as a tournament venue. It hosted a PGA Championship in 1995, a U.S. Senior Open in 1998 and a U.S. Amateur in 2017, but no U.S. Open since 1948. Riviera was recently awarded the 2031 U.S. Open, and it will also host the 2028 Olympics. But it's the site of an annual PGA Tour event, which is even better exposure to the golf world.
About
Designer
George C. Thomas, Jr./William P. Bell, ASGCA
Awards
100 Greatest: Ranked since 1969.
2023-'24 ranking: 18th (highest ranking, along with 1985-'86).
Previous ranking: 22nd.
Best in State: Ranked third, 2011-'16. Ranked fourth, 2017-'24. Ranked inside the top 5, 1977-'85, 1995, 1999-2003, 2009-'10. Ranked inside the top 10, 1987-'93, 1997, 2005-'07.
2023-'24 ranking: Fourth.
Watch our exclusive drone tour
Panelists
Ratings from our panel of 1,900 course-ranking panelists
100 GREATEST/BEST IN STATE SCORES
Reviews
1 / 13
Review
"Riviera is just outstanding these days. Green speeds are up and since the USGA recovered some spectacular George Thomas shaping before the U.S. Amateur that was hidden under rough, the use of side boards and punch bowls and just general slopes on or around each putting green has made the shot options really jump up for me. Examples: The 2nd green is very narrow for a long par 4, except Thomas had given the player the hill right of the green to bound the ball to the putting surface if you played a well executed draw. The PGA Tour grew rough all over that hillside, rendering it inert, but the USGA mowed the slope and reactivated that possibility, which is a wonderful change just through mowing. Same behind the back of the 6th green, wonderful slope activation of shaping that was put there by Thomas, and is now fully activated with green speeds of 11, as well as tightly mowed collars in strategic spots. Wonderful mowing left of 7 and 8 greens doing the same thing. Need to add that to the back of the "Alps" right of 5 green and left of 18 a bit? The latter will never happen, even though that was Thomas' intent. The slopes on the greens are really electric with the fast speeds, which are only able to be there with the top notch agronomy of Marshall Dick. He has really mastered the sub-surface moisture management of the Poa Annua greens, which is giving Riviera maybe the best Poa greens in California. Yep, better than Cypress Point right now. Wow. Might be time for a slight tune up here as Riviera prepares to be the Olympic site in 2028. Who should do that work? Jackson/Kahn did work here when in the Fazio org, maybe them? Their green complex work is just so creative. It is so clear that 4 of the Best holes in the world are here - 4, 6(Best shaped green in the world, given all of the options?), 10 and 18. Not many other courses can say that. "
Read More
2022
2 / 13
Review
"Advanced players will appreciate that good shots/strategic plays are rewarded. The course does not favor a draw or fade player, and higher handicap golfers will appreciate that the majority of greens and its surroundings allow for run-up types of shots. "
Read More
2022
3 / 13
Review
"I was shocked at how simple the downhill par 5 1st hole "should" play until I reached the green. The large green has enough slope to make 2 putting almost impossible if you are not in the correct position in relation to the flag stick. I watched my partner hit the green in two and have to make a 25-footer for BOGEY. "
Read More
2022
4 / 13
Review
"Best collection of par 3's I have seen. Green-side bunkering ads a great deal to the overall look of the hole."
Read More
2022
5 / 13
Review
"Riviera was a bit of a conundrum for me. There were several holes (1 and 2) that could be found on any local muni and others, like 4, 5, and 18 that are some of the best golf holes I've ever seen. The biggest difficulty is in the bunkering, the barranca playing through several holes, and its length (made longer by a cold heavy air that seemed to knock 5-10% off my shots), yet if played at the right distance and placing shots safely away from aggressive lines could be a fun and playable course for mid to high handicappers. And while I've heard plenty about the turf, the kikuyu fairways played beautifully and the poa annua greens rolled true. Overall I'd say its a bit overrated in our rankings - I'd put it in the 50s in my experience, but it would be a place I could play everyday"
Read More
2021
6 / 13
Review
"Riviera is special. There is so much character on each and every hole. The par 3 and 4s are all very challenging here and so many ways to make bogeys, and there is a reason why the PGA Tour professionals do not take it deep here. Even while the course is hard, it still is incredibly enjoyable, especially as you look at each hole individually. There are unique holes such as the par 3 - 6th with the bunker in the middle of the green and then the short par 4 - 10th is likely the most favorable short par 4 in golf. Setting up to a 300 yard hole, one would think it is an easy hole, but it could be one of the more difficult holes on the course. A person can easily end up with birdie, but also easily walk away with a double bogey, which is a brilliant design. The fairways are exceptionally manicured, are firm rolling, and pristinely cut. The greens have many subtle breaks and provide any golfer with a significant challenge, and if you don't hit the green, you have to deal with the kikuya rough which makes chipping and pitching much more difficult. Lastly, the views on the course really are great, considering there aren't scenic backdrops such as the Pacific Ocean or lush trees. The view of the clubhouse walking up the 18th hole is incredible. Such an exceptional experience playing here and can see why it is ranked as one of the best courses in the country."
Read More
2022
7 / 13
Review
"Beautiful George C. Thomas design. Always in pristine condition."
Read More
2022
8 / 13
Review
"Tremendous routing. Wonderful golf. Some iconic shots like #1 tee, #6 tee, #18 tee and approach, but the entire tenth hole is the class of the course."
Read More
2018
9 / 13
Review
"So many iconic holes and sights. Fantastic tournament and major championship history. Love the greens complexes. The kikuyu grass requires some getting used to as there is virtually no forward bounce, even on low trajectory shots. It you're short of the green, you are going to stay short of the green. However, once that puzzle is solved, good scoring is possible."
Read More
2018
10 / 13
Review
"While it's outstanding--and it really is--it would be even better with a restoration that brings the barranca back as a staple of the property. Also, it feels a bit corporate as compared to LACC across town."
Read More
2018
11 / 13
Review
"What can you say about Riviera that has not been said? It has a magnificent clubhouse in a stunning setting. It has a wonderful selection of par threes and in ten one of the most iconic short par fours in the world. If you are invciotied, go."
Read More
2018
12 / 13
Review
"Classic tree lined California layout with number of unique holes. Lots of history. One of the very best in Southern CA."
Read More
2018
13 / 13
Review
"Between an incredible variety of holes and the special ambiance of its Santa Monica canyon location, this is certainly one of my favorite courses on the planet."
Read More
2018
Readers
Collection of reviews from our readers
There are no reader ratings yet
Reviews
There are no readers reviews yet. Be the first to write a review.