Eye on Design
How barrancas make golf in Los Angeles unique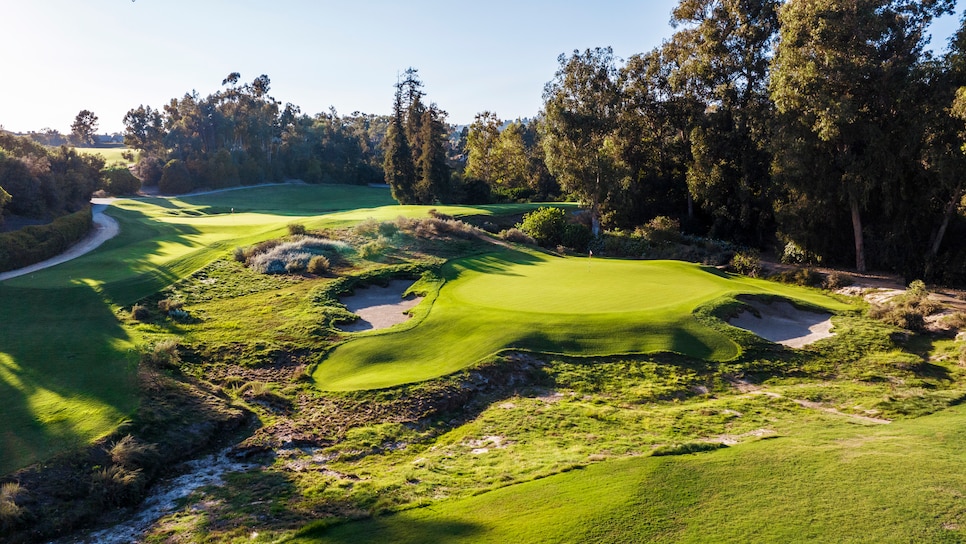 The par-3 fourth at Los Angeles Country Club's North Course.
The opening nine holes at The Los Angeles Country Club's North Course possess a heart of darkness edge. Playing them feels like an unpredictable journey upriver into strange, broken land. In a sense it is. After moving to a basin at the second hole, the routing turns north into a canyon and climbs over abrupt, intersecting terrain toward a high point at the fifth green before reversing back downstream.
The "stream" in question is a network of barrancas that border fairways and cross greens. If you appreciate natural-looking hazards, these barrancas—normally dry riverbeds that would be brooks and streams in less arid parts of the country—are obstacles that must be hit over and around and otherwise avoided. Restored to their native look over the last decade by the club and architects Gil Hanse and Jim Wagner, they give the North Course one of its most distinguishing attributes.
Elemental as they are to the North Course's character, the barrancas are not unique to Los Angeles Country Club. Long before golf came to Southern California, barrancas creased the landscape and acted as the primary conduits for channeling water toward larger outlets. When golf was introduced in the 1910s and 20s, architects such as George Thomas, whose work at LACC, Riviera and Bel-Air endures, incorporated them into their designs for drainage and as strategic hazards. As the city grew and its hardscapes expanded, most barrancas disappeared under concrete and asphalt.
Except on golf courses, where they remain a defining feature of Los Angeles golf.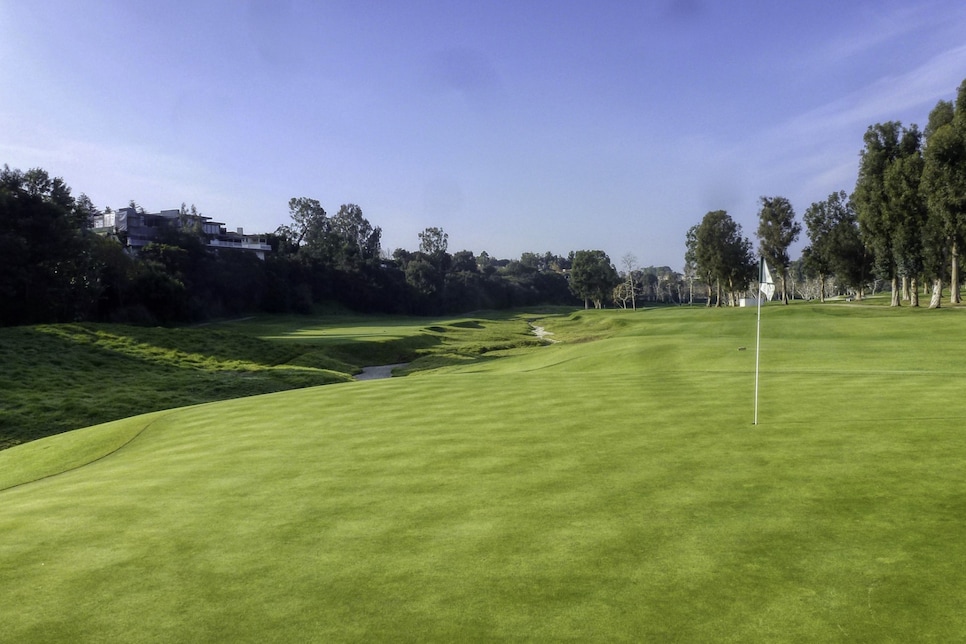 A wide barranca splits the fairways of Riviera's par-4 eighth hole.
Derek Duncan
Barrancas exist in all shapes and sizes, and on golf courses they must be cared for the same as other features. If not tended to, different varieties of native and non-native flora, including creeping golf course grasses, might find habitat and alter the complexion.
Each current architect, club and superintendent team treat them differently depending on the topography, maintenance budget and aesthetic desire, and their size and appearances can change form from one generation to the next. Los Angeles Country Club, during the 2010 restoration, opted to emphasize their wild and haphazard sandy look. At other properties they've been grassed over for ease of maintenance.
The way barrancas are presented from one course to the next creates an alluring texture to Los Angeles golf. Here's a look at some of the city's most distinctive hazards. [Read this classic Golf Digest story for more on the character and memberships of each of Los Angeles' famed private clubs.]
LOS ANGELES COUNTRY CLUB, NORTH COURSE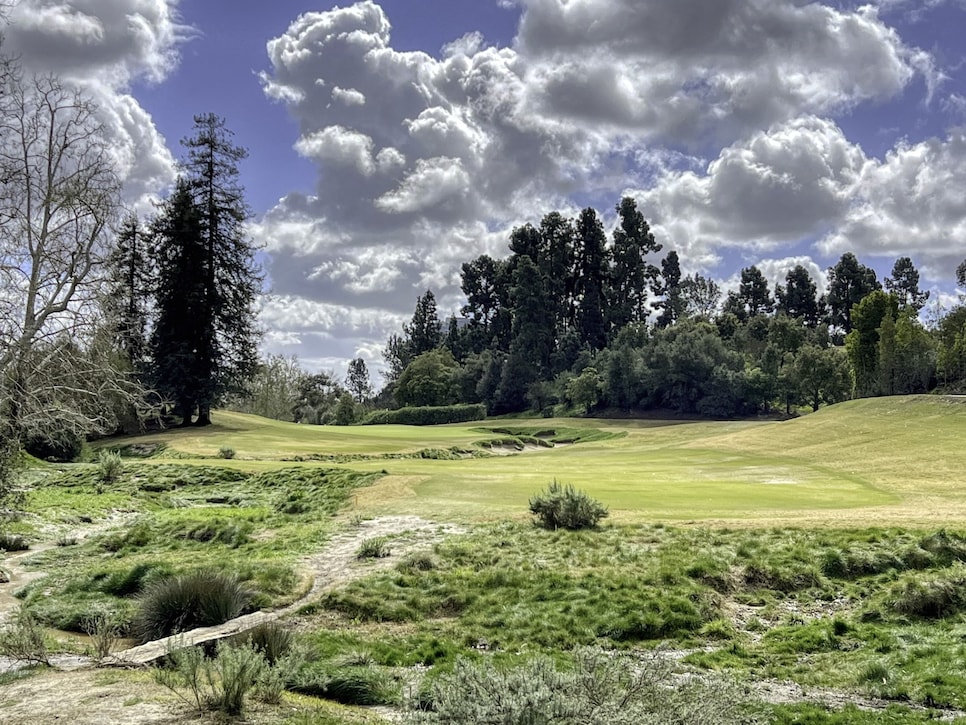 Los Angeles Country Club's par-3 seventh (North Course).
Derek Duncan
Prior to the Hanse/Wagner renovation, the North Course's barrancas had been left to the advances of Bermuda turf. They were mostly grassed over and monochromatic in color, and lacking the visual richness they now possess.
This rehabilitated look, while natural and appealing (and providing a range of unpredictable recovery options when hit into), requires a high degree of gardening to prevent them from succumbing to too much nature and growth.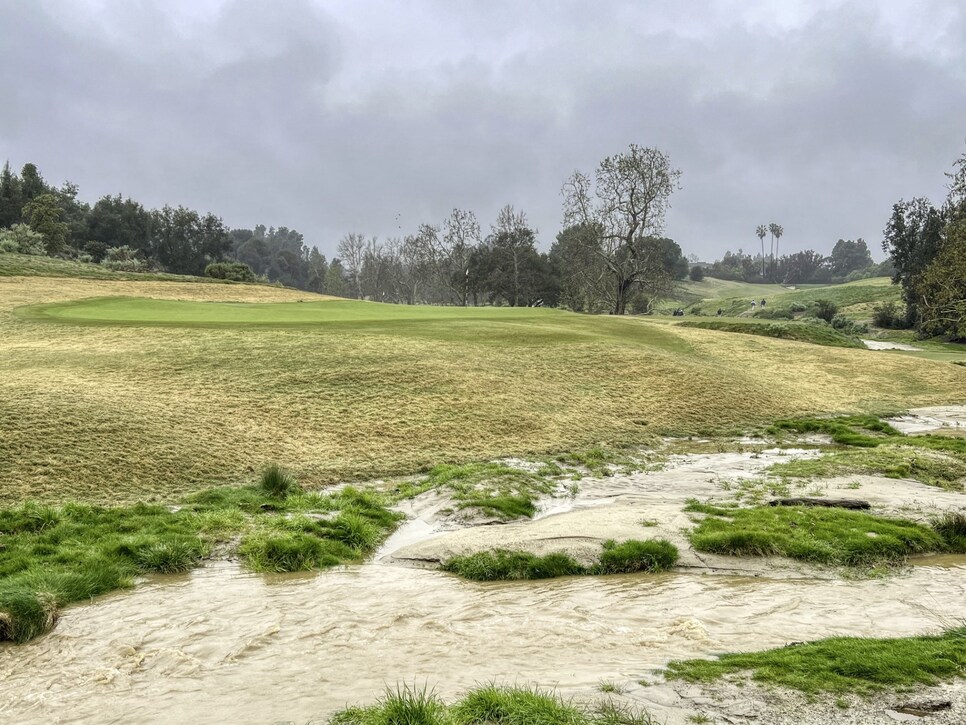 Los Angeles Country Club's par-4 second (North Course).
Derek Duncan
This photo of the second green (above), taken in February of 2023 amid record amounts of rainfall, show why barrancas exist in the first place.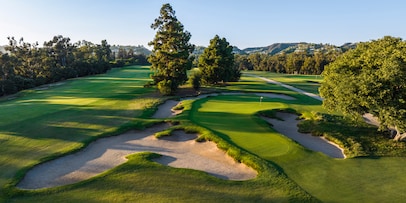 It's on the edge of Tinsel Town, but the architecture of the North Course at Los Angeles Country Club has been solid gold ever since its 2010 restoration by architect Gil Hanse, his associate Jim Wagner and their colleague Geoff Shackelford. It matters not that Hanse's team didn't replicate the bunkering style of original architect George C. Thomas, but rather the more visually exciting style of Thomas' associate, William P. Bell. The first nine plays rustically up and down a shallow canyon with holes switching back and forth across a dry barranca, and the second nine loops across a more spacious upland section with one par 3 (the 11th) that can stretch to nearly 300 yards and another (the 15th) that often plays just 90 yards. The hole strategies reinstituted by Hanse will play sensationally when LACC's North course hosts the 2023 U.S. Open.
Explore our full review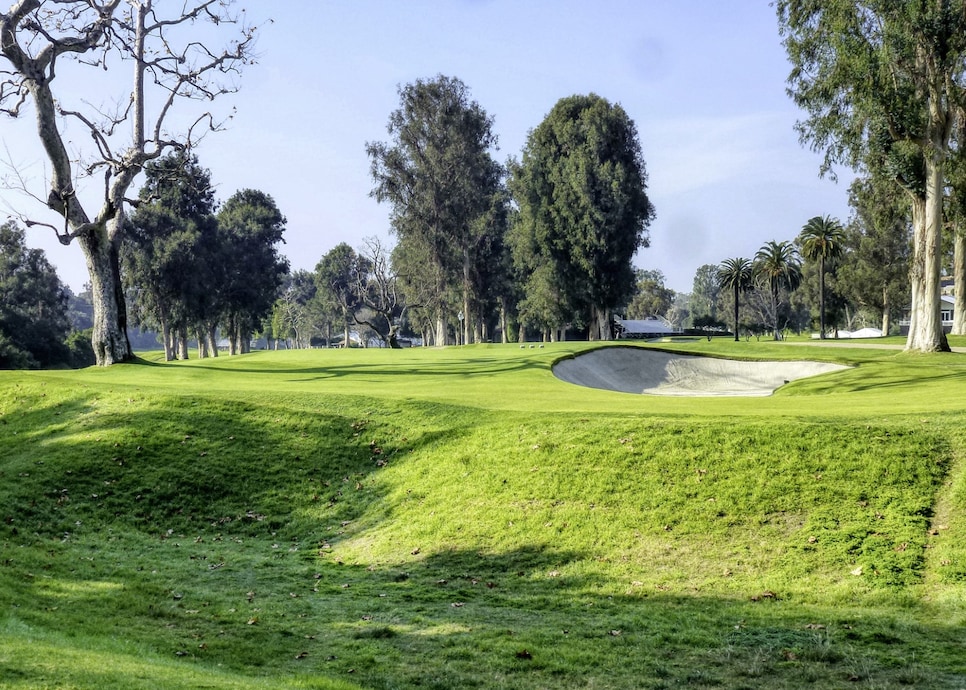 Televised each year during the Genesis Invitational, Riviera's barrancas are the most well known in golf. They are large and run along the eastern and southeastern parts of the course and can impact play on seven holes, bisecting fairways or fronting greens like at the par-4 12th, pictured above.
Once sandy and unkempt like Los Angeles Country Club, they are now primarily grassed with kikuyu and formalized the way much of the architecture has become, as seen below at the par-4 seventh.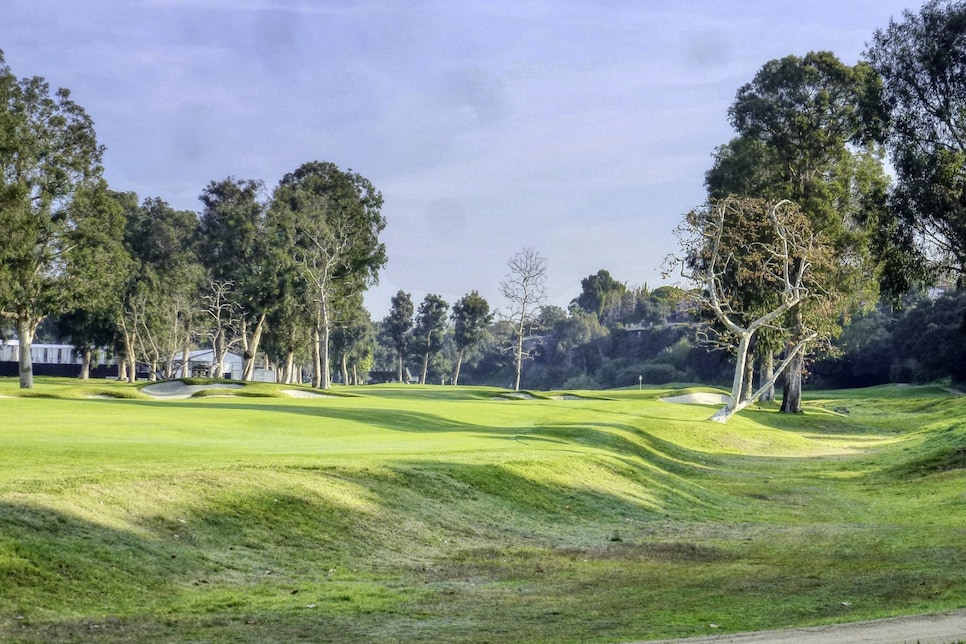 The par-4 seventh at Riviera.
Derek Duncan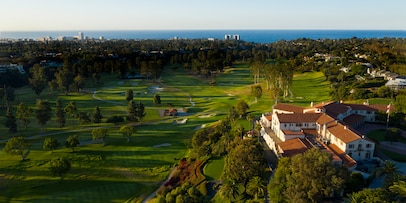 Private
Pacific Palisades, CA
A compact and shrewd design by George C. Thomas Jr. and associate William P. Bell, Riviera features everything from a long Redan par 3 to a bunker in the middle of a green to an alternate-fairway par 4. With its 18th green at the base of a natural amphitheater, and its primary rough consisting of club-grabbing Kikuyu, Riviera seems tailor-made as a tournament venue. It hosted a PGA Championship in 1995, a U.S. Senior Open in 1998 and a U.S. Amateur in 2017, but no U.S. Open since 1948. Riviera was recently awarded the 2031 U.S. Open, and it will also host the 2028 Olympics. But it's the site of an annual PGA Tour event, which is even better exposure to the golf world.
Explore our full review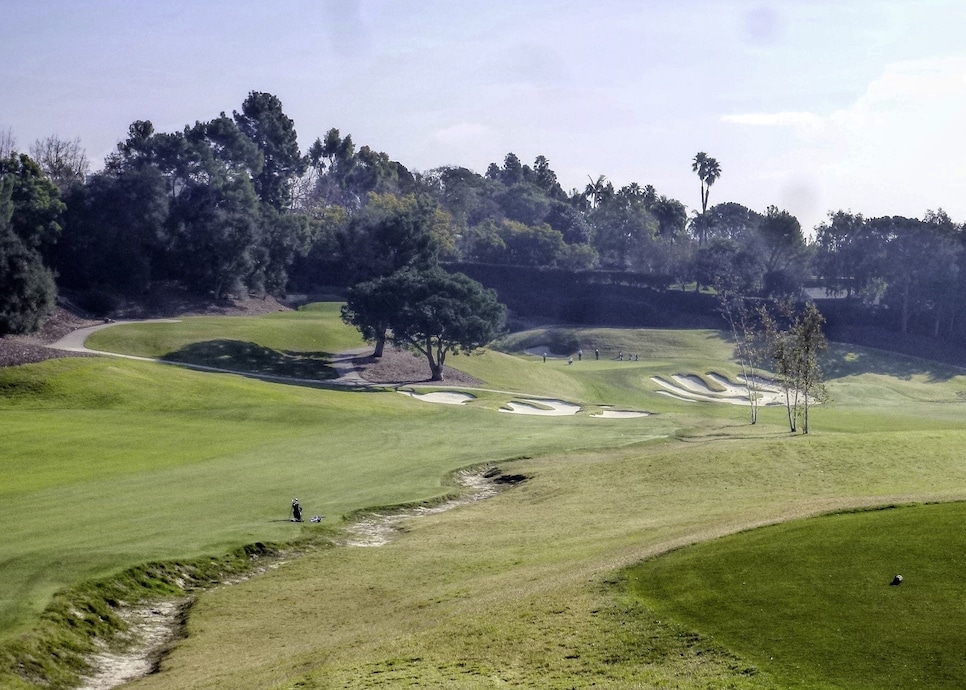 Bel-Air's sixth and seventh holes.
Derek Duncan
Bel-Air's barrancas—primarily those running the length of the parallel first, ninth and 18th holes, as well as between the sixth and seventh—used to be cluttered with trees. Those were removed during a 2018 renovation by Tom Doak and his team at Renaissance Golf.
Smaller and less a focal point than those at Riviera and Los Angeles Country Club, the barrancas have now been rehabilitated as hazards with sand floors and mottled grass banks that offer reasonable opportunity for recovery.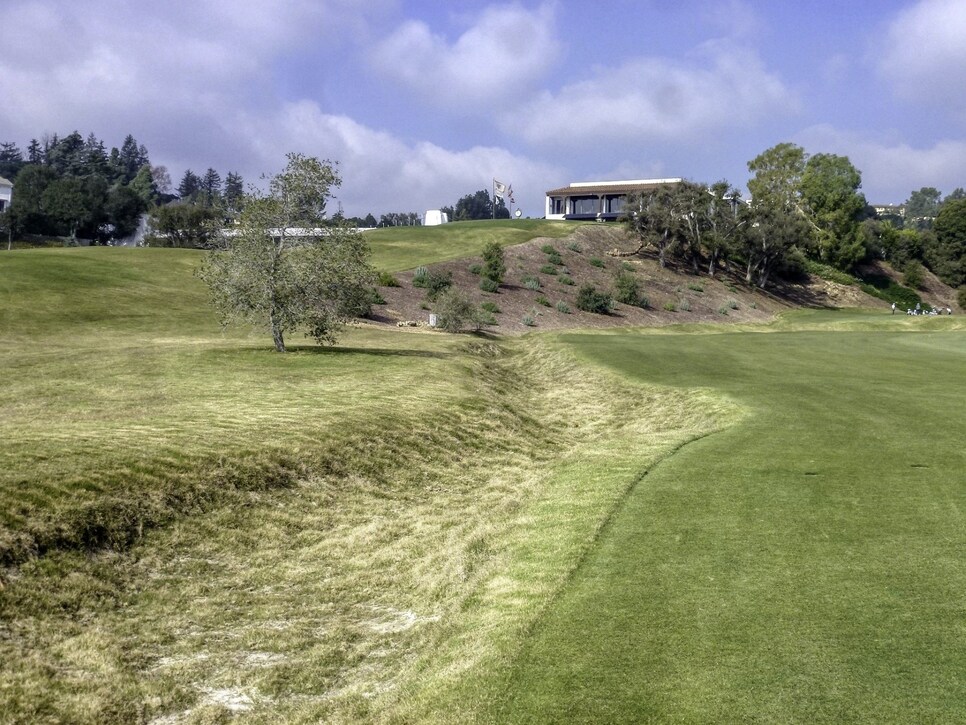 The barranca at Bel-Air's ninth.
Derek Duncan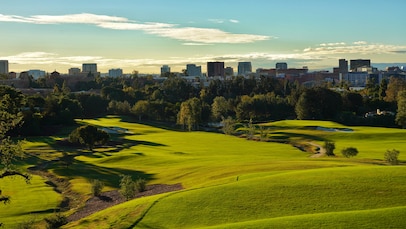 Completing a George C. Thomas hat trick of designs (the others being No. 16 Los Angeles C.C. (North) and No. 18 Riviera) is Bel-Air C.C., a charming throwback design that winds through mansion-dotted canyons of Los Angeles, the topography so steep that golfers are guided from hole to hole via a tunnel, an elevator and the city's most famous suspension bridge, which spans a gulch on the par-3 10th and serves as a dramatic backdrop for the 18th green. Bel-Air's design had been altered over decades by, among others, Dick Wilson, George Fazio, Robert Trent Jones Jr. and Tom Fazio. But in 2018 Tom Doak erased every bit of their work, removing most of the phony water hazards and faithfully recapturing Thomas's splashy signature bunkering. To complete a round amidst these Hollywood hills, you'll definitely encounter a Hollywood star. Her name is Bel-Air.
Explore our full review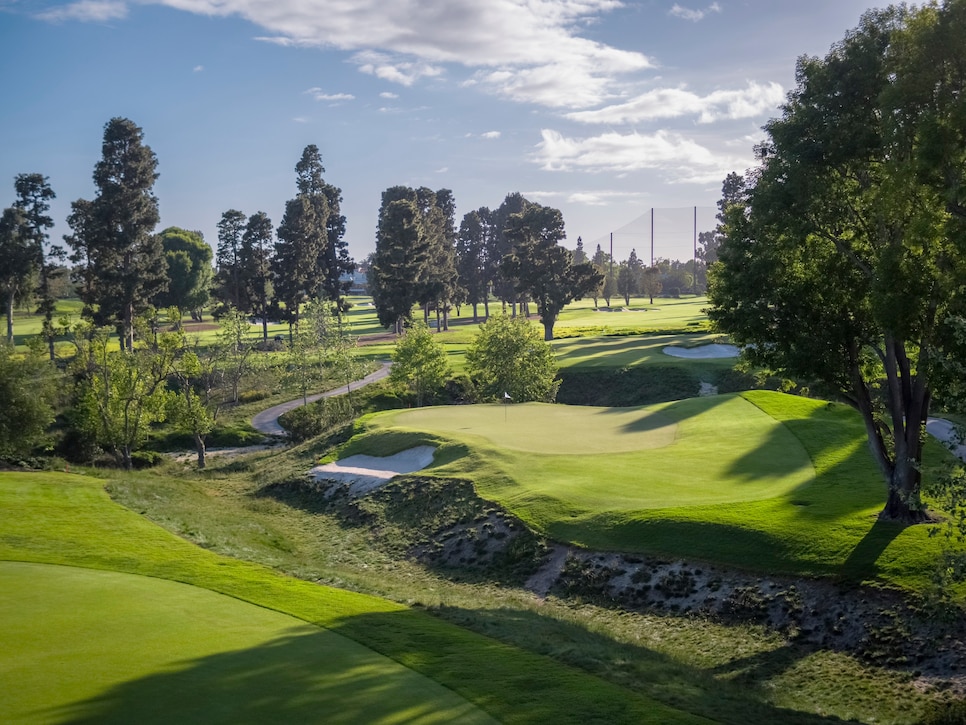 The deep barranca front the 16th and 17th greens at Brentwood.
Evan Schiller
A large, impressive barranca bisects Brentwood Country Club, a vastly underrated design less than a mile from Riviera that architect Todd Eckenrode renovated in 2014. Max Behr remodeled the existing course in the 1920s and made the barranca an assertive hazard, crossing it in front of six greens, including the par-4 16th, above, forcing players to hit do-or-die aerial approaches over it.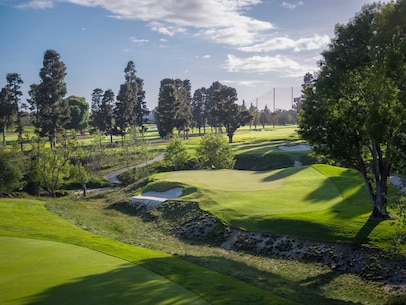 Often overshadowed by its more famous neighbors, Brentwood Country Club boasts dynamic green complexes with firm conditions. The layout features width off the tee, providing its defense in the form of unique features such as deep barrancas and difficult green complexes. With a late afternoon wind and the marine layer, Brentwood provides a fair and fun challenge from the back tees.
View Course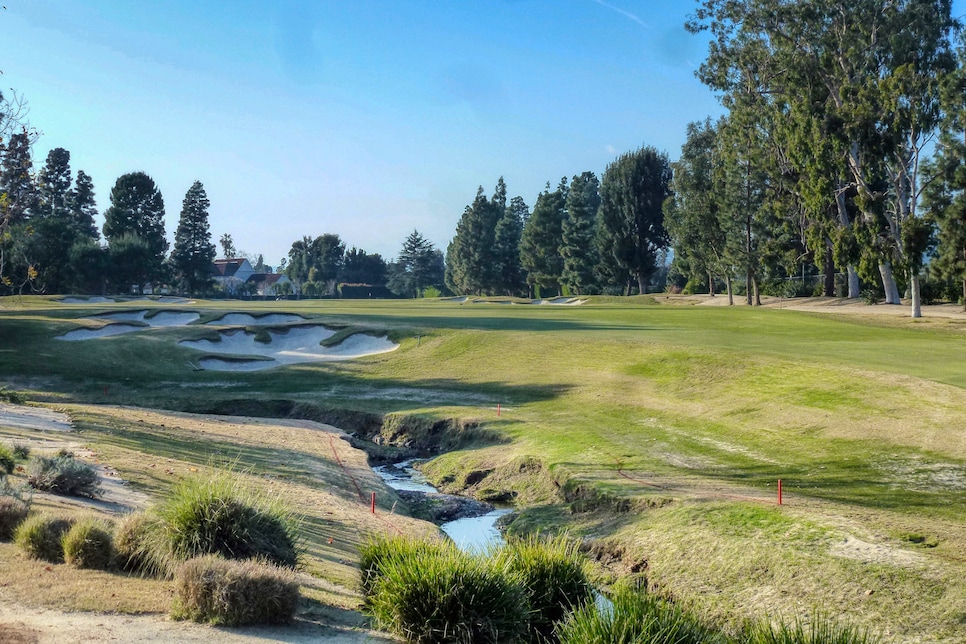 The barranca system at Wilshire Country Club, built in 1920 between Los Angeles Country Club and downtown, is different because it actively moves water more than is typical for these types of features. It twists through the north and south sides of the property (the nines are separated by Beverly Boulevard), looping around the 16th and 18th greens like a meandering creek. Hitting in it usually precludes any chance of playing another shot.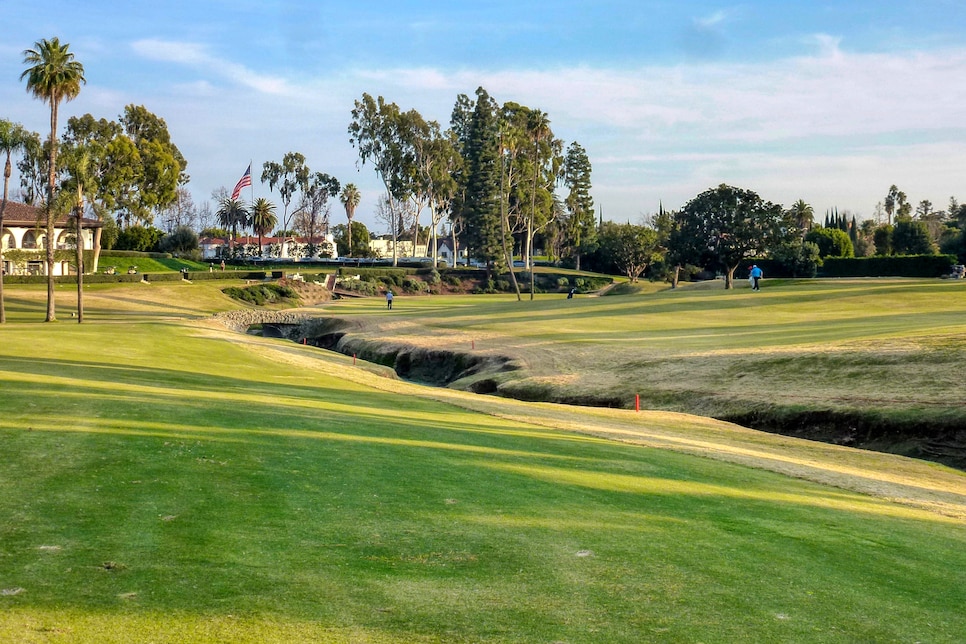 The looping barranca at Wilshire's 18th green.
Derek Duncan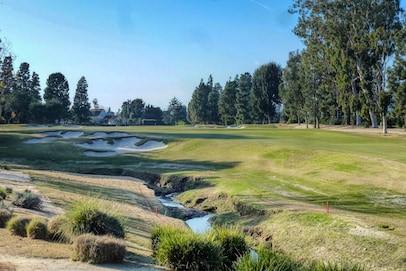 Wilshire is an exclusive private club with old-school layout situated on 104 acres near Hollywood. The course is bisected by Beverly Boulevard and a barranca meanders throughout, coming into play on around half the holes. The course was designed by Englishman Norman Macbeth in 1919 and hosted four Los Angeles Opens between 1928-1944. Tipping out around 6,500 yards, Wilshire is a very short course by modern standards, but a variety of testing green shapes with plenty of undulation, as well as sharp-lipped deep bunkers make the historic course a strong test.
View Course
In its early years as an out-in-the-country course in Burbank, across from Warner Bros. studios, Lakeside Country Club was rawer and full of dunes and sand and dips and swales. The barrancas shuttled water into the adjacent Los Angeles River, which was natural and rustic compared to the concrete aqueduct it is today. They were later polished up and fully turfed over, as seen below at the eighth green, but one can imagine how these low sections of the course might have once been magnificent, barren spectacles.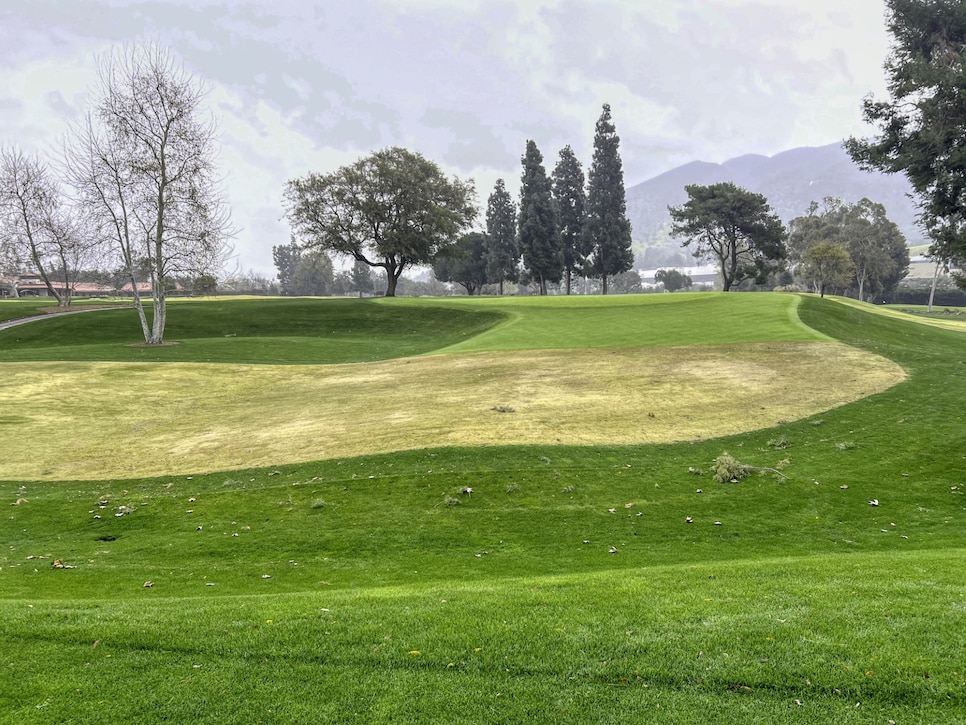 The deep depression in front of Lakeside's eighth green would have once funneled water off the course into the Los Angeles River.
Derek Duncan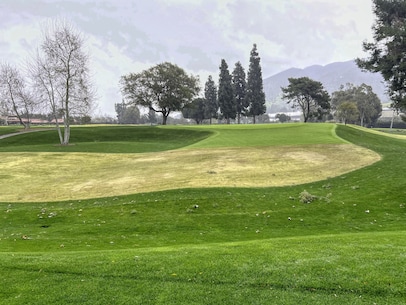 Lakeside is a classic old-school layout across the Los Angeles River from Universal Studios Hollywood. The course was designed in the early 1920s by Max Behr, a Yale graduate and the first editor of Golf Illustrated magazine. Lakeside has long been a favorite among Hollywood elite—Bing Crosby notably was a five-time club champion. The relatively short course is well bunkered, features tiny greens and receives high marks in conditioning from our course-ranking panelists.
View Course