Los Angeles, CA • Private
1 / 7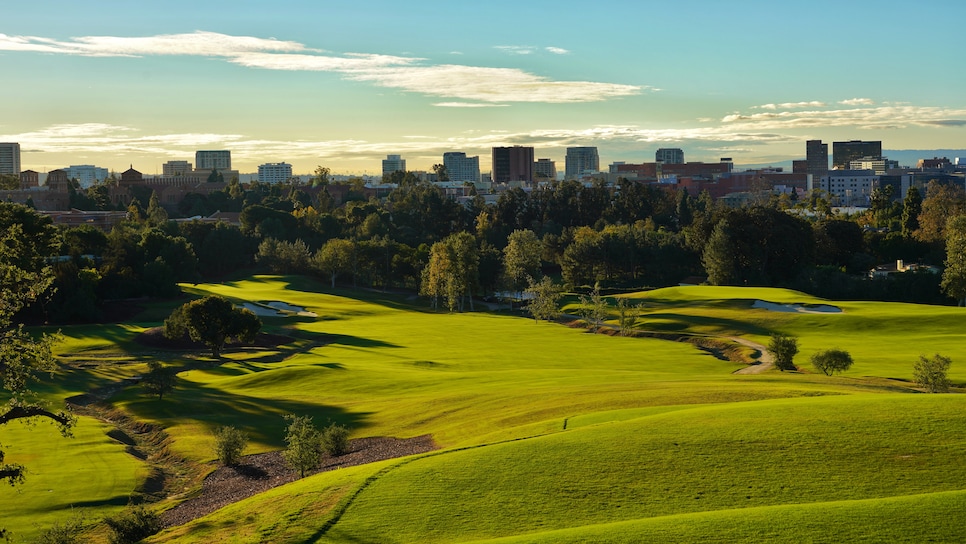 2 / 7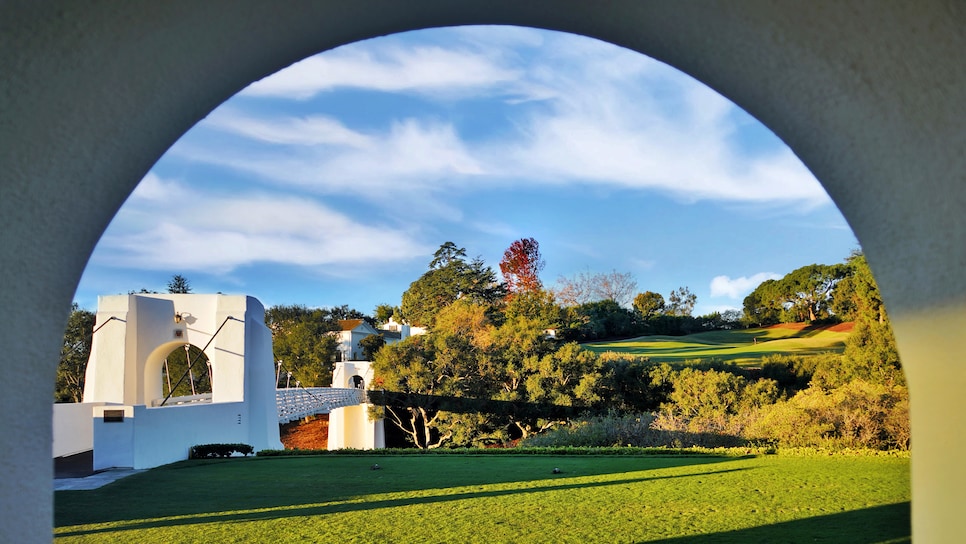 3 / 7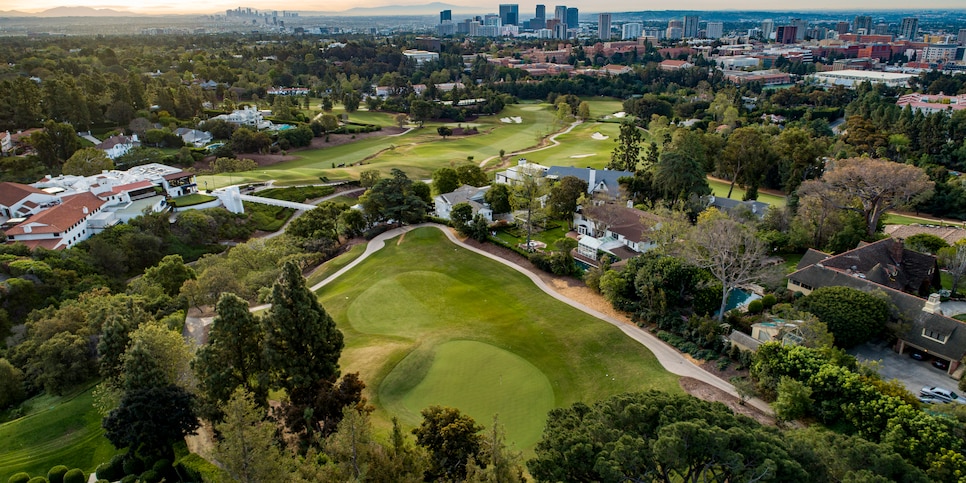 Andy Johnson/The Fried Egg
4 / 7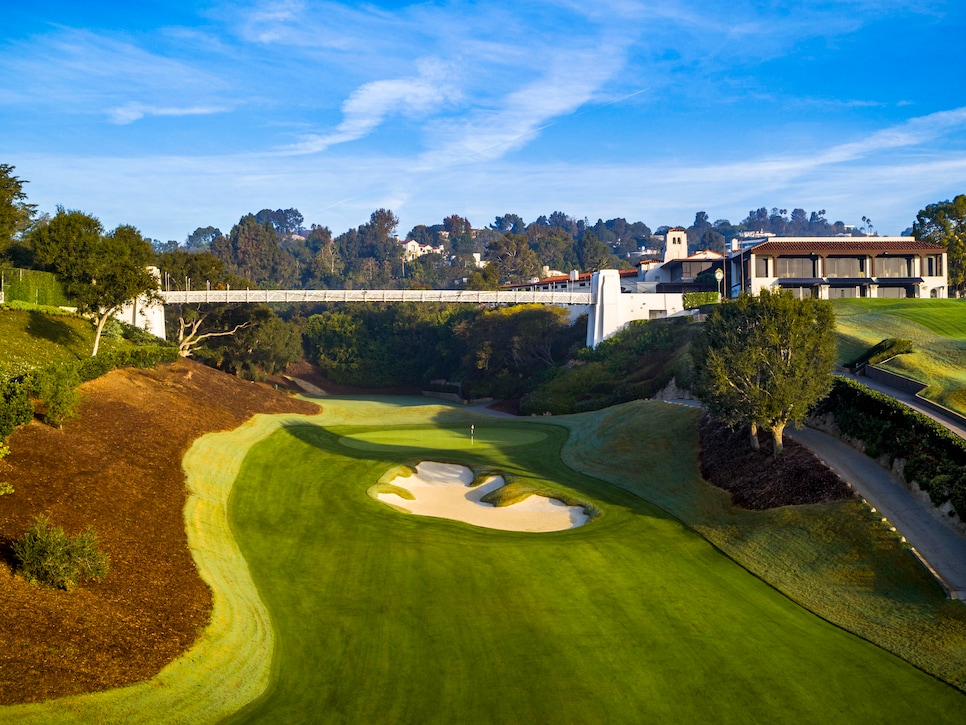 5 / 7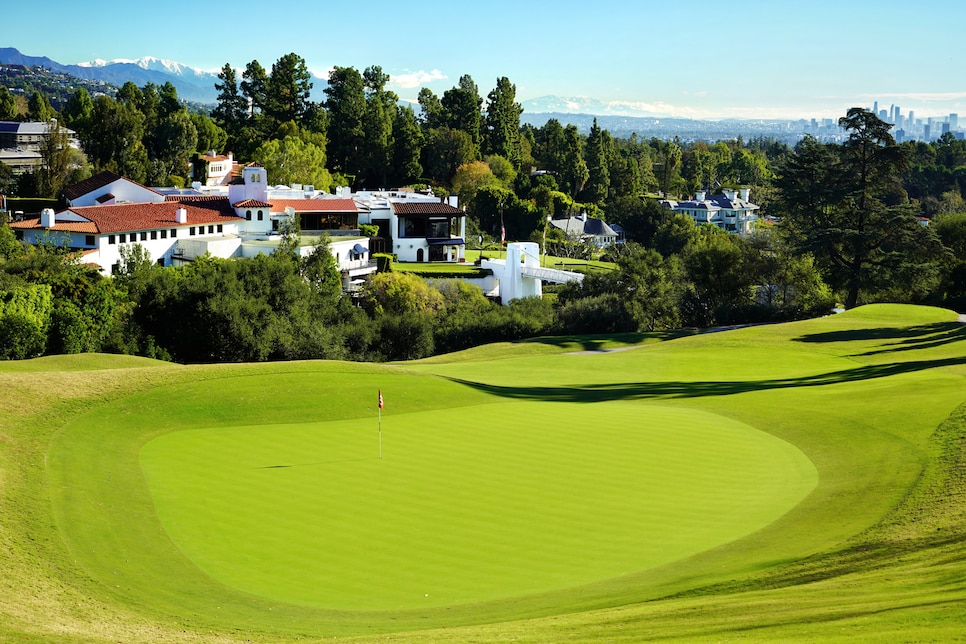 6 / 7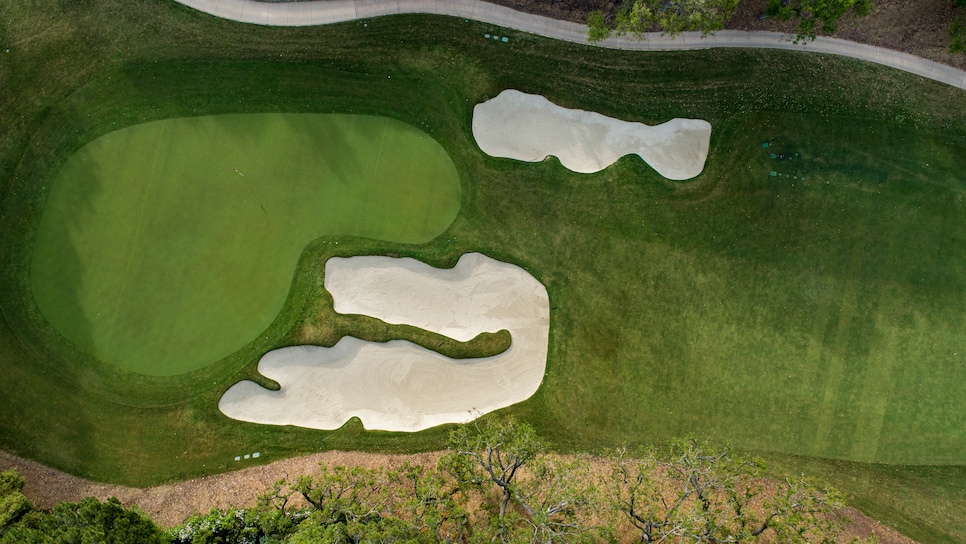 Andy Johnson/The Fried Egg
7 / 7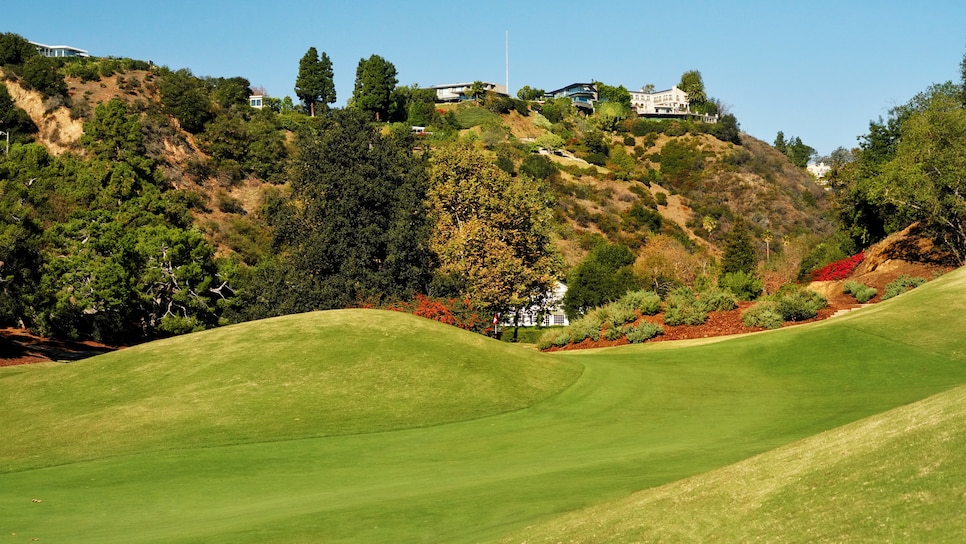 Overview
Completing a George C. Thomas hat trick of designs (the others being No. 16 Los Angeles C.C. (North) and No. 18 Riviera) is Bel-Air C.C., a charming throwback design that winds through mansion-dotted canyons of Los Angeles, the topography so steep that golfers are guided from hole to hole via a tunnel, an elevator and the city's most famous suspension bridge, which spans a gulch on the par-3 10th and serves as a dramatic backdrop for the 18th green. Bel-Air's design had been altered over decades by, among others, Dick Wilson, George Fazio, Robert Trent Jones Jr. and Tom Fazio. But in 2018 Tom Doak erased every bit of their work, removing most of the phony water hazards and faithfully recapturing Thomas's splashy signature bunkering. To complete a round amidst these Hollywood hills, you'll definitely encounter a Hollywood star. Her name is Bel-Air.
About
Designer
George C. Thomas, Jr./William P. Bell/(R) Tom Doak
Awards
Second 100 Greatest: Ranked since 2013.
2023-'24 ranking: 135th.
Previous ranking: 127th.
100 Greatest: Ranked 1991-'92.
Highest ranking: 94th, 1991-'92.
Best in State: Ranked inside the top 15, 1987, 1991-'97, 1999-2003, 2007-'10. Ranked 18th, 2021-'24. Ranked 19th, 2015-'18. Ranked 20th, 2011-'12, 2019-'20. Ranked inside the top 20, 1989. Ranked 21st, 2013-'14. Ranked inside the top 25, 2005.
Current ranking (and previous): 18th.
Panelists
Ratings from our panel of 1,900 course-ranking panelists
100 GREATEST/BEST IN STATE SCORES
Reviews
1 / 8
Review
"Having had the chance to play Bel - Air many times over the last 30 years, the 2017 Doak restoration is a master class . The elimnation of bunkers, water features and re-shaping most of upthe greens, makes for memorable experiece every time you tee it up. Finding the old wash areas on holes, 1, 6, 7, 9 make for a variety of shot options that had previously all but disappeared. The elimination of trees, shrubs and brush around the perimeter, make for a cleaner, aesthetic look. Bel - Air ozzes character and fun and is back into consideration of the GD top 100."
Read More
2022
2 / 8
Review
"Bel-Air has grown in nicely. Such an outstanding job by Tom Doak and his Associate Eric Iverson! They recaptured and then enhanced ALL of Thomas' lost features of his original design work at Bel-Air. They found aerials/pictures that gave them exact placements of bunkers and hazards, and the elimination of past meddling greens committee ideas, as well as just brilliant shaping of the putting surfaces makes this one of the Best remodel efforts I have ever seen. Rave reviews for the removal of water on 1, 3 and 8; The dry washes on 1, 6, 8, 9 and 18 are fabulous features that tie into the land perfectly and add to risk/reward strategies in smart ways; The recapturing of the old 5th green in its short and demanding shot values is maybe the best change here; Actually, the changes at 6 & 7 are the best moves as those holes went from ho-hum to terrific holes, with the now split fairway option at 7 a huge surprise - depending on the pin, you can drive it into the 6th fairway to get the proper angle to the right pins on 7th green - it's a Leven Hole, a Thomas favorite; Great adjustments to the shaping and bunker removal on 10; clearing on 11 and 1/18 allows for just stunning visual appeal; the return of the Great Mae West hole bump on left side of 12th green is excellent; Unique 5 club green at 15; Stunning bunker and green shaping work at 16; Scary approach to 17 restored; Perfect shared fairway bunkers on 17/18 really helps the tee shot on 18."
Read More
2021
3 / 8
Review
"Remodeled a couple of years back and now a much more open with the removal of Trees, water hazards and bunkers. Green structures modified, but mostly the same. Terrific test with a nice variety of holes (short, long, doglegs in both directions) that require strategy, distance control and a solid short game. Plays longer than its yardage. One of the best golf courses in Southern California."
Read More
2021
4 / 8
Review
"Classic George C. Thomas design that winds through canyons. Routing does a great job of taking what the land gave them, which makes this tight in some situations. The par 3 third hole makes a great transition from one good par 4 to another by using a thin sliver of land between the canyon walls. There is really no other way to get from 2 to 4 but the hole is very good instead of just a transition. Greens can be tough to read, and roll very true. The back nine has 3 tough par 3s, and might be the toughest par 34 nine I have ever encountered. Among the most visually pleasing bunkering I have encountered."
Read More
2021
5 / 8
Review
"This is a true classic gem. I was able to play after the redo from a few years prior and the greens have really come into their own. The course can be very challenging - especially as it is a very hilly walking course which will truly test your stamina on the last few holes. The scenery around course and great bunkering system make every hole a sight from the tee and fairway."
Read More
2021
6 / 8
Review
"Doak did a tremendous job on this gem of a layout. An extremely unique routing that uses all of the natural features of the three valleys the course winds through. The course was playing extremely firm and fast and allows high handicaps to use the ground on most holes. Great vista's overlooking Westwood and a historic patio that welcomes the player from the first tee. Tremendous memorability. "
Read More
2020
7 / 8
Review
"Solid course and a really fun club. Will be even better after the Tom Doak renovation. Great member's club!"
Read More
2018
8 / 8
Review
"Very exclusive, but a good test of golf."
Read More
2018
Readers
Collection of reviews from our readers
There are no reader ratings yet
Reviews
There are no readers reviews yet. Be the first to write a review.