Eye on Design
Why does Riviera's sixth hole have a bunker in the middle of the green?
George C. Thomas' clever bunker inside the green didn't exactly catch on as a template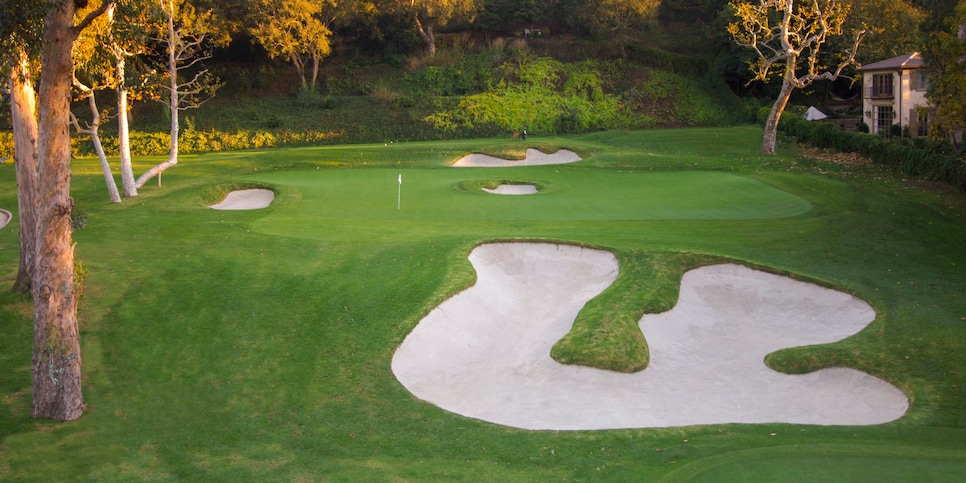 Good ideas don't stand still. Long cited as one of the great par 3s in golf, St. Andrews' 11th, commonly known as "Eden," has been replicated in one form or another all over the world. The same is true of North Berwick's 15th, the original Redan hole, which architects have copied for over 100 years.
These hole concepts, sometimes called templates, are part of an architect's repertoire because they possess distinct, recognizable qualities and enduring playing characteristics.
Distinct and recognizable certainly describes Riviera's par-3 sixth that features a pot bunker located in the center of the green. Most every golfer who plays Riviera marvels at the hole for its beauty and outlandishness, and it retains an air of mystique even to tour players who encounter it annually during the Genesis Invitational.
Yet this concept exists in very few other places. Why has the idea of a bunker within a green inspired so few imitations? What makes Riviera's sixth hole work, and other versions of it fall flat?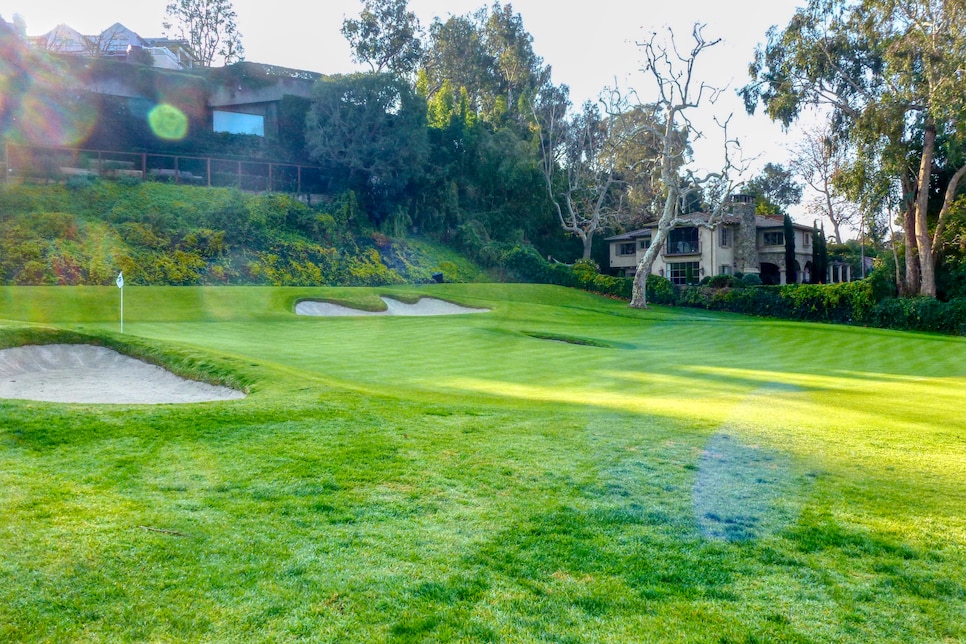 Part of Riviera's attraction is the location, framed in the far southwest corner of the valley where the course resides. The sixth also works from a playability standpoint because there are two sizable areas on the green to cut holes—the lower front-right quarter surrounded by feeder slopes and the flatter upper floor on the back left that stretches into a corner—with twisting transitions connecting the two. The central bunker comes into play for each area, and hitting into it, or missing on the wrong level, results in difficult recoveries—sometimes mandating a pitch over the bunker—and strange bending putts.
Other renditions of the hole are less successful because they don't strike the same balance. They either don't provide enough space to place shots, or the landing zones on the green are too generous or too benign, obviating the need for precision and daring play.
Greg Norman's par-3 16th at TPC San Antonio's Oaks Course, host of the Valero Texas Open, also has a bunker in the middle of the green (below) and is approximately the same distance as Riviera's sixth, between 170 and 200 yards. The green, however, is over 2,000 square feet larger. This allows for less exacting hole locations around the bunker, and less intriguing short-game situations given the flatter nature of the putting surface. The bunker is not really in play for front pins.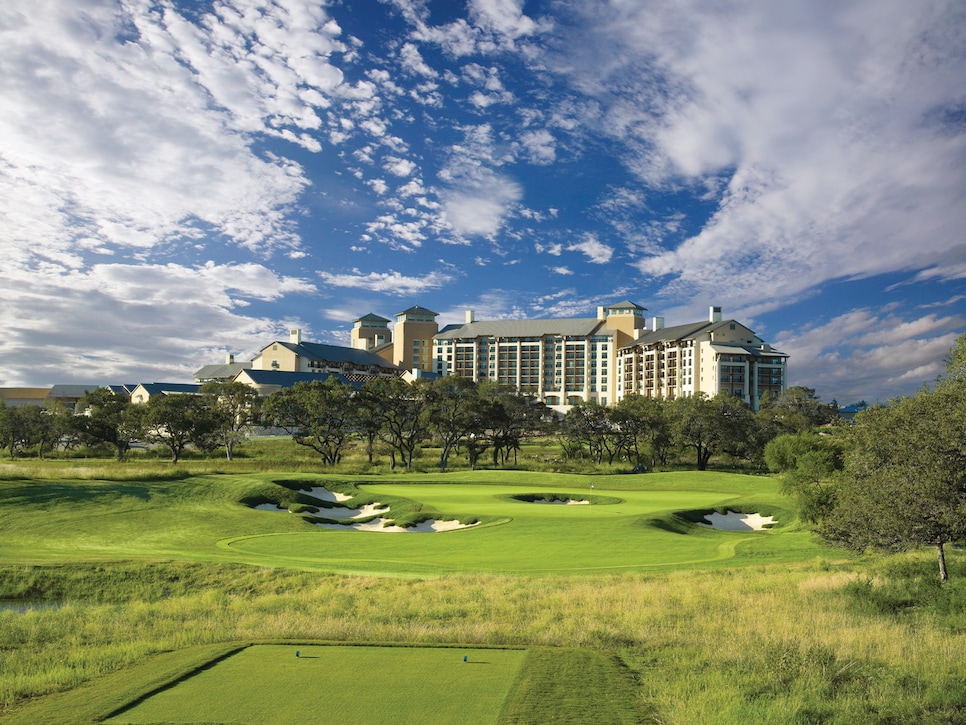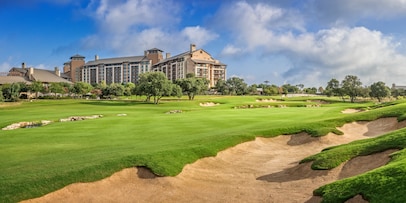 TPC San Antonio's Oaks course has hosted the Valero Texas Open since 2010. Playing through the dry outlands north of the city, the Greg Norman design is one of the most strategically compelling courses on tour with aggressive bunkering, some wonderful short par 4s and several uniquely demanding par 5s, including the 18th, one of the most underrated and frustrating closing holes the professionals play. --Derek Duncan, architecture editor
View Course
Norman built another green with a bunker in its center in Ireland at Doonbeg's 12th, this one a 400-yard hole. When implemented on a par 3, there's control over the visibility, distance and the lie of the shot. On a par 4? All bets are off. Approaches can come from all angles and yardages, and even good strikes are likely to find the bunker, a frustrating result at Doonbeg given the tough links conditions. The bunker was removed several years ago during a renovation.
Jack Nicklaus designed a diabolical donut green at the White Course at Dismal River. It's a stunning hole set against a backdrop of endlessly rolling Nebraska Sand Hills. But it can be almost unplayable in the extreme prairie winds since the putting surface circles the bunker like a kind of Escher staircase with small sections separated by giant sloping steps. Finding the correct level is as much a matter of luck as skill, and missing it can lead to interminable misery trying to putt up and over three- and four-foot contours.
Finding Riviera's ratio of precision, playability and fun is more complicated than creating a compelling Redan, so few try. But the best reason why we don't see more attempts to mimic it might be the simplest—placing a bunker in the center of a green that average golfers are simply trying to hit is not popular.
We accept the sixth at Riviera the same way we accept gargoyles on Gothic cornices and harpsichords in Baroque music: because they were intrinsic to the art of their time. George C. Thomas built the sixth hole nearly 100 years ago during a time of architectural discovery, when the word "fair" didn't trigger golfers the way it does today. It was of its time, even as a one-off.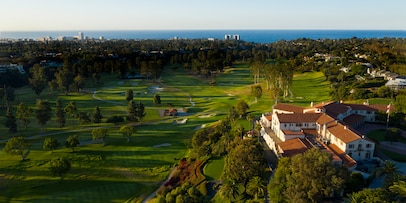 Private
Pacific Palisades, CA
A compact and shrewd design by George C. Thomas Jr. and associate William P. Bell, Riviera features everything from a long Redan par 3 to a bunker in the middle of a green to an alternate-fairway par 4. With its 18th green at the base of a natural amphitheater, and its primary rough consisting of club-grabbing Kikuyu, Riviera seems tailor-made as a tournament venue. It hosted a PGA Championship in 1995, a U.S. Senior Open in 1998 and a U.S. Amateur in 2017, but no U.S. Open since 1948. With the U.S. Open awarded to nearby LA Country Club for 2023, it doesn't appear Riviera will get another Open (though it will host the 2028 Olympics). But it's the site of an annual PGA Tour event, which is even better exposure to the golf world.
View Course
The concept's point of diminishing returns, however, was reached almost immediately, and putting bunkers inside green surfaces today seems not just anachronistic but gimmicky, even indulgent.
Thomas himself surely realized this. Riviera's sixth is a wonderful, curious spectacle—a good idea in isolation and as a relic of experimentation. Trying to create another hole like it is gilding the lily. Some good ideas aren't meant to travel.