Eye on Courses
The 13 best Redan holes that you can actually play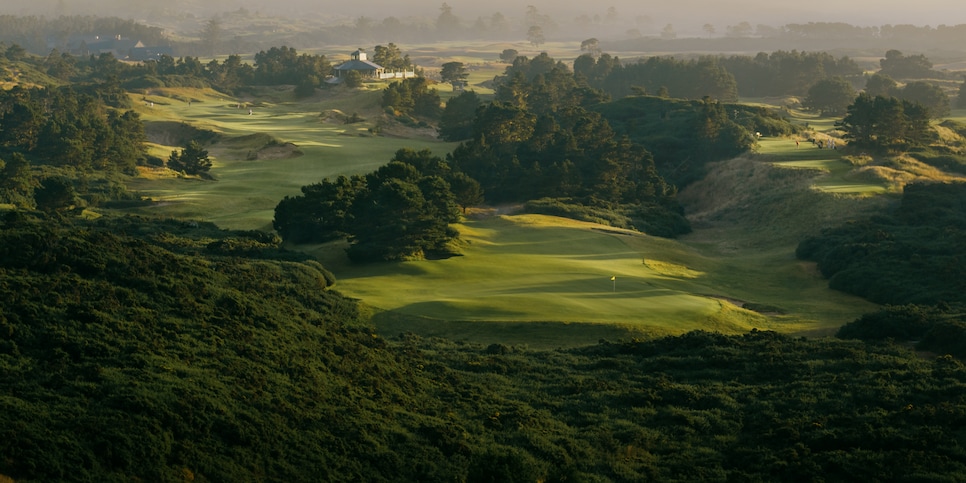 Earlier this month we wrote about Redan holes, some of the most interesting greens in golf, which are built at roughly a 45-degree angle–some cocked to the left, others to the right. Thing is, most of these brilliant designs can be found at private clubs—particularly the most noteworthy Redans.
Those of us without access are not likely to get a chance to play them or see them outside of photographs. Fortunately, a number of outstanding renditions have been built in the past few decades that give public golfers the same chance to experience the decision-making dilemmas and excitement of watching well-placed shots release across the green.
Here are some of our favorite public-access Redans that most closely look and play like the great ones built in the 1910s and 1920s.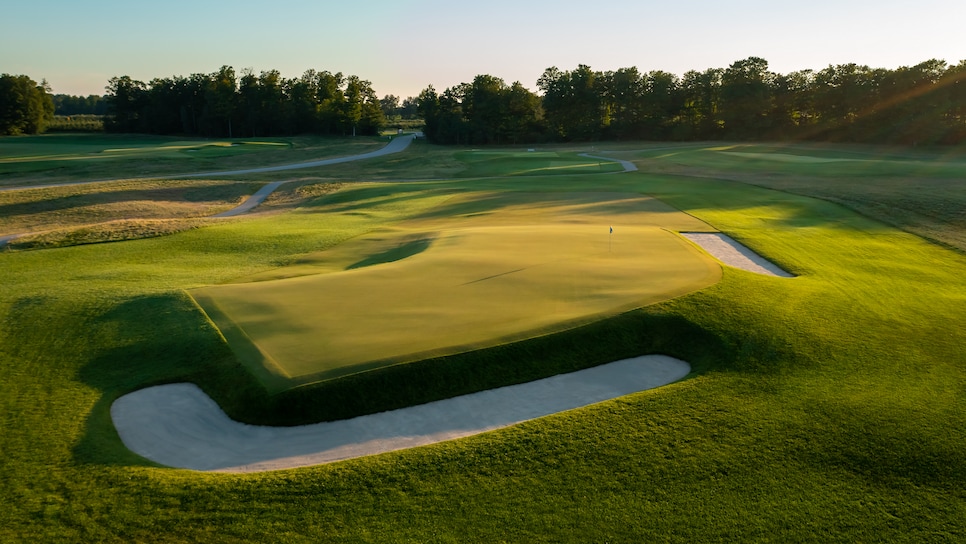 It makes sense that the par-3 fifth Redan at Arcadia Bluffs' South Course resembles Chicago Golf Club's seventh (in reverse) with its elevated kick shoulder and green shaped like a fractured rectangle. Chicago was the inspiration for the shaping and strategies of the South Course, and architect Dana Fry, who designed the course with partner Jason Straka, made over a dozen trips to the Windy City to study its angles, lines and bunkers. Not all Redans have a false front, but this one does—making it imperative that tee shots crest the green's high face.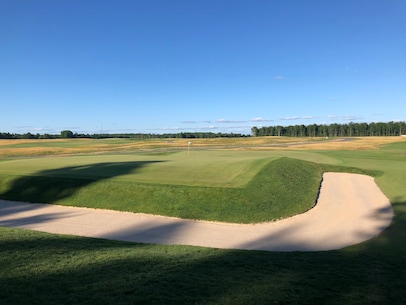 The challenge at Arcadia Bluffs for architects Dana Fry and Jason Straka was to create a course that guests would want to play as often as they do the original course. But how can golf built on non-descript farmland compete with a course set on dramatic bluffs overlooking Lake Michigan? The answer? Do something entirely different. Channeling another famous but rather indifferent site, the designers turned to Chicago Golf Club and the architecture of McDonald/Raynor for inspiration. The South Course is a throwback in time, a jigsaw puzzle of intersecting bunkers, centerline hazards, alternate routes of play and geometric shaping. It interprets the strategic spirit of Raynor and Chicago Golf Club without replicating any specific holes. Where the Bluffs Course is a feast for the eye, the South Course is a treat for the intellect.
View Course
The Baths of Blackwolf Run
This new short course at Blackwolf Run, opened in 2021, features 10 par 3s ranging between 62 and 159 yards modeled after famous holes from the United Kingdom. They include several that originally inspired C.B. Macdonald but also others that didn't, like Royal Troon's Postage Stamp. The Redan third offers limited visibility of the putting surface, which is common to many Redans, and has an elevated central spine that must be breached when holes are cut toward the rear. Architect Chris Lutzke put extra teeth in the hole by building deep, revetted pot bunkers short of the green, a la the Old Course's Road Hole.
Charleston (S.C.) Municipal Golf Course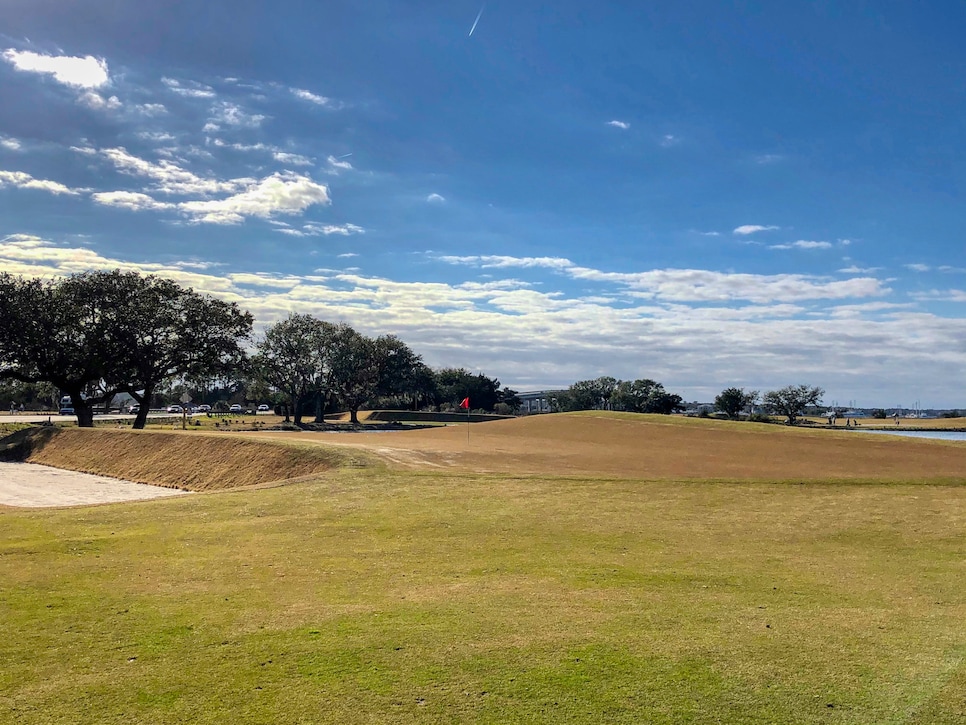 When Charleston native Troy Miller remodeled this busy public course in 2020, he incorporated the shaping and many of the same template hole designs used by Seth Raynor in the 1920s at nearby Country Club of Charleston and Yeamans Hall. Now city players get a taste of this style of architecture. The par-3 11th, in fact, is modeled after the sixth at Yeamans Hall with an aggressively flared back edge, though the green is significantly smaller. But so is the shot played into it, ranging from 140 to 165 yards versus the 150 to 195 yards that's a more typical yardage for a Redan.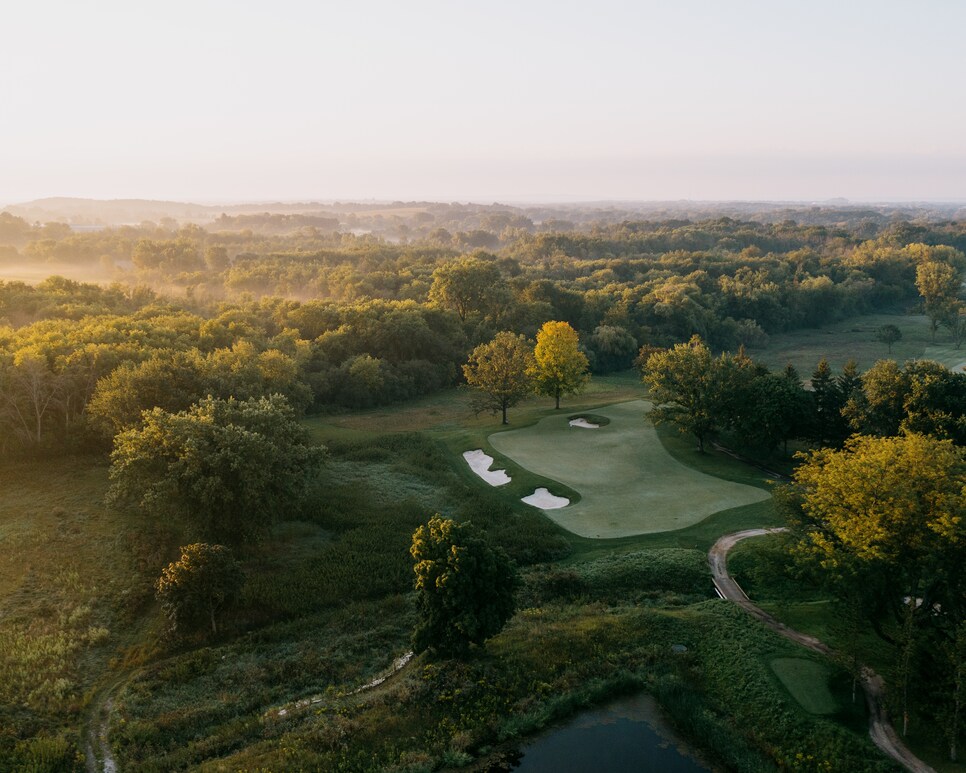 Put the par-3 11th Redan at Lac La Belle, just west of Milwaukee, in the big-bank-slope category. It plays over a pond at a more straight-on angle than most variants, cocked at about 30 degrees making rear pins a little more accessible with aerial shots. But the 198-yard hole looks every bit the part and the option to hit something low off what looks like a burial mound on the right is available, though anything too hot will find a bunker just beyond the putting surface. This is a classic, hooking Redan that actually feels tame compared to all the other green shapes that Craig Haltom designed into this distinctive and beautifully laid out public course.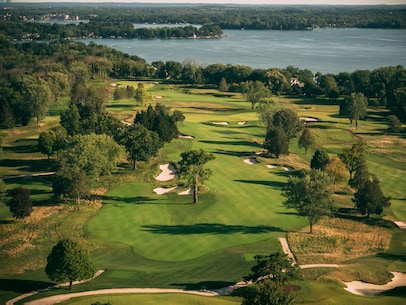 Golf was first played on the site of this course in 1896 and attracted the biggest names of the day. Its fortunes declined over the next 100 years, however, partially due to poor drainage. Several years ago, the Morse family purchased the course, and the revival has been inspired. Wisconsin-based architect Craig Haltom was given land for four new holes and reengineered the others using strong bunkering to create engaging strategies and some of the most whimsical, multilevel greens anywhere, several over 10,000 square feet in size.
View Course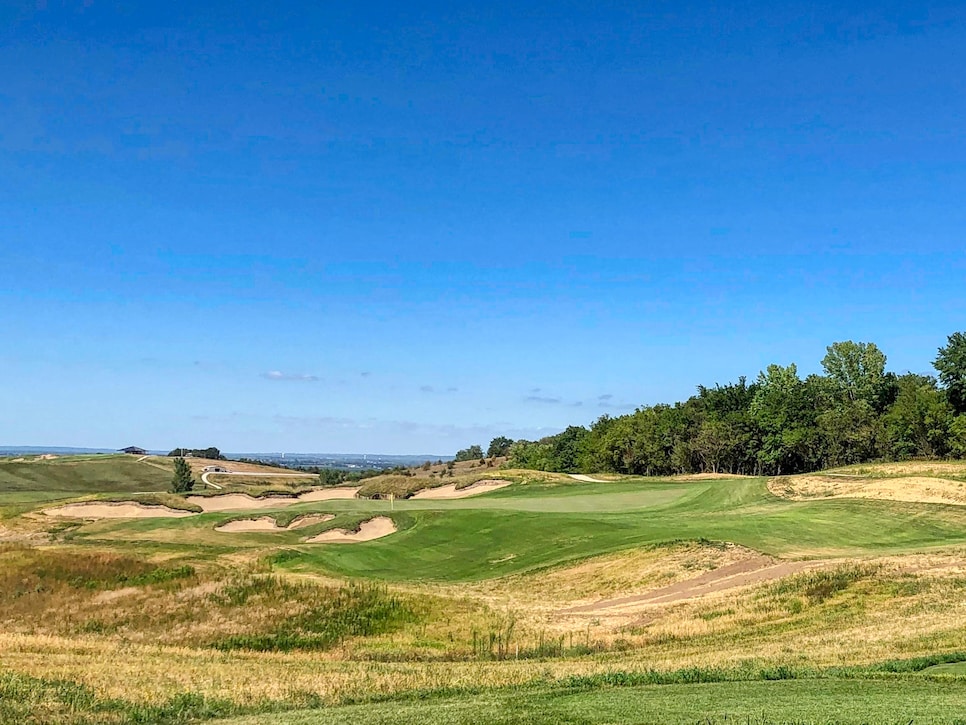 Everything about Landmand is oversized. The course extends across a network of bluffs and ridges in northeastern Nebraska surrounded by farmland as far as the eye can see. The scale is immense, and so is the Redan 14th. Most holes of this type were designed for mid- to long-iron approaches, but Landmand's, playing over a valley of prairie grass, can stretch as far as 250 yards. Designers Rob Collins and Tad King understand the best Redans are all about the topography surrounding the hole, and they accentuated the severe right-to-left tilt of the land so that shots fired up into the slope to the right of the 16,500-sqaure-foot putting surface will bounce sideways and catch the speed slot jettisoning the ball 60-plus yards toward lower pins, an especially useful assist since many golfers will be hitting hybrids and metalwoods.
The Match Course at PGA National Resort
Like The Baths, The Match Course opened in 2021 and has holes modeled after famous Macdonald/Raynor templates. Though listed at just under 5,800 yards on the card, distance is not particularly relevant since Andy Staples designed the course to be enjoyed for match play rather than stroke play. Vertiginous architectural shaping, especially around the greens, can lead to diabolical putts and recovery shots, though the low-profile Redan 12th is one of The Match's more subdued holes. The green rises only slightly above fairway grade so tee shots can land short and bounce up to front hole locations, while approaches that carry onto the green over a middle ridge will feed into deeper hole locations.
The Greenbrier (Old White)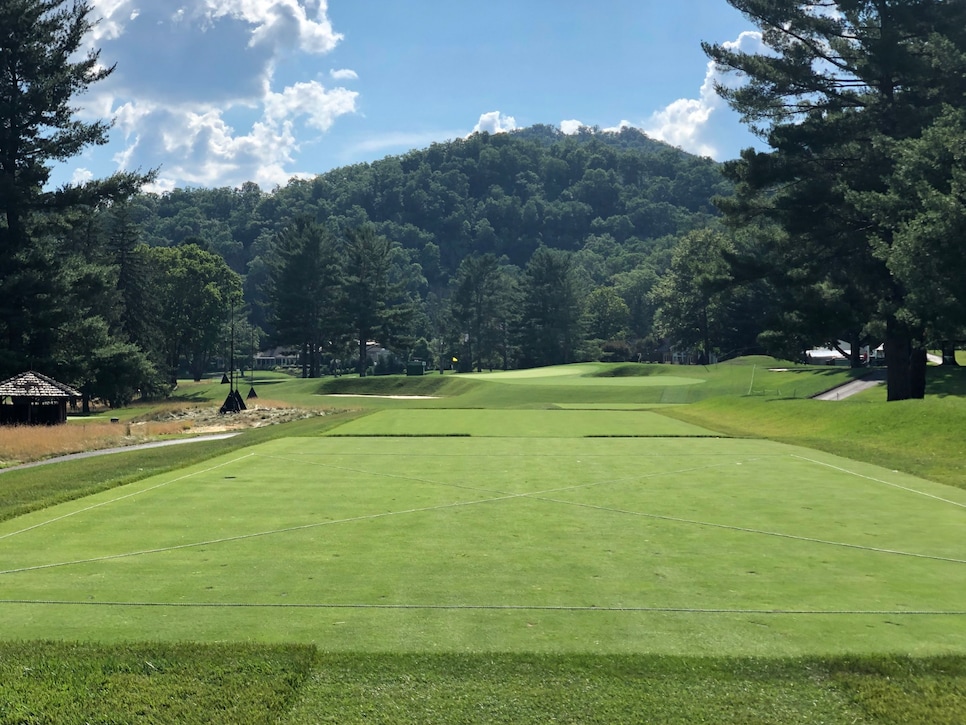 Some Redan holes, like NGLA's fourth, Blue Mound's 13th and George Thomas' fourth at Riviera, were fitted into natural inclines that help move bouncing balls onto the putting surface. But one of the more appealing aspects of Redan holes for architects is that they also function well on flat or otherwise undistinguished ground. Old White's eighth fits into this category, constructed on non-suggestive terrain between the seventh and ninth holes, two long par 4s. The approach was made interesting by manufacturing a high shoulder on the right side of the putting surface that steers incoming shots sharply left. Originally built in 1914, it's the only C.B. Macdonald course the public can play.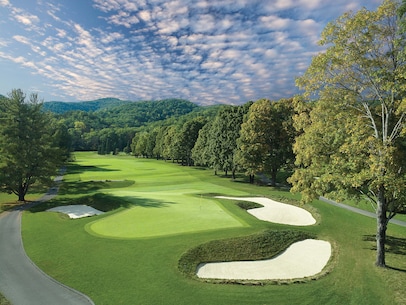 Public
White Sulphur Springs, WV
C.B. Macdonald's early American design of the Old White at The Greenbrier was always respected, especially after Lester George's 2007 restoration re-established such things as a Principal's Nose bunker and Dragon's Teeth mounds. Golf Digest panelists rediscovered its pleasures and ranked it the Best New Public Remodel of 2007. Soon, owner Jim Justice began sponsoring an annual PGA Tour event. Then came devastated floods in July, 2016, which claimed lives and destroyed several Old White holes. Another architect, Keith Foster, supervised a total rebuild of the famed course in less than 12 months, in time for the following year's PGA Tour event. As a result, The Old White was named Golf Digest's Best New Remodel again in 2017.
View Course
The Sandbox at Sand Valley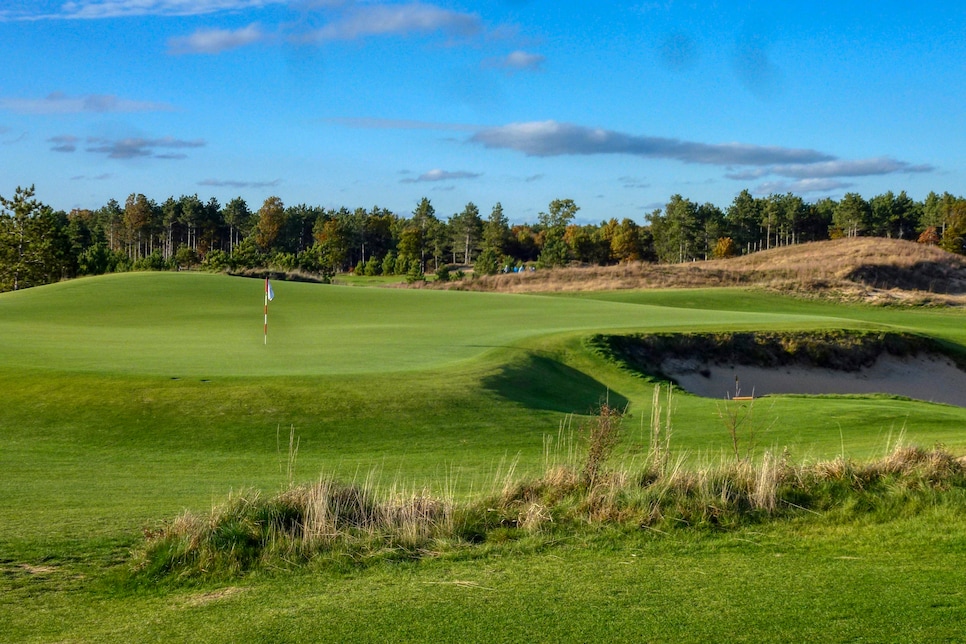 Short courses allow architects to take design liberties they ordinarily wouldn't because golfers view rounds on them as bonus activities, where assembling a score isn't the objective. That's certainly the case at the 17-hole Sandbox at Sand Valley, where Jim Craig, longtime associate of Bill Coore and Ben Crenshaw, held little back in crafting one of the most fascinating and uninhibited sets of greens anywhere. The Redan 16th, tied gorgeously into a grassy dune on the right that gives the putting surface its strong right-to-left bend, looks like it would be at home on virtually any links course in the U.K.
Mammoth Dunes at Sand Valley
We're used to studying Redan greens on par 3s, but David McLay Kidd built a Redan-like green on the short par-4 14th hole—where golfers tee off from an 80-foot-high sand ridge down into a green that Kidd calls a "Big Brother to a Redan green." The hole was actually the result of a Golf Digest Armchair Architect design winner, Brian Silvernail, who got to watch Kidd implement his design before the course opened in 2018. "You have the thrill for a golfer hitting their driver and watching it chase on the ground for 15 to 20 seconds before it stops," Kidd told Golf Digest in 2018. "Who doesn't think that's cool?" –Stephen Hennessey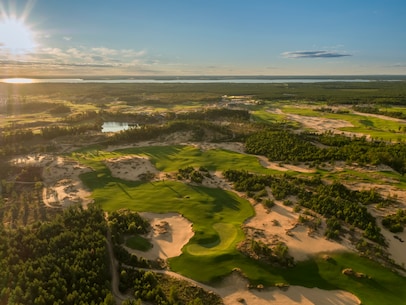 David Kidd began building a second 18 at Wisconsin's Sand Valley Resort just before Coore and Crenshaw had completed their 18, which would be named Golf Digest's Best New Course of 2017. Kidd was intent on topping their work, so he gave his meandering layout enormous fairways, big accessible greens and visually-unique hillsides of exposed sand, "mammoth dunes" that became the course moniker. "This could be the best course I and my team have yet created," Kidd wrote in late 2017. "We can't wait for the critics to decide if they agree." They were disappointed with results of Golf Digest's 2018 Best New Course survey, which placed Mammoth Dunes second behind Streamsong (Black). But balloting for Golf Digest's 100 Greatest continued for an additional month after the close of Best New, and additional evaluations pushed Mammoth Dunes ahead of Streamsong (Black), which is now ranked No. 169.
View Course
Old Macdonald at Bandon Dunes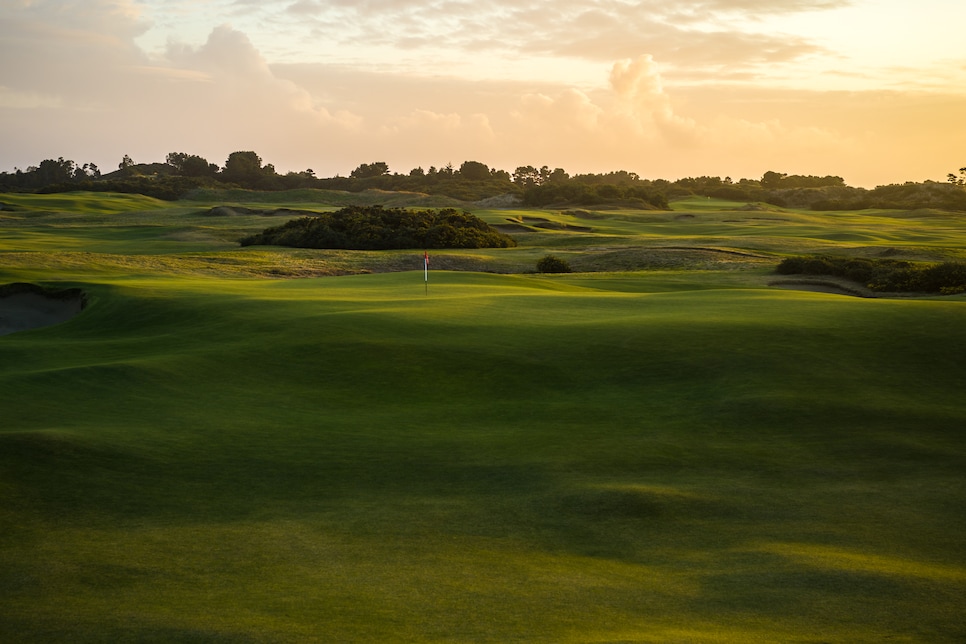 Compared to most Redans, the 12th at Old Macdonald is mysteriously defined. Situated at the center of the course's wide-open basin against a backdrop of gorse and dunes, the green tends to blend into the scenery making it challenging to know where it begins and ends. The shoulders of the 70-yard-long putting surface bleed into lower surrounds, and a line of bunkers extends cross the foreground further complicating perspective. Architects Tom Doak and Jim Urbina located a large natural knob exactly where they needed a green to be to connect the 11th and 13th holes and used it as the foundation for the hole by extending out the tapered pitch of the land. A small bump short left will deflect shots toward front hole locations, and another bump opposite and just past it on the right reroutes balls toward the back section.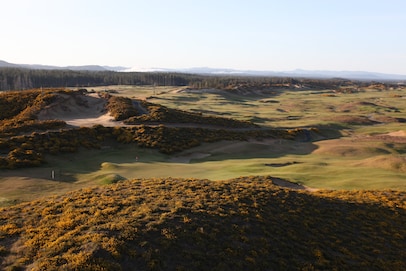 Old Mike Keiser had a course. Name of Bandon Dunes. Hugged the cliffs of Oregon gorse. It made golfers swoon. So he added one more, then a third next door. Here a lodge, there a hut, even built a pitch & putt. Now it's America's top resort. Name of Bandon Dunes. But Old Mike Keiser wanted more. Down at Bandon Dunes. An ode to an architect he adored. Cut from heather and broom. So Old Macdonald came to be. In spite of a bad economy. Here it's big, there it's bold. Everywhere it looks real old. A Road Hole here, a Cape Hole there. Bottle Hole, Biarritz, ocean winds that'll give you fits. Short and Eden fit the scenes. Especially with enormous greens. Old Macdonald is part of the lore. Now at Bandon Dunes.
View Course
Pacific Dunes at Bandon Dunes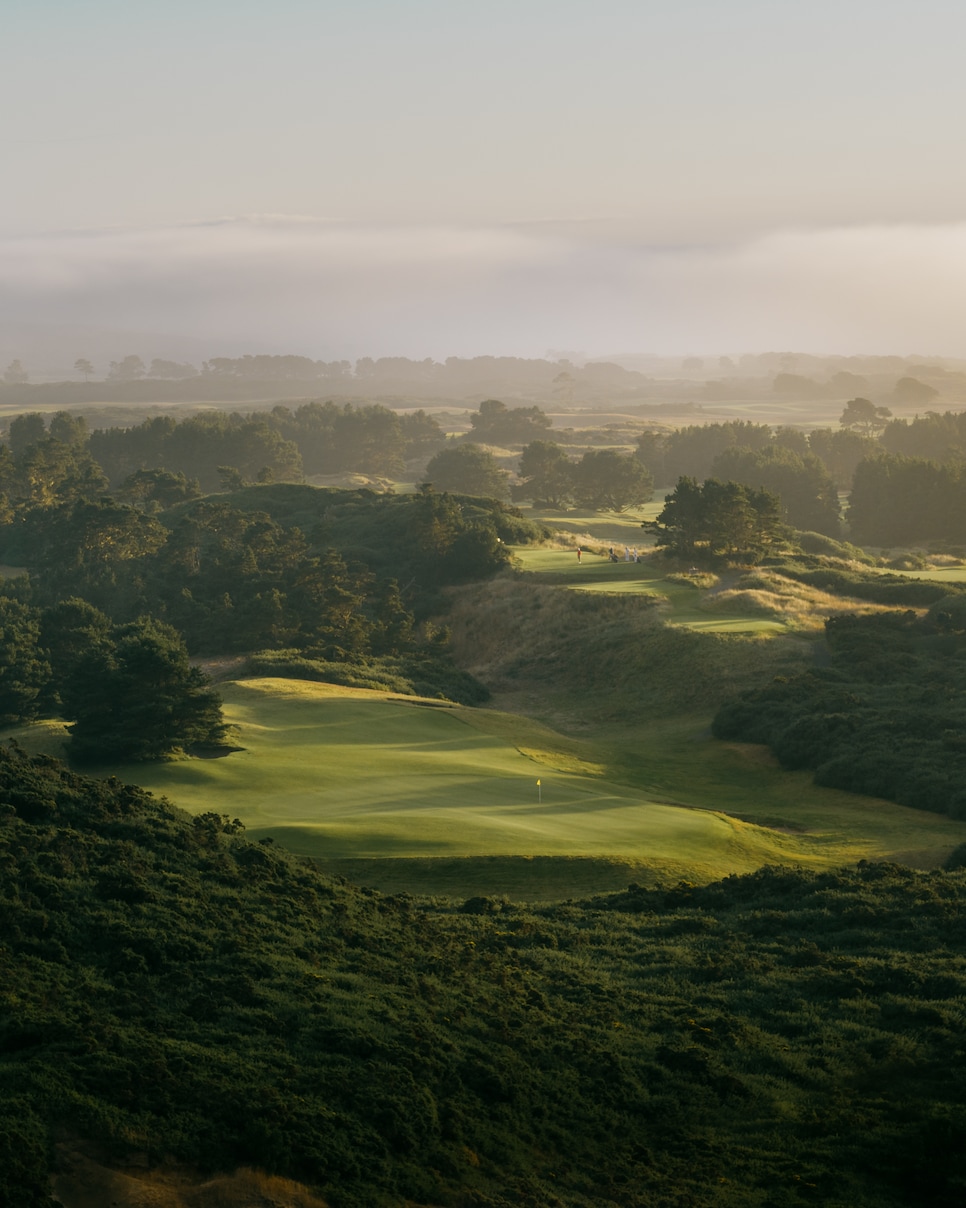 Doak and Urbina, the lead associate during construction of Pacific Dunes, at first resisted building a Redan at Pacific Dunes' 17th—they wanted each hole to be entirely original. But the more Doak looked at the land, specifically the diagonal orientation of the valley between the proposed tee and green, and the right-to-left fall of a natural shelf perched beneath an embankment of gorse, the more obvious it became what needed to be done. After some modest ground modifications, including work lifting sections around the complex to influence ball traffic, the 17th plays true to form with slopes to the right of the putting surface allowing for side-entry and woe to any approach missed short or through the green.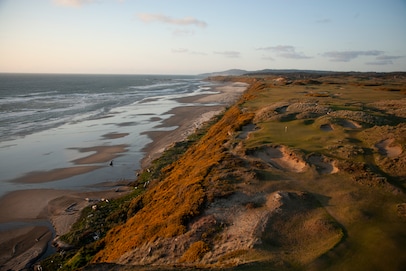 This is the second course constructed at Bandon Dunes Resort and the highest ranked among the resort's four 18s. To best utilize ocean frontage, Tom Doak came up an unorthodox routing that includes four par 3s on the back nine. Holes seem to emerge from the landscape rather than being superimposed onto it, with rolling greens and rumpled fairways framed by rugged sand dunes and marvelously grotesque bunkers. The secret is Doak moved a lot of earth in some places to make it look like he moved very little.
View Course
The Redan seventh at World Golf Village's Slammer & Squire course was ahead of its time. Today, most of the best Redans built by Macdonald, Raynor, Banks and others have been polished and refurbished to their historical origins, and these vivified models are the inspiration for the new generation of Redans. In the late 1990s, when Bobby Weed was building Slammer & Squire, there were far fewer examples of these restored holes to study for scale and nuance, and no Twitter or Instagram to help view from afar. But Weed pulled it off nonetheless, building a lovely rendition that rises like a sacred altar out of drab north Florida swampland with an elevated front that cascades gently away toward the lower back edge.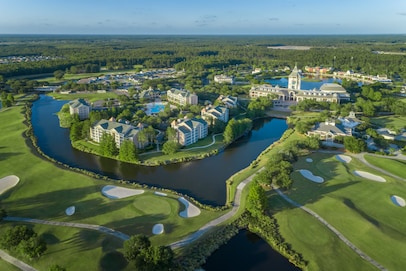 Public
Saint Augustine, FL
Designed by Bobby Weed in collaboration with Sam Snead (the "Slammer") and Gene Sarazen (the "Squire"), this Jacksonville 18-hole course is enjoyable for a variety of handicaps. As players navigate the wetlands and natural landscape, they'll also get an excellent view of the World Golf Hall of Fame.
View Course
Coming soon: The newest course at Sand Valley, scheduled to open to member play in late Spring 2023 and resort play later in the summer, is the Lido, a literal foot-by-foot recreation of the original Lido built by C.B Macdonald on Long Island that existed from 1917 to 1942. Macdonald's deep, rectangular Redan green, the 16th, is perched over a deep trench bunker and features an aggressive embankment beginning off the right of the green and running along the back edge. When pins are cut in the rear section, a good miss (as is often the case) is long off the back of the putting surface, leaving a putt or chip back up the fallaway slope.